OVERVIEW
Are you ready for portable power unleashed? REDARC's GoBlock is not your average 12v battery box, it is a rugged and sophisticated portable dual battery system capable of powering your next great adventure.
Hit the road and head to the great outdoors or enjoy a family day out with the peace of mind that no matter what, you will be packed with hours, even days of off-grid power.
GoBlock® features 9 products in 1 compact unit plus 2 accessories in the box (12v accessory socket charger + mains AC wall charger) and over the air updates.
AC charger (overnight mains charger)
50A DC-DC Charger
50A MPPT Solar regulator
Quality LiFePO4 battery cells
REDARC proprietary battery management system
Battery monitoring via RedVision®
Start Battery Recovery capability,
Aluminium Battery Housing
Charging outlets for 12v accessory, Anderson and USB
Portable power unleashed
Go beyond campgrounds and caravan parks with this unique lithium battery box that is capable of delivering fast and effective charge to run fridges, camp lights, drones, cameras and CPAP machines.
This complete system features REDARC's market leading DC DC charging technology that makes it capable of a rapid 50A recharge rate, meaning in around two hours you could have a massive 100Ah of power.
This system is built tough for the most rugged and distant off-grid adventure, yet suitable for practically any vehicle, from cars and vans to 4WDs. It's also ideal for vehicles that do not have enough room under the hood to install a traditional dual battery system, and can be paired with a solar panel and REDARC 350W pure sine wave inverter to provide endless power.
Go tough
GoBlock is built tough with a rugged exterior, prepared for almost any situation.
With an IP52 protection rating, its inputs and outputs are neatly recessed with tough shields to protect them from hard knocks and inclement weather.
The battery is made of high-quality lithium iron phosphate (LiFePO4) cells, safely enclosed within the robust, fully sealed aluminium case. It is powerful with a longer lifetime and the cells deliver virtually full power until discharged.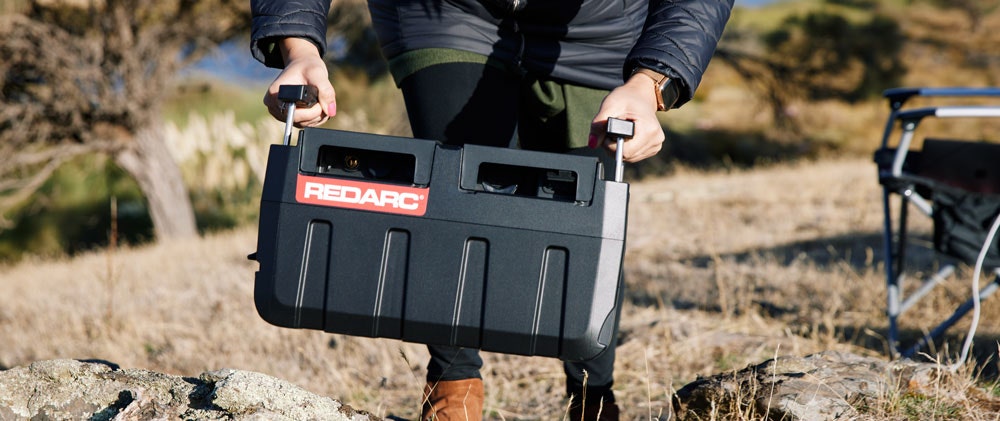 Go safe
GoBlock includes a Start Battery Recovery feature, when paired with the Smart Battery Recovery Cable, which enables you to safely charge a vehicle's start battery, so you can get yourself or a friend out of trouble and on the road in just 15 minutes with this unique vehicle battery recovery capability.
Go wireless
GoBlock connects via Bluetooth to REDARC's RedVision smartphone App (iOS + Android) giving you remote access to the battery state of charge, system diagnostics and input source information, and the ability to activate the Start Battery Recovery mode.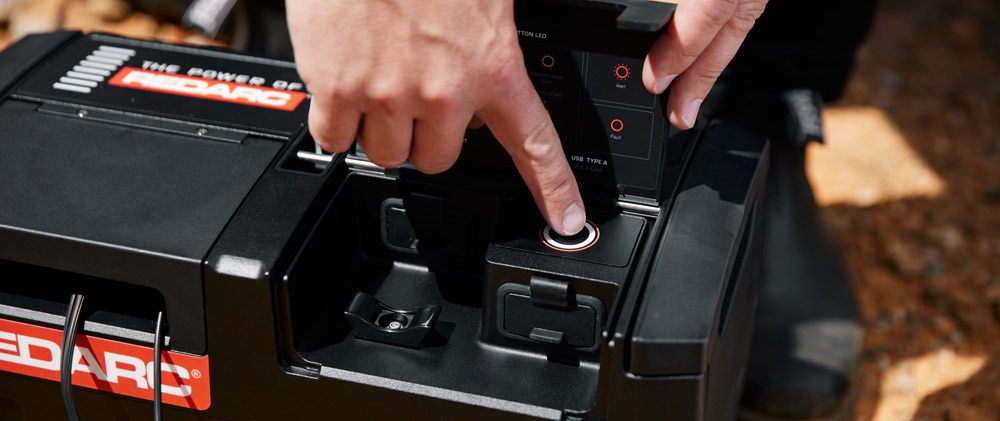 Go in any vehicle
GoBlock can be installed into vehicles with either standard or smart alternator systems, making it suitable for any vehicle installation**, while not being a permanently mounted dual battery system means you can move it between multiple vehicles offering greater value for money.
Features
Rapid charge*
Green power priority**
Start Battery Recovery
Bluetooth to REDARC's RedVision smartphone App (iOS + Android)
Suitable for any alternator type
Strong aluminium casing made from 100% recycled materials
The GoBlock includes
7.5A AC overnight mains charger
7.5A DC Accessory socket charger
Access to the iOS and Android App
Optional accessories
Say goodbye to the homemade battery box and unleash portable power with GoBlock from REDARC.
* Dependant on installation method and vehicle capability
** When charging via PowerDock
The REDARC GoBlock is only available to customers within the Australian and New Zealand market at this time.
Specifications
More Information

| | |
| --- | --- |
| gtin_barcode | 9338628006625 |
| brand | REDARC |
| Battery Chemistry | Lithium |
| Battery Capacity | 100Ah (1280 Wh) |
| Max. Charger Current | 50A |
| Solar Input Voltage | 9 - 32V |
| Operating Temperature | -40° to 65°C |
| Weight | 19kg |
| height | 230 mm |
| width | 425 mm |
| depth | length | 196 mm |
| Warranty | 2 Years |
SHIPPING & RETURNS
Shipping
REDARC offers customers free freight within Australia on products purchased via the REDARC website, unless a dangerous goods charge is deemed necessary in order to ship products of a lithium chemistry.All products have a 5 day lead time before shipment after which it will be shipped via your preferred shipping method. For alternative freight options please contact REDARC at power@redarc.com.au
For international orders, freight will be calculated at time of checkout. Orders will be shipped from our factory in Lonsdale with delivery timeframes dependant on location.
Where orders are shipped to a delivery address outside Australia, you are responsible for the compliance terms as written in our Website Terms of Use
Returns
The terms and conditions relating to 'Return of goods' set out in our Trading Terms will apply to all good purchased by You via the Site. All goods purchased by You via the Site also come with a manufacturer's warranty found here.
HAVE A QUESTION?
Need a little help with choosing the right product? We're here to help! You can use our handy vehicle look-up tool, find a local installer or stockist in your area or check out our FAQs.
Still not sure? Don't stress, you can contact our helpful Tech Support Team by phone or email too.