12V CANOPY SETUPS
BUILD YOUR BEST DUAL BATTERY SYSTEM
There's nothing more exciting than roaming the unknown — the places where roads aren't actually roads, and the horizon has no end. To go off the grid, you've got to be on your game. You have to be prepared for every possibility, and your gear can't let you down.
REDARC is here to power your adventure, from desert to coast, no matter what lies between. With rugged, Outback-tested battery chargers, battery management systems and customizable vehicle management systems, you're in control of every device from a single screen or your smartphone. Get the information you need on how to load up and be fully prepared for off-grid life.
Whether you're making your way to your favourite campsite or your own secluded spot on the map, getting there is all about knowing your stuff and trusting your gear. Self-reliance starts with gaining some know-how and gives you the freedom to go off-grid and stay there.
BENEFITS OF DUAL BATTERY SYSTEMS IN CANOPIES
Most common 4x4s are built with just one starting battery so you will need to install a second battery for auxiliary purposes, to increase capacity, and allow loads to be run when the vehicle is off. Installing it in the canopy opens your battery options up as you're not limited by battery chemistries that can withstand engine heat. This means that a canopy install is perfect for a lithium battery. Like a traditional 4x4, you can run anything from a dual batttery charger like a BCDC through to a Manager30 battery management system or even a RedVision system in your canopy to keep your batteries charged.
If you're taking the family, having the ability to run all the accessories from home is important. For this you'll want to run a Pure Sine Wave inverter. An inverter allows you to plug in and power all your accessories that run on 240V mains power. This means that blenders, coffee machines and all the creature comforts of home can be powered.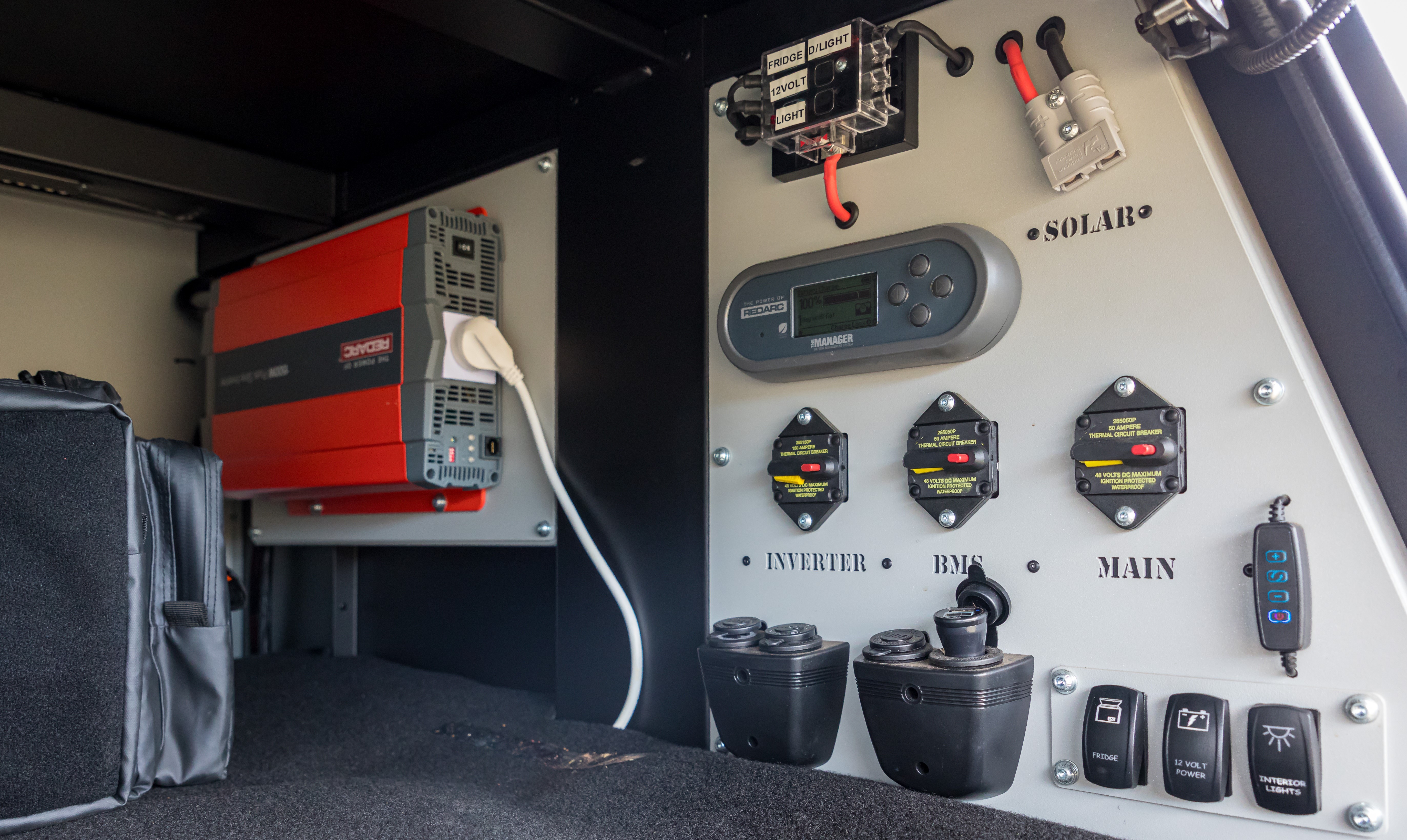 TAKE MORE COMFORTS ON THE ROAD
Canopies are highly adaptable and customizable. Being modular, you can add any number of new items to improve how you travel.
From drawer systems to improve organisation through to dedicated areas for your 12v fridge, charging ports, or create the perfect kitchen area including induction cooktops, meal prep areas or even a sink to take your camp cooking to a whole new level.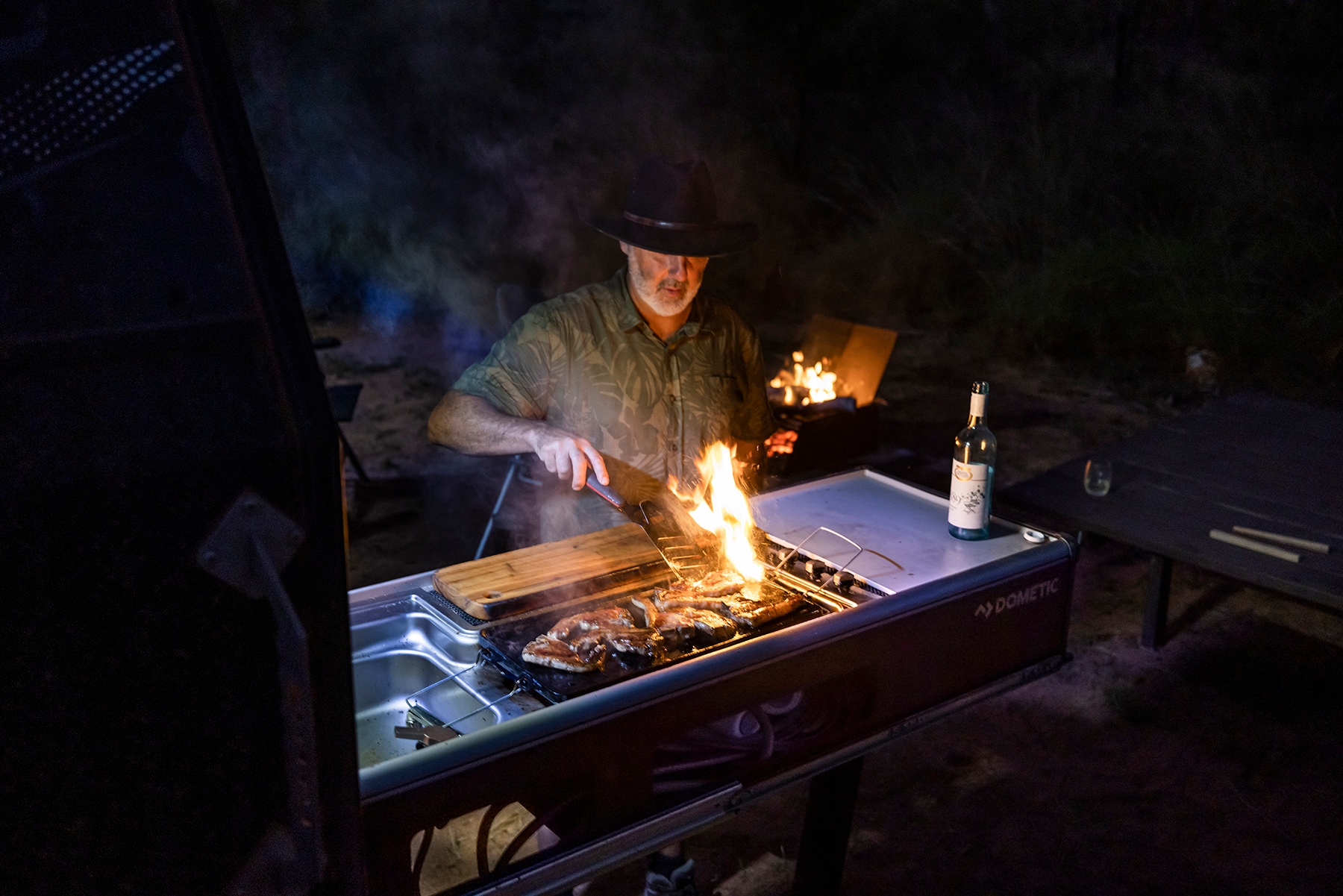 MANAGER30:
STAY IN CONTROL OF YOUR POWER ON & OFF-GRID + LIVE BATTERY VITALS
For the more serious tourer and more extensive off-grid travel. The Manager30 makes 12V power easy and does it all. Charges auxiliary batteries 3 ways (DC, AC, Solar), and gives you battery vitals & data anytime with the remote screen.
REDVISION VEHICLE MANAGEMENT SYSTEM:
ULTIMATE CONTROL AND MONITORING
Want it all? RedVision controls and monitors your entire rig: control all accessories from your smartphone, get battery vitals with the Manager30, monitor water levels, temperature etc. Easy to install and easy to use.
INVERTERS
TAKE HOME ON THE ROAD WITH PURE SINE WAVE CHARGE
The beauty of fitting out your rig is that you not only have room to breathe, you also have space to store many of the creature comforts from home. Take your kettle, toaster, hair dryer and chargers with you for a true off-grid experience.
SOLAR PANELS & BLANKETS
Harness the full power of the sun with REDARC's solar range – a full spectrum of 12-volt fixed and folding panels, and solar blankets. Rugged, lightweight products that integrate with our dual-battery charging systems you can easily tailor to your off-grid needs. It's free, unlimited, virtually unbreakable solar power for days of uninterrupted adventure.
LEARN HOW TO GET OUT AND STAY OUT.
We know better than anyone that there is so much that goes into canopy upgrades and remote travel. And that's why REDARC are here to help.