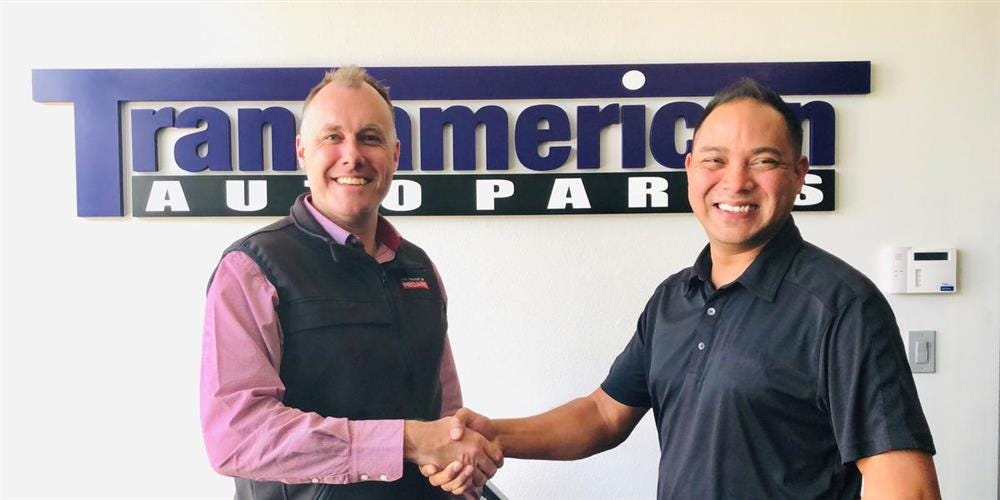 REDARC Export Manager Craig Herriot and Michael Ribas, Performance Category Manager for Transamerican
REDARC is pleased to announce Transamerican Auto Parts (TAP) as a North American distributor of REDARC's diverse product portfolio of electric trailer brake controllers, battery charging solutions, monitoring gauges and accessories.
For more than 50 years, Transamerican Auto Parts has been an industry leader in the manufacture, distribution, and sale of off-road parts for Jeeps and light trucks. TAP has numerous entities serving various niches in the automotive aftermarket under its corporate umbrella, including 4 Wheel Parts and Transamerican Wholesale.
"We're delighted to partner with the Polaris Industries, Inc. owned TAP in the automotive aftermarket. They are now stocking our Tow Pro electric trailer brake controller range and accessories across all ninety-three of their 4 Wheel Parts stores and through their national wholesale distribution network", said REDARC Managing Director, Anthony Kittel.
"They're on track to grow to a target of two hundred 4 Wheel Parts stores within the next 18 months and their DSI channel will be offering the Tow Pro range to new car dealerships across the USA. Our products including Smart Battery Isolator, BCDC dual battery chargers, Voltage Gauges and Manager30 battery management systems will also be stocked in their six distribution centres across the US."
Led by its flagship websites, 4WheelParts.com and 4WD.com, TAP's 22 consumer-oriented sites have facilitated consumer sales, service, and support. From the beginning, TAP has dedicated its resources to serving its customers, and to establishing itself as the premier supplier and distributor of high-quality automotive parts.
Speaking of the partnership, Tim Watts, Category Director Suspension and Performance for 4WP, stated, "REDARC offers premium off-grid Towing and Battery Charging products and we are excited to add them to our 4WP lineup, especially to service our Overland and Trail Rig customers.
"Their products are sleek, seamless, solid and built for everyday use, whether you're in the Outback, on the trails at Moab, or on your way to work."
"This is a really exciting time for us as we further strengthen our footprint throughout North America", Anthony added.
REDARC's range of Electric Trailer Brake Controllers and high-powered DC-DC battery chargers are highly innovative. REDARC was named a 2018 Global Media Award Winner at the SEMA show, in Las Vegas, for its dual input In-vehicle Battery Chargers (BCDC range) which charge a secondary battery bank via Solar and DC inputs simultaneously.
REDARC was also named a 2017 Global Media Award Winner for the Tow-Pro Elite Electric Brake Controller. The Tow-Pro Elite is the only brake controller to offer two operating modes and offers neat, simple installation thanks to its compact and flexible design.