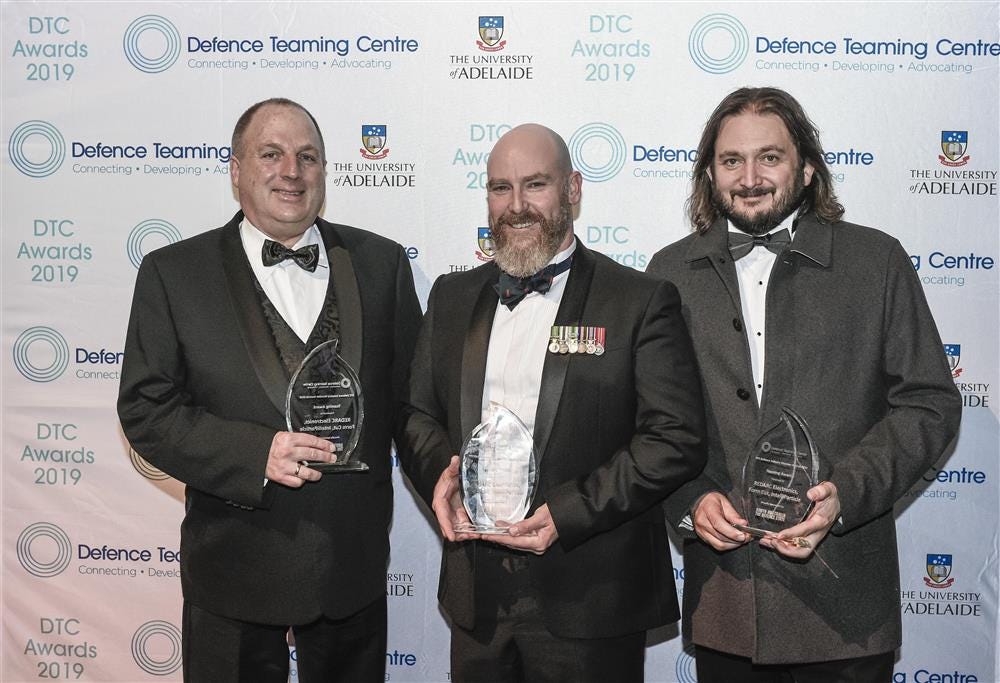 Pictured: Greg Hancock (IntelliParticle), Mike Hartas (REDARC) and Karl Falzon (FormCut).
REDARC is pleased to be announced as the winner of the Defence Teaming Centre (DTC) Teaming Award 2019 in collaboration with fellow Australian SME's FormCut and IntelliParticle.
The DTC Teaming Award recognises and celebrates organisations who achieve mutual business success as a result of collaboration with other organisations. The SME trio delivered the REDARC Thermal Enhancement Kit (RTSEK) to the Army earlier this year, and as a result the Australian Army successfully engaged practice targets for the first time using new Precision Guided Munitions, SMArt155.
Establishing realistic thermal vehicle signatures to guide the SMArt155 to its practice target would have typically required a generous timeframe to both acquire and set-up an expensive system of high-voltage heat mats and large generators. Whereas the RTSEK delivered an innovative solution without all the complex infrastructure and additional costs.
And in this case, it was essential to find a solution in the lead up to Exercise Chimera at Shoalwater Bay scheduled for March 2019. At the centre of the RTSEK solution was the strategic and collaborative partnership between Australian SME's – REDARC Electronics, FormCut and IntelliParticle, who by being local, could deliver this innovative solution to the Australian Defence Force within an extremely compressed timeframe.
Of the Award, REDARC Managing Director, Anthony Kittel said, "REDARC is well positioned to support unique Defence requirements both now and into the future, and as we have demonstrated this includes collaborative projects," he said, "The Award is a great acknowledgment of what can be achieved when successfully combining the technologies of multiple SME's."
REDARC joined the DTC in 2016 and won the Defence Teaming Centre's Resilient and Adaptive Award 2018 and have established themselves as a key SME in the Australian Defence sector over the past 5 years.
Defence Account Manager for REDARC, Mr Mike Hartas was pleased with the win and proud of the collaboration.
"I'd like to thank the Australian Army for recognising the capability of SME's to provide an advanced solution; and thank the team at REDARC; Karl Falzon from FormCut and Greg Hancock from IntelliParticle, and Award sponsor Defence SA," Mr Hartas said.
REDARC are an advanced electronics manufacturer who can offer advanced solutions to Defence and Defence Industry due to their ability to collaborate with other businesses and work with customers to ensure their needs are met.
You can read the full RTSEK case study and find out more about REDARC's defence capabilities at redarc.com.au/defence