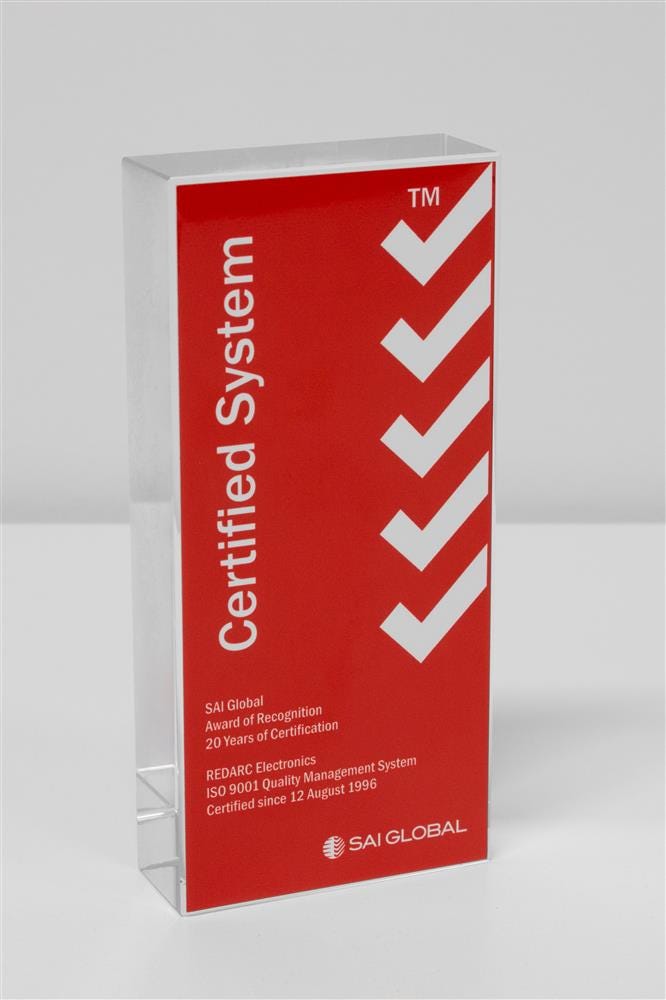 REDARC is proud to announce that it has been recognised for being ISO 9001 (Quality Management Systems) certified by risk management experts SAI Global for the last 20 years.
REDARC was first recognised as an ISO 9001 business in 1996 when it was formally accredited with the ISO 9001-1994. Over the years REDARC has maintained compliance, receiving an update of the accreditation with the versions 2000, 2008 and most recently 2015 awarded last year.
Operations Manager, Fabien Claudon said, "We are extremely proud of this milestone. Certification of ISO 9001 brings a process based approach to an organization and is essential to delivering innovative and high-quality electronic solutions to our customers."
As one of REDARC's six values, we are committed to doing things right the first time as we see quality as key to delivering the customer value for money. We make quality the centre piece in our work and interactions.
"The certification provides assurance to our customers and staff that we are focused on continuous improvement and customer satisfaction by continually implementing improvements throughout the organisation", Mr Claudon added.
The ISO 9001 Quality Management Systems specifies the requirements an organisation needs to demonstrate its ability to consistently provide products and services that meet consumer regulations. They aim to enhance customer satisfaction through the effective application of the system including processes for improvement of the system and the assurance of conformity to customer and applicable statutory and regulatory requirements.
It is one of the main drivers for continual improvement at REDARC. It ensures that we are continually recognised as one of the world's best managed responsible electronics manufacturing companies which are vital as REDARC look to strengthen our position in international markets and as we look to capitalize on new opportunities, in particular, the defence industry in the coming years.