Travelling the country in a caravan or camper trailer is many people's dream, and The Great Escape - Australasia are making it their realtity. After years of exploring in Australia in their camper trailer they've decided to make the trip across the water to begin their travels in New Zealand. We spoke to Nathan and Renee about their new vintage caravan and how they designed and retrofitted a dual battery system to suit their needs.
Caravan or Camper Trailer?
After three years travelling and working our way around Australia in a very well equipped camper trailer, we (Nathan, Renee, and kids, Ryan and Rosie from The Great Escape - Australasia) made the decision to move to New Zealand and continue our travels.
We thought long and hard about the best thing to travel in – the camper trailer option didn't sound too appealing in the New Zealand conditions, but we liked being able to drop our home off and go exploring without it so we knew we wanted a caravan over a motorhome or bus. The problem was, we had a very specific idea of what we wanted and not a huge budget to work with. We certainly couldn't afford to go out and spend $40k+ on a caravan with all the bells and whistles and, as anyone who has ever been RV shopping before will know, finding something that meets your specific requirements at the right price can be extremely challenging.
So, we decided the best option was to simply create what we wanted to our exact requirements. With that in mind we bought a beautiful Kiwi made Oxford caravan – a 1972 vintage, 48 years young – stripped it all out, and then had a completely blank canvas to start all over again and make perfect for us, and the needs of our family.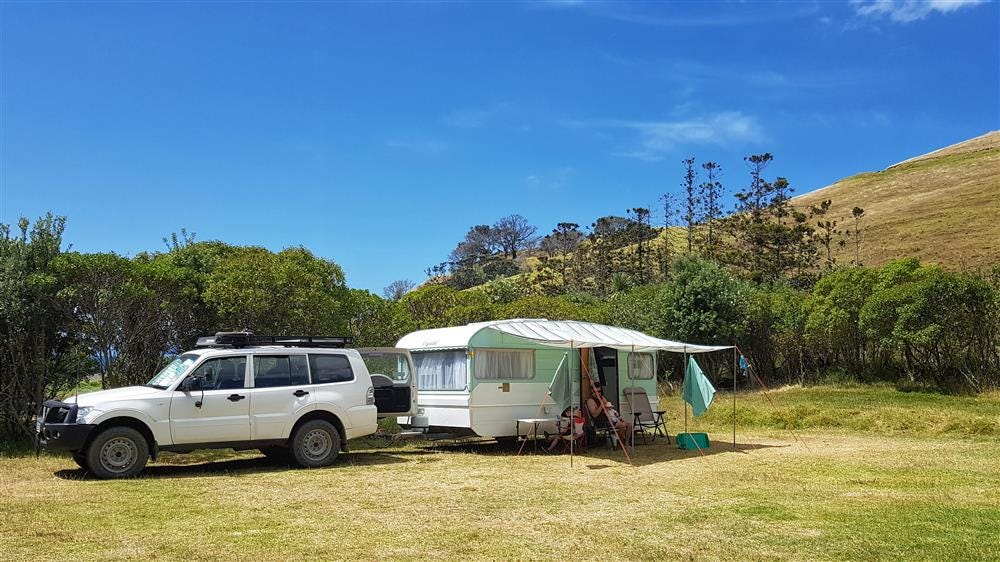 48 years young, the caravan looks as good on the outside as it does on the inside
How We Designed Our Caravan's Power System
There were a couple of things we really wanted to achieve with this build. Ultimately our plan was to travel around New Zealand in it long term – potentially for years – so we wanted something that maximised space and would be comfortable for our family of four long term. We wanted it to have plenty of storage, all the necessary modern comforts, and to be visually pleasing. We also wanted to be able to do most of the renovation ourselves (which we have managed to achieve, only the mains power portion of the wiring and the mechanical braking system have required an independent contractor). Lastly, perhaps most importantly, we wanted to be completely self sufficient with the ability to camp off-grid for extended periods of time. To do that, we had to make sure we got the battery and electrical system absolutely spot on.
Now I wouldn't say we are heavy users of power, but we needed it to be reliable and consistent as we really love camping at fantastic little out of the way places and don't want to have to get up and leave because the batteries are getting too low. So, we paid careful consideration to what appliances we would be using and the amount of power they consumed before we even looked at batteries and solar.
To do this, we sat down and sketched a rough idea of what we wanted our caravan layout to look like, and what we wanted to include in the build. We continued to discuss and refine this sketch until we had a complete scale drawing of everything we wanted to achieve. This included the electrical appliances we wanted to run, how many lights we wanted and where they would be, where we would be placing USB plugs and mains power outlets, and where we thought was the best place to fit our battery system.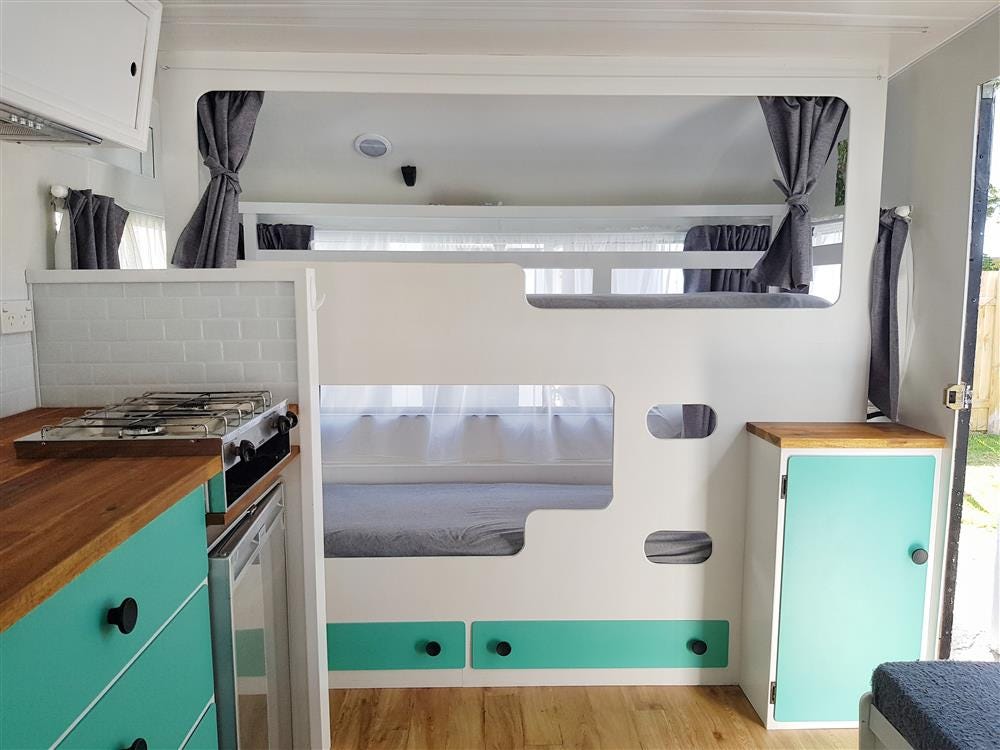 With two kids, Nathan and Renee needed to make sure they had enough power for the whole family
With all of that in mind we were able to make a rough calculation of our energy usage and requirements - taking in consideration things like the power draw of all our items, how many sunlight hours for solar we may be likely to get in New Zealand compared to Australia, and how long we wanted to be able to stay off-grid - while also being mindful of our overall budget and staying within a reasonable overall weight for our completed caravan build.
To help us make the right decisions about what we needed we drew on some expert advice – we gave REDARC's technical team a call, talked them through all of the above, and they were able to give us some pointers on the best products for our purpose, as well as how much solar wattage and battery storage we were likely to need. We've always found the REDARC Tech Support guys to be super approachable – it's that hands-on advice, expert knowledge, and willingness to assist that is one of the things we love about REDARC.
What Electrical Accessories We Included In Our Caravan
So, what did we put in our caravan from an electrical perspective? Well, our main source of power draw is an 85L fridge/freezer, then we have a range hood for the cooker, 12v water pump and water gauge, USB ports by each bed and bunk and in the dining area, and multiple LED lights throughout, both interior and exterior. We also have a REDARC 700W inverter that we use to charge things like our laptop and drone batteries, as well as powering a couple of electronic kitchen items. All of this runs off the batteries that we have installed, which in turn get their power from our solar panels. We decided on 2 x 120ah AGM batteries. Ultimately this was a decision made by weighing up their size, weight & cost vs. making sure we still had enough power storage. We did consider going the Lithium route, but it simply wasn't within our budget. As batteries are unavoidably heavy, we also needed to consider weight and weight distribution. With that in mind we chose to install them on the ground, over the axel, and on the opposite side of the caravan to the kitchen to balance the weight of the kitchen cabinetry and appliances.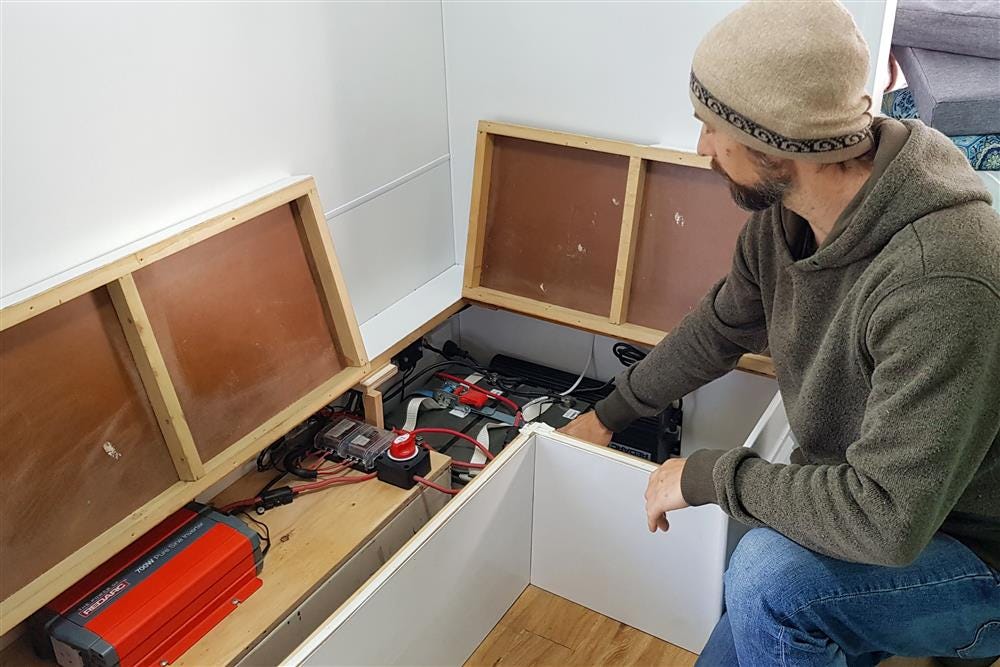 The power system is very neatly hidden away under the seats
For Solar we went with 2 x REDARC fixed solar panels. The great thing about a caravan over our previous camper trailer is the ability to have fixed solar panels on the roof, as opposed to the portable panels and REDARC solar blanket we used with our camper. Now don't get me wrong, portable panels also have their advantages in the sense that you can move them to follow the sun. But they're also a pretty large target for thieves, so we're quite enjoying the novelty of panels that are firmly fixed to the roof at all times and as such are able to safely provide a solar input regardless of where we are.
This amount of solar is working perfectly for us so far. Even on cloudy New Zealand winter days we still find our batteries are remaining nicely topped up, and we haven't needed to worry about them dropping too low. But we didn't want to just rely on solar alone for our power input, we also wanted to be able to draw on the power from our vehicle when driving, as well as from mains power on the rare occasion we're parked at a caravan park, or in a friends driveway. With all of that in mind we needed something to regulate and manage our power system and decided on the REDARC Manager30 battery management system.
Why We Chose The Manager30
We chose the Manager30 as the 'brains' of the operation for a few reasons. We had one in our last camper trailer and loved its ease of use and performance, so that previous experience was a big part of our decision-making process – we already knew it was a great unit. It also ticked all the boxes charging wise for us; solar, mains power and DC-DC (from the car). We have our system set up so that while we're driving, the Manager30 takes the charge from the starter battery in the car. While we're stopped it takes its charge from the solar panels on the roof – and if by chance they're not getting enough sun, we can plug in our REDARC solar blanket for a bit of extra oomph (although we've not yet had a need to do this).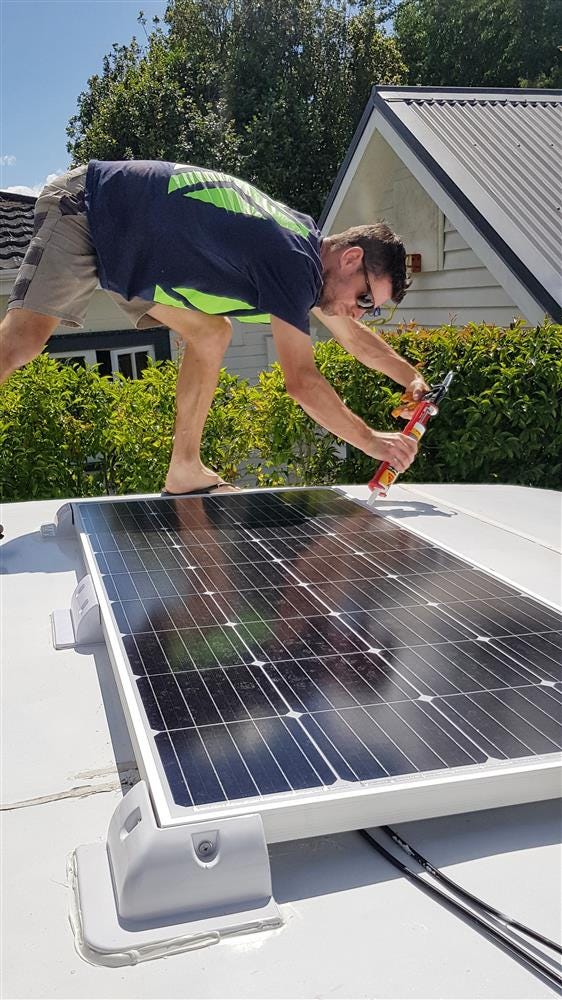 Fixed solar panels were a novelty that their old camper trailer couldn't acommodate
Then when we're plugged into mains power the Manager30 takes its charge from that, but the bonus is that the Manager30 will prioritise the Solar input. When we're driving it will keep getting power from the sun and just use the car power to top it up. Similarly, when we're plugged in to 240v it will only draw on what it needs to top up the solar input, making it very economical. It does all these things from one compact unit with a super easy to use and understand monitor that can be mounted nearly anywhere you could want it.
How We Maximised Space In The Caravan
Size was also important, living with a family of 4 in a 16ft van we needed to maximise every inch of space, which is another reason why an all-in-one unit like the Manager30 works so well. To make the most of the space we have, we installed our batteries, inverter and our Manager30 system under the seating in our dining area. To access this area under the seating we have a hinged top to the seats and, while it's not difficult to access it does require removing the seat cushions, so we wanted to store something in that space that didn't need to be regularly accessed – hence why it was perfect for the batteries and electrical system. They're out of the way, but still easily accessible on the occasions we need them to be.
Now that our caravan project is just about complete, if this sort of thing ever is - we somehow keep finding more things to add - we're enjoying the novelty of caravan travel, rather than the camper trailer we're used to. We loved the flexibility of a camper, particularly the way it allowed us to access all those amazing off-road parts of Australia but we're also loving the extra luxuries that come with a caravan. Things like an indoor kitchen, fixed solar panels, a diesel heater, an upright fridge/freezer, a rangehood, and the extra bit of storage space that a caravan offers, all of which were taken into consideration when fitting our caravan's electrical system.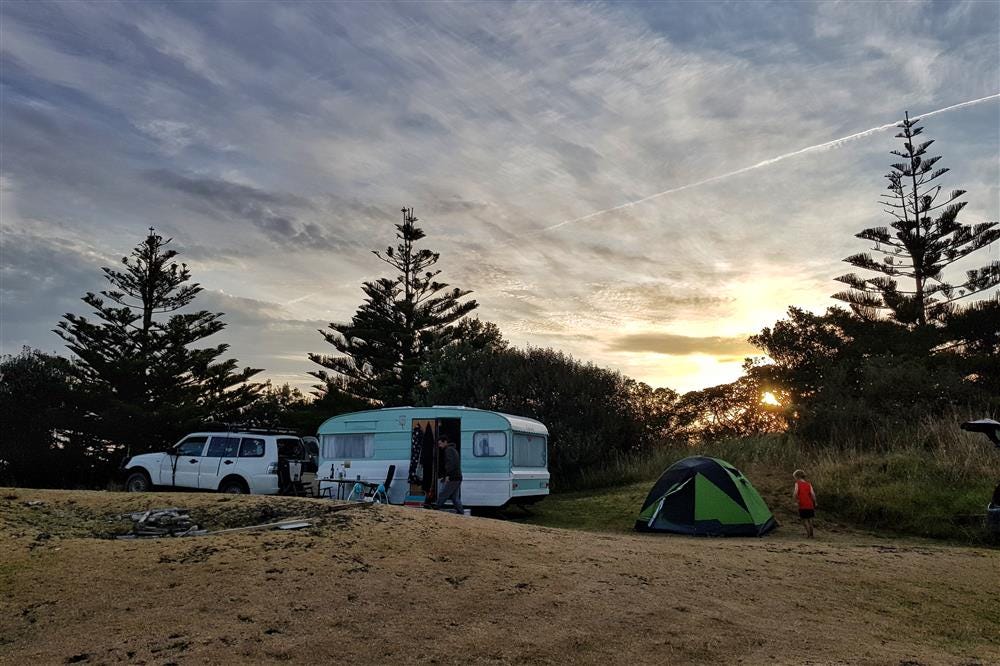 Much better suited to the New Zealand conditions, the caravan keeps them cool in summer and warm in winter
We're also enjoying our time exploring New Zealand – it's so similar to Australia in many ways, but also so very different. The landscapes are so varied, the volcanic areas blow our minds and the cultural aspect is fantastic. Being a different country also created a few challenges with our build – we didn't have the same amount of product choice as we did in Australia. Our choices were much more limited in regards to items like 12v fridges and other RV accessories, and prices here are generally a little higher. So, we were happy to find that the full range of REDARC products are available, regardless of if we're in Australia or New Zealand.
We've loved life on the road travelling Australia and we're loving it here in New Zealand too. What an amazing country this is, and how lucky we are to be able to explore it with our family from the luxury of our own purpose built home on wheels!
Want to learn more about our caravan renovation? Check out all the info on our website or our Facebook page or watch the video below to see a bit more about our setup.
To learn more about the Manager30 and what power solutions REDARC has to outfit your rig or camping setup and #getREDARCready visit our website, tech tips, and product support.