With spring fast approaching, the end of winter can be the perfect time to pack the family up, get away and spend some much-needed time outdoors. This means caravans, camper vans, and trailers new and old will be hitting the road to find the perfect getaway location. We have compiled some of our top towing tips; to ensure that whatever you're towing, you get to your destination safely.
Why do I need an electric brake controller?

Electric trailer brake controllers are a critical part of the towing setup if your gross trailer mass is over 750kg. To learn how to calculate gross trailer mass see our blog on towing capacities. The importance of a brake controller comes in when attempting to slow down. The added weight and momentum of your trailer can make slowing down the tow vehicle dangerous by causing it to keep going or crashing into the back of the vehicle.
An electric brake controller eliminates the chances of the trailer crashing into the vehicle by activating the trailer's brakes when the vehicle brakes are applied. The controller then judges how much braking is needed to safely slow down and stop the trailer.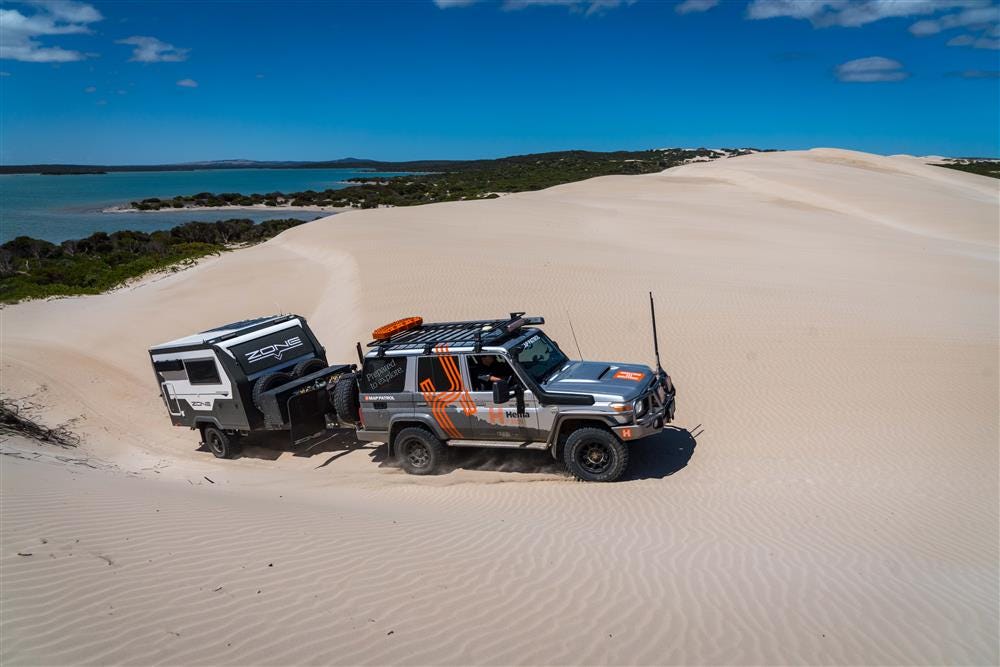 Towing through sand requires careful driving and lowered tyre pressure
Slow and steady wins the race

Whilst individual state rules on towing speed limits differ it is always best to play it safe and drive slowly while towing. In every state but WA, posted speed limits apply when towing anything under 4.5 tonnes. When in WA, the max speed limit is 100km/h for all trailers regardless of if the posted speed limit is higher.
It's always best to check with the trailer compliance plate and towing vehicle manufacturer also, to make sure that you are complying with the trailer or towing vehicle's max towing speed. Slowing down not only benefits your trailer but can help avoid windscreen damage caused by rocks from passing vehicles and means you can react quickly and safely in case of an emergency.
Electric brake controllers make overtaking easier

If you have to overtake there are several things you should consider ensuring that you're being as safe and courteous as possible to the vehicle you're passing. Ensure that there is a 2-3km of road visibility ahead, so you can plan for the upcoming road conditions. If you have a UHF radio, always attempt to contact the vehicle you're passing. Most people will be courteous and slow down for you. Overtaking on the flat or a down hill slope is always best, as gravity will assist you in keeping the trailer steady.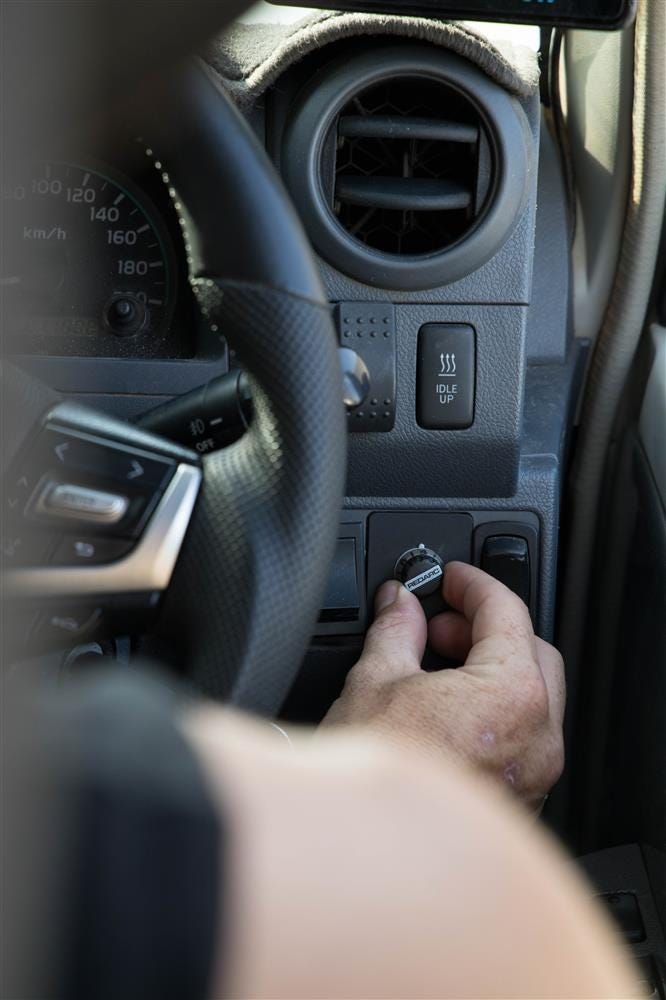 The REDARC Tow-Pro Elite knob fits neatly in the dash for a sleek look
The REDARC Tow-Pro Elite brake controller features not only a proportional mode, which senses the vehicle braking and applies trailer brakes to a proportional level, but also a user-controlled mode which gives the driver complete control of the braking strength. Using electric trailer brakes in this mode is also helpful to keep you towing in a straight line. It's important to know the capabilities and limits of your tow vehicle and trailer, because if you aren't 100% confident you can overtake a slower vehicle, you should not attempt to.
Tyre pressure is critical when towing

Tyres are critical when towing, for both the towing vehicle and the trailer. Light truck tyres are recommended as they are designed to carry loads more evenly and are more stable on trailers when cornering. It's also important to keep an eye on the age of the tyres. Rubber ages, and the life expectancy for a tyre is approximately 5 years from the manufacturers date. At this point it is important to invest in new tyres.
Checking tyre pressure regularly is another way to make sure you're getting the most out of your tyres. Always adjust your tyre pressure to the weight of the load and if you're driving off-road reduce the pressure by 28kpa or 4psi. Under inflated tyres can lead to the overheating and blowing out of tyre wells, while over inflated tyres can cause vibration and stress on the caravan.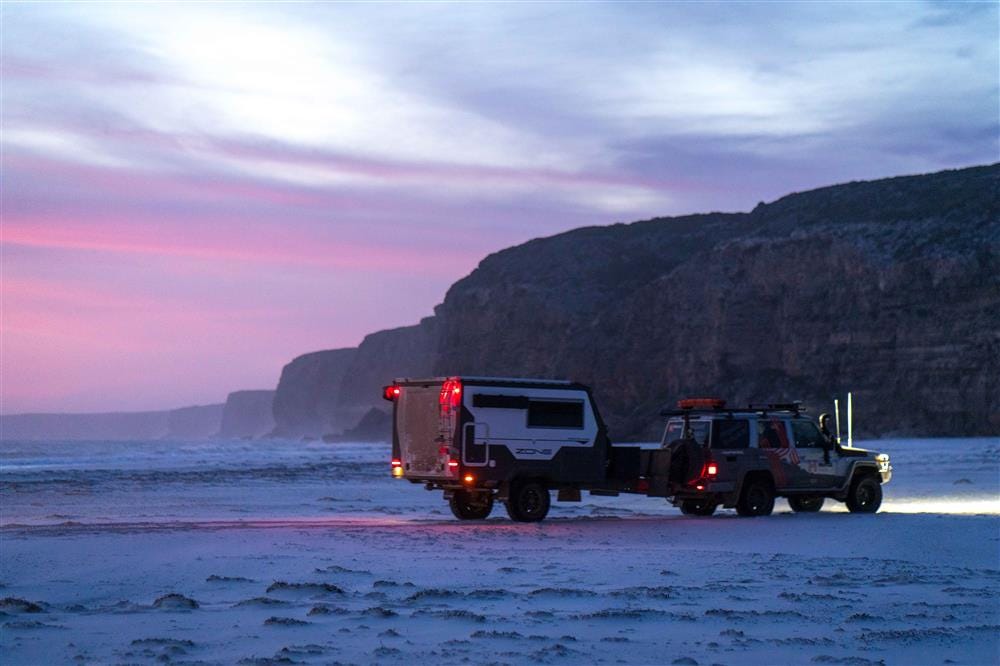 No better place to setup camp
How to turn while towing


When cornering it's critical to take it slow and turn as if you have a semitrailer behind you. Wipe off speed before you reach the corner then accelerate out. Aim the vehicle to the outside of each corner and use as much of the lane as possible. When cornering with a trailer there is no such thing as too slow.
Regular maintenance means no issues down the road


Trailers need servicing too, so it's always good to double check connections before a trip to ensure that everything will run according to plan. Checking trailer connections regularly can ensure that there are no nasty surprises as you're about to leave; hitches are often left without being locked in, hand brakes can be left on, jockey wheels can be left half stowed, and plugs with wiring to control brakes and lights can come loose.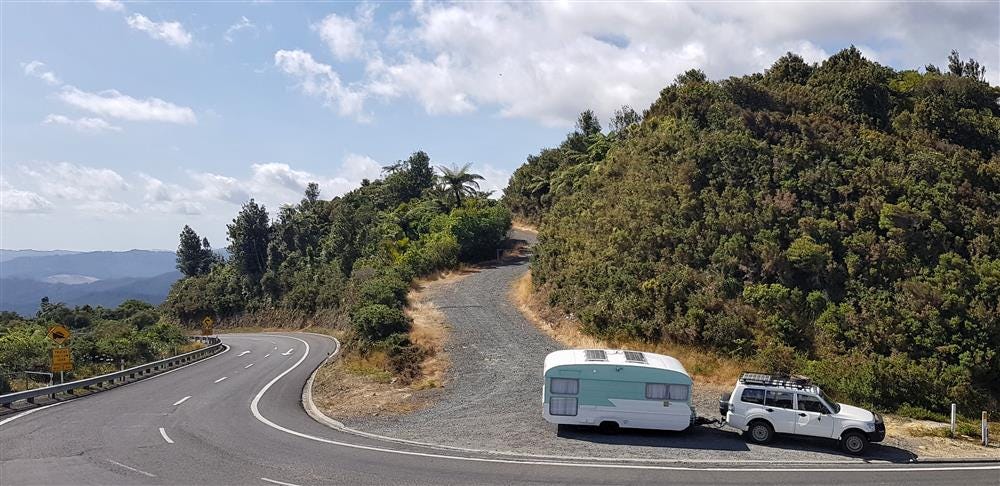 The slower the better when towing on windy roads
We hope some of these tips will come in hand the next time you're taking your caravan or camper trailer out. It always pays to be aware of the road and the other drivers around you and be safe rather than sorry.