REDARC Electronics has released the next-generation of its award-winning electric trailer brake controller, the Tow-Pro Elite V3 (product code - EBRH-ACCV3). Available for sale 23rd January.
This is the 3rd generation of REDARC's Tow-Pro brake controller with the original released in June 2014 and the acclaimed Tow-Pro Elite V2 released in September 2015.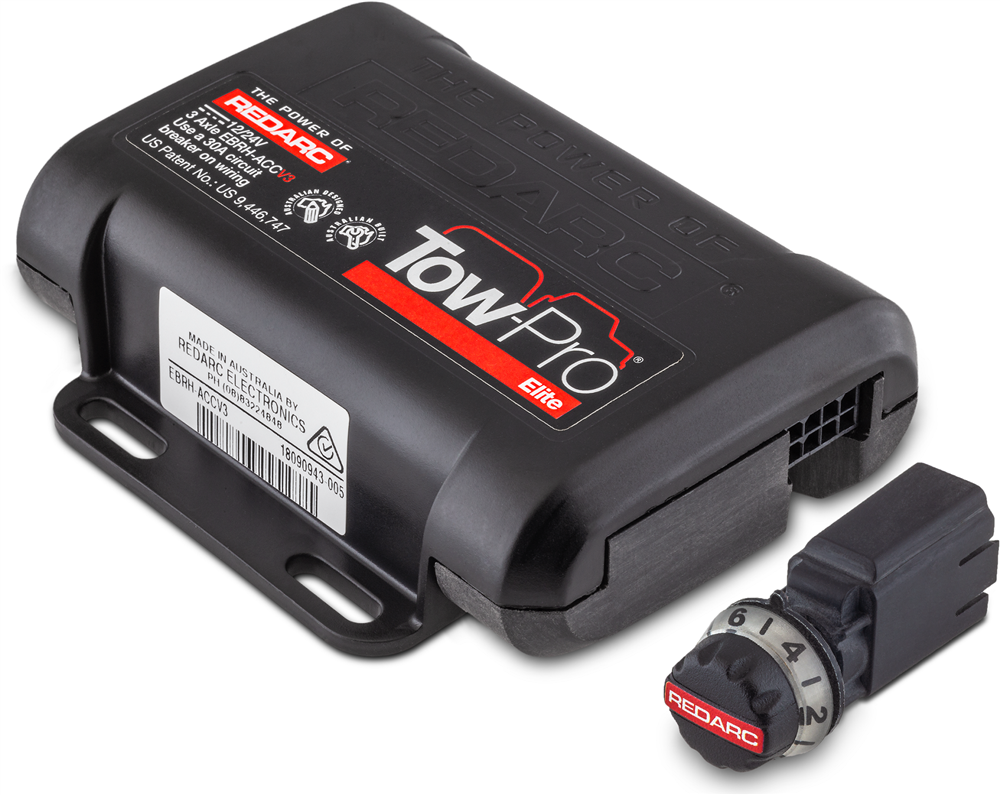 This next-generation Tow-Pro Elite retains the same name as its predecessor and continues to set the benchmark in trailer brake control technology which has seen it become Australia's favourite and most trusted brake controller.
The main enhancements to the upgraded Tow-Pro Elite V3 relate to the size and installation of the user interface (remote head) and compatibility with new vehicle technology. A change to the shape, length, size and depth of the remote head will allow a quicker and easier installation of the Tow-Pro Elite. It also ensures the remote head will fit into thicker and curved dashes found in European vehicles and trucks.
The new installation process of the remote head requires only one hole to be drilled into the dash delivering improved illumination, increased visibility and diffused light, ultimately providing better clarity of the braking force selected.
Software upgrades have also been included in the next generation Tow-Pro Elite which will result in smoother braking for motorists towing heavy trailers and caravans.
The 3rd generation Tow-Pro Elite maintains the simple operation it is renowned for and industry leading selectable modes of braking, 'Proportional' for highways and sealed roads and 'User-controlled' for off-road driving.
Like previous generation Tow-Pro's, the Elite features proportional braking technology built from a patented algorithm, while the dash mounted remote head has been independently tested to meet stringent ADR21 safety standards.
Tow-Pro Elite V3 continues to be suitable for 12 and 24V vehicle electrical systems as well as electric and electric/hydraulic trailers with no user input required to select the mode.
REDARC's Managing Director, Anthony Kittel said the catalyst for the update was feedback we received from our customers who install and use the product.
"We are always striving for ultimate satisfaction for our customers and end-users, whether it be through delivering new, cutting-edge products or updating and improving existing products. We are always listening to what our customers say and ultimately looking to exceed their expectations."
"The new and updated remote head will benefit those who install the product by simplifying the installation process, ultimately saving them time."
REDARC have continued to develop a range of vehicle specific wiring kits that simplify installation via 'plug and play' style connectivity and switch inserts which allow the installer to create a seamless looking remote head mount. Both products are compatible and continue to aid with the installation process of the updated Tow-Pro Elite V3.
Like all REDARC products, the Tow-Pro Elite V3 comes with nationwide support which includes a 2-year hassle free warranty, technical support and after-sales service to answer any questions which may arise.
For more information, click here