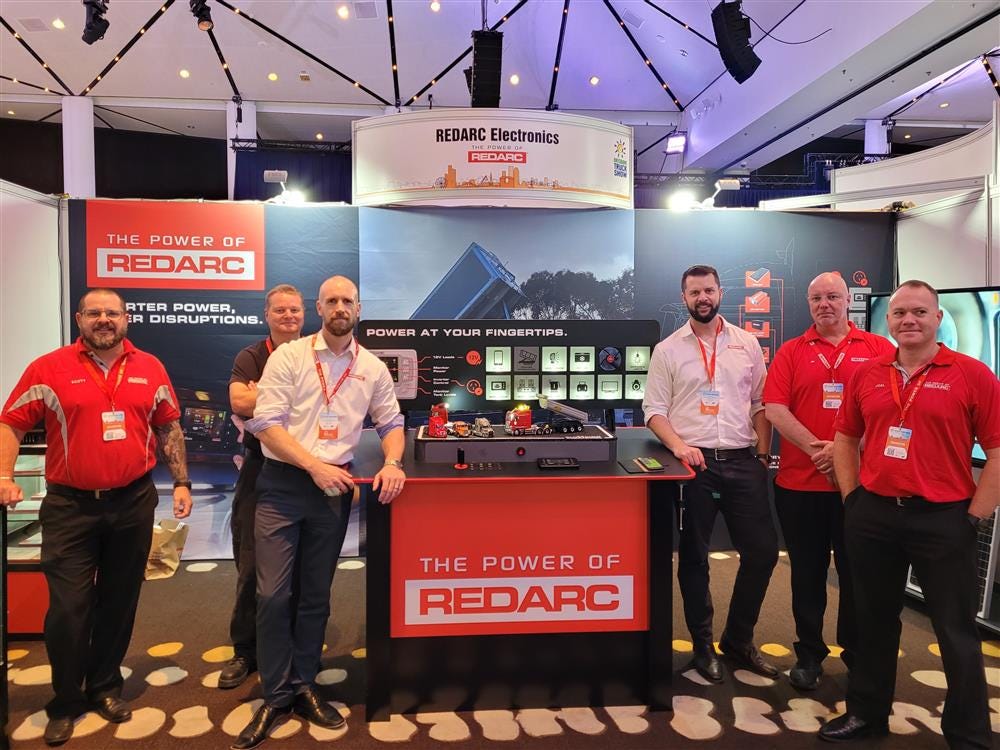 With the largest ever display of trucks and a record crowd, it was a busy four days for the REDARC team. Brisbane Truck Show 2023 saw REDARC staff across multiple departments including Sales Managers, Engineers and Product Development from around Australia arrive in Brisbane to showcase our award-winning RedVision Vehicle Management System.
Speaking on the event, REDARC's General Manager of Sales - Global OEM, Sascha Heib said: "It was fantastic to catch up with current customers as well as potential customers interested in the RedVision System. Our new interactive display was a fantastic tool in easily communicating the benefits of the RedVision system and looked great on the stand!"
Featuring a first of its kind specially built interactive display, the REDARC site proved to be quite the attraction for drivers and fleet owners alike. Designed to demonstrate the features of the RedVision System in a trucking capacity, the interactive display featured model trucks for which their tippers, lights and accessories could all be controlled.
Simplify your trucking experience and eliminate flat batteries. REDARC's award-winning RedVision system combines smart battery management and centralised accessory control in one powerful package, keeping your drivers powered for longer and in control of their electrical system.
The RedVision system offers complete control of all powered appliances in the truck. With a user-friendly interface designed around convenience, RedVision can be easily configured to control and monitor 12V devices including a microwave, kettle or TV, so it's easier than ever for drivers to keep track of everything their system is doing, no matter where they are around the truck.
Featuring a cab mounted RedVision Display, get live monitoring of the auxiliary battery system including state of charge and power draw, so your driver can stay on top of their power needs while enroute. While the RedVision phone app promotes the safe operation of external accessories such as lights and hydraulic tippers.
With the ability to add a range of sensors, use RedVision to check the outside temperatures, and make sure there is plenty of charge in the batteries. RedVision also features digital inputs that allows drivers to configure their system to switch some or all output loads on and off automatically when triggered, saving precious battery power.
Often utilised as a safety feature, RedVision can be integrated with sensors and cab lighting to ensure the vehicle is adequately protected against potential intruders and vandals. RedVision can also be wired to have digital inputs trigger with the truck lights to turn on additional rear facing lighting, allowing for enhanced visibility when reversing or loading.
Whether you're preparing for the next day, or safely operating external accessories such as lights and hydraulic tippers, control is at your fingertips. Made in Australia and backed by a hassle-free warranty and in-house technical support, take control of your truck's power here!