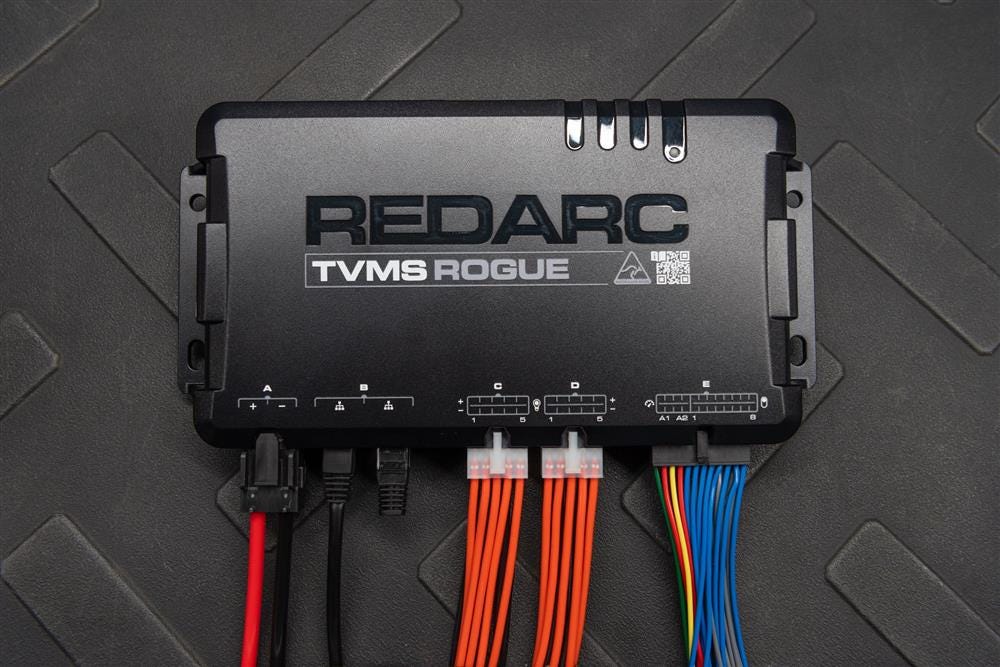 REDARC is excited to add the ground-breaking TVMS Rogue Control Module to its range of advanced RedVision compatible solutions. With its sleek and compact 25mm thin design and revolutionary smart fuses, the TVMS Rogue offers a level of power control and flexibility unmatched by any other product on the market.
Boasting ten dimmable 10A outputs and eight switch inputs, the TVMS Rogue is ideal for the control of lights, but is also at home controlling fridges, fans, pumps and more. The switch inputs allow the TVMS Rogue to interface with physical toggle and button switches for control anywhere in the vehicle.
Stay informed with two configurable sensor inputs which can be used for tank level, voltage, or ambient temperature monitoring. The RedVision app enables complete control and monitoring on mobile devices when connected to the RedVision display (sold separately), eliminating the need to return to the caravan to adjust lights and check batteries.
Product Manager for the TVMS Rogue, Albert Atkins said, "The REDARC TVMS Rogue is the ultimate solution for controlling your 12V devices in one place, whether you're on the open road or out on the trails.
"Rogue's easy integration with the RedVision display, light dimming capability, and intuitive connection with up to eight toggle or button switches, simplifies the way you power and control your 12V devices.
"The compact, lightweight design and configurability make it the perfect addition to our flagship RedVision systems range."
The TVMS Rogue joins the original TVMS1280, now called the TVMS Prime, and will be available in a range of new RedVision systems, with a system to suit most applications. For example, pair the TVMS Rogue with the Manager30 battery manager and RedVision display (sold separately), for a complete charging, monitoring and control solution.
Like all REDARC products, the new TVMS Rogue is backed by nation-wide support, including a hassle-free warranty, REDNetwork certified installer network and after-sales service to answer any questions.
Experience the ultimate in power control, monitoring and automation with TVMS Rogue and RedVision.
For more information visit REDARC.COM.AU/REDVISION