Steve Cassano has built a reputation as a well known contributor to a range of iconic 4x4 magazines and websites for over many years. He speaks to REDARC about something close to his heart, off-road etiquette when out on the tracks.
Etiquette, noun, the customary code of polite behaviour in society or among members of a particular group.
While I usually write about more technical and hands on subjects with the occasional training hint thrown in, I thought for this article I'd change tact a little. This piece is about driving habits but not so much about the vehicle but more about the driver's behaviour.
I believe that most passionate 4WD owners are generally quite considerate towards their fellow 4WDers.
Whether its touring along your favourite remote outback track, negotiating a gnarly hill climb at one of the many 4WD specific parks or even piloting to the local shopping mall, there's a few basic practices that I'd like to offer that we all can take on board when wheeling in your vehicle.
It's not often mentioned and surprisingly not often at club and forum meetings that I've attended but it's commonly known as 4WD Etiquette. Being polite and considerate to other people that you come across and even those that later follow in your ruts can benefit us all.
It's showing respect towards all 4WDers regardless of their background, skills or their vehicle of choice and most importantly the environment that we all love. While teasing banter among fellow 4WDers is a given, try to think before bagging someone's driving skills, their vehicle or situations (read bogged).
So why should you display 4WD etiquette on your travels?
Being respectful has many benefits and none more important then when you've found yourself in some bother like being bogged, confronting a major challenge or worse still a break down. No matter how good a driver you think you may be or even if you own the meanest 4WD out there, there will be times when another driver can help you out and vice versa. It also positively encourages others, so we can all share the roads and tracks on equal terms. It helps protect 4WDs and people, regardless of the manufacturer or their circumstances.
Stopping regularly to inspect the tracks ahead or heeding local knowledge about the conditions when you're in remote areas protects the roads and environment. This is especially so as many of the outback roads are in fact an owner's only access to their property and they rely heavily on these for access to towns, facilities and other major arterial roads. Driving along a dirt road during the wet can add to the deterioration. Minimising excessive driving during bad weather ensures the bush is freely available to be enjoyed by all instead of being gated or restricted.
Stopping and having a chat with a fellow traveller is a great way to start a conversation with likeminded people. Many times in the past, this has allowed me to share ideas and experiences or even that hidden camping spot or attraction, that I would otherwise has driven past.
A few things you can do before you depart
If you're unfamiliar with the workings of your rig and especially its 4WD system, then take the time to read the vehicle's user manual. I recall once leading a group in a convoy and coming across a bogged 4WDer who was adamant that there must have been something terribly wrong as his progress had been suddenly halted. After he asked what I thought and going through some basic checks, it was apparent he hadn't engaged his front hub (older troopie). He had become somewhat of a pain as he had blocked access for others for quite a while but once the hubs were engaged he was on his way. No thanks were offered but while disappointing, I knew best not to show it. If he had taken the time to read his manual he wouldn't have unnecessarily held us and others up on the trail.
It's imperative as a responsible driver to know the working of a vehicle's settings like driver aids e.g. Land Rover's Terrain response and when and how to engage low range and high range for example. Some vehicles require a full stop between changing range while others may need to be done at slow crawl. These are matters that should be second nature, so as not to frustrate others around you.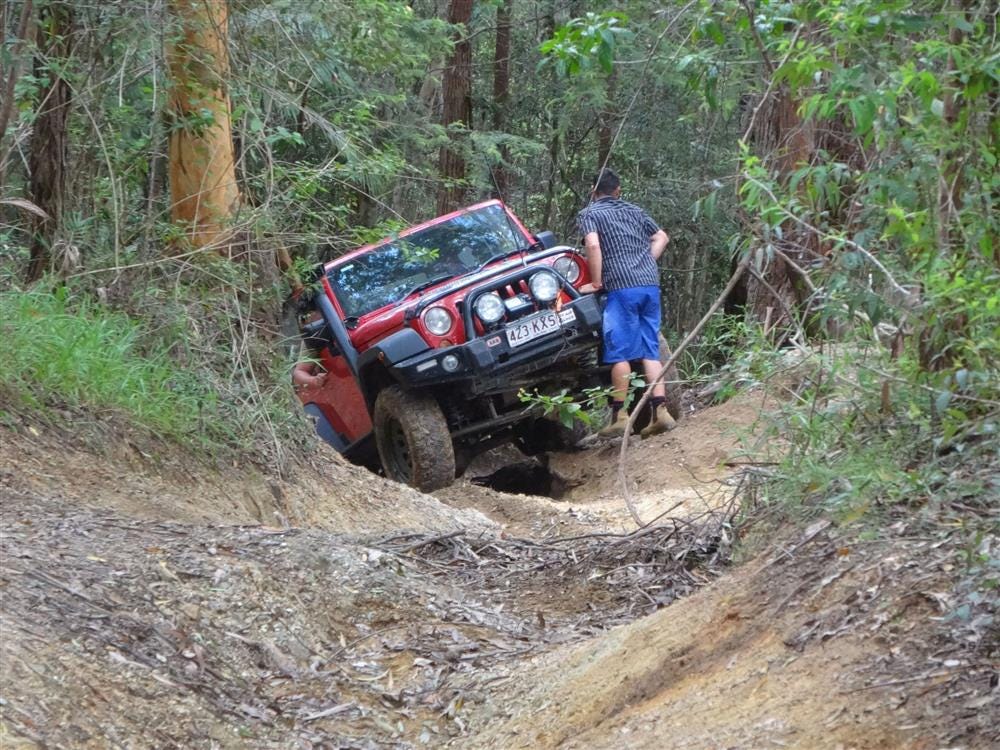 When embarking on any trip ensure the 4WD and trailer are in top order and are the right set up for your intended journey so others aren't held up because of some basic maintenance oversight. Of course not all things go to plan and if you're the adventurous type, then carry suitable recovery equipment and know how to perform a recovery safely. This is where a good 4WD owner should consider undertaking a 4WD training course. You'd be surprised on what you may learn and they're always good fun. It's just another credit towards being a responsible driver especially if you're new to 4WDing.
Talking about recovery equipment, it's the norm that if you do get stuck, that you use your own recovery equipment. Don't think that you can rely on others to get their stuff dirty and get on their knees. Though in most cases I've found a fellow 4Wder has always been happy to lend a hand if you ask nicely and listen to their advice and instructions. They may even offer to use their own equipment.
Talking about dirt tracks, carry a tyre pressure gauge and adjust tyre pressures when driving in off-road conditions and plan your route but keep to established roadways. It lessens damage to tracks and especially sand terrain making it harder for following traffic. It's no longer acceptable to go bush bashing as this can again lead to locked out areas for those that do the right thing. Heed the advice of more knowledgeable people or locals who may have more experience or know something that can be helpful.
Even on dirt tracks you'll come across signage and warnings, so always obey them as there's usually a good reason for them being there, even if you may not agree.
Finally as the driver you need to take responsibility for your passenger's safety. Ensure you lay down the guidelines and that they accept your role.
Tearing along the outback roads
On outback roads, adjust your speed for the road conditions and environment. If approaching another vehicle, slow down and move over to the left to lessen the chance of stone chips damaging oncoming 4WDs. Avoid soft edges as there's often hidden obstacles, sketchy traction and increases the chance of other vehicles being engulfed in billows of blinding dust.
Even though modern vehicles now come with DRL's I always keep the headlights on and use my indicators when travelling on unmarked tracks to improve visibility.
When overtaking another vehicle, especially in dusty conditions, I hop onto the UHF and advise the other driver of my intention. Truck drivers really like this courtesy. Just like on-road, use indicators and give plenty of space when overtaking. Especially large road-trains which can be awfully long and have little manoeuvrability or stopping power. Try to minimise kicking up any stones and dust and thank them when safely passed.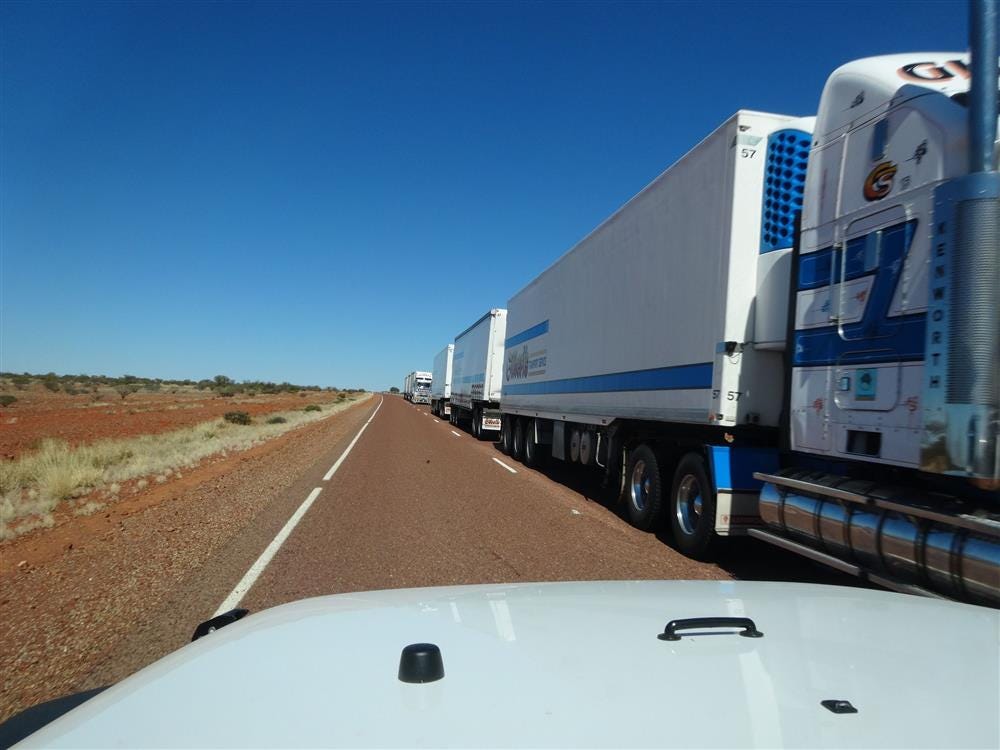 Often than not, travelling the outback you may come across plenty of gates; the rule is to ensure the gate is left as you found it. If you happen to be in a convoy, make sure tail-end gets the right message.
If you're into steep hills and such tracks
One of the more annoying things when wheeling challenging terrain is being significantly held up by another 4Wders or worse still several along a path. I suppose it's more an irritating thing being blocked for too long when you're keen to keep the momentum and adrenalin going. So make sure you avoid being that person. Of course at times you can't avoid being bogged but try to ensure you keep the track as clear as possible by not stopping in the middle of a track, which is often the case on those narrow gnarly tracks.
If you come across a faster group just let them pass, afterall you're there to enjoy the day at your own pace (maybe you can have the last laugh if they get bogged further along). Talking about other vehicles being bogged. I'm always happy to offer assistance but I ask first if they want any help rather than rapid-firing advice. Nothing more annoying than being told to do this and that when you may already have it under control. Some people just don't like being helped by strangers and that's fair enough.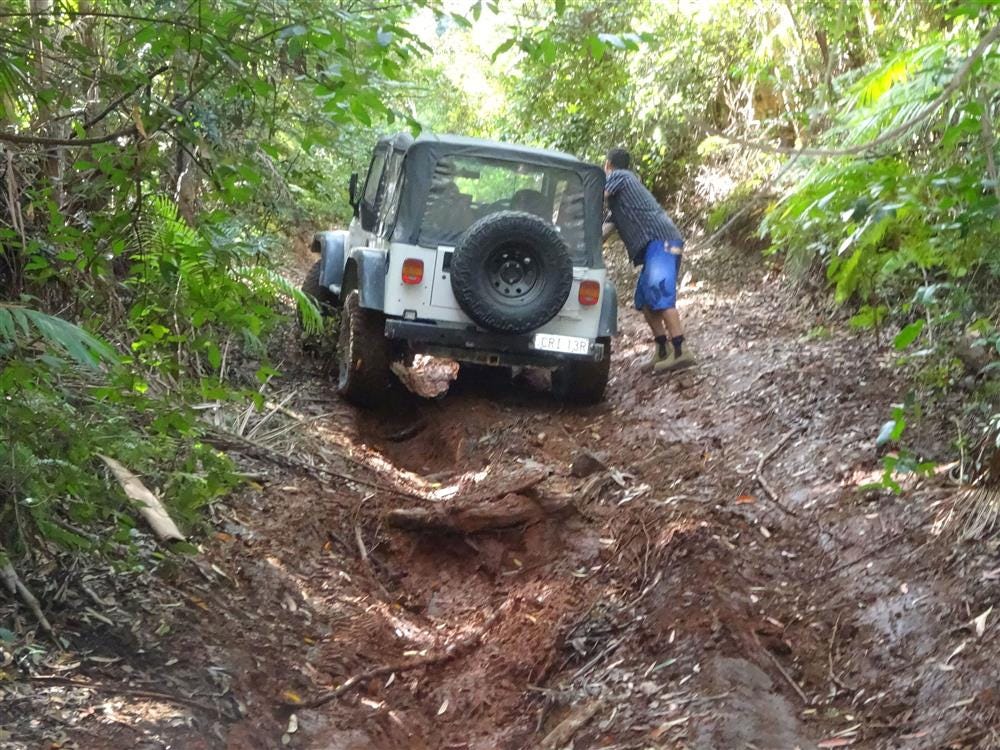 Finally, if you are travelling extremely tough hills and you come across another vehicle descending a narrow track, pull over or reverse to a safe passing stage to allow them to pass. It's much more difficult if not impossible to reverse up an incline than vice versa.
Those are just a few ideas I suggest that we can all take on board to improve relationships with fellow travellers, local authorities, owners whose properties you may travel through and the general public. There's enough bad media about 4WDs and such groups with out making things worse by poor behaviour or politeness.
I'd like to say that in general most 4Wders and campers I come across do the right thing but we occasionally let slip for reasons like being unexpectedly bogged, break downs, long days behind the wheel or even grumbly passengers. No matter what your days been like, wave and smile when passing another fellow traveller.
I guarantee it will be a great experience and good 4WD Etiquette...
Happy Wheeling!
Steve Cassano is a 4x4 author and has provided REDARC with a range of other informative articles including a guide to driving steep mud tracks and two considerations for driving corrugations.