Imagine owning a touring vehicle where you had room to take all your toys, tow a camper trailer, caravan or boat and didn't have to worry about being overweight, safe in the knowledge that your vehicle will handle the rough stuff with ease. Top Wire Traveller do just that, and have some insights on small truck ownership that may just tick a few more boxes than you may think...
Talking trucks

If you're serious about setting up a touring vehicle, a small 4x4 truck could be the solution. Now you might thinking that a truck is too big to handle or even slight overkill. However, consider some of the benefits. You have enough space for your gear plus your toys, you can tow up to 3,500kg, and fit in seven people. The best part? You can do all three at once and still be under the vehicle's maximum weight.
What kind of truck are we talking about?

We're talking about small trucks. The ones with a Gross Vehicle Mass between 5.5 and 7.5 tonnes, which is the total weight the vehicle can legally carry including the weight of the vehicle itself, which can be dependant on the brand of vehicle.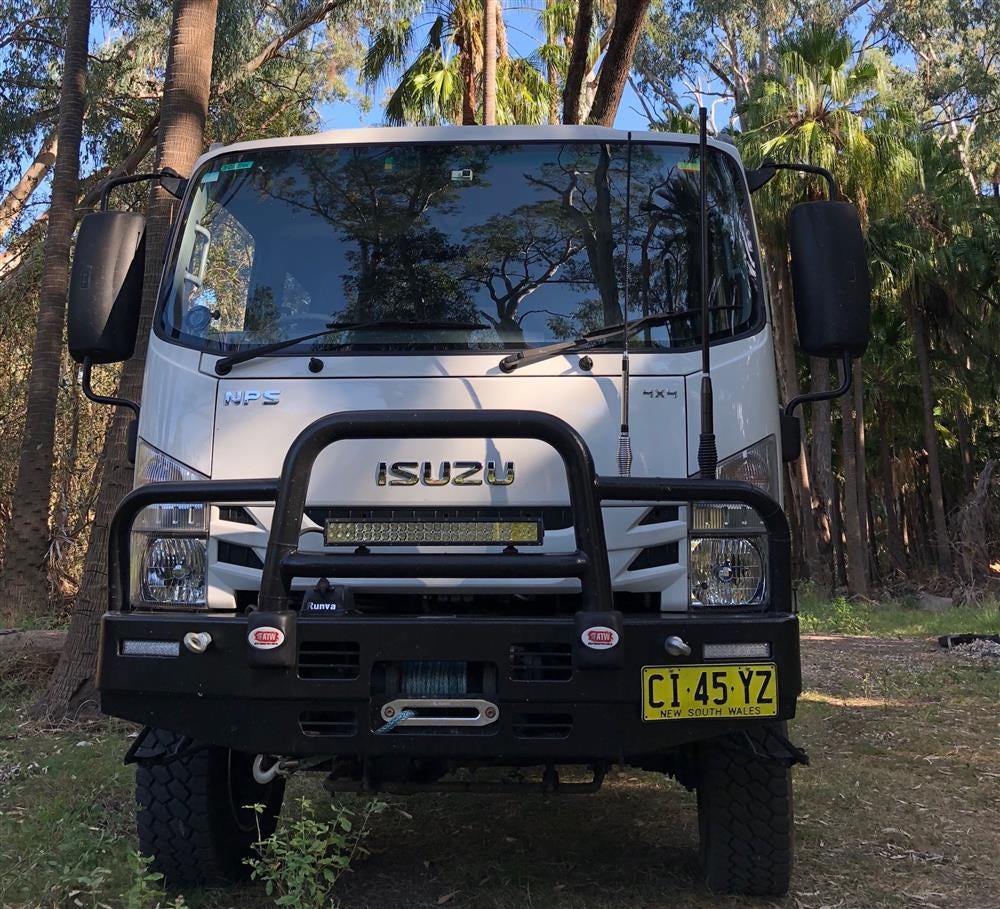 These trucks really aren't as big as they appear to be
They can also be registered with the GVM limited to 4.5 tonnes, so you can drive them on a car licence. However, the benefits of these trucks really kick in at the higher GVMs. Regardless of GVM, they all have a 3,500kg rated towing capacity.
So why should you consider a 4x4 truck for your next touring vehicle?
The Advantages Of A Small 4x4 Truck

Space

Whether you choose a dual cab with seating for seven or a single cab, you'll certainly have plenty of room for both your toys and the essentials. Regardless of how you set-up your 4x4 truck, you'll have lots of space.
Payload

All of these trucks can tow up to 3,500kg. And then you have the truck's payload on top of this.
For example, an Isuzu NPS dual cab with an alloy tray will weigh about 3,750kg. Even allowing for 250kg towball weight, you can still carry 3,500kg on the truck.
Strength

We've all seen photos of 4WDs with their chassis bent like bananas. Invariably, this is caused by too much weight. Not necessarily overweight, just too much weight for a sustained period of time.
Ute manufacturers have been scrambling over each other to gain an edge in this highly competitive market. Towing capacity has been one of their selling points. While a dual cab ute can technically tow up to 3,500kg, this doesn't mean it should, especially for extended periods of time.
Something has to give. And often the chassis is the weak point.
You'll have no such problems with a small 4x4 truck. They are built on a real truck chassis. And because manufacturers "build down" they often use standard components from larger trucks as the basis for these smaller trucks.
Price

All three Japanese trucks are line-ball with the cost of an equivalent Toyota Landcruiser 70 series cab-chassis. You get a lot of vehicle for your dollar. The Iveco has a higher entry price, but also has more standard features than the other three.
Service Network

Isuzu, Fuso and Hino trucks can be found working hard throughout Australia. Their dealer and service networks are extensive, so parts are readily available Australia-wide. Iveco doesn't have such an extensive network, however, it continues to grow.
Are there any downsides to owning a 4x4 truck? Well, yes there's a few.
Downsides

Nothing's perfect. Like everything, there are compromises. A 4x4 truck is after all, a truck. They're slow and steady, even lethargic at times. And they ride like a truck, with a rougher ride than a 4WD ute or wagon.
4x4 trucks are taller, possibly wider and longer than your standard vehicle. Although not as much as you might think. For example, the truck shown below is the same width as a 200 series Landcruiser and only 500mm longer than a Ford Ranger. Of course, it's taller at 2.5m. Even then, throw a rooftop tent onto a 200 series or a Y62 Patrol and you're at about the same height.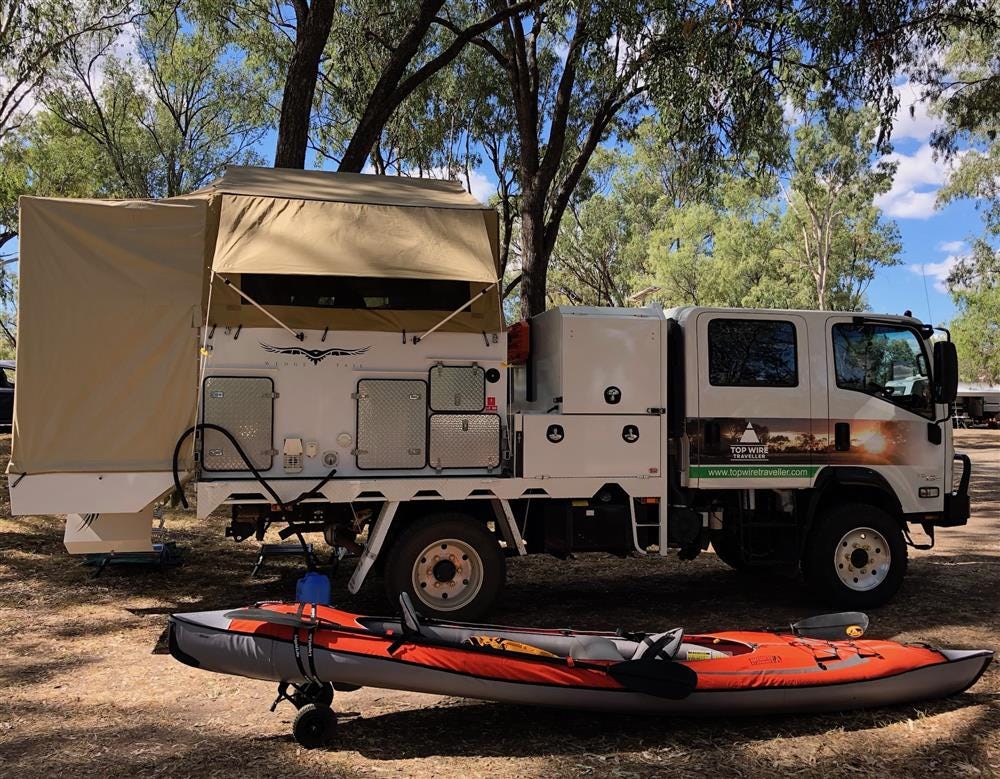 There's plenty of space for all your toys
What 4x4 trucks are available in the Australian market?

Four Choices

Isuzu, Fuso, Hino and Iveco sell 4x4 models in this GVM class. And that's it. If none of these take your fancy, then perhaps you'll need to think again. However, consider their respective pedigrees.
Isuzu have a legendary reputation for reliability, off the back of being the number one selling small truck brand for 30 years in a row.
Fuso also have a well-deserved reputation for reliability. You'll find these trucks hard at work in extreme environments all over the country.
Hino is the new kid on the block. After years of local testing, they've released an impressive vehicle. It ups the ante on safety and comfort, something Isuzu and Fuso have been dragging their heels on.
Iveco is the dark horse here. The only European in this bunch that has suffered from reliability issues. This sometimes temperamental Italian has won a band of loyal followers, while others are not so excited about their choice of vehicle. In typical European fashion, Iveco offers lots of creature comforts inside the cab.
Is A 4x4 Truck For You?

Few people think of small 4x4 trucks when searching for their ultimate tourer, but they're well worth a look into. They can often be a solid foundation on which to build your dream machine.
And the best bit? You can peer down at those lifted 4WDs as they cruise past, knowing your vehicle will more than match them in the rough stuff.
You can follow Andrew and Peta's outback travel adventures via their website and on Facebook, Twitter, Pinterest and YouTube.