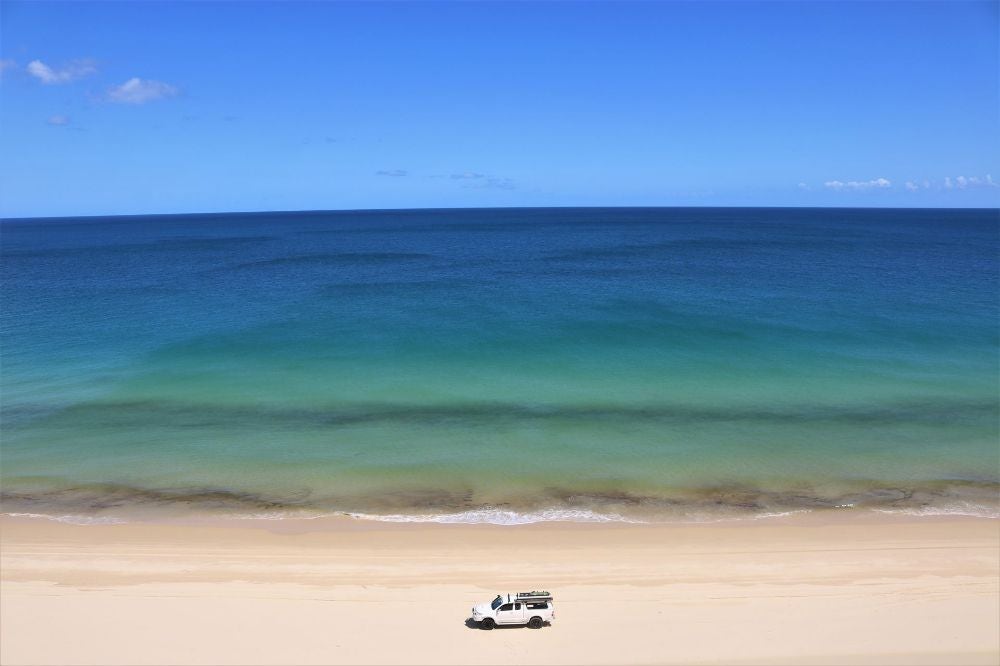 Fraser Island is in the top 3 camping holiday destinations that we have experienced since starting Summit2Sea Adventures. For those unaware, Fraser Island is located off Australia's eastern Queensland coast, and is the world's largest sand island stretching over 120km.
We have just recently spent 4 nights camping and exploring Fraser Island and did our best to cover as much as possible of this large, diverse sand island.
There is something magical about Fraser that can only truly be captured and appreciated in person, but we will do our best to paint a picture of what the island has to offer with a little day to day of what we did.
Day 1 - Thursday
The journey all began from our home town, 2 hours south of the car ferry to Fraser Island leaving from Inskip Point, just past the small township of Rainbow Beach. The ferry crossing takes roughly 10-15minutes and once disembarking the Ferry we set our sights on heading to the most northern tip, exploring what Fraser had to offer along the way. To our surprise before we even got 5 minutes into our drive we were lucky enough to spot one of Frasers locals, the Dingo, who had the best spot relaxing on the beach watching the cars go by.
Our first stop was at Eli Creek, the largest fresh water creek on the eastern beach of Fraser which pours up to four million litres of crystal clear fresh water into the ocean every hour. If you look close enough you'll also spot Jungle Perch which inhabit this creek. After a good hour of walking up the stream and floating back down, enjoying the cool fresh water dip on what was another true Aussie summer day we ventured on.
Only minutes' drive north from Eli we came across our next pit stop; The wreck of The SS Maheno, which washed ashore in July 1935. After several photos of the wreck and learning about its history from the information board and memorial stone we kept moving north.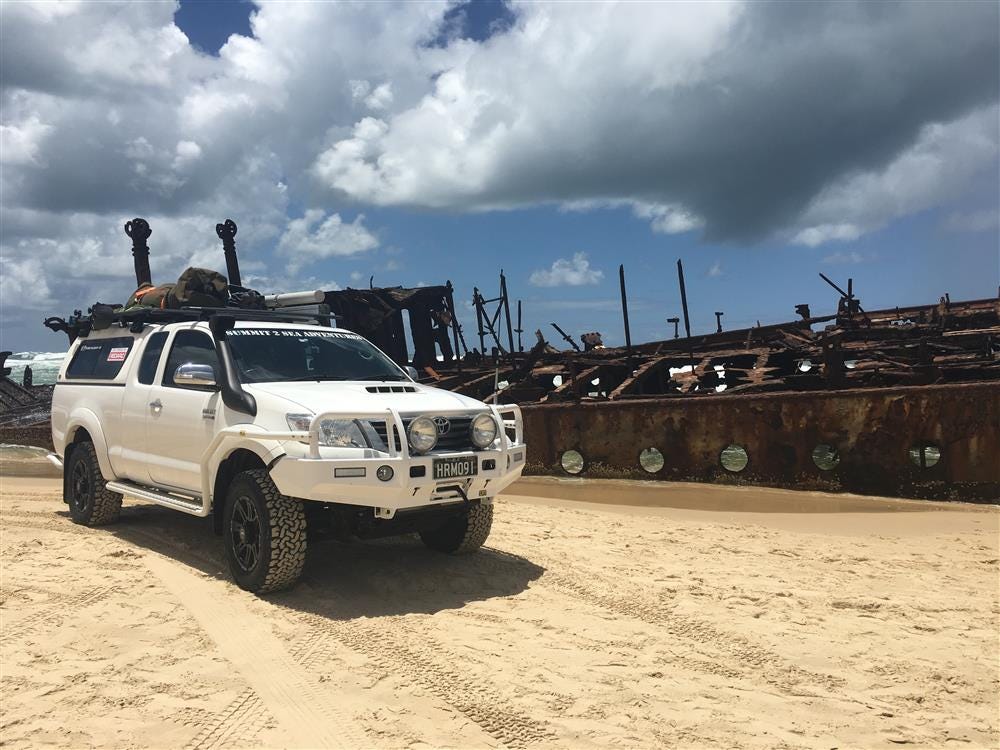 The SS Maheno is a must-see on Fraser Island
We pushed on to the tip of Fraser where we learnt that you can only drive around the Northern tip to the Sandy Cape on a low tide, and like always our perfect timing had us there on a high tide. But all this meant for us was a few discussions over a sandwich and a decision was made, we would head back to Waddy Point campsite to set up base camp and would make the trip back to the cape another day.
We arrived to Waddy Point Campsite to find lush green camp areas set out, this is one of only two campsites on the whole island which allows you to have fires, of which are in designated fire pits. One tip to keep in mind when choosing Waddy Point as your camp is that cars are not allowed onto the camp site itself but can be parked right at the front of your site behind the wooden barrier; so if you're in a rooftop tent this may not be the spot for you.
Day 2 - Friday

Day two saw us heading back to Sandy Cape to try and make up for the previous days failed attempt. We knew that we needed to arrive on almost dead low tide to access the Cape. The trip from Waddy Point to Sandy Cape took us about 45 minutes in total. This included crossing the Ngkala Rocks which is known to be at times a difficult crossing through rocks and a very soft sand incline.
Once we made our way around the tip we were greeted by the most stunning beach scenery, the whitest of white sand which was met by the blues of the ocean which was as calm as could be.
We first stopped at this huge sandblow where we couldn't pass up the opportunity to hike the summit for those spectacular views. After a very sandy steep descent on foot, we got back in the car and travelled a little further to the Cape Lighthouse. It was here that we did a walk through the scrub to get to some WWII bunkers that were used for ammunition storage.
After an active morning we started to get peckish and were ready to throw a line in. We drove along the quiet beach and chose a spot to set up for the day. We pulled out our Foxwing Awning, table and chairs, this was going to be our destination for the next 8 hours.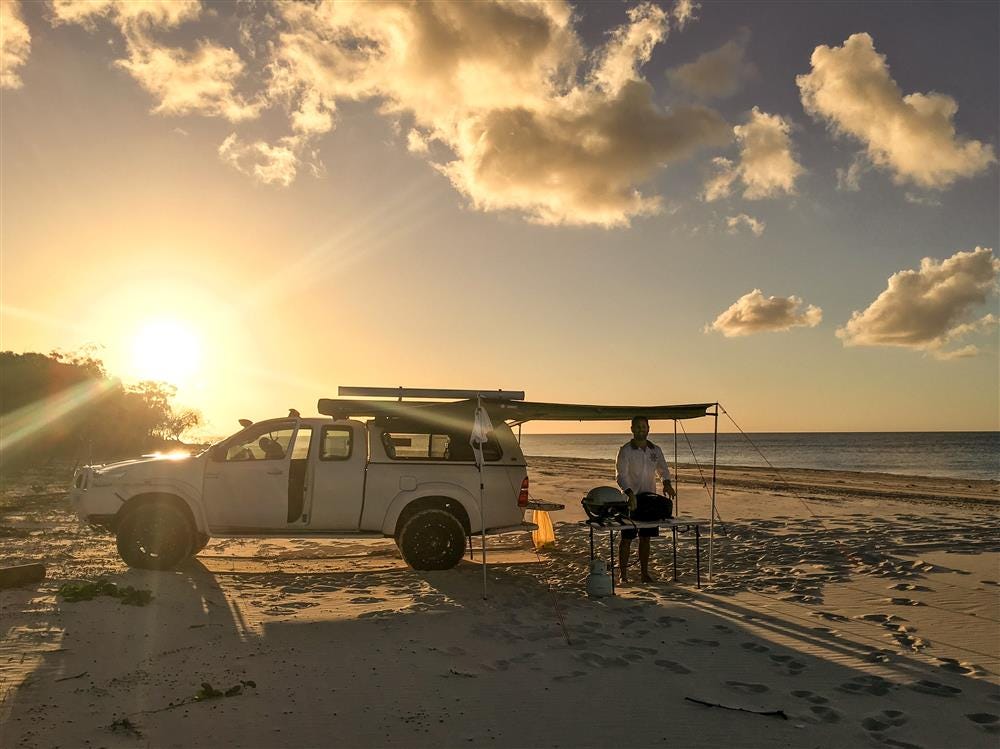 Sandy Cape is a great place to set yourself up for the day
This spot was great for fishing. We were flicking metal slugs around and catching plenty of large dart and had our larger rods set up as we watched tuna jumping around. We were lucky enough to have our large rod hook on 8 times throughout the afternoon, unfortunately only landing 1 of those which turned out to be a very large Shovel Nose Shark. While the fight was underway with this shark, we looked around to see a baby turtle which was then closely followed by about 80 baby turtles scurrying down the beach towards the water. This was something so special and we are so glad we got to witness this first hand.
Tip: If you are heading up to the Sandy Cape on a day trip, be sure to check your tides as it is only accessible on the low tide, so take your food and plenty of water for the day.
Day 3 – Saturday

This morning we decided to head to the west of Fraser Island to see what it had to offer. We decided on checking out Wathumba Creek, which was a sandy inland track. We took off from Orchid Beach Town and headed west, which took us around 45 minutes through the bumpy narrow tracks. Once we got there we parked at a picnic area and walked down to the beach where we were greeted with an amazing array of colours.
The creek was all those beautiful colours of teatree and in the background the ocean was beautiful crystal blues. There were people in kayaks, people fishing, stingrays swimming and best of all it was protected from the easterly winds we were experiencing that day. We explored the creek for a little while and discovered that it is best not to drive your car around here on the beach as it is prone to sinking sand.
During our journey back to the east coast we decided that we would go and check out the ever so famous Champagne Pools. These are natural made swimming holes amongst the rocks, home to many fish that you can swim with. We visited these pools on low tide and due to the large swell that was running, the waves were smashing over the rocks and clashing in the air spilling into the pools. highlighting the reason they were given the name, Champagne Pools.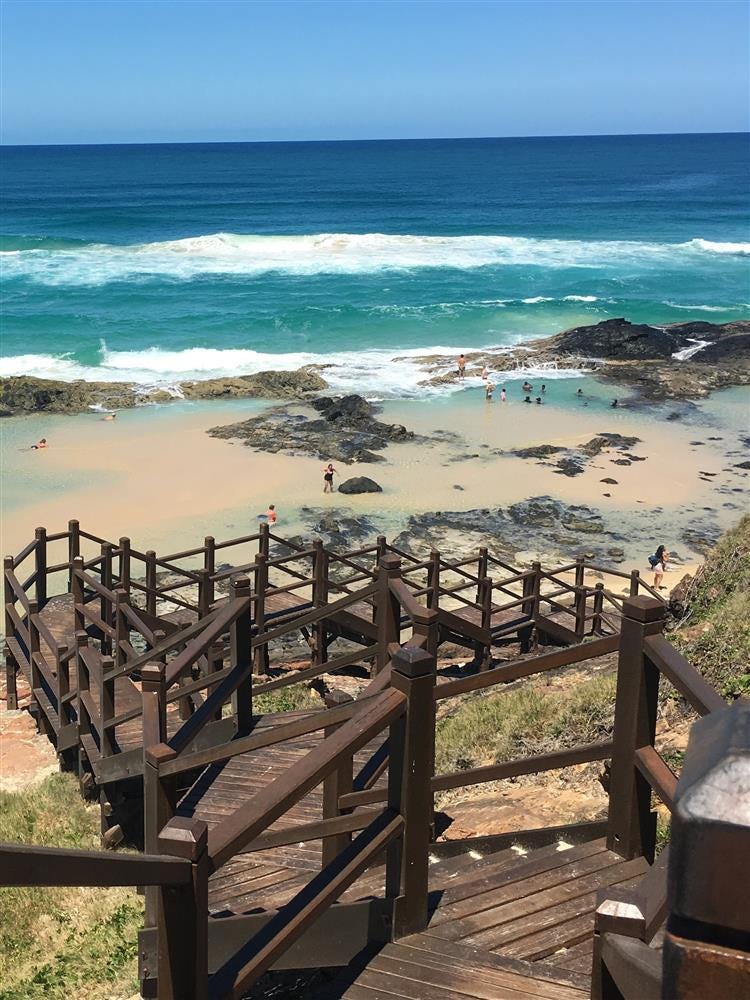 Champagne Pools makes an incredible first impression
Day 4 – Sunday

We headed south along the eastern beach to explore some new areas and camp at one of the eastern beaches campsites. After packing up in what felt like 40-degree heat and 1000% humidity we knew exactly where our first stop for the day would be, Eli Creek.
Once we had cooled off we headed a little further south for the beach entrance walk to Lake Wabby. The walk was a nice 4.8km round trip which took us roughly 45min one way. But don't let this deter you from making the journey in, the walk-in takes you through some wonderful ever changing flora and fauna and once we reached the last couple hundred metres it opens right up and feels like you're walking through a desert until you reach the top of the dune which drops away into what is Lake Wabby. The lake itself is full of large catfish and smaller fish which are very friendly when you are just sitting in the shallows cooling off.
From Lake Wabby we ventured south again to find our campsite which we decide to be between the One Tree Rock camp zone. The night started off great with mother nature turning on her own entertainment providing us with a wonderful lightning storm off in the distance over the ocean, but then saw the wind turn and start blowing out of control and directing the lighting storm straight towards us.
We battened down the hatches and climbed into our swag ready to get smashed by the storm. Rain, wind and some of the most insane lightning we have ever seen and heard was sitting right above us and seemed to have no intention to move off in a hurry. To add to the thrill, we had a few locals (Dingos) come to visit us and run a muck around our campsite, with one even seeking shelter and laying down right next to my head with just the canvas of our swag between us.
Tip: Be dingo wise – store all rubbish in your car or lockable strong plastic containers. Don't venture off alone. Keep children close and in site.
Day 5 – Monday

After a night of very little sleep we woke up to a beautiful view, the skies had cleared and our campsite was perched up on-top of a sand dune with a clearing between trees so we could look right out onto the beach and ocean. We cooked our breakfast and decided we would pack up a day early as there was some more bad weather on the forecast. After our quick pack up we thought we would head towards Lake Mckenzie on our way back to the barge for a freshwater wash off.
The drive into Lake Mckenzie is on a larger sand road compared to others on the island as it is where all the tourist buses travel along, so look out for them. After dropping off our stuff on the sand we headed in for a relaxing swim to refresh. This is one of the most popular spots for tourists so be prepared for crowds.
After an hour or so we decided it was time to make our way back along the beach to Hook Point to catch the barge back to Inskip to then travel home.
This blog is published with the permission of Liam and Nikki from Summit2Sea Adventures.