CAN YOU RUN A FRIDGE OFF A CAR BATTERY?
Are you sick of eating the same old sandwiches and drinking warm beer when you and your family get the chance to hit the open road? Having to constantly buy ice for your esky can be a hassle and limit your ability to truly get off grid. Imagine being able to keep fresh cuts of meat, vegetables, milk and even frozen or pre-made meals on those extra long camping trips.
There's a simple solution to this problem, and it won't cost you the earth or require complex wiring and installation to get it up and running. A 12v fridge. But can you run a fridge off a car battery? Find out everything you need to know about powering a 12v fridge in your rig below.
Overview:
Can you run a fridge off a car battery?
Will a 12v fridge drain my car battery?
What can I use for longer trips?
What about solar?
Can you run a fridge off a car battery?
The simple answer is yes, you can run a 12v fridge off a car battery. Simply plug it straight into your vehicle via the 12v cigarette lighter socket. This solution will work well if you're going on a shorter trip, will be spending most of the time driving, or will have access to a powered campsite at your destination.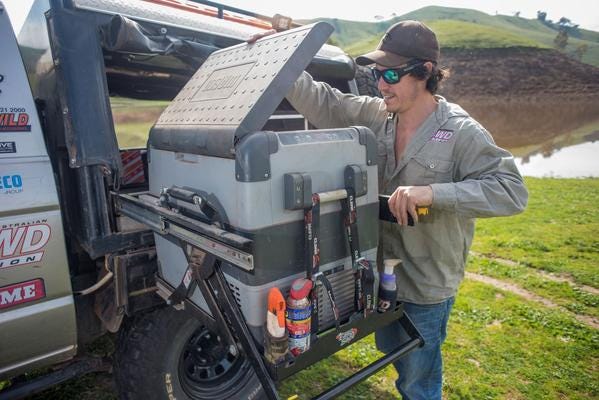 Shauno doesn't leave home without his fridge and a few cold beers
Will a 12v fridge drain my car battery?
By connecting to the 12v cigarette lighter socket, the fridge will take power from the car when it is running. But as soon as the car is turned off, it will continue drawing from, and therefore draining, the starter battery.
The great thing about 12v fridges though is that they do not have to be running all the time and they tend to hold their temperature better than an esky. This means that if you're only going away for a night or two, you can run the fridge in the car on the way to your campsite, disconnect it overnight and run it with the car the next day, and it should stay relatively cold.
As more and more 12v fridges have a freezer compartment, there is more of a need for adjustable temperature settings. This can work in your favour if you set your fridge a little colder than it needs to be to withstand not being powered overnight. Many 12v fridges also have a power cord that can be plugged into mains power, so if you are camping at a powered campsite it can be plugged into the mains power outlet when you arrive at your destination.
What can I use for longer trips?
If you're looking to go on a longer trip, further off road, or just want to have your 12v fridge powered constantly you're going to need a more consistent power source. Having to constantly buy ice or make trips to the supermarket on a camping trip can be frustrating, often expensive, and really take away from the camping experience. A dual battery system is the perfect solution to keep your fridge – and more importantly, beers – cold.
For the perfect 12v fridge setup, you'll need at least one auxiliary battery. The auxiliary battery is used to run the fridge and any other 12v accessories. By running your fridge from an auxiliary battery, you avoid draining the starter battery. For more information on the different types of auxiliary batteries available see our post on which auxiliary battery is best for you.
To keep the batteries charged up, the fridge running, and your food cold, you're going to need a battery charger. REDARC has a few different options to suit different budgets when it comes to charging auxiliary batteries.
Smart Battery Isolators
For a more budget friendly option, or if you have a car with a fixed voltage alternator, Dual or Smart Battery Isolators are the way to go. REDARC's Smart Battery Isolators protect the start battery from going flat by isolating it from the second battery when the engine is turned off. They can recognise when the engine is running, connect and start charging the second battery which is powering your fridge. This means that while running your 12v fridge might deplete your auxiliary battery, you will never have to worry about your starter battery going flat and leaving you stranded in the middle of nowhere.
DC-DC Battery Chargers
If you're looking for more flexibility in your dual battery setup - in terms of both charging and suitability for different alternator types, installation location, and amp size – a dual battery charger is the way to go. The REDARC BCDC range is often recommended as they are designed to effectively charge a second battery to 100%. This means the life of your auxiliary battery is prolonged, keeping your fridge cold for longer.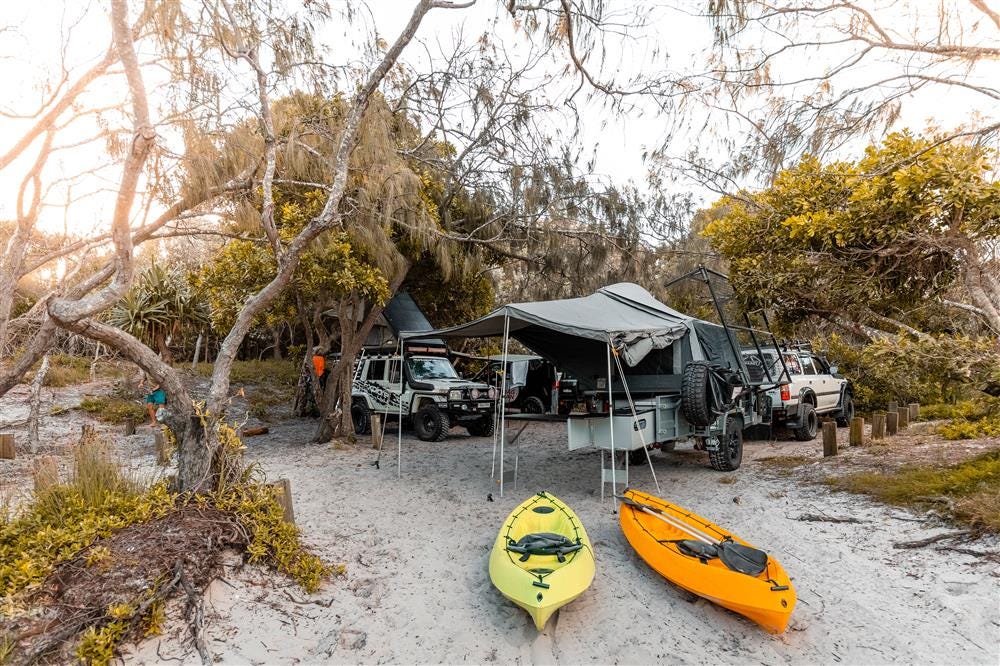 A 12v fridge brings all the comforts of home into the great outdoors
BCDC chargers can be installed in your canopy right next to your fridge as they are able to overcome current drop from the longer cable. If you're looking for a budget friendly power solution, the BCDC Core range is designed for canopy installation and perfect for keeping your 12v fridge cold on any trip.
If you're not sure what battery charger will best suit your car and power requirements, the REDARC Dual Battery Calculator is a useful tool. It takes into consideration your vehicle and fridge power consumption needs to suggest the best dual battery charging solution.
Manager30
If price is no issue and you want the ultimate in versatility and management ease for your setup, the REDARC Manager30 could be the way to go.
Compatible with all vehicles and alternator systems, it incorporates AC, DC, and solar inputs to achieve the best charge for your battery and keep your fridge going for longer. The benefit of the Manager30 over a BCDC or smart battery isolator though is the monitor. It comes with a monitor that lets you always know what's going on with your battery and keeps you in control.
GoBlock
Sometimes a more portable solution is the best option. If you're tight on space or simply don't want to install a full dual battery system to power your fridge, the GoBlock is a perfect option.
With a lithium battery, battery charger and monitoring capabilities all built into a unit that is no bigger than a carton of beer, it's light enough to be packed, unpacked and moved around while at camp. With fridge and 12v accessory sockets, all you have to do is plug your fridge in when you need it. In-built AC charging means you can charge your GoBlock up before you leave home, use it all weekend and pack it back away after your trip.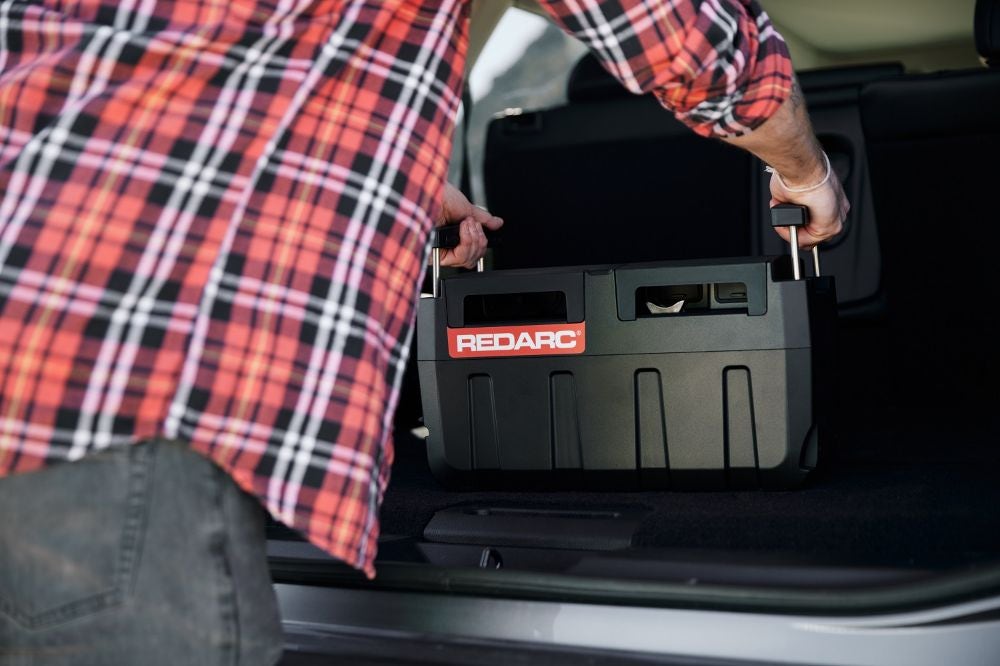 What about solar?
To keep your batteries charging and fridge running when the car is not on, a solar panel might be the way to go. Solar panels keep your battery topped up so that you can keep using your fridge for longer without having to worry about running the car to charge the battery. Solar panels enable you to go fully off grid or be parked up camping and have your fridge running for long stretches of time. REDARC's range of camping solar panels includes portable solar, mounted fixed solar panels and solar blankets, with something perfect for any application.
Conclusion
12v fridges are one of the simple and often inexpensive ways to upgrade your camping and off grid setup. They enable you to stay on the road for longer and can take your camp cooking to the next level. You came here wondering, can you run a fridge off a car battery? Now you know you can. Not only that, you know how to upgrade your setup for longer, more comfortable camping trips. For more information on choosing the right gear for your 12v setup check out our dual battery calculator.
Follow how 4WD 24/7 and Shaun Whale power a fridge on their travels with this simple 12v upgrade.