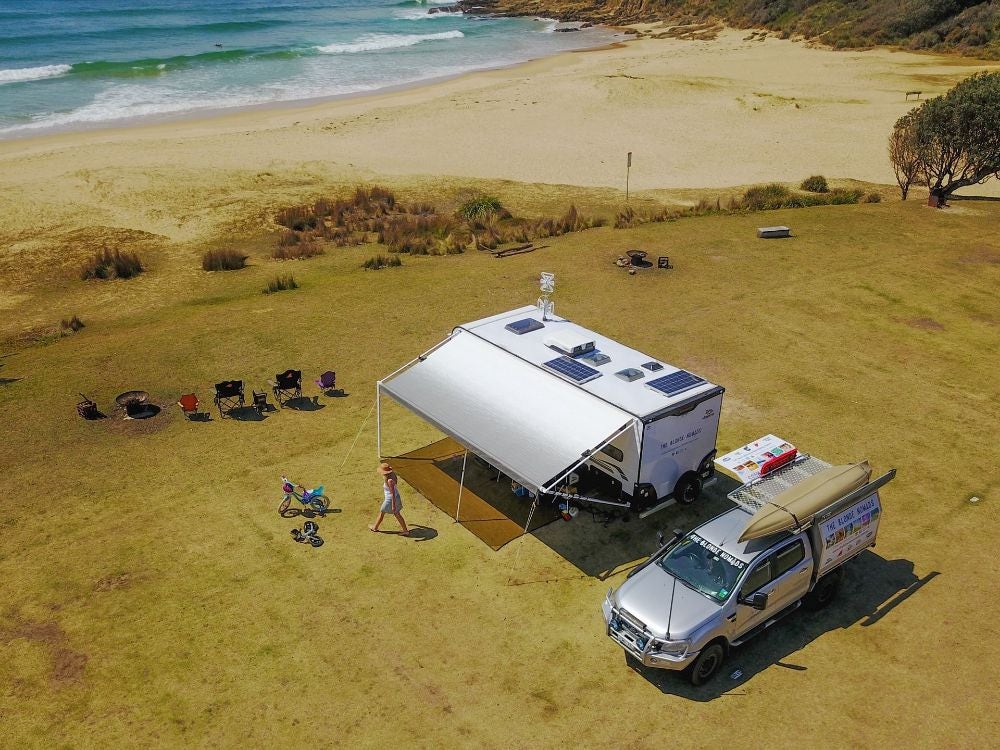 Rob, Tracy, Marli and Ziggy are The Blonde Nomads – a family who sold their house and most of their possessions to live in their caravan full time. They are currently travelling around Australia and love inspiring others to get out and enjoy nature, travel and live simply.
They love getting off the beaten track and exploring the roads less travelled. One of the key enablers of their nomadic lifestyle is a range of REDARC products. Below, they explain what portable solar panels for camping they use and other essential parts of their setup.
Solar power explained
How can you use the suns energy to run electric devices like your coffee machine and car fridge while camping off grid? Because your daily caffeine hit and cold beer or wine are a priority, right?!
Solar power is the conversion of energy from sunlight into electricity. It has been used as an easy, cost-effective alternative power source for years. As a travelling family, living in our caravan full-time, the wonderful science of solar power plays a huge part in how we live while we are off the grid, exploring wild and wonderful destinations, away from the luxuries of man-made power supply that comes with suburban living.
Portable solar power has become more and more popular with the recent invention of lightweight folding solar blankets like our solar blanket from REDARC, which allows us to use those nifty 12-volt camping gadgets we all love, or even our electric coffee machine and thermomix. So, how does it all actually work?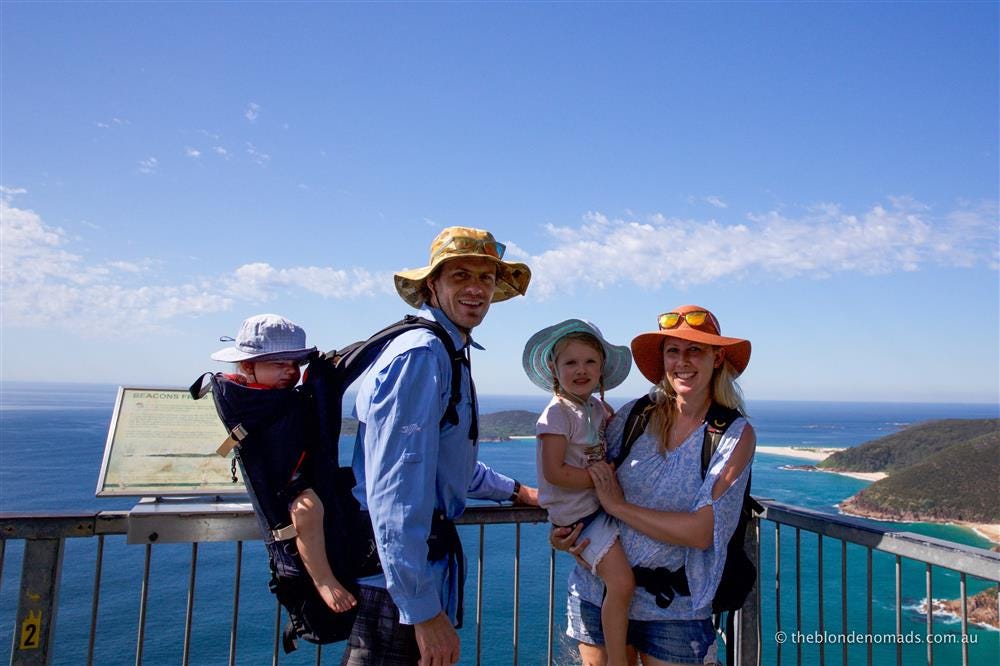 The Blonde Nomad's with their baby nomads
Basic Solar Setup
What you'll need:
A Solar Regulator

- This protects the battery from overcharging.

A Deep Cycle Battery

- Preferably AGM type. This battery stores the power produced by your solar panels.

12 Volt sockets

- The old school cigarette lighter, or USB outlets that are connected to the battery. This simple 4-piece setup would allow you to run or charge 12 Volt appliances and accessories such as car fridges, TV's, DVD players, radios, LED lights, fans, air/water pumps, air compressors, mobile phones, tablets and cameras.
This system will only recharge the battery via the solar panels and does not necessarily need to be fitted to a car or caravan. This means, if you are camping you have the option to leave it at your campsite to charge up during the day while you are out and about exploring.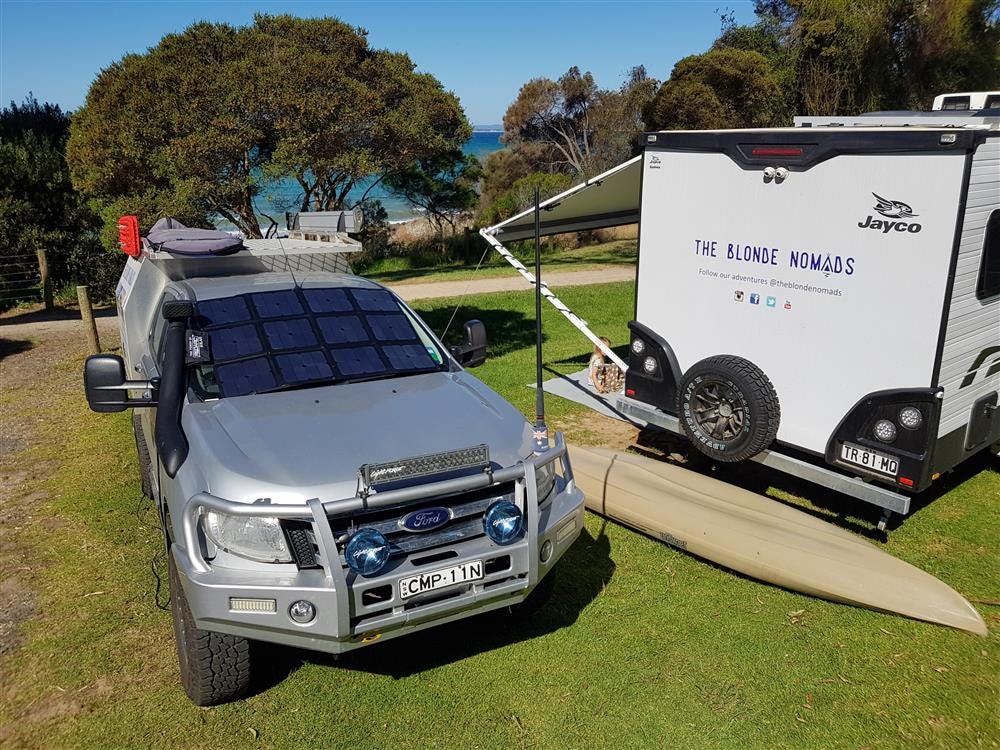 Solar Blankets are a great alternative to traditional solar panels
Advanced Solar Setup
If your solar needs are a bit greater, your setup may include:
A BCDC Charger with a built-in Solar Regulator

- This not only charges your Deep Cycle battery as you drive but also stops the solar panels from overcharging the battery when you're stationary. The Deep Cycle Battery which you usually have mounted somewhere inside your car is not to be confused with the battery under the bonnet that starts your car's engine.

Deep Cycle AGM Battery

- Again, not to be confused with the battery under the bonnet that starts your car, with this Deep Cycle Battery you can run things like a 12 Volt Fridge, LED strip lights and a few USB charging ports, etc.

Pure Sine Wave Inverter

- This is connected to the Deep Cycle battery and cleverly converts the 12 Volt power stored in this battery to 240 Volt power.
This means you can use any household appliance that plugs into a normal power point - think coffee machines and thermomix's. The size of the inverter you require will depend on the wattage of the appliances you intend to use. You can check on the tag or sticker of an appliance to find out its wattage. e.g. a coffee machine or thermomixer is about 1500 Watts.
Chain of Command
Here is the basic chain of events that can help solar power turn sunlight into coffee time!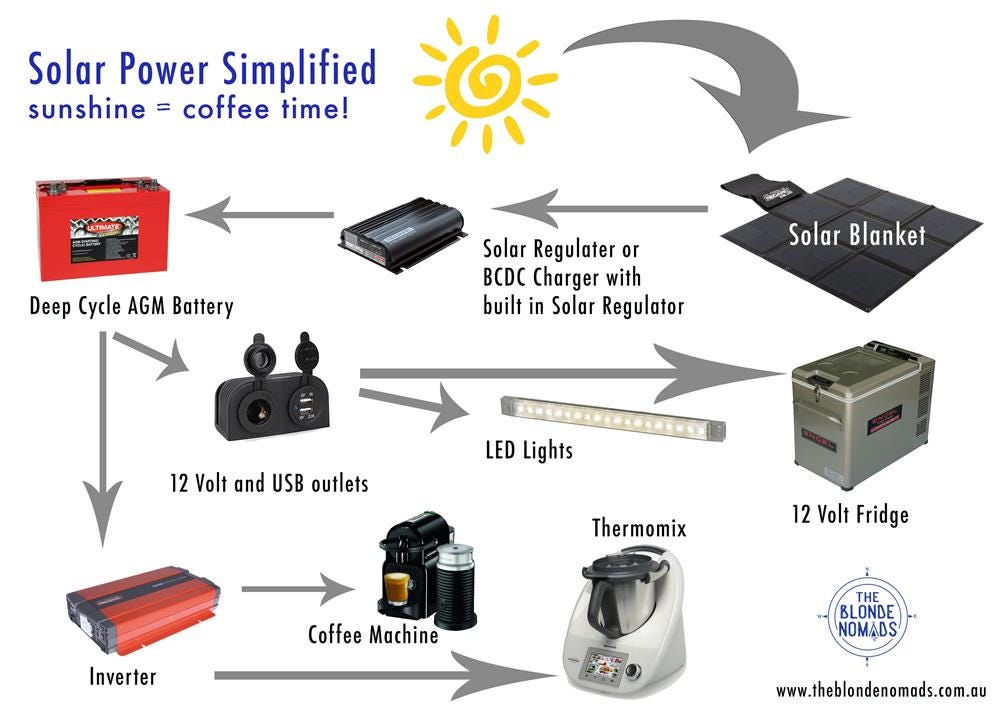 The Blonde Nomad's break down their solar system
We love our solar setup and use it regularly, whether we are camping off the grid in remote locations or simply 'glamping' in a caravan park. As travel bloggers, we use so many devices and mod-cons including laptops, tablets, drones and an array of cameras so we wouldn't be without our solar setup …and not to mention the luxury of a cup of coffee on the beach or a cold beer in the bush.
Words by Rob and Tracy Morris
You can follow along on their adVANture through their website and on Instagram, Facebook and Youtube. If you want to know, how much solar do I need for camping, make sure you click the link (left) to soak up the knowledge in our blog.