Whether it's a weekend getaway or weeks on the road, just because you're camping doesn't mean you have to be stuck eating boring sausages or two-minute noodles. AJ from Campers Pantry has become somewhat of an expert in camp cooked food and we caught up with him to find out some of his best meal planning and camp cooking tips!
Don't put all your eggs in one basket
Heading away and exploring remote destinations is great fun, the feeling of the unknown and what discoveries are around the corner. A lot of the excitement of adventures, for me, is the preparation and planning. Checking the vehicle will be reliable, keeping gear pack lists light and not bringing unnecessary items that won't get used while also eating well and not going hungry. One of the biggest hurdles for planning a more extended remote trip is the food considerations, and this is one main reason why trips are often rushed or short-lived.
You need to consider foods that can be pre-cooked and frozen then reheated at camp, fully prepared and cooked at camp or caught and cooked at camp. Longer trips need a completely different thought process than shorter trips. Having a range of food options is the key to success here and can be a little daunting. Being more organised and having your meal plan on point, you too can start thinking about extending your time in the outdoors.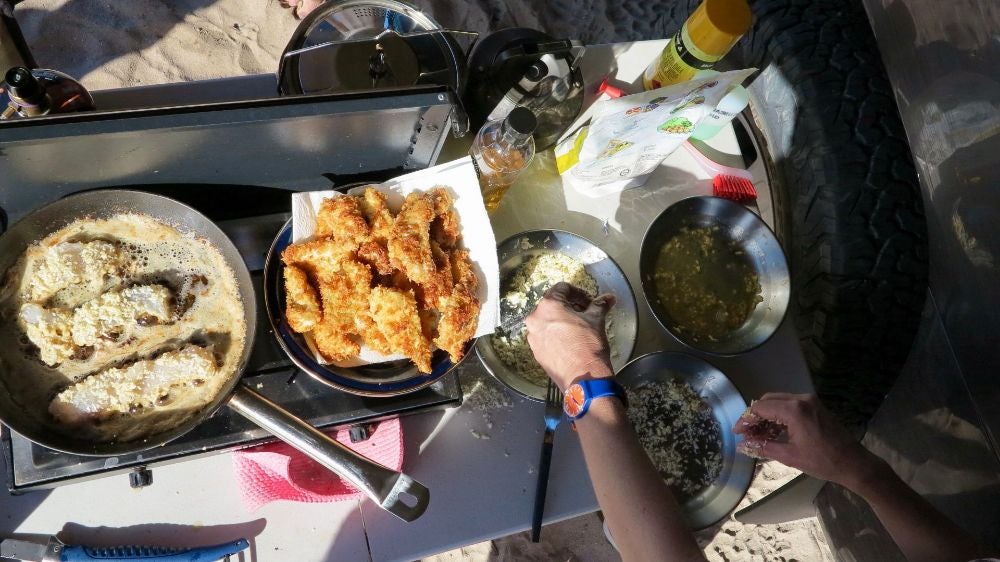 Getting the most from your fridge
Your 12-volt car fridge and how you use it is a good starting point for any trip. Does your fridge have the freezer/fridge option? If it does, then this is what we recommend based on our travels and experience. We tend to pre-cook dinners and store them in vac bags in our freezer section. Our fridge section is packed with the usual suspects; beer, wine, milk, cheese, veggies, coleslaw and meat. Be careful not to dial that fridge too low as your fruit and veggies will freeze very quickly, and no one likes a frozen cucumber! If you use the fridge/freezer option, your 12v system will need to be up for the extra usage turning and on and off more frequently.
Vac, pack, freeze and stack!
Cooking, vacuum sealing and freezing meals is our first go-to for longer off-grid trips. We tend to cook these meals a few weeks in advance and stack them into our freezer section as vertical sheets. When packing these off into the vacuum bags, make sure you use a portion control per person. This is a failsafe way to ensure you don't over or under cater. And as a guide, we use one serving spoon per child and two per adult. Don't worry! Your local butcher will be able to help out if you don't own a vacuum sealer. Just make sure to give him plenty of time to prepare your meat order.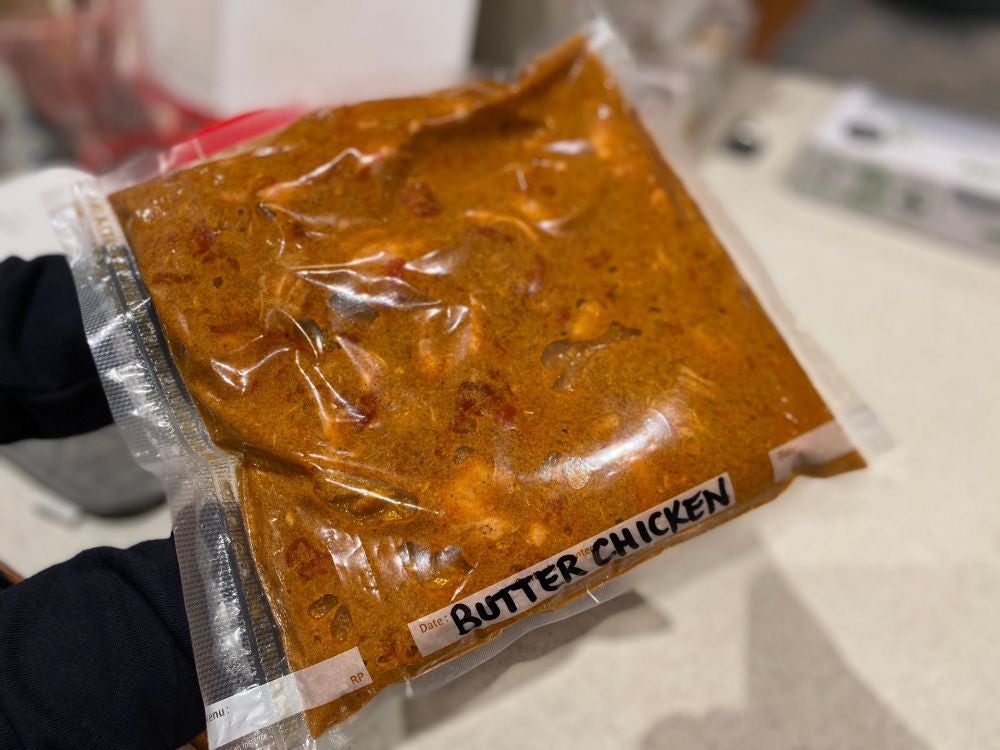 Lunch
We usually take small packs of either Korean pulled beef/pork or slow-cooked lamb to have in wraps with coleslaw for lunch. These lunch options are fast to serve on the go and don't need utensils or plates for cleaning. We replace this slow-cooked deliciousness with fresh fish if we're lucky enough to catch something. We also portion out sausages into vacuum bags for lunches or dinners. It's time-consuming but space-saving.
Dinner
Our camp meal favourites stem from home favourites. We choose wisely not to take bulky meals that use up too much room in the freezer. Meals that can be reheated quickly with no fuss, like a beef ragu tossed through tagliatelle and topped with parmesan. Vacuum sealed steaks last longer and take up less space than bulky packaging. Most of our dinners we serve with rice or pasta and always a side of veggies.
The Dinner Cooking Process
As these meals are vacuum sealed and frozen, you will need to take your chosen meal out and put it in your fridge to defrost slowly. Doing this the night before also keeps your fridge chilled throughout the following day. Timing is everything! So, 30 minutes before serving, bring a big pot of water to the boil, turn off the burner (you must do this) and place the dinner, still in its bag, in the now hot water. Leave it to heat up, grab a drink, enjoy the sunset, occasionally check on it, and massage it a bit. For more oversized dinner bags, you may need to heat the water again and repeat the process, so grab another drink.
Tip: When finished, we use the pot of water, which is still warm and clean, to either do the dishes or shower, saving energy and time.
Catch and cook
Catching and cooking a meal is as good as it gets, like buying fresh plums with a blueish hue straight from the farmers' market. Most of Australia's coastline has whiting, flathead, squid, abalone and bream, to name a few, all on tap. Can it get any better than landing a plate size snapper mid-afternoon to bake in foil over the coals? Add some ginger, garlic, and soy, then serve on a bed of sticky rice with green beans for a delicious seafood dinner. This way, we can use few ingredients and let those fresh fish flavours dominate the dish.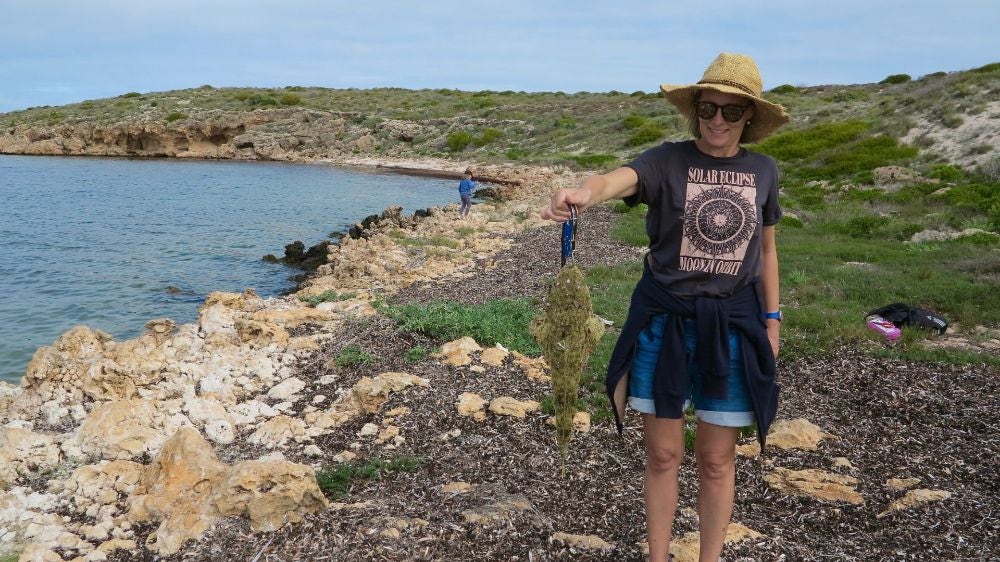 Fresh is best, but is it?
When adding fresh ingredients to your meal plan, make sure you understand how long they last, i.e. mushrooms will be slimy after five days, and beans start to get brown spots after four days. Fresh veggies and fruit also take up your precious fridge space, so use it for something more epic, like a big juicy steak! We tend to take veggies that last longer and pack them the furthest away from the fridge evaporator, so there is less chance of freezing them.
Stable, storable pantry foods
Food stored in a draw at the ready with a long shelf life for quick prep is ideal for these remote adventures. We incorporate our Campers Pantry meals into our adventure meal plan as they don't need refrigeration, are tasty and cook quickly with no prep or mess, and the kids love them.
We use the Campers Pantry dinners for long driving days or days where we have been fishing or exploring and need a quick option. Add boiling water into the food pouch, get the whole tribe fed in minutes, and no cleanup!
Veggies can be added as a side or incorporated into the meal. For butter chicken, we use beans. With a roast lamb in the camp oven, we serve cauliflower and cheese sauce. The mushrooms are perfect for gravy with a charred steak; the list goes on.
Snacks and coffee
We break snacks down into two categories. What we can eat while driving, in-car snacking and what we eat while camped, camp snacks.
In-Car Snacking
For us, carrot and celery sticks with a tub of hummus are the norm, served by the co-pilot, of course. There are apples, bananas slung in a bag mesh between the two front seats, kind of like our fruit bowl while travelling. However, fresh fruit is no good for bumpy roads as it will bruise and spoil quickly. If you are packing bananas, they produce ethene which will cause other fruits to ripen quicker.
Camp Snacks
Around camp, we bring out the big guns! Soft cheeses, chips, dips and crackers, and for the win, homemade Italian sausage we make with cousin Tony each June. We also take either homemade sausage rolls or pinwheels for the kids.
Coffee
We've used so many different coffee making devices over the years, and we keep going back to the trusty AeroPress. Fresh coffee grounds are used every morning and for roadside stops when we stretch our legs, go to the toilet, and get a road train to blast the horn for the kids.
Tip
Use a meat thermometer to monitor the water temperature to 80ºC. If your water is boiling, you'll burn your precious brown grounds.
To learn more about AJ and Campers Pantry check out their Instagram and website. If you want to find out some other ways to make delicious food at camp check out our blog on taking your camp coking to the next level.