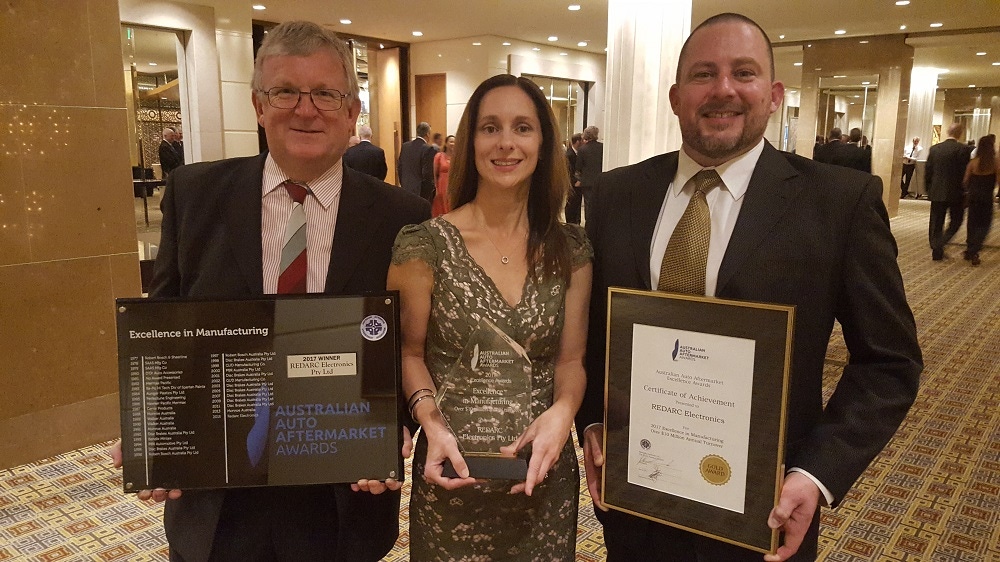 REDARC are honoured to be the recipient of the 2017 Excellence in Manufacturing – Gold Award (Over $10million annual turnover) at the biannual Australian Auto Aftermarket Excellence Awards Banquet. It is a trade only show run by the industry for the industry.
REDARC were also recipients of the same award in 2015 and now join a select group who have been fortunate to win the Excellence in Manufacturing – Gold Award in consecutive years.
The Australian Auto Aftermarket Excellence Awards are designed to recognise outstanding achievers in the Australian Automotive Aftermarket Industry. The Excellence in Manufacturing – Gold Award recognises organisations that invest in research, embrace innovation, predict future trends and have developed a competitive advantage through focusing on continual manufacturing. There are categories for businesses with over $10 million turnover per annum and for those with under $10 million turnover per annum.
AAAA Executive Director, Stuart Charity said the AAAA Board of Directors congratulate all Excellence Award winners and thanked them for their contribution to the auto aftermarket industry.
The companies and individuals nominated for these awards have embraced the industry's continual quest for excellence, innovation and education in their endeavours to secure the success of the Aftermarket Industry in Australia.
REDARC's Managing Director, Mr Anthony Kittel said he was thrilled REDARC would join a special group of previous winners to win the award in successive years including Disk Brakes Australia, Bosch Australia, Walker Australia and SAAS Manufacturing.
"Our pillars of success are shaped by continual innovation, a passion for learning and a team based culture shaped by collaboration. By using a cross-functional team approach to product development we can continually deliver high quality, innovative products to the market."
"As an advanced manufacturer, we need a highly skilled and empowered workforce. The commitment of the REDARC employees to learning and training is impressive. Without a highly skilled workforce, our manufacturing capabilities wouldn't be at the technological level it is", said Mr Kittel.
In order to achieve further growth and a focus on continual manufacturing, REDARC announced it will expand their manufacturing facility and house additional state of the art machinery equipment in Lonsdale, South Australia. Completion of the upgrade is scheduled for 2018.
The new equipment will enable REDARC to enhance their manufacturing capabilities and work closely with players in the Automotive Aftermarket industry.
The Excellence Awards Banquet was held at the Crown Pallidum and attended by over 850 people. It formed part of the AAA Expo which is Australia's most comprehensive exhibition of vehicle repair and servicing equipment, replacement parts, tools and accessories.