It's no secret that driving in desert conditions can be hot, sandy, and bumpy. What many people don't know though is that, with the right preparation for the rugged conditions, it can also be a lot of fun.
Reading the sand
When driving through the dunes it can often feel like going in blind without much idea of what is on the other side of the crest. It's very important to know what you're up against before going over too fast as sand tends to drift, which can affect the steepness and structure as you travel over.
Surveying the sand and checking for any changes in the firmness and composition allows you to approach differing surface types and ranges in the appropriate manner. Like anything, the more you practice the easier it gets. If in doubt, walk a section of the route to get a better feel for the terrain. It's always a good idea to try follow the tracks of the vehicle before you as it removes a lot of the guess work.
What to pack?
Always make sure you do your research in advance to ensure you and your rig are ready for the adventure and prepared to handle any sticky situations should they arise. Having the right equipment is crucial when you're travelling and towing across different terrains. Ensuring you have a recovery kit, shovel, tire recovery tracks, an accurate tire pressure gauge, and an air compressor to deflate and pump tires up before heading back onto the road means you're more likely to make it back home in one piece.
Driving through sand dunes also requires a sand flag to make yourself more visible to others as you navigate through the dune crests and valleys. If you've got friends that have done a lot of desert driving before it's a good idea to ask them what gear they wish they had and hadn't taken, and even tag along on a trip or two if you can. As much as you want to be prepared, you don't want to over pack and add unnecessary weight to your vehicle.
Tire pressure
Before heading into the desert you'll want to lower your tire pressure. Why? Well, essentially you want to float over the surface of the sand to avoid getting stuck and reduce the chance that your tires will dig in. Lowering your tire pressure means that you lengthen the tire's footprint on the surface, ultimately displacing less sand as you travel across it. It will also provide you with nice, smooth driving conditions making it far more enjoyable.
There are many varying opinions on exactly what PSI you should drop down to but generally 16psi - depending on the weight of your tow vehicle - should offer you a comfortable range to find what suits the conditions and your driving preferences.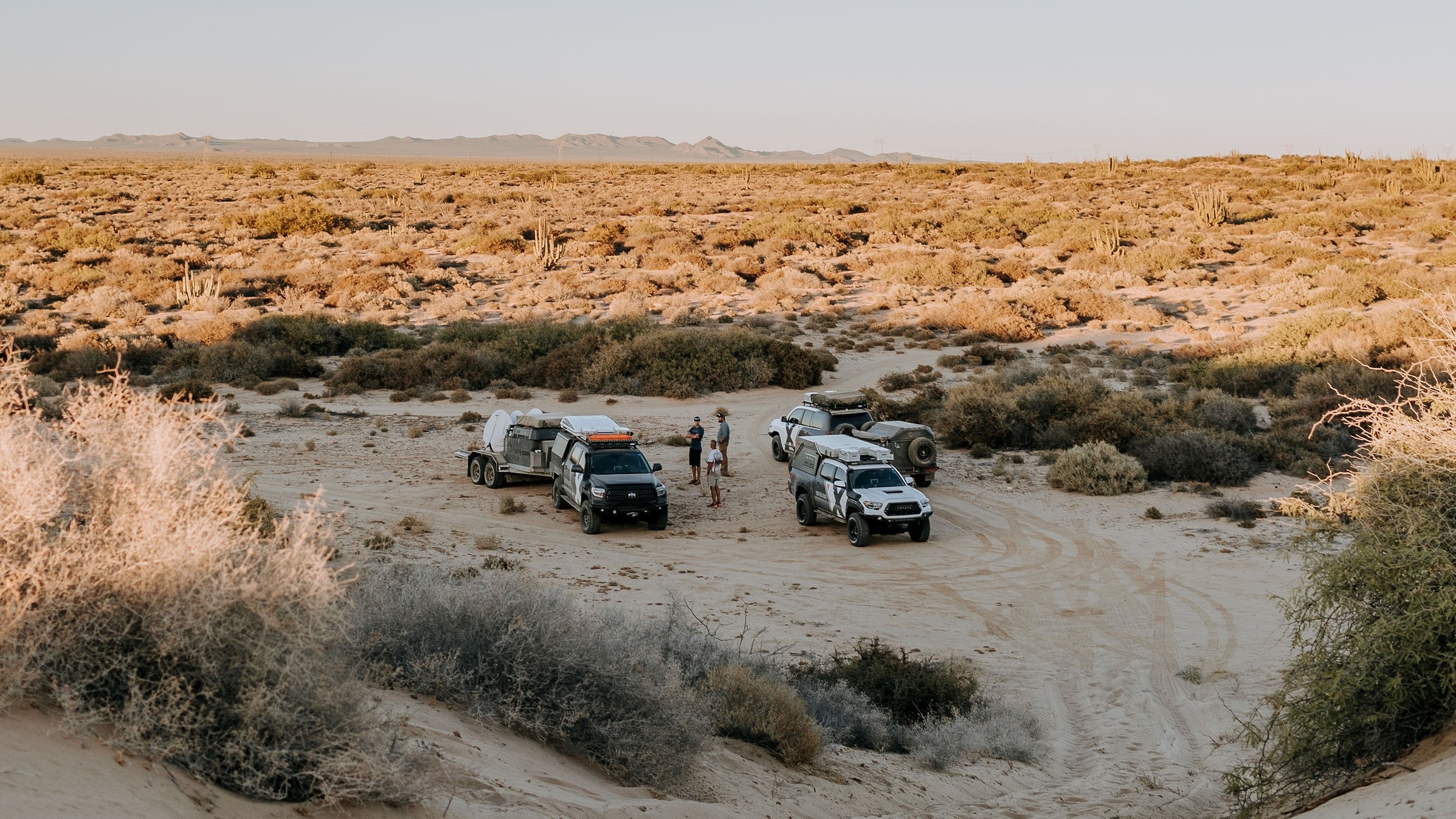 Avoid getting stuck in the sand
Staying steady with your steering and not taking corners too sharply - especially at speed - reduces the likelihood of your tires digging in and your vehicle and trailer rolling over or at the very least, reduces chances of getting stuck in the sand. Steady adjustments in cornering will maintain the compactness of the sand beneath you and provide fewer opportunities for your wheels to become caught and tires to sink in.
Momentum is key to get through soft spots rather than a high speed, as you want to maintain a steady pace so when you come across ridges or holes you'll essentially skim over the surface. By keeping your speed down, you're also ensuring there are fewer changes in how densely the sand is packed, which is what could get you stuck if you're not careful. By lining up your vehicle and trailer in the same wheel tracks, you're also utilizing the already compacted surface which will allow for a much smoother ride. For best practice, it always pays to have a friend on the track with you in case you need to be hauled out of trouble.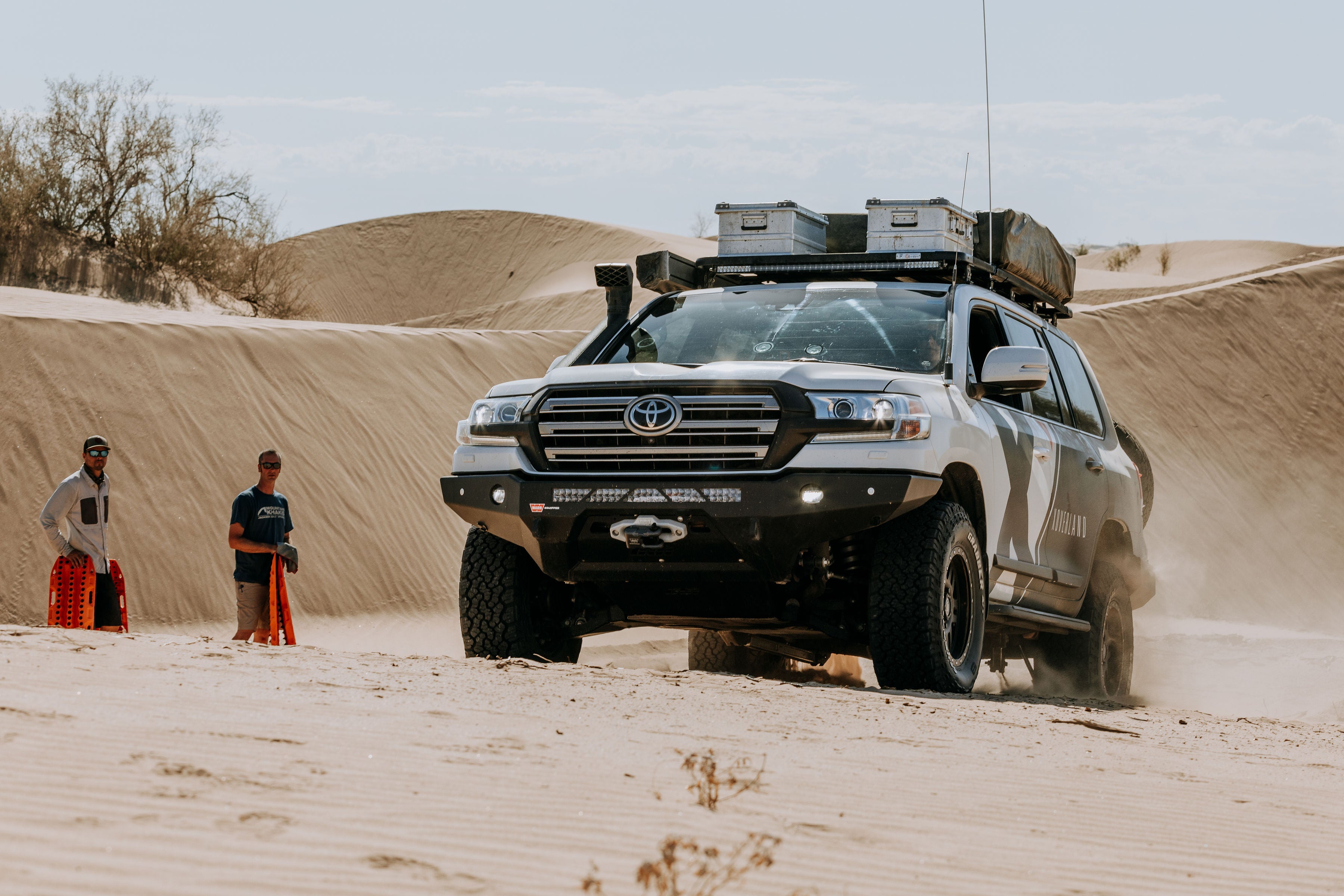 Towing in desert conditions
Having an easily adjustable electric brake controller like the REDARC Tow-Pro Elite allows you to utilize a lower brake setting, meaning you can take greater control of your trailer in following the same line as your tow vehicle. You also want to know that if you brake too hard or suddenly that your trailer won't do the same and anchor you in the sand as the tires bite in.
Lowering the braking force of the trailer brakes allows your setup to move in tandem and account for the differences in braking methods better. The user-controlled mode of the REDARC Tow-Pro gives you complete control of the brake level whether the footbrake or override is applied. It has been designed to give the greatest possible control when driving off-road.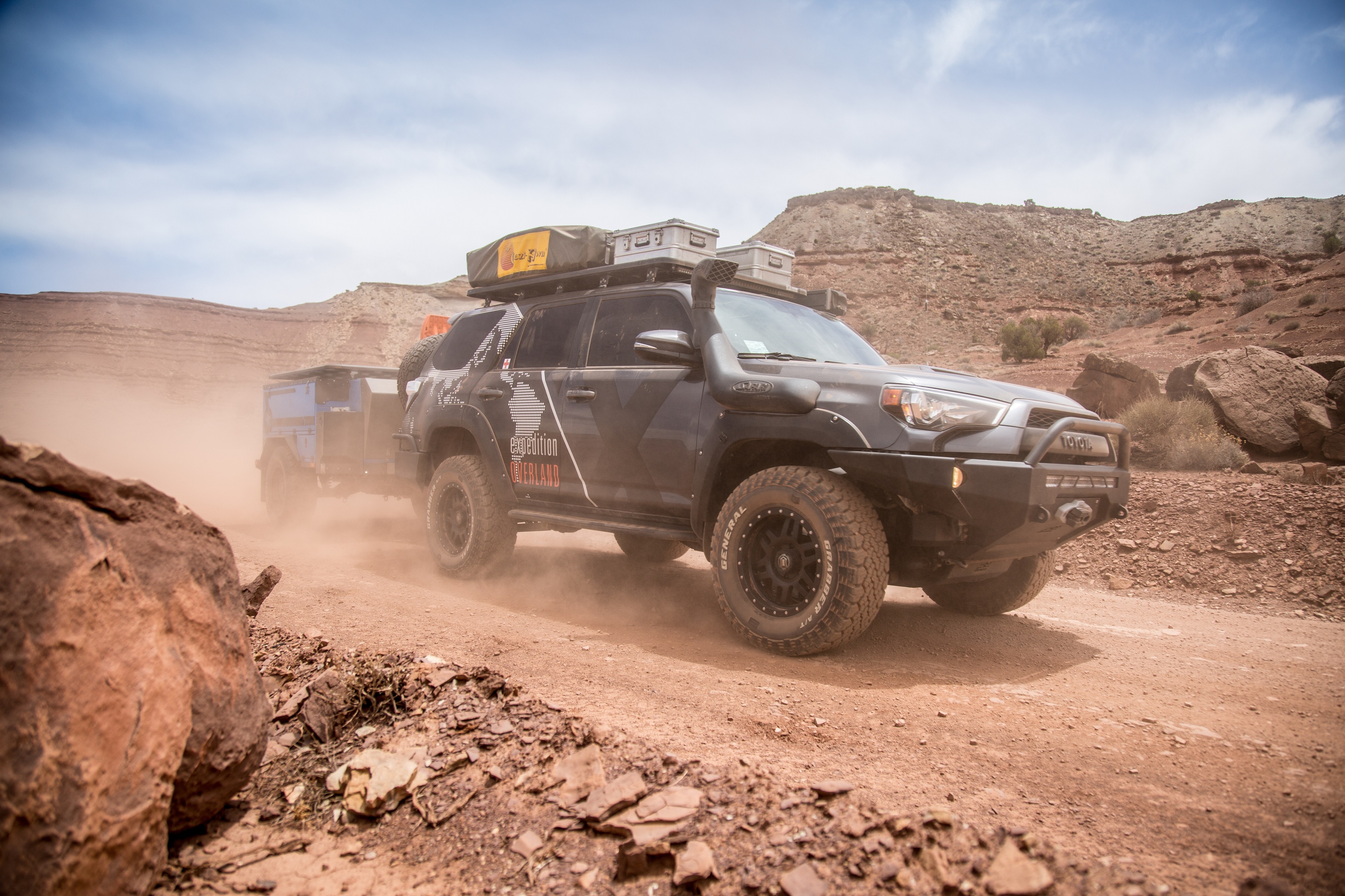 Desert driving can be a lot of fun, so don't be frightened of getting out there and doing as the locals do. So long as you're prepared to learn as you go and adjust your approach from location to location, you could soon find yourself looking out for those trickier terrains to test out your skills.
For more information on the Tow-Pro Elite visit the page here or check out the video below to see how it can fit into your towing setup.