We all like to cram as many appliances as possible into our trailers, camper trailers and motorhomes when heading on a camping trip. With so many to keep tabs on, you can't underestimate usability and convenience when it comes to managing all your on-board devices. Particularly when you want to control more than one appliance at the same time.
Mike and Gen, aka Adventure Curated, knew that with all the gear they were packing they needed a reliable and easy-to-use control system to monitor all their devices when they embarked on their latest outback adventure, through the vast, harsh terrain of the Simpson Desert.
Along with their REDARC Manager30 Battery Management System, the couple equipped their LandCruiser with REDARC's award-winning Total Vehicle Management System (TVMS), RedVision.
But first what does RedVision do, here is a quick snapshot;
All in one
Combining power protection, distribution, and control in one unit, RedVision allows the user to toggle lights, water pumps, or a fridge on and off in addition to monitoring water levels, temperatures, and battery usage and storage.
Power to your fingertips
RedVision comes equipped with an in-vehicle portable display and the option to download the RedVision smartphone app for iOS and Android mobile devices, meaning control of all your appliances is at the convenient touch of a button. "Both are intuitive and have large easy to read colour displays," said Mike about the in-vehicle display and RedVision app.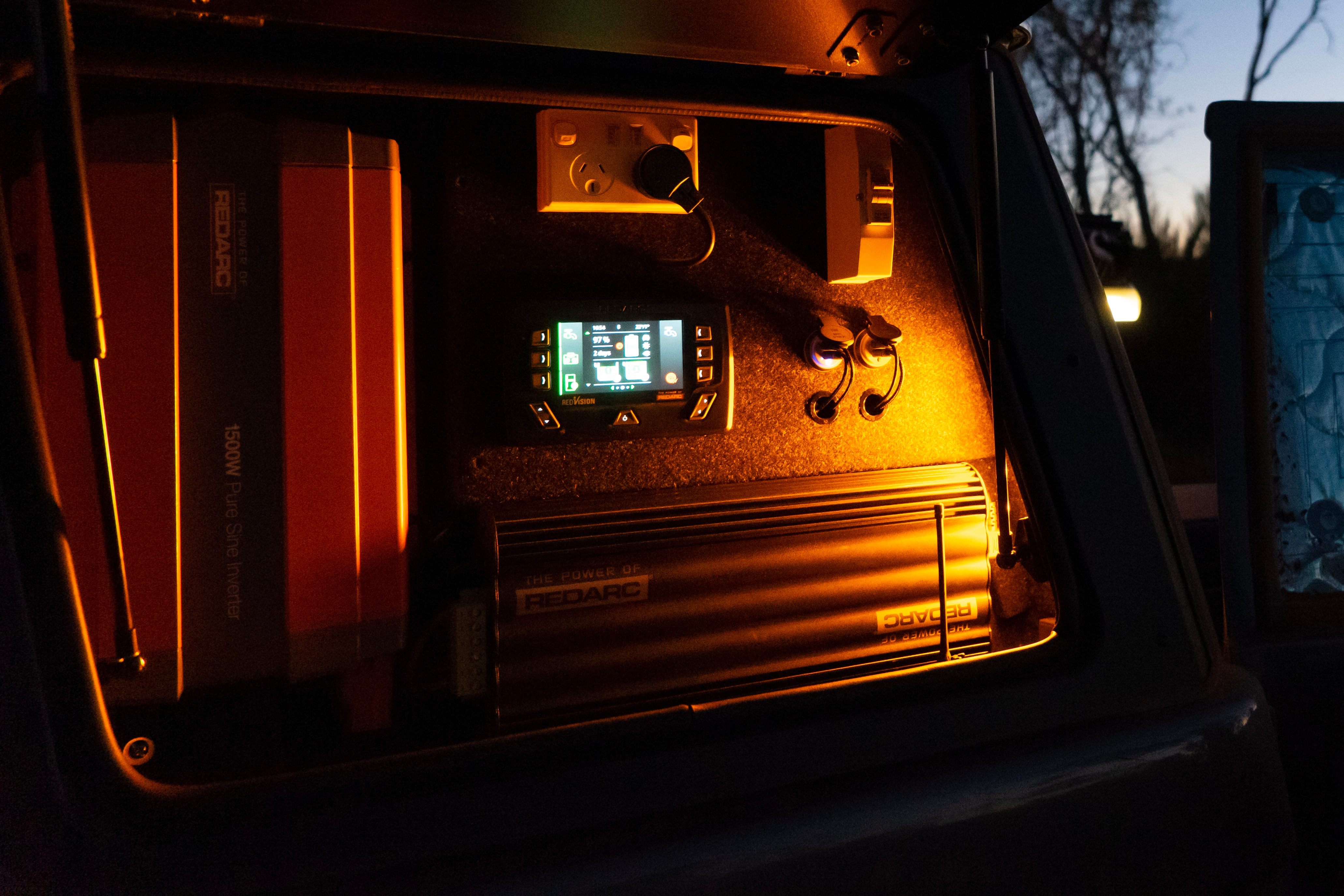 The ease of access to all your appliances from a single display and smartphone app meant Mike could check which devices were switched off to keep an eye on power usage without leaving his rooftop tent. Battery status and water tank levels are only a glance away with the RedVision app, and with the push of a button Mike could turn on the water pumps to refill his water bottle and rehydrate.
Custom Setup
REDARC can customize each of RedVision's controls to your devices. Mike chose to program his car's rear locker and boot interior lights to switch off automatically when he started the engine, however, there are many customizable options to suit your preference.
Bluetooth Usability
Despite being mounted in the rear of the car, Mike and Gen were able to connect their tire compressor to the RedVision system and conveniently take control via the RedVision smartphone app without the hassle of extra wiring to the front of the vehicle.
A handy ecosystem
Pairing RedVision with the REDARC Manager30 makes for easy readability of power consumption and charging times. "This made it really easy for us to see how much power we were consuming at different times, how quickly our battery charged while driving, and in different conditions from solar," said Mike.
The bottom line
If you have an upcoming road trip and favor a wealth of devices to help keep you connected to your travelling essentials, you need the system to match. Mike recommends you turn to RedVision as your go-to system to control and monitor your devices, describing it as "absolutely impressive."