Getting off grid is one of the most exciting, rewarding, and best ways to camp when exploring the country. Well, that's life, according to Four Hands in a Tin Can. They walked us through their recent REDARC solar panel upgrade, a system they couldn't live without.
There's a lot to be said about camping off grid, epic beaches, untouched forest and, more often than not, peace and quiet. That's if you are not stressing about keeping your lights on at night, or the food in the fridge cold. Which is why you need to get yourself a killer solar setup.
Solar power is one of the easiest and most efficient ways to gather power, however, after over 2 years on the road, and consistent use, our deep cycle AGM batteries had decided that they didn't want to the play the game any longer. It literally got to the stage where free camping became 'stressful' and before long it was generally 'hard and painful!' Using torches in the RV at night and not being able to use the water pumps after midnight made us begin looking for some new options...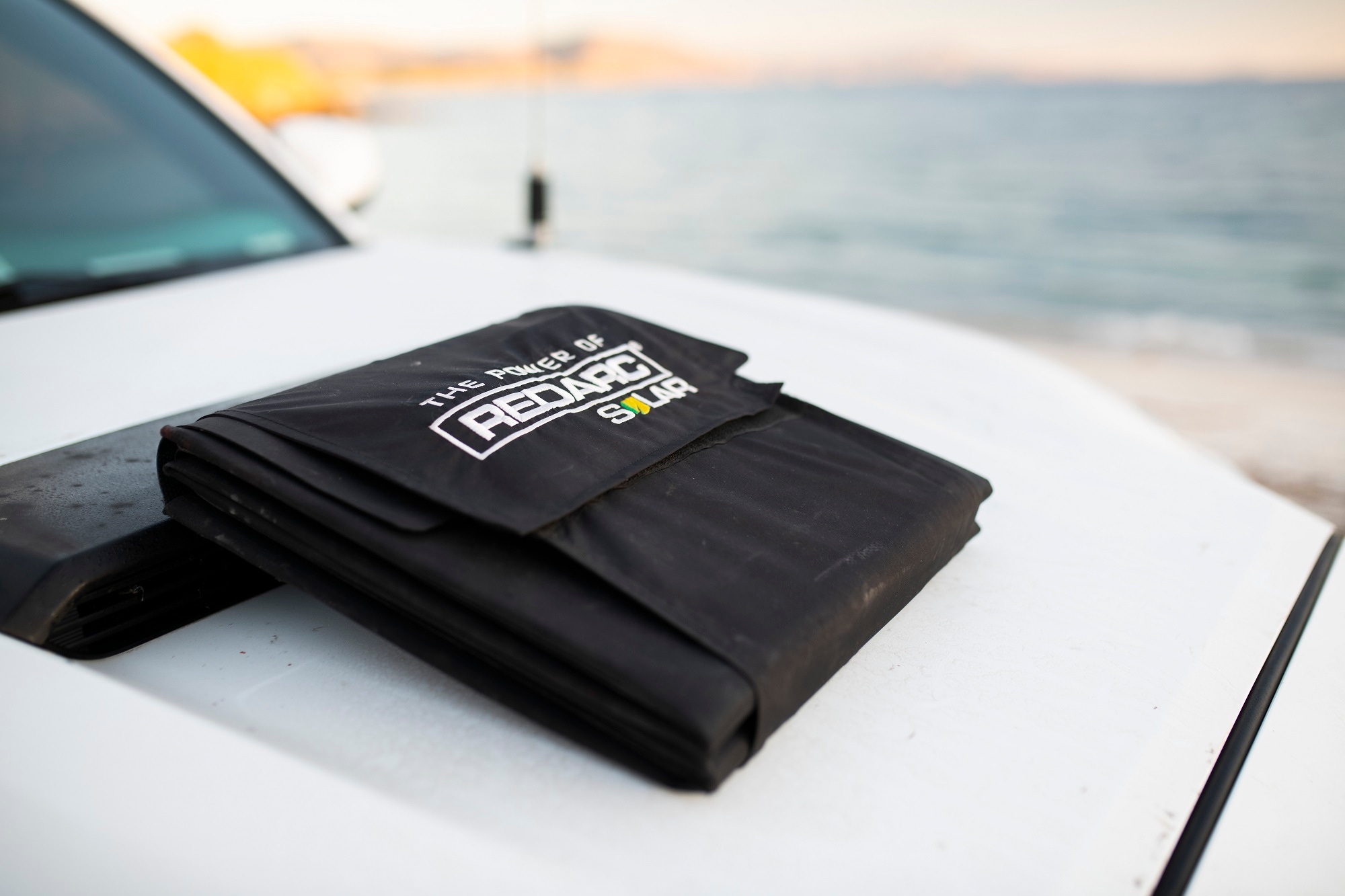 What is solar power?
Solar power consists of capturing the sun's energy and converting it into power. Yes, it's that simple. Using the power of the sun is a very cost-efficient way of travelling and allows for many awesome camping adventures, without having to live by torch light or more importantly, without a decent coffee in the mornings.
Solar energy has become more and more popular in the overlanding and camping world because it's so easy and because there are so many types of solar panels available. But even if you have fixed solar panels mounted to your roof, it's always important to have back up solar for those times when you're camped in a shady spot or embracing the winter sun. We love our lightweight REDARC solar blanket as it's such a versatile way to charge 12 volt battery systems.
How does it all work?
Simple - energy from the sun hits our portable solar panels and converts this into power. We absolutely love this system and it means we can now save on RV parks and hit those far off places whilst living comfortably. We have around 1000kw of solar panel power, including our REDARC solar blanket, which charges the battery super-fast.
This system also allows us to use the air compressor, toaster, Thermomix, kettle, television and washing machine. It's absolutely awesome! So, when your battery runs out of power on those hot summer days you can rely on us to have cold drinks.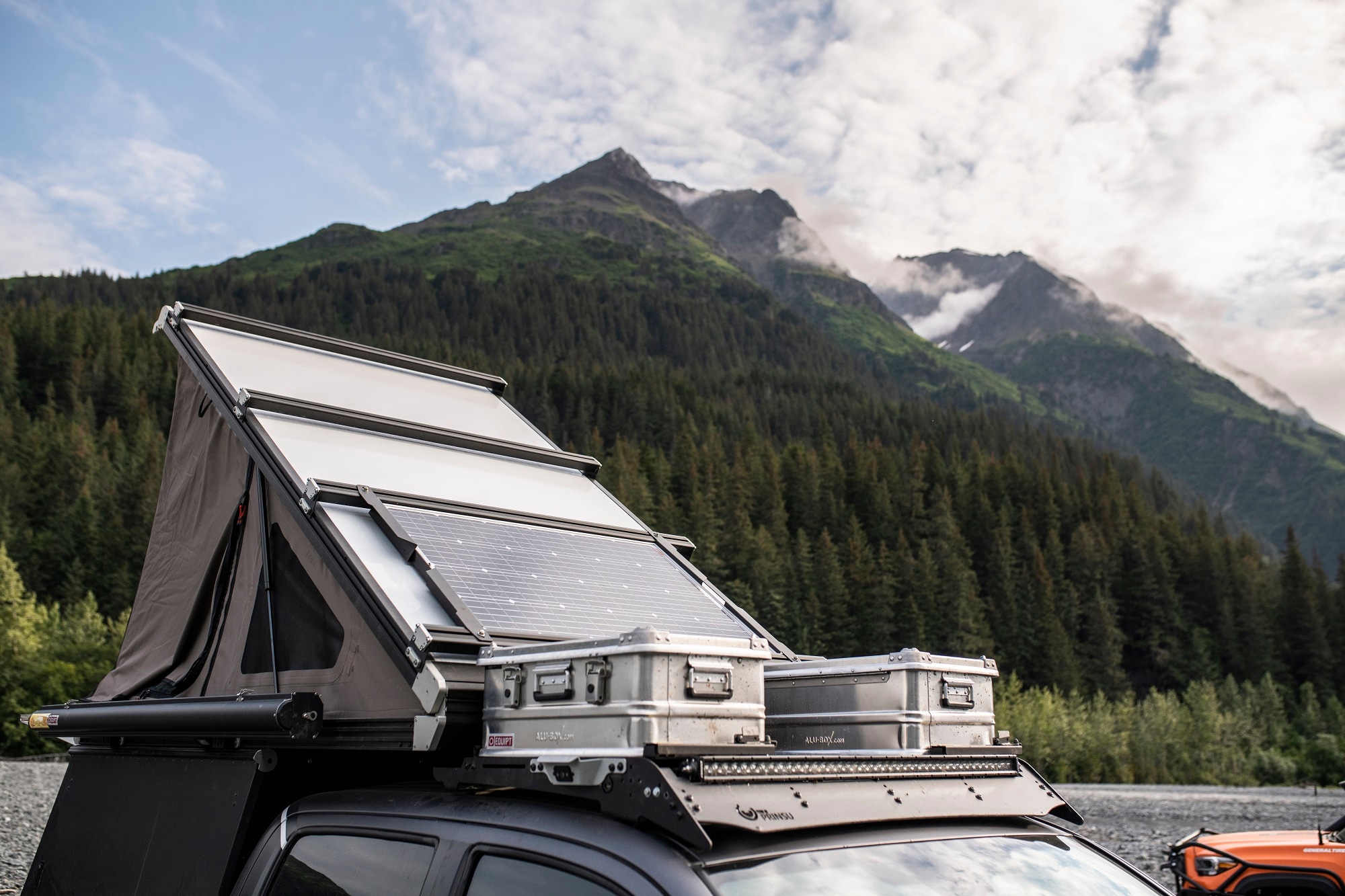 Is it really this simple?
We recently had a massive upgrade to our whole solar, battery and power system. Whilst not really having any idea about how it all works, trusting an expert in getting it right for us and spending the time to educate us, was the most important step in this upgraded setup.
So, since we are now educated and have all this knowledge fresh in our minds, we thought we would share this information with you. I wish we had known a lot of this three years ago, and even though we did our research then, we never really understood our solar needs.
How we use solar for free camping
This is what we have in and on our van:
Mounted solar panels on our roof – We have 3 x 150 watt and 4 x 80 watt
A solar blanket or portable solar panels - We have a REDARC Solar Blanket
Lithium camping battery – We have 400 amp hours
Inverter – We have a 3000w Inverter
DC to DC battery charger – To make sure your batteries are full by the time you get to camp this will charge your batteries whilst driving
Battery monitor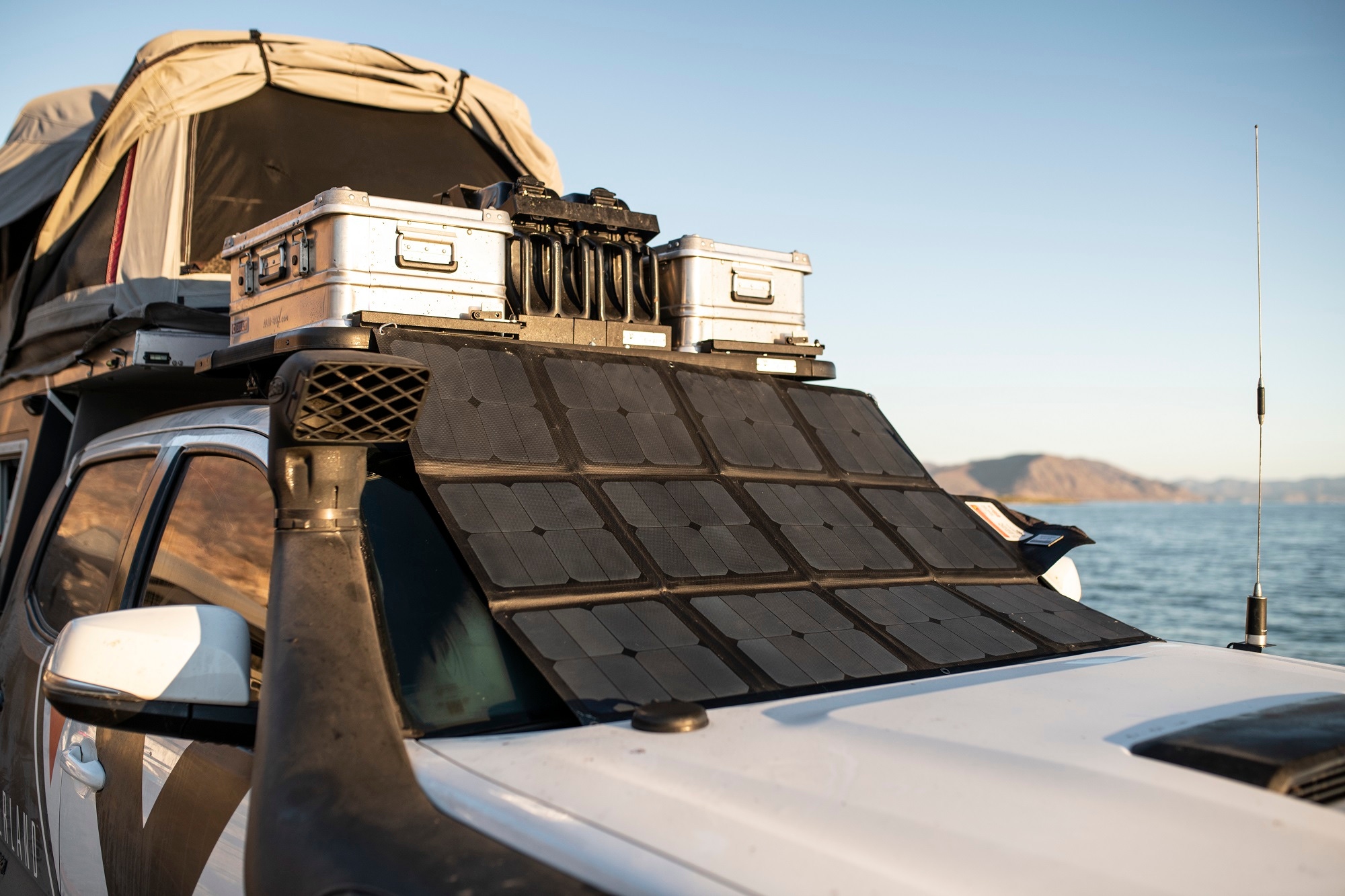 One of the biggest differences in our new solar setup is the lithium batteries. We had been living off 440 amp hours of Deep Cycle AGM batteries and, as many of you know, this means we had 220Ah to use. As we had two of these batteries and they each weighed in at 75 kg, we were carting 150kg of batteries around.
Swapping to Lithium batteries, we decided on 4 x 100Ah batteries. This gave us the ability to use more power, and they weigh a total of only 55kg. That's right, the whole 400Ah of lithium is 95kg lighter.
Now, this setup is quite advanced. A long-lasting solar panel setup for camping may cost a little bit when starting out but will quickly prove to be money well spent. This fantastic battery and portable solar panel for camping system effectively gives us unlimited power. iPad, coffee machines, toasters, kettles, and laptops can all be charged and run whilst free camping!
Our setup was initially fitted to our van during the build stage, this meant we didn't have to fuss around with wiring that we had no idea about. We decided not to fit everything onto the car because we don't have a fridge in our vehicle. This meant that all our batteries, solar, and appliances are in the same place and there's no unplugging and moving components around involved.
Where to start and how to achieve this?
This can either be either the easiest or trickiest part, depending on your portable power system knowledge. Now, it's not the cheapest exercise but as we said, this solar setup will last a very long time. A lithium battery setup can and will take up two full days to install - especially if you are getting new equipment from REDARC.
Keep up with the Four Hands in a Tin Can Family and follow them on Facebook. To learn more about designing a solar power system perfect for your needs checkout our blogs on Setting Up Solar For Beginners and how much solar do I need to live off-grid?