AUXILIARY POWER SYSTEMS FOR TRUCKS
A SOLUTION TO SUIT ANY TRUCK, 4X4 OR VEHICLE
Don't be overawed by technical jargon, tricky installations and high cost items. Only add the gear you need that will help you travel how you want to. Onboard power through DC-DC charge gives you the ability to build a system that's right for you over time. Take charge from your alternator, add some solar capability for extended time at camp or away from mains power, or just isolate your batteries effectively so you know your start battery will get you home again.
Building a 12v system can be as simple as you want it to be.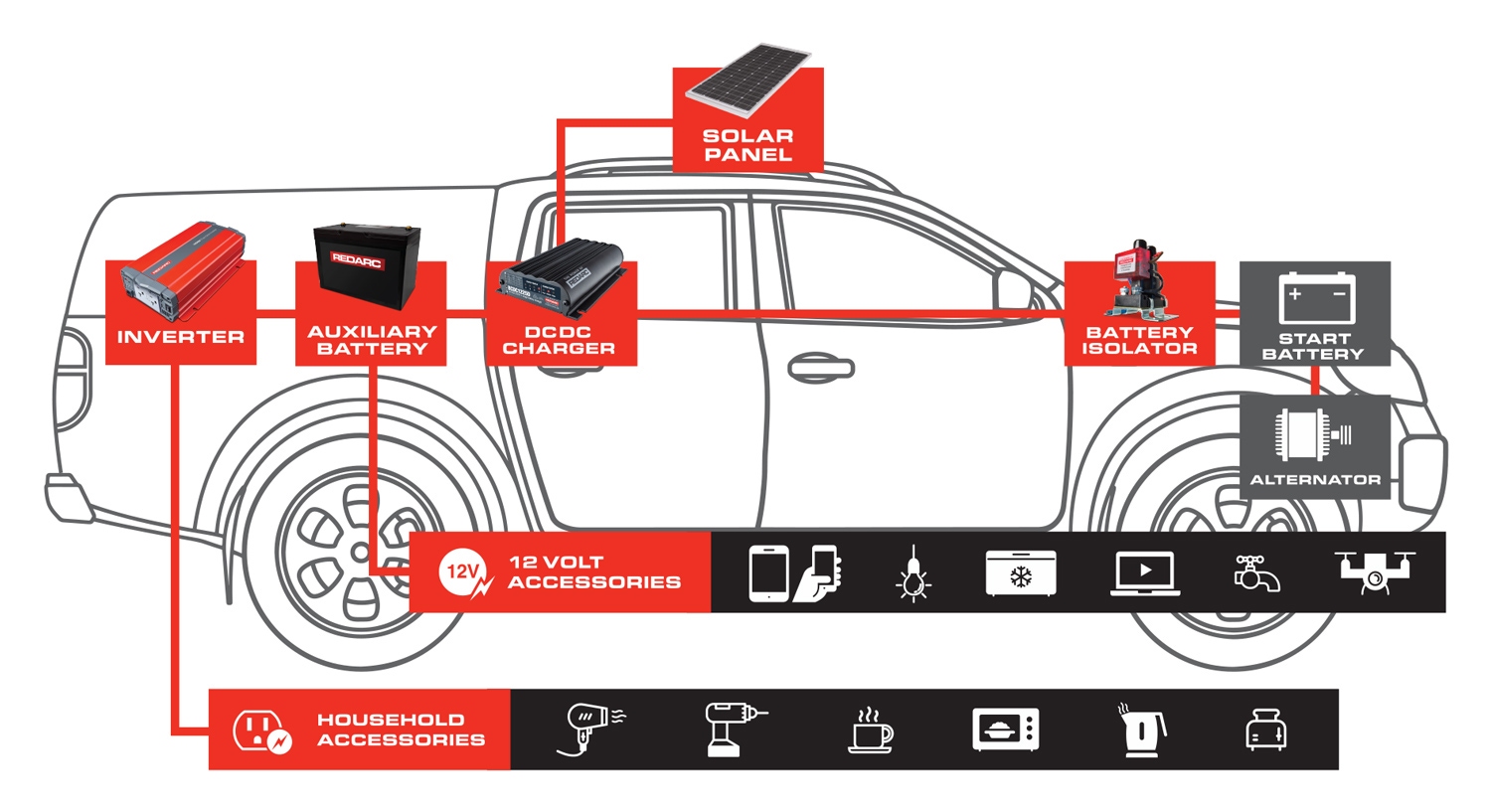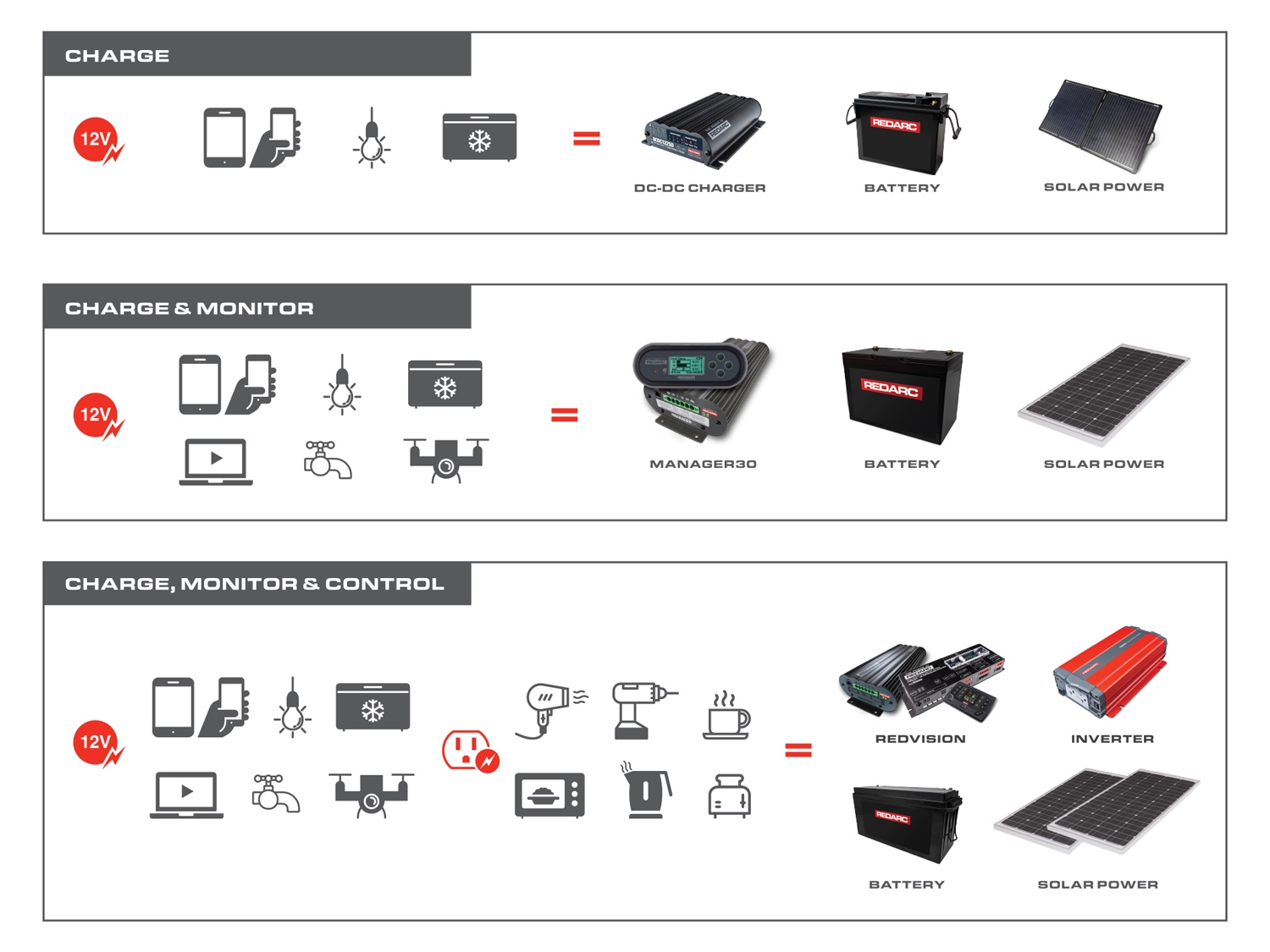 HOW DOES DC-DC CHARGE WORK?
In a dual battery setup where one battery is used as a starter battery to operate the vehicle and one as a secondary to run electrical devices, you need something to effectively keep seperate or keep charge of those batteries.
The Smart Battery Isolator, or SBI, allows your auxiliary battery to charge from the alternator while the vehicle is running, and protect the start battery from discharging when the engine is off.
Next is the in-vehicle battery charger, or BCDC, which keeps the auxiliary battery charged whilst driving, ensuring your secondary battery is charged to a proven 100% no matter its type or size.
Moving to more sophisticated systems, REDARC's Manager30 Battery Management System is designed to charge and maintain auxiliary batteries by incorporating AC, DC and solar inputs. It provides simple to understand information about battery state of charge and time until full and/or flat via a remote monitor.
Then there is total vehicle management, made possible by REDARC's RedVision system. This allows you to control and monitor multiple on-board devices using one central system via a mounted display screen or using a mobile phone app with Bluetooth connectivity. When you want to be able to have complete visibility and control of battery usage and keep an eye on water tank levels and temperatures, and turn on-board accessories such as lights, televisions, fridges and inverters on and off.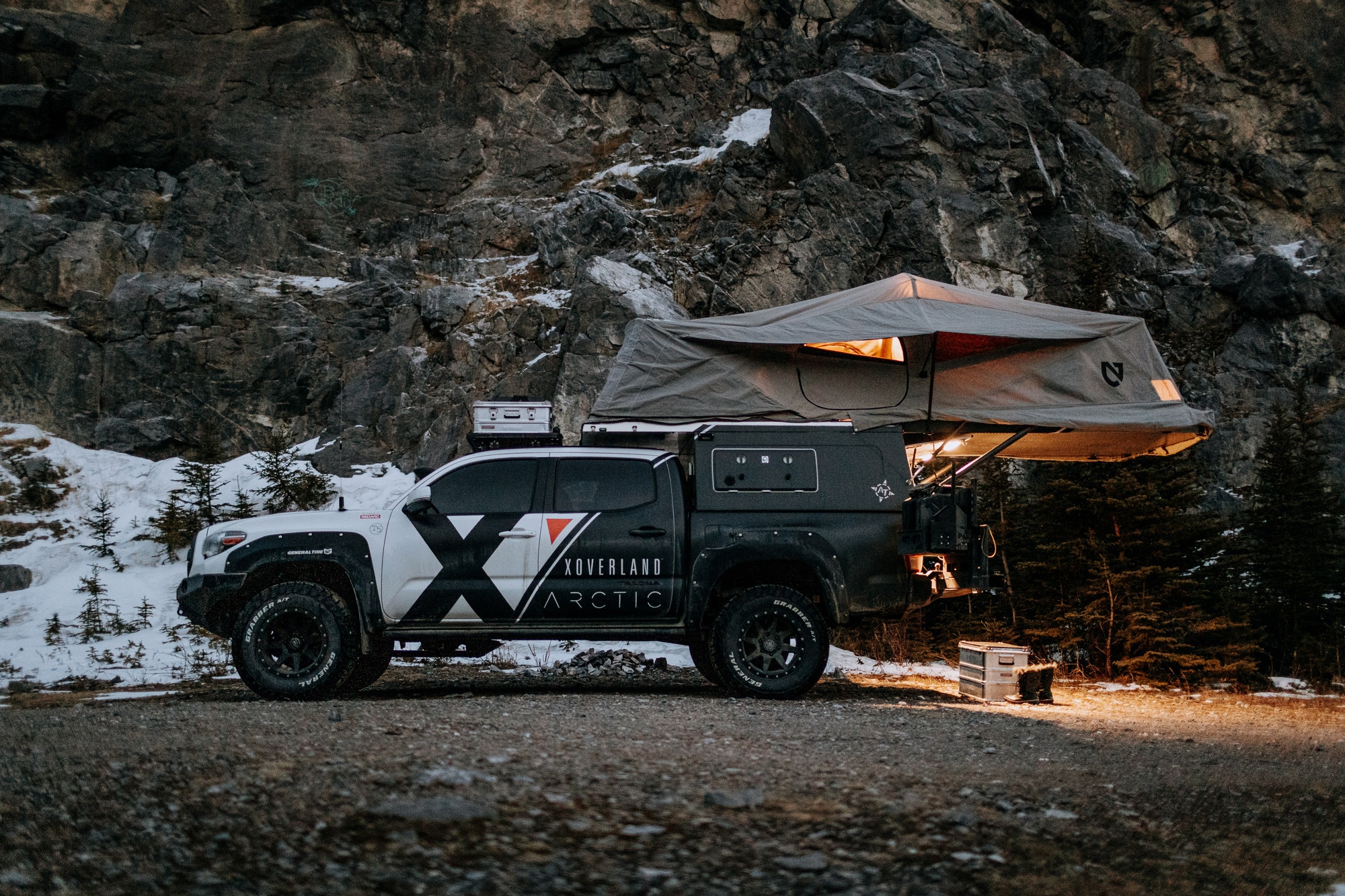 SOLAR PANELS & BLANKETS
Harness the full power of the sun with REDARC's Solar range – a full spectrum of 12-volt fixed and folding panels, solar blankets. Rugged, lightweight products that integrate with our dual-battery charging systems you can easily tailor to your off-grid needs. It's free, unlimited, virtually unbreakable solar power for days of uninterrupted adventure.
SBI RANGE:
GIVE MORE POWER TO YOUR WINCH WITH A SIMPLE DUAL BATTERY SYSTEM
Do you have a winch? Or want to jump start your truck from the auxiliary battery? You need a REDARC Smart Battery Isolator (SBI). The easy add-on to your rig to create a solid connection between your batteries and avoid battery anxiety
BCDC RANGE:
BEST BATTERY CHARGER FOR OFF-GRID POWER
Any dual battery system's best friend: charges any auxiliary battery (via DC & Solar) for your week in Baja or weekend trip. A must when using a 12V fridge. Available in 25, 40
and 50 amps, with install accessories.
MANAGER30:
STAY IN CONTROL OF YOUR POWER ON & OFF-GRID + LIVE BATTERY VITALS
For the more serious Overlander, for extensive off-grid travel. The Manager30 makes 12V power easy and does it all. Charges auxiliary batteries 3 ways (DC, AC, Solar), and gives you battery vitals & data anytime with the remote screen.
REDVISION VEHICLE MANAGEMENT SYSTEM:
ULTIMATE CONTROL AND MONITORING
Want it all? RedVision controls and monitors your entire rig: control all accessories from your smartphone, get battery vitals with the Manager30, monitor water levels, temperature etc. Easy to install and easy to use.
# LEARN HOW TO GET OUT AND STAY OUT.
Overlanding is so much more than just a movement. And REDARC are here to help.