What are the lights on my Tow-Pro telling me?
Normal Operation
The Tow-Pro Elite and Tow-Pro Liberty will indicate both Mode1 and Fault Condition through colour and flash sequences of the LED indicator. The table below shows how the Tow-Pro will indicate normal operation of the unit.
NOTE: LEDs will glow full at brightness when the remote head control knob is adjusted or manual override is pressed. After release of the gain control knob the LED brightness will reduce - This is designed to be less intrusive on driver's vision at night.
Status
Indication
Mode
Proportional
User Controlled
Calibration
Blue/Green flashing
N/A
Sleep mode

3

Blue

1

or Green

2

breathing on button push

4

Trailer Connected
Solid Blue
Solid Green
Braking
Blue to Red

5

Green to Red

5

1. Tow-Pro Elite model only.
2. Tow-Pro Liberty model only.
3. Sleep Mode occurs when there is no trailer connected to the vehicle.
4. Breathing, as opposed to flashing, is the LED gradually getting brighter until its brightest point and then gradually dimming until off.
5. The LED will vary between the Mode Colour (Blue or Green) and Red depending on the braking force.
Fault Codes
The Tow-Pro range features sophisticated diagnostics to warn the operator of faults in the vehicle and trailer brake wiring. Wiring faults are indicated by a series of colour coded flash patterns on the Tow-Pro LED.
Most faults turn out to be something simple such as a poor connection from a dirty trailer socket, however, a fault indication should not be ignored! It is a warning; if left unattended such wiring faults can become worse and may lead to deterioration or loss of trailer braking.
Please refer to the table on the next page for the list of flash patterns, showing the cause and recommended course of action for each of the conditions which may be detected.
Even intermittent faults are detected and may be indicated until cleared. Most fault codes can be cleared by unplugging the trailer for 1 minute then reconnecting.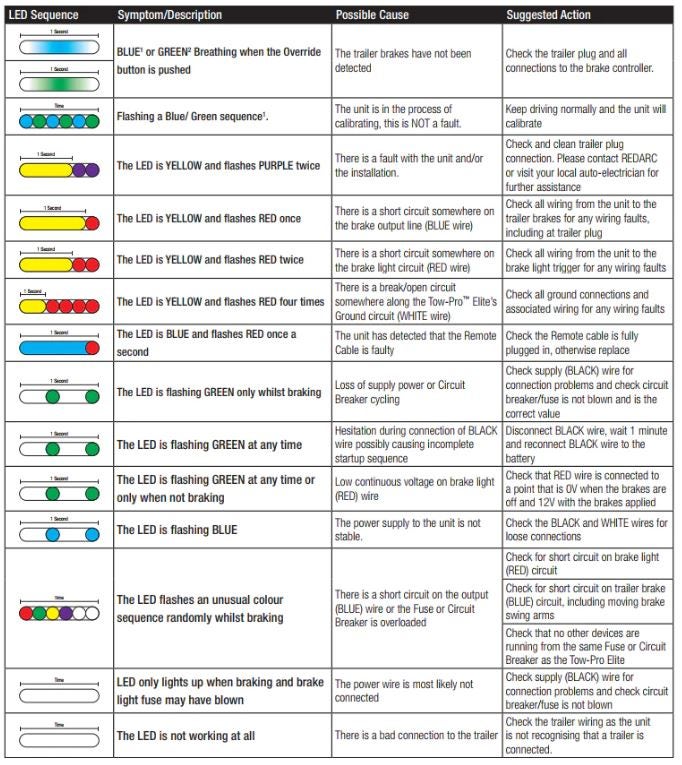 1. Tow-Pro Elite model only
2. Tow-Pro Liberty model only
For further assistance or technical support please contact REDARC directly.