Using an EPDK in Tow-Pro Installations
As with most electronic brake controllers, a signal from the vehicle brake light circuit must be received by the brake controller as a trigger to activate the trailer brakes, in the USA it has often been the case to source this brake light trigger from the vehicle brake pedal switch.
On vehicles with driver assist braking, e.g. AEB etc, it is also critical to capture both driver and vehicle generated braking events when vehicle braking is applied. For this reason, accessing the brake pedal switch for the brake light trigger is not recommended.
The stop lamp signal has traditionally been the suitable location to source the stop light trigger as it illuminates under both types of braking, however in the USA, it's often the case, then stop lamps also operate as passing lamps i.e. indicator lights when changing lanes or over taking another vehicle?
Often the CMHSL (Centre Mounted High Stop Light) at the rear roof of the vehicle is looked at as a possible suitable source of the stop lamp signal however you need to ensure it is solid 12Volt signal and not a PWM (Pulse Width Modulated) signal. It is also necessary to prevent electrical back-feed down the brake signal wire due to modern electrical systems.
The EPDK-001 has been designed to fit in the Brake Stop Lamp circuit from the CMHSL to support the installation of Tow-Pro Electric Brake Controller on vehicles where 'back-feed' of 12Volt (during Tow-Pro Manual Override) may interfere with the vehicle systems and/or on-board computers. When installed correctly, the EPDK-001 ensures correct trailer braking and stop lamp operation when at any time the vehicle brakes or the Tow-Pro Manual Override is applied.
In a typical installation where the vehicle has a factory fit tow-package, supplied by the manufacturer from delivery, generally fitment of EPDK-001 is not required. The vehicle tow-wiring should have these protections built-in already, so no extra components are necessary.
When there is no tow-package fitted, and a hard wire full install from scratch is needed, requiring the sourcing of a brake signal trigger, this is where EPDK-001 is required.
See below a typical example diagram illustrating how this device is applied, integrating into the vehicle stop lamp feed.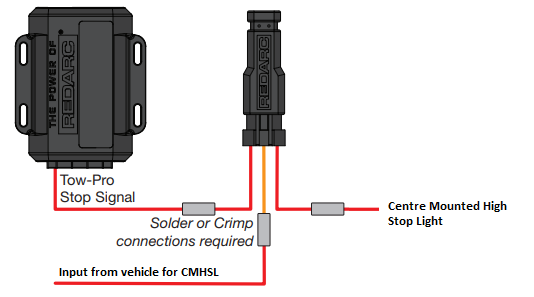 *Please note: If the signal from a brake pedal switch is to be used, it needs to have a pure, +12Volt signal when the brake pedal is applied and then goes down to 0Volts when released – the EPDK/Tow-Pro won't accept a CANBUS (low) voltage or similar.
Related issue: Some LED stop lamps can be susceptible to a small voltage from the Tow-Pro stop signal wire (red wire) and may 'flicker' in some cases on modern vehicles. Fitment of EPDK as above will prevent this from happening.