WHO IS PRIMAL OUTDOORS?
My name is Jason Darrah and my home base is in the Central part of Oregon state. Oregon has a very diverse landscape with coastal, alpine, rainforest and remote desert. With an estimated 53 percent of Oregon 61 million acres being public land, it makes for amazing opportunities for remote vehicle adventure.
HOW DID YOU START?
I spent most of my time packing into the backcountry with my gear on my back. In 2016 I had a change in my life that made it to where I needed to care for my two elderly dogs full time. I started researching options that would allow me to continue to fuel my passion to be in remote locations while being able to safely bring my dogs along on the adventure. With so much public land available in the western United States (estimated 486,421,156 acres) Overland vehicle adventure was the perfect option.
TELL US ABOUT YOUR RIG?
I originally started off with the vehicle I had which was a 99 Ford F250 pickup. While in the beginning stages of setting up my pickup I came across a picture of a Sportsmobile van and in my mind that was the ultimate Overland adventure vehicle. It took a few years before I eventually did purchase an old 1994 Ford Econoline van and began building it out. I started building the van with the concept that I wanted the van to be comfortable enough to live and work in full time but still be a very capable overland vehicle. The first modification was to convert it from a two wheel drive to four wheel drive, I then added bumpers, rack, wheels, tires and winch. The second major modification is I had the whole van coated in Line-X. The first year I had a pretty raw interior build, and I switched it up often until I settled in on how I wanted the interior to layout and function for me and then I did a complete build out with power system, bed, heating, refrigeration, water and storage. I still have a few little odds and ends I am working out, but the van has become the ultimate adventure vehicle that I dreamed of.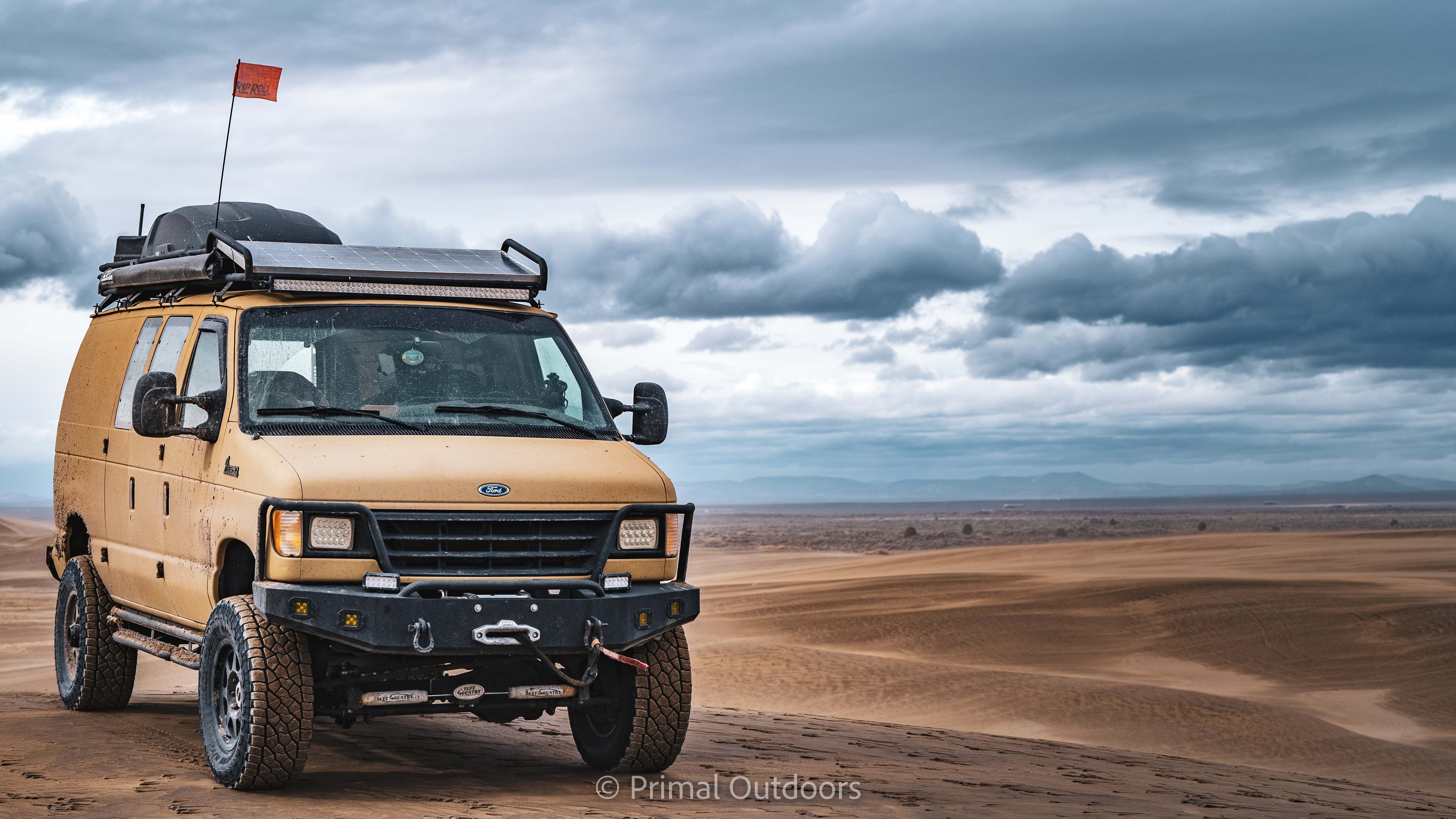 WHAT HAS BEEN YOUR FAVORITE TRIP SO FAR?
In 2019 I developed a 300-mile dirt track route that traverses you from Bend Oregon which is a trendy little mountain town at the base of the Cascade mountains all the way to the Alvord Desert, a 5 by 10 mile dry lake bed that sits at the base of the very gorgeous Steen Mountain range. The route takes through some gorgeous high desert country. The route takes about a week if you take time to explore the many cool points of interest along the way which include historic homesteads, sand dunes, wrecked A6 Intruder military aircraft and if you're lucky you may even see some wild horses along the way.
WHAT ARE THE TOP 3 THINGS YOU CAN'T GO ON THE ROAD WITHOUT?
My van is basically a 4x4 micro house. The three top things that I built into it that were very important to me were my on board power system to power all my devices and built in accessories, my undermount propane tank that supplies propane to my cooking and heating system, and the third is my heating system which utilizes the propane and power from my power system.
WHAT REDARC PRODUCTS DO YOU HAVE ON-BOARD AND HOW HAVE THEY MADE TRAVEL EASIER FOR YOU?
I have the REDARC Manager 30, the REDARC RedVision, REDARC 25a In-vehicle Battery Charger and the REDARC Solar Blanket. The REDARC system is the heart of my living system, it efficiently charges my two 100 AH lithium batteries that are responsible for powering my heater, refrigeration, lighting, camera battery charging and powering my laptop which allows me to work on the road. The RedVision not only allows me to monitor the charge going into my house batteries and switch on accessories like my external lights it also allows me to monitor how much water I have on board, the condition of my start battery plus inside and outside temperature all from the RedVision display or one single app on my phone. The RedVision also gave me the ability to trigger specific devices on my system, for example I have my front light bar trigger off of my high beam switch and my rear light bar trigger off of my reverse switch, I also have my stereo connected to a trigger so it comes on when I start the vehicle but by having it go through the RedVision when I am at camp I can turn on the stereo on from the phone app without having to turn the key on. This also makes my stereo run off my house battery, so I don't have to concern myself with discharging my start battery while enjoying some music at camp.
WHAT'S NEXT FOR PRIMAL OUTDOORS?
I am currently working on extending the Bend to Alvord route I mentioned above another 300 miles taking through the remote and beautiful Owyhee River area.
WHAT WOULD BE YOUR ADVICE FOR SOMEONE WANTING TO GET INTO THE ADVENTURE LIFESTYLE?
Start with whatever vehicle you already have and minimal gear. Begin with some small trips in areas that aren't too remote. This will help you build experience and confidence; it will also help you make better decisions on building and customizing your overland rig. You want to make sure you're not spending money building someone else's perfect rig; you want to spend your money building your perfect rig.