WHO IS BOUND FOR NOWHERE?
We're MAK & Owen! We got married and then shortly thereafter hit the road. That was nearly six years ago as of March 2022. We left from Atlanta, GA and have been traveling all over North America ever since! This year we are starting off in Baja California, Mexico chasing waves and spear fishing. We're able to live and work from the road thanks to our freelance careers as Designers, Photographers & Videographers.
HOW DID YOU START?
After college back in 2012, Owen and I hit the road in our small SUV with some hand-me-down camping gear and the meager contents of our savings account. We wanted to take a break before finding jobs, so we decided to drive around the country. We were following in my parents' footsteps who did something similar. We left with hopes that we'd fall in love with a new town or city while we were traveling, so we could start our professional lives somewhere new. Instead, we fell in love with the road! We loved being able to choose where we started and ended each day. Inevitably our bank account ran dry after six months of travel and had to rush back to Atlanta to find work. Two years later we had an epiphany that we wanted to get back on the road, so we took two years to rebuild our careers to be freelance and built a home on wheels to make it happen. So our current travels are the 2.0 version of our post college road trip!
TELL US ABOUT YOUR RIG?
We're currently on our fourth rig since getting back on the road. All were in an effort to find the right thing for the way we travel and our work. Thankfully, this one is here to stay! We live and travel out of a 2020 Toyota Tundra with a Norwalk Flatbed and Four Wheel Camper. Our home on wheels is powered by a REDARC Solar System and a Manager30 paired with two 100AH Battle Born Batteries. We have a snorkel, high clearance front bumper, light bar, winch, air compressor, rear locker… you know, everything you need to get in trouble, and then back out of it! ;) We picked this rig because it has plenty of space of all our gear for surfing, fishing, hiking, and rock climbing while also being comfortable for work. Work funds our continuous travels, so we were sure to build a rig that also made for a great office.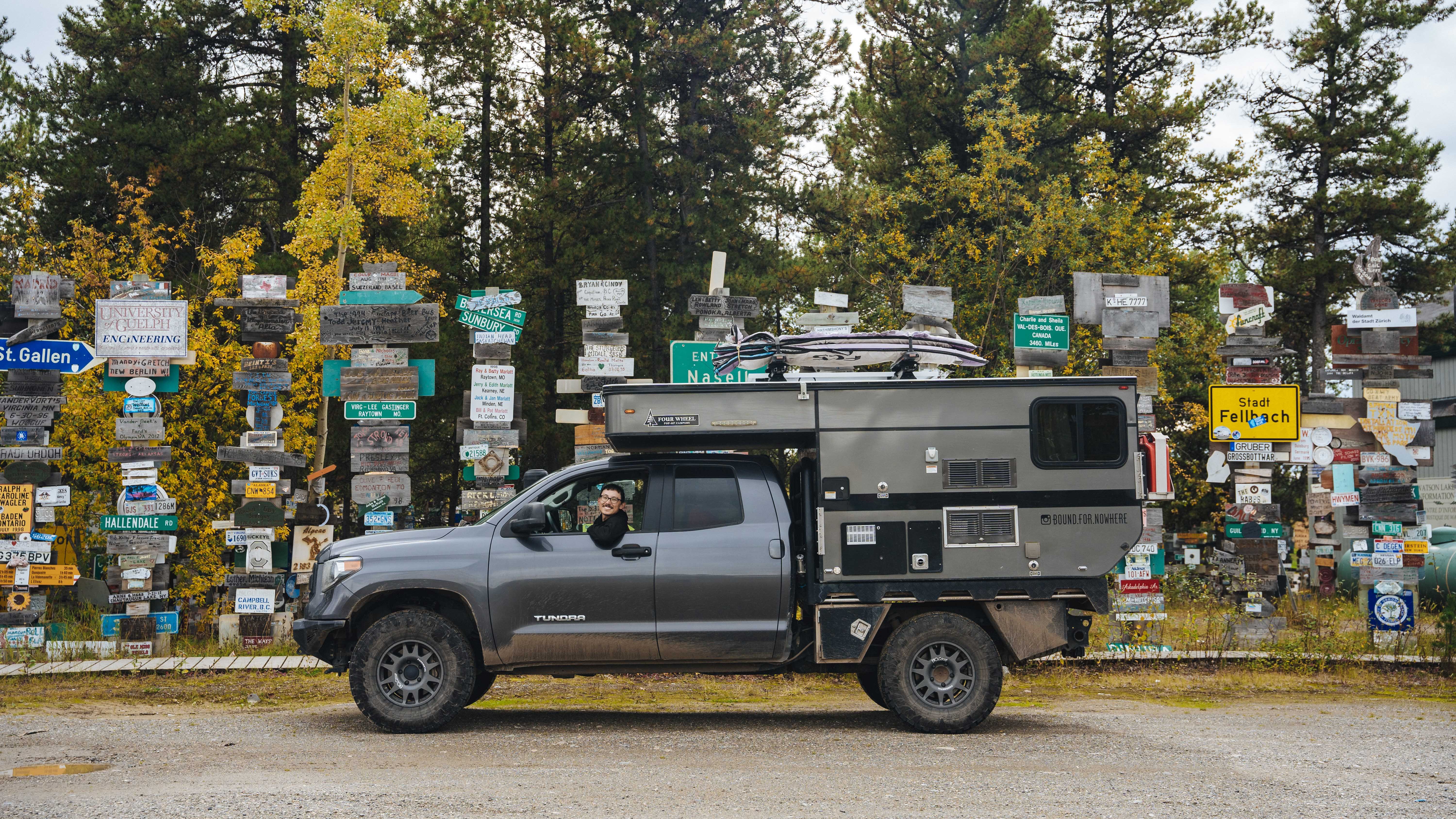 WHAT HAS BEEN YOUR FAVORITE TRIP SO FAR?
Because we are on the road full time, we are on one big trip. However, we do have favorite areas that we've explored. Alaska is one of them. Alaska is the farthest north our travels have ever taken us, and we were not prepared for how staggeringly beautiful it would be. The great north is wildly lush, has incredible wildlife, and spray populated. All are the makings from some grand adventures. The space that Alaska gave us also brought about a lot of personal development for us. We are currently (spring 2022) rolling out a video series about out time in Alaska on YouTube… if you're into that sorta thing!
WHAT ARE THE TOP 3 THINGS YOU CAN'T GO ON THE ROAD WITHOUT?
Top things we can't live without on the road in no particular order:
1. Our camera & video gear. We love capturing the journey! Sometimes it's for work, but mostly we love having a camera in hand! It's our preferred method of creative expression.
2. Our REDARC Solar Panels. Power is always a priority of ours to be sure we can get our work done. We get most of our power from the sun and no one does it better than REDARC.
3. Our game box! We spend a lot of time far away from service and thus we play a lot of games. We have a small bin with a wide variety to be sure we have something for every mood. We carry regular cards, Monopoly (the card game, if you've never tried it, you are really missing out), Catan, Phaser 10, Uno, and Trivial Pursuit National Parks Edition.
WHAT REDARC PRODUCTS DO YOU HAVE ON-BOARD AND HOW HAVE THEY MADE TRAVEL EASIER FOR YOU?
We have the REDARC Manager 30 to manage and monitor our power system. This is SUPER important for us as we're always needing to keep close tabs on our draw while working to keep our batteries healthy as well as see what is coming from our REDARC 180W Monocrystalline solar panel. We switched to this panel after our previous one sustained a lot of hail damage and it has been one of the most efficient panels we've ever had the pleasure of owning. We never need to worry about power because of it! (Again I would love to mention the 112w solar blanket, seriously it's the best.)
WHAT'S NEXT FOR BOUND FOR NOWHERE?
For a long time (the last two and a half years) we've been working on going international. Unsurprisingly COVID, tossed a wrench into those plans. We finally feel like we are getting closer to leaving the North American continent. We have our sights set on South America by the end of 2022 and we couldn't be more excited. Though it isn't where we were initially planning to headfirst, we're adapting and couldn't be more excited to step outside of our comfort zone again!
WHAT WOULD BE YOUR ADVICE FOR SOMEONE WANTING TO GET INTO THE ADVENTURE LIFESTYLE?
Don't wait until you "have it all figured out" to start traveling. Spoiler Alert: You will never have it all figured out. Six years of living on the road and we still don't have it all figured out. The best way to figure it out is through experience, and you only get that from getting out there!