WHO IS CHASE GENTRY?
I'm an adventure and gear head by trade. I grew up spending as much time as possible outdoors, ground camping with my old man and adventuring in the woods. As I started getting older a second passion ignited as an obsession with vehicles and how they could help push my adventures further!
My vehicle became my chariot and main means of getting to places I'd never seen before. They have since been my biggest tool that I've built countless memories with. I'm married to my best friend and, together with our two pups, we strive to see and do as much as possible while we're at our peak in life. I was told once not to wait until life has passed you to start living it. Life is short so we're living it to the fullest now.
HOW DID YOU START?
As I was nearing the end of my high school years I was unsure what I wanted to do with my adult life. I struggled to follow the normal rules of go to college, buy a house and work for the man. So I ended up attending an Automotive Technical Institute where further pushed my passion and love for all things on wheels. This allowed my transition into the car industry as a service technician.
While this aligned with the things that interested me, I still felt as though something was missing, Adventure! There was no longer any risk, no breath-taking views, no struggle. I was just showing up, punching, and then clocking out. After ten years of this cycle, we opened up a fitness training facility to help facilitate a more active lifestyle while I started to rekindle those childhood hobbies that I'd grown so fond of.
I built an adventure overland rig so we could point the headlights to new horizons and start living again. A few years later and a couple of really incredible partners, I'm now fortunate enough to travel full time seeing some of the most incredible places and having epic adventures I'll never forget!
TELL US ABOUT YOUR RIG?
I'm currently on the road in a 2021 Ford Bronco Wildtrak 4 door. After having a full adventure ready Toyota Tacoma and running it all over the country, I was ready for something bigger, better, more capable, and more powerful. I had been reading and learning what I could on the Wildtrak prior to the release and a few months later I was approached by Ford asking if I was interested in an ambassadorship program involving the new Ford Bronco. I was thrilled and quickly said yes!
Almost two years later I have since transformed an already highly capable platform and personalized it to the demands of my adventures. First and foremost, I do a lot of media for several partners in the offroad and adventure space so charging and power are crucial for me. To solve this issue, I added the REDARC Ultimate Off-grid Kit. This allows me to run items like my onboard air, ARB frdge/ Freezer and other items. To make all this happen it allows me to run an auxiliary 135amp Dakota Lithium battery, so I have enough onboard power to keep my camera equipment topped off.
Getting to and from the ultimate off-grid spots requires trekking through some gnarly terrain which calls for a more aggressive wheel and tire combo. I'm running a BFG KM3 35x12.50r17 on a Method BeadGrip Rim, so airing down is not a concern.
Sometimes these wild adventures call for long days and later nights and I have to be a ale to see what's up ahead. I have more candle power than I need with help from Rigid Industries. There are 5 Adapt XP GPS controlled lights up top, ditch lights and 4 down low up front on the bumper turning night to day!
Now, while this platform is highly capable, there still situations where the trail is just too much and requires winching. Up front there is a WARN 10k synthetic winch tucked in to a CBI Offroad hybrid bumper with full aluminium skid plate system front to back. Saving weight wherever possible is key so ride dynamic and suspension performance doesn't suffer to keep your adventures comfortable.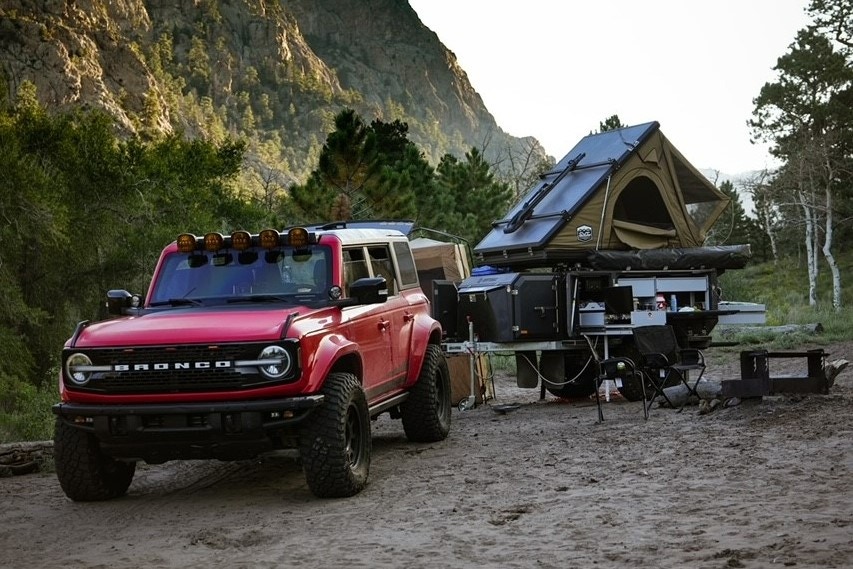 WHAT HAS BEEN YOUR FAVORITE TRIP SO FAR?
My favorite adventure so far is a recent one actually. My wife and I tucked ourselves away deep in the forest outside of Ridgeway Colorado. We were off-grid for about a week and ran a series of mountain passes while in the area. My wife actually successfully drove Black Bear Pass start to finish which was awesome. While at camp we confidently had power via our REDARC systems both in the Bronco and in our Overland Offtrax FEENIX trailer. We did get rained out which added to the adventure and complexity of figuring how to overcome the situation.
WHAT ARE THE TOP 3 THINGS YOU CAN'T GO ON THE ROAD WITHOUT?
1. My little family! Wifey and both our pups!
2. Fridge because food!
3. Cameras because I want to document all my adventures, not for social, not for brands, but to reflect back on 30 or 40 years from now to remember all the adventures and life we didn't miss out on!
WHAT REDARC PRODUCTS DO YOU HAVE ON-BOARD AND HOW HAVE THEY MADE TRAVEL EASIER FOR YOU?
I'm running the Ultimate Off-grid System, including Redvision and a 300w Solar panel! We also have the 2000w inverter in our trailer too. This whole setup helps keep food fresh and the Kuerig coffee maker brewing coffee. Seriously though, it helps keep my workflow moving, powering up media equipment and Starlink running so I can work virtually anywhere. What a game changer!
WHAT'S NEXT FOR CHASE GENTRY?
I'll be adding some Goose Gear interior modifications. More organizational items as it seems that is a constantly evolving one. Next, we'll be headed east to Overland Expo East to hang out and see what that side of the country has to offer.
WHAT WOULD BE YOUR ADVICE FOR SOMEONE WANTING TO GET INTO THE ADVENTURE LIFESTYLE?
Stop thinking about it. Life's short. Start now and Live!