WHO IS GONDIRTIN?
We are Karissa and Linhbergh! We are full time professional automotive photographers living in Los Angeles, California. The both of us, and our two dogs, Kyia and Stella, have been going out with our truck once to escape from the hustle and bustle of our LA work lifestyle and submerge ourselves in the great outdoors. We like to think of ourselves as vanlifers that adventure in an overland 4x4 rig.
HOW DID YOU START?
When we first met, we both had very busy lives and careers. Being up-and-coming freelancers, we took all the jobs we could. This left very little time for us to relax. We eventually took the time between jobs to go out and camp. We started off like everyone else: ground tent camping, instant ramen noodles, and hot dogs. Eventually, we started going out so often that we upgraded from our small sedan to a fully fledged 4x4!
TELL US ABOUT YOUR RIG?
We have two rigs. We started off with a 1999 Mitsubishi Montero then eventually imported a 1994 Toyota LandCruiser Troop Carrier from Australia. The Montero has a full drawer build out in the back, a dedicated power system and a rooftop tent. The Troopy has a pop-top installed and full living space built out inside featuring a fridge, sink, and stove!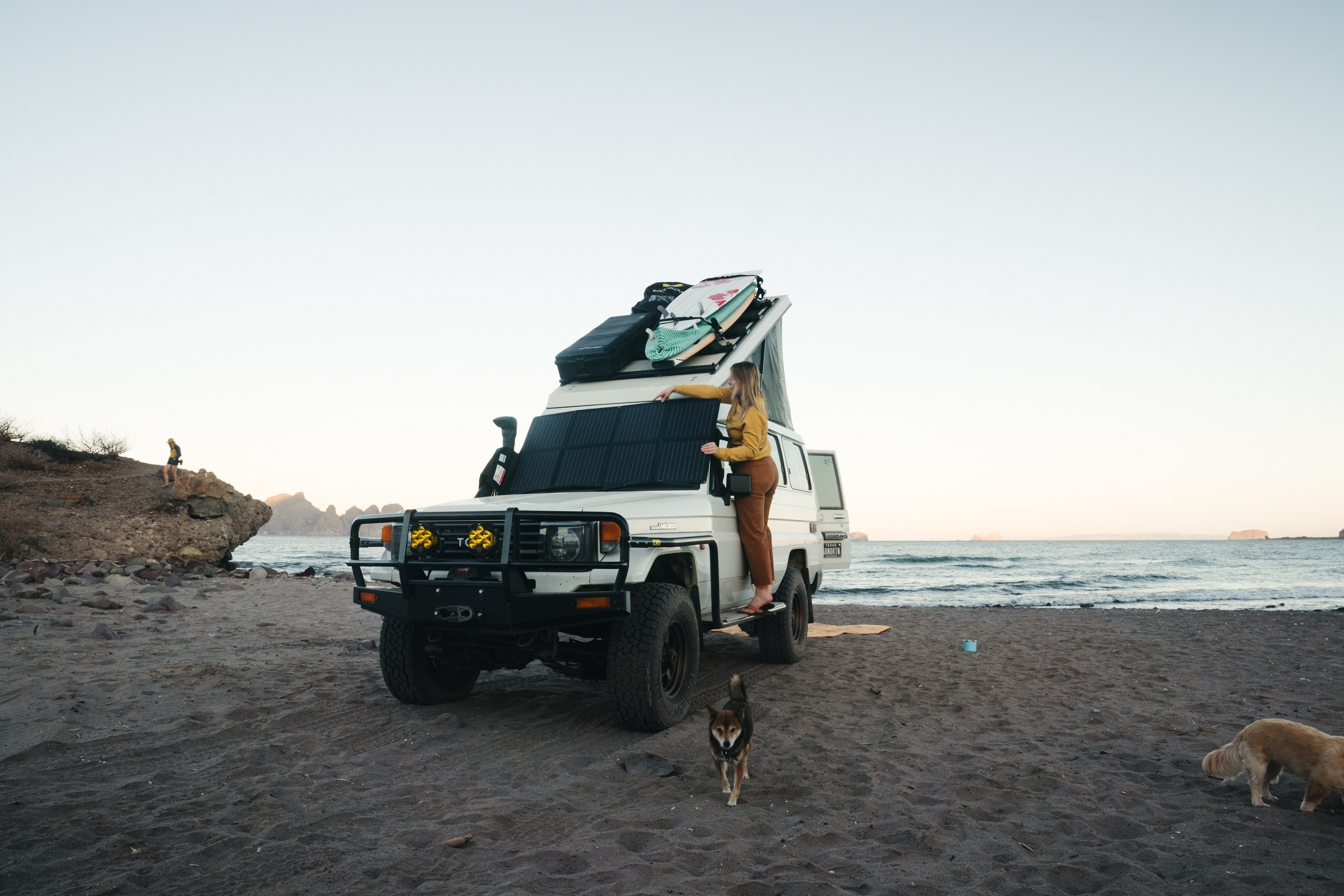 WHAT HAS BEEN YOUR FAVORITE TRIP SO FAR?
Easily our month long trip to Baja California, Mexico. Waking up on a beach, a few feet from the ocean, to the sound of breaching whales or whales slapping their fins on the ocean's surface every single morning is unforgettable and really makes you appreciate and be present. Add to the fact that there's an endless amount of delicious tacos in every town is just a cherry on top of it all.
WHAT ARE THE TOP 3 THINGS YOU CAN'T GO ON THE ROAD WITHOUT?
1. A powered fridge — ain't nobody like soggy veggies!
2. Select spices and seasoning — especially fish sauce.
3. Some sort of electrical to charge our gadgets — it doesn't have to be a dedicated power system either, it could just be a small power station.
WHAT REDARC PRODUCTS DO YOU HAVE ON-BOARD AND HOW HAVE THEY MADE TRAVEL EASIER FOR YOU?
On our Troopy we have a REDARC BCDC1225D as the brains of our whole electrical system, a REDARC 2000W pure sine wave inverter and a 160W solar blanket that we use whenever the fixed solar panel on our roof is covered up by surfboards or whatever else we mount on top. The Montero has the full REDARC RedVision Manager30 kit and a 160W solar blanket to charge up the 300Ah of batteries.
WHAT'S NEXT FOR GONDIRTIN?
We'll continue to explore places we haven't been to in North America, but also have our sights set on shipping the Troopy to other continents in the very near future!
The Troopy will receive a few small tweaks here and there that will make our extended travels easier. The Montero will soon be getting a complete rebuild of the drawer system to better accommodate our cooking lifestyle, and we will be ditching propane for an induction cooktop.
WHAT WOULD BE YOUR ADVICE FOR SOMEONE WANTING TO GET INTO THE ADVENTURE LIFESTYLE?
The quest to acquire things for camping should be the least of your worries. As long as you have a place to sleep, a simple stove to cook, and a place to put your clothes and groceries, you're all set. The most important thing you should be doing is just getting out there and experience what our planet has to offer — and it's endless. Go with what you have first and build a wish list. Categorize your list and assign priorities. If you don't, you'll overwhelm yourself. And before you dive into sourcing existing routes people have made available online, take a shot at mapping your own adventure. Use Google Maps and pick two destinations. Connect these points with the windiest back roads you can find, then hit the road. You'll be surprised at what you find!