WHO IS KODA'S TACOMA
Koda's Tacoma is a page about a 2003 Toyota Tacoma and a dog named Koda.
The name started off as a joke, when we first started this whole thing, and it stuck. We get out as much as we can, but also really enjoy modifying our vehicles. We're located in Covina, California and love adventuring in nearby areas. We also try get out of state as often as we possibly can.
HOW DID YOU START?
We started with a different truck, another 2003 Toyota Tacoma, but an access cab and it was 2WD. We enjoyed it so much and around the same time, I picked up a camera and found a passion for snapping shots of our adventures.
TELL US ABOUT YOUR RIG?
Our main rig is a 2003 Toyota Tacoma double cab. We purchased the Tacoma because the back seat area was the perfect size for Koda. I also knew we were going to hit trails with it, so I was reluctant to buy a brand-new vehicle. Many scratches and dents later, the Tacoma still romps around with over 250k miles now, without any hiccups. We have taken the truck on two-week trips and enjoyed it so much. It's perfect for a weekend trip or a trip that only lasts a few days. We have our REDARC setup keeping all our electronics happy, and we couldn't be more stoked about it. We run a fridge, laptops, camera equipment, lights, & more. Knowing we have a solid base of an electrical system gives us peace of mind when were out far from any towns. The truck has a long list of modifications such as, a Go-Fast Camper, Tundra brakes, Fox Coilovers, 5.29 gearing with both front and rear E Lockers, an air compressor, Kinsmen 270 Awning, and a bunch more. It's our dream setup and we use it whenever we can.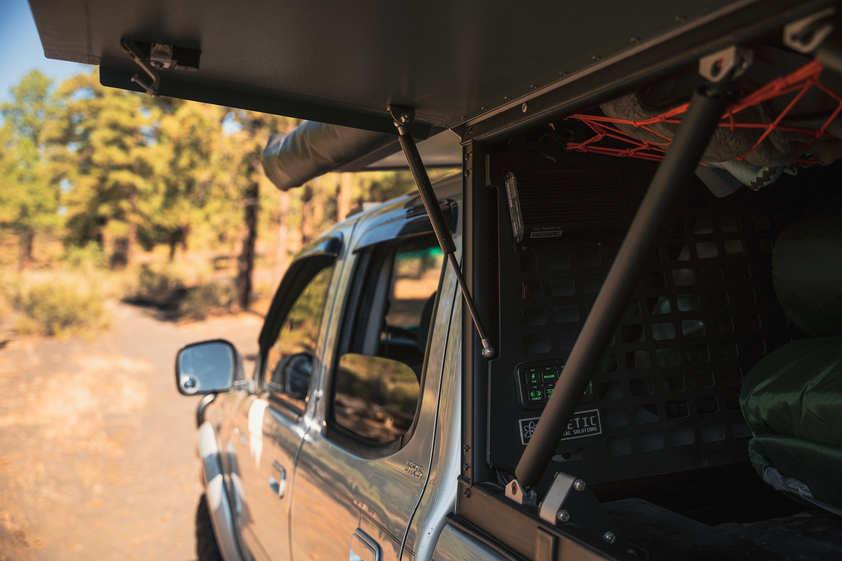 WHAT HAS BEEN YOUR FAVORITE TRIP SO FAR?
That's a hard question to answer! Visiting Utah is one of the most memorable trips so far. One of our favourites was driving up the coastline for a week or two, which was amazing. We've been to Yellowstone a few times to see The Grand Tetons. In short, I can't decide! I love so many places for different reasons and I hope we can visit each one again - and even more places soon.
WHAT ARE THE TOP 3 THINGS YOU CAN'T GO ON THE ROAD WITHOUT?
Camera, Laptop, & Cold Drinks! Half of my work is remote, so being able to have all our electronics is a must, or else we would never get out. The cold drinks and fresh food in our fridge are so nice when we are miles from town.
WHAT REDARC PRODUCTS DO YOU HAVE ON-BOARD AND HOW HAVE THEY MADE TRAVEL EASIER FOR YOU?
We have the BCDC25 and absolutely love it. Tying in all our solar easily and charging up our batteries is such a nice thing to have. The ease of use and how much tech is incorporated in such a small unit is great. We've been running it for a while now without any issues and I doubt we'll ever have any.
WHAT'S NEXT FOR KODA'S TACOMA?
Hopefully a longer trip this year! We also would like to do some outboard shocks on the truck soon. Our number one priority is dialling in the suspension and fitment on the wheels, so we can get out on the harder trails. We're also starting another build soon and we're so excited about it.
WHAT WOULD BE YOUR ADVICE FOR SOMEONE WANTING TO GET INTO THE ADVENTURE LIFESTYLE?
Do it! Do it with what you have. Try not to buy everything you see, until you know what you need. Learn about safety and survival as often as you can. Going with friends, meeting more people in the community, and learning from them is invaluable. Most importantly have fun and disconnect from time to time.