OVERVIEW
REDARC's 4x4 offroad battery charging kit is the perfect setup for people wanting to get away for days, or even weeks, to explore the country with friends and family, without missing out on the electronic comforts we enjoy at home.
This 4x4 offroad battery dual battery setup offers everything you need if you're looking to add a larger secondary battery (200AH+)* to your vehicle that will allow you to run things like fridges, inverters and other 12V devices.
The 40amp BCDC will help charge your batteries (200Ah+) while you're on the move, and features solar inputs if you want to add a solar blanket or portable solar panel down the track to help you harness the sun's energy to get batteries back to 100% charge when you're setup at camp. Pair with a 200Ah REDARC Lithium Battery for the ultimate dual battery setup.
The inclusion of a dual voltage monitoring gauge means you can always keep a closer eye on your battery performance to ensure you are not over or under voltage when out on the road.
What's inside?
This 4x4 offroad battery charging kit has everything you may need to install into the canopy or back of your 4x4 before taking off on your next great adventure.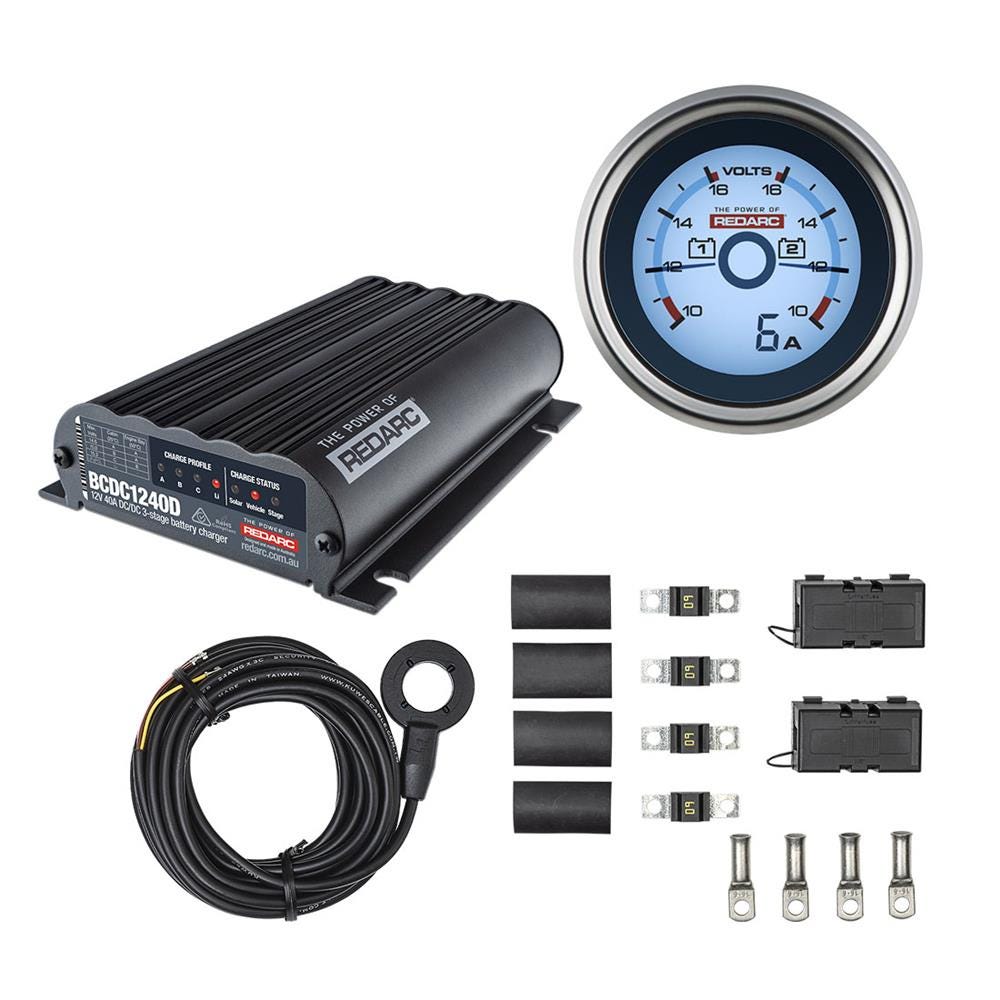 These include:
This kit is the perfect option for those people who want to add a secondary battery to their 4x4 setup to run a fridge or camp lights, and make sure they can keep their main battery charged to get them there and back again.
If you're unsure of what the best dual battery setup is to suit your vehicle or travel plans, use the REDARC dual battery selector tool or view our lithium-ready weekend escape (25amp) or ultimate (50amp) dual battery bundles.
*Check battery specifications for current limits
*Suitable for use on vehicles with conventional alternator charging systems
Specifications
More Information

| | |
| --- | --- |
| Warranty | 2 Years |
SHIPPING & RETURNS
Shipping
REDARC offers customers free freight within Australia on products purchased via the REDARC website, unless a dangerous goods charge is deemed necessary in order to ship products of a lithium chemistry.All products have a 5 day lead time before shipment after which it will be shipped via your preferred shipping method. For alternative freight options please contact REDARC at power@redarc.com.au
For international orders, freight will be calculated at time of checkout. Orders will be shipped from our factory in Lonsdale with delivery timeframes dependant on location.
Where orders are shipped to a delivery address outside Australia, you are responsible for the compliance terms as written in our Website Terms of Use
Returns
The terms and conditions relating to 'Return of goods' set out in our Trading Terms will apply to all good purchased by You via the Site. All goods purchased by You via the Site also come with a manufacturer's warranty found here.
HAVE A QUESTION?
Need a little help with choosing the right product? We're here to help! You can use our handy vehicle look-up tool, find a local installer or stockist in your area or check out our FAQs.
Still not sure? Don't stress, you can contact our helpful Tech Support Team by phone or email too.