The REDARC Group includes REDARC Electronics, Hummingbird Electronics and REDARC Defence & Space. Together, the Group brings over 40 years' experience in advanced electronic design, manufacturing, and supply of high-quality solutions for defence, automotive, marine, medical, mining, and industrial industries.
REDARC places high value on teamwork, flexibility, performance, customer service, quality, achievements, organisational commitment and self-development. Training and motivation of staff is fundamental to the company's success. REDARC aims to provide a fun, healthy, exciting and rewarding workplace. Through investing in its people REDARC continues to attract and retain the best talent.
Learn about REDARC's current opportunities, employee benefits and student opportunities.
WHY US?
At REDARC we offer you a career with a company that is a values driven, ethical market leader. We're a dynamic orginisation committed to providing you with an exciting and interesting career. Our focus is on fostering a culture of active participation, innovation and open communication. As a market leader in our field, we enjoy excellent future growth and continued commercial success. We are constantaly committed to occupational health, safety and welfare and prioritise treating all our staff fairly and with respect.
At REDARC, we are dedicated to ensuring that all employees have the opportunity to discuss career plans and objectives with managers and supervisors. Our performance review process provides an avenue for all staff members to discuss their career aspirations, receive feedback on these aspirations, and collaborate on a course of action for future development.
REDARC supports and rewards all staff who exhibit these highly valued qualities. When you choose REDARC for your future, you can expect to enjoy honest performance discussions with your manager or supervisor.
Choosing REDARC comes with several rewards, including being part of a close-knit team and working in a pleasant, friendly work environment. You will engage in technically challenging work with a wide variety of tasks. We offer a competitive market salary, stable employment, and a high-quality product. As a private, commercial company, we provide excellent training and development opportunities. Joining REDARC means being part of a team of people who take pride in their company and the work they do.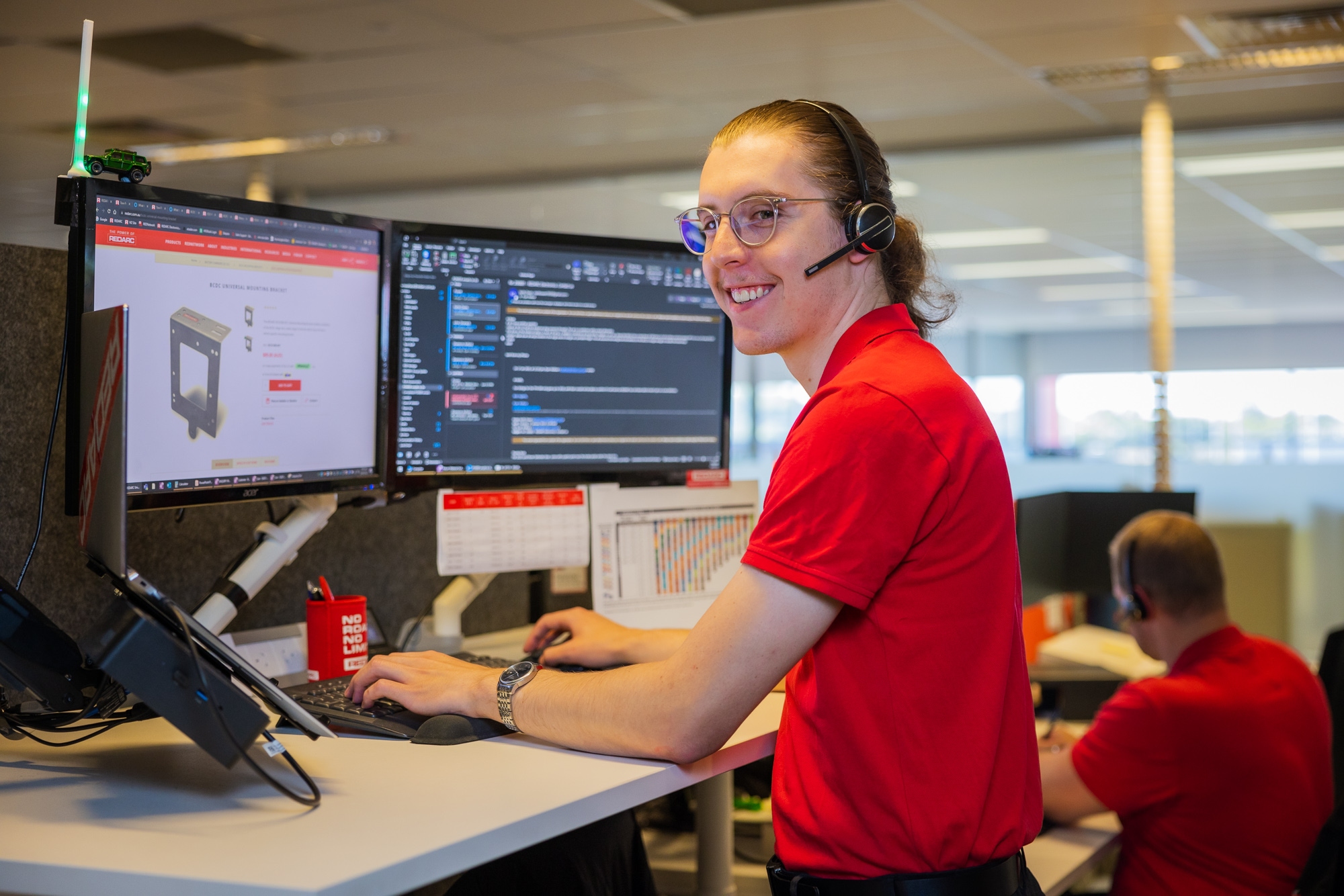 WHY YOU?
At REDARC, we believe that it is important that you contribute to the culture of this company. We believe that 'cultural fit' is as important as your experience, qualifications, and skills. Whether you are with us for a short period through work experience, contract/casual employment, or join us through permanent employment, we will ensure that you possess the qualities that reinforce REDARC's team culture.
The type of people REDARC actively seeks as its employees are highly motivated individuals who enjoy working in a friendly, team-oriented environment. We value self-starters who are practical and strive to delight our customers. Accountability is another important trait we look for, along with a willingness to embrace innovation and change. Ultimately, we seek individuals who are motivated by the long-term success of the company.
CURRENT OPPORTUNITIES
Looking for a new career? Learn about our current opportunities and vacancies.
EMPLOYEE BENEFITS
As a workplace, REDARC loves rewarding our hard-working employees. Learn about all the benefits that come with a working at REDARC
APPRENTICESHIPS & WORK EXPERIENCE
REDARC is committed to developing professional and capable high school & university students. Apply for work experience to expand your skills today.
GRADUATE OPPORTUNITIES
Are you a recent engineering graduate? Join REDARC's Graduate Program that will help to kick start your career.