TruckU
As a how-to show dedicated exclusively to trucks, 4x4s and SUVs, Truck U finds monster-truck expert Matt Steele and master mechanic Bruno Massel tackling hands-on projects from DIY maintenance on pickups and SUVs, to serious off-road performance upgrades on Jeeps and ATVs. Matt and Bruno bring humor and fun to the shop, while sharing useful how-to tips on everything from custom paint jobs to metal fabrication.
Whether you're making your way to your favourite campsite or your own secluded spot on the map, getting there is all about knowing your stuff and trusting your gear. Self-reliance starts with gaining some know-how and gives you the freedom to go off-grid and stay there.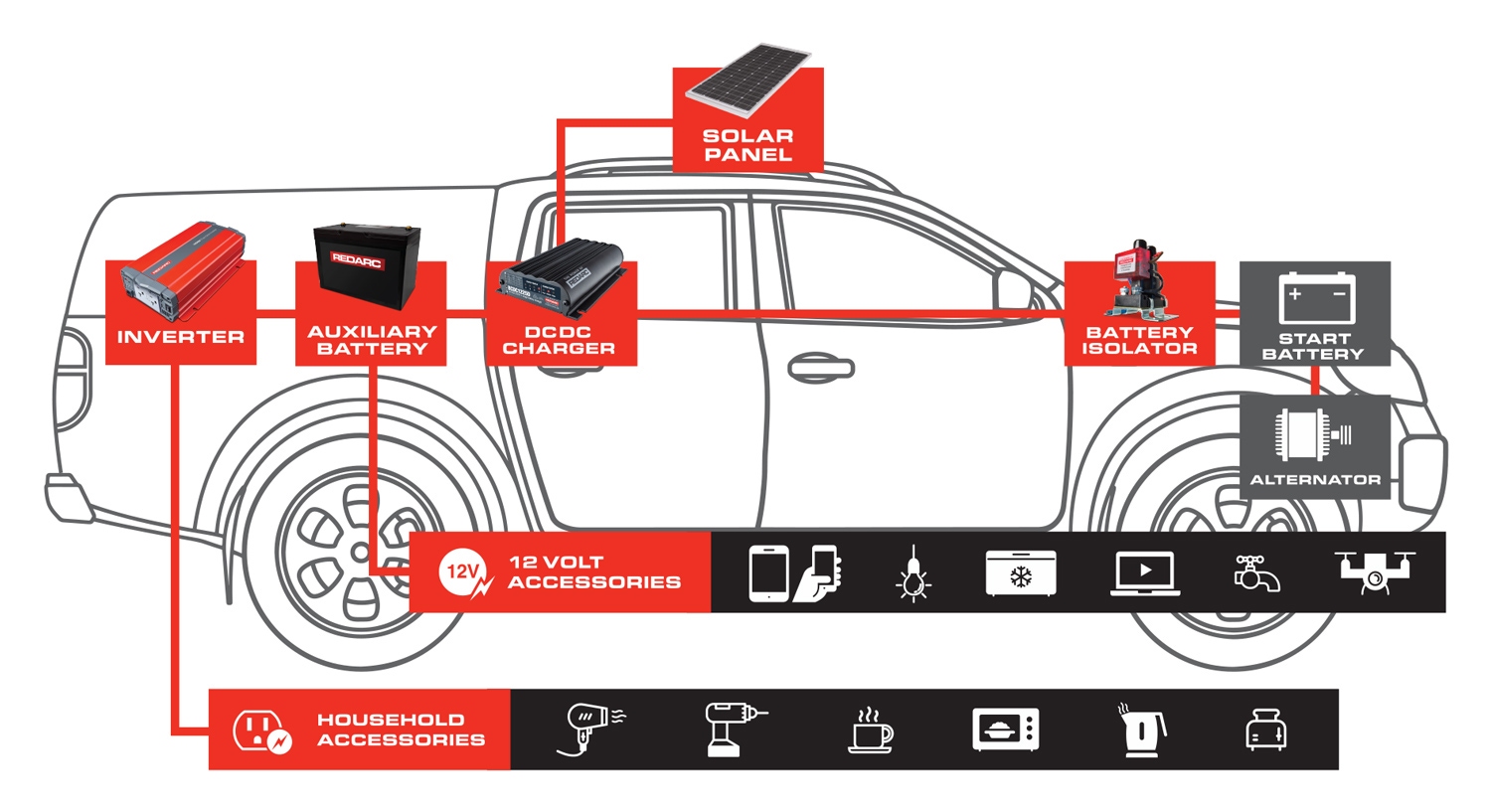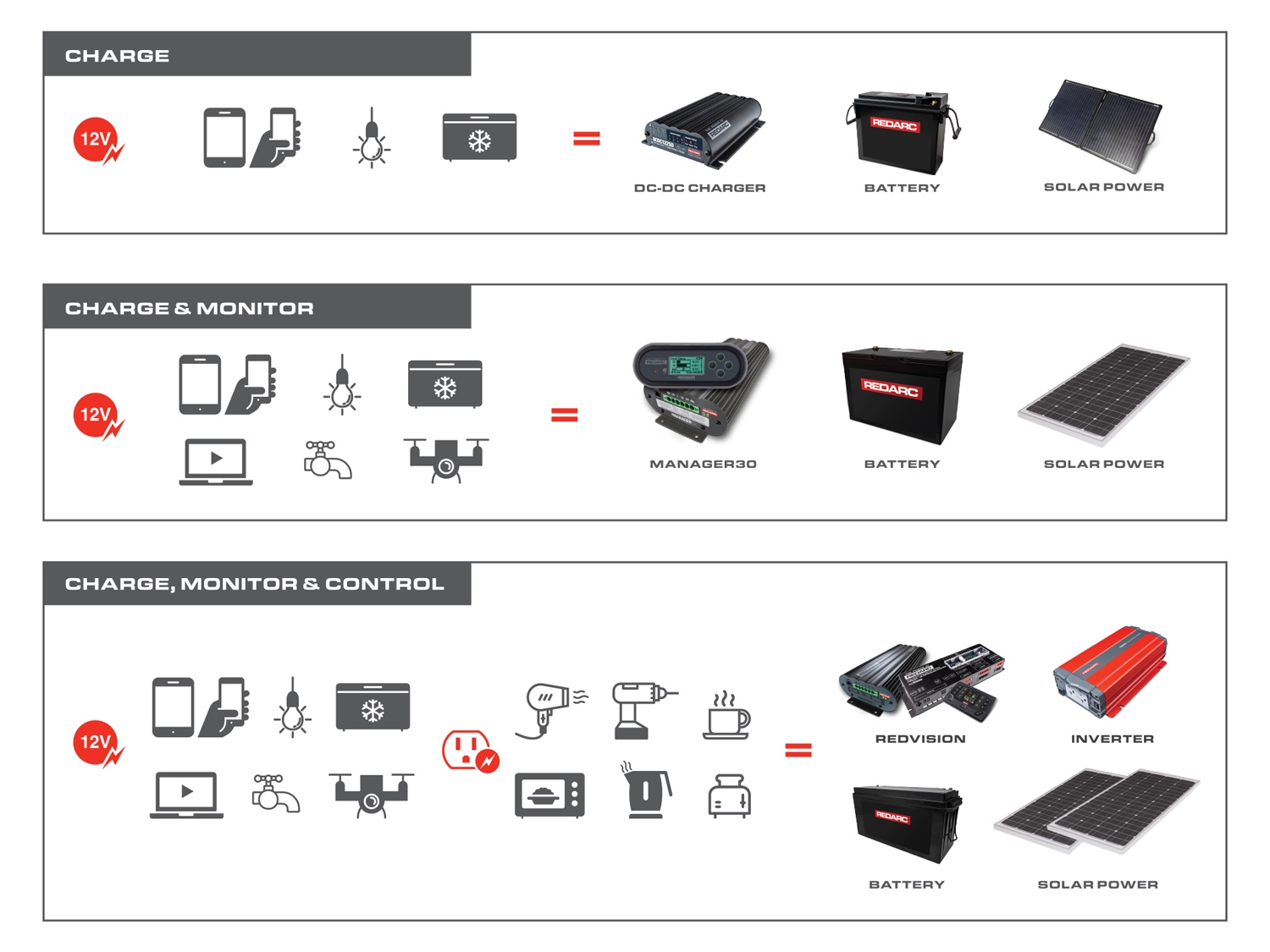 BCDC RANGE:
BEST BATTERY CHARGER FOR OFF-GRID POWER
Any dual battery system's best friend: charges any auxiliary battery (via DC & Solar) for your week in Baja or weekend trip. A must when using a 12V fridge. Available in 25, 40
and 50 amps, with install accessories.
SBI RANGE:
GIVE MORE POWER TO YOUR WINCH WITH A SIMPLE DUAL BATTERY SYSTEM
Do you have a winch? Or want to jump start your truck from the auxiliary battery? You need a REDARC Smart Battery Isolator (SBI). The easy add-on to your rig to create a solid connection between your batteries and avoid battery anxiety
SOLAR PANELS & BLANKETS
Harness the full power of the sun with REDARC's Solar range – a full spectrum of 12-volt fixed and folding panels, solar blankets. Rugged, lightweight products that integrate with our dual-battery charging systems you can easily tailor to your off-grid needs. It's free, unlimited, virtually unbreakable solar power for days of uninterrupted adventure.
MANAGER30:
STAY IN CONTROL OF YOUR POWER ON & OFF-GRID + LIVE BATTERY VITALS
For the more serious Overlander, for extensive off-grid travel. The Manager30 makes 12V power easy and does it all. Charges auxiliary batteries 3 ways (DC, AC, Solar), and gives you battery vitals & data anytime with the remote screen.
REDVISION VEHICLE MANAGEMENT SYSTEM:
ULTIMATE CONTROL AND MONITORING
Want it all? RedVision controls and monitors your entire rig: control all accessories from your smartphone, get battery vitals with the Manager30, monitor water levels, temperature etc. Easy to install and easy to use.
WANT AN OFF-THE-SHELF VALUE PACK WITH EVERYTHING YOU NEED TO GET STARTED
Want to buy a ready made onboard power management system for your truck, RV or overland vehicle? REDARC have a range of product bundles and value packs to suit any budget, vehicle or travel destination.