With the wide variety of trucks available on the market today, it's not surprising that they've become so popular as overlanding vehicles. With their extra load carrying capacity, and the fact that they can be easily customised to suit any travel preferences, there now seem to be endless secondary battery mounting locations and dual battery system configurations.
No longer are you limited to just under the hood installations, inside canopies, under tray beds, and even behind or under seats are now all options that can be explored. This however doesn't mean that there are no potential complications, especially when it comes to voltage drop or similar charging issues. Particular care needs to be taken when installing devices into newer trucks as most have their cabins and trays or tubs on rubber mounts, which don't make for a good electrical connection.
A common charging issue
One of the commonly encountered issues is a bad earth connection, usually associated with mounting a secondary battery in the tray of a truck where the rear body is rubber mounted. Many new trucks have their cabins and trays on rubber mounts, and while they are firmly bolted to the chassis, it doesn't make for a good electrical connection back to the start battery. This type of mounting isn't sufficient to carry the common ground/negative connection needed to complete the circuits sufficiently to charge these remotely mounted auxiliary batteries.
How to fix a bad earth connection
This issue can be overcome by installing extra negative earth/ground lead connections, also known as straps, between the pickup/vehicle chassis and rear body. By ensuring a sound connection between the vehicle engine block, vehicle chassis and various associated connecting vehicle body parts, you will reduce the likelihood of bad earth/negative ground connections leading to limited battery performance, flat batteries and, potentially, premature battery failure.
These earth cables are measured lengths of battery cable with suitably attached eyelet terminals at each end. By utilising what existing mounting bolts, nuts and or brackets that are available you can make a solid ground connection between the chassis, vehicle engine block and connected vehicle body.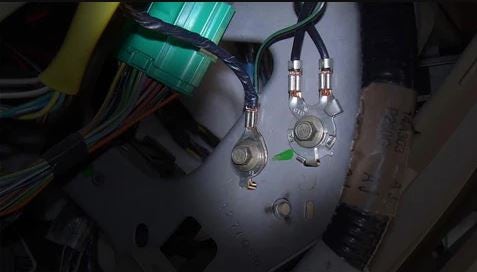 Testing the connections
Once these cables are in place, you'll want to test these connections. Using a suitable multimeter to test the voltages of your main and auxiliary batteries. To test the earth wiring, while the alternator is charging maximum current into the auxiliary battery, place one multimeter on the auxiliary battery negative post and the other on the start battery negative post. If you see more than 0.25v, there is a poor earth connection somewhere along the line between those two points.
This simple fix can mean the difference between a great weekend away with cold food and drinks or arriving at your destination to find a hot fridge, spoiled food and a flat auxiliary battery. Before you embark on any trip there are a few quick and easy wiring checks you can do to ensure you don't run into any issues on the journey.