REDARC, the leading authority in Overlanding and power management, upgrades their industry-leading­ Manager30 Battery Management System, offering the Manager30R with the RedVision display and app, compatible with the popular RedVision Vehicle Management System.
Bring the comforts of home on your next weekend getaway or extended off-grid adventure with REDARC's new and improved Manager30R with RedVision Display Screen and mobile app. With the Manager30R, always be in control of your power on the road. Never worry about draining your start battery and enjoy running accessories such as a fridge, blender, lights or whatever creature comfort you'd rather not live without.
The REDARC Manager30 combines the function of six products into one easy to use system – a multi-stage 30 Amp DC to DC charger, a multi-stage 30 Amp AC to DC charger, solar regulator, dual battery isolator, load disconnect controller and remote battery monitor. The Manager30 is a state-of-the-art battery management system designed to maintain and charge auxiliary batteries using one of three sources, the DC output from your starting battery/alternator, 110V AC shore power, and solar panels.
It is compatible with all vehicle alternator systems and common battery types – lithium included. The Manager30 also prolongs battery life by carefully maintaining the optimal charge for your specific battery type.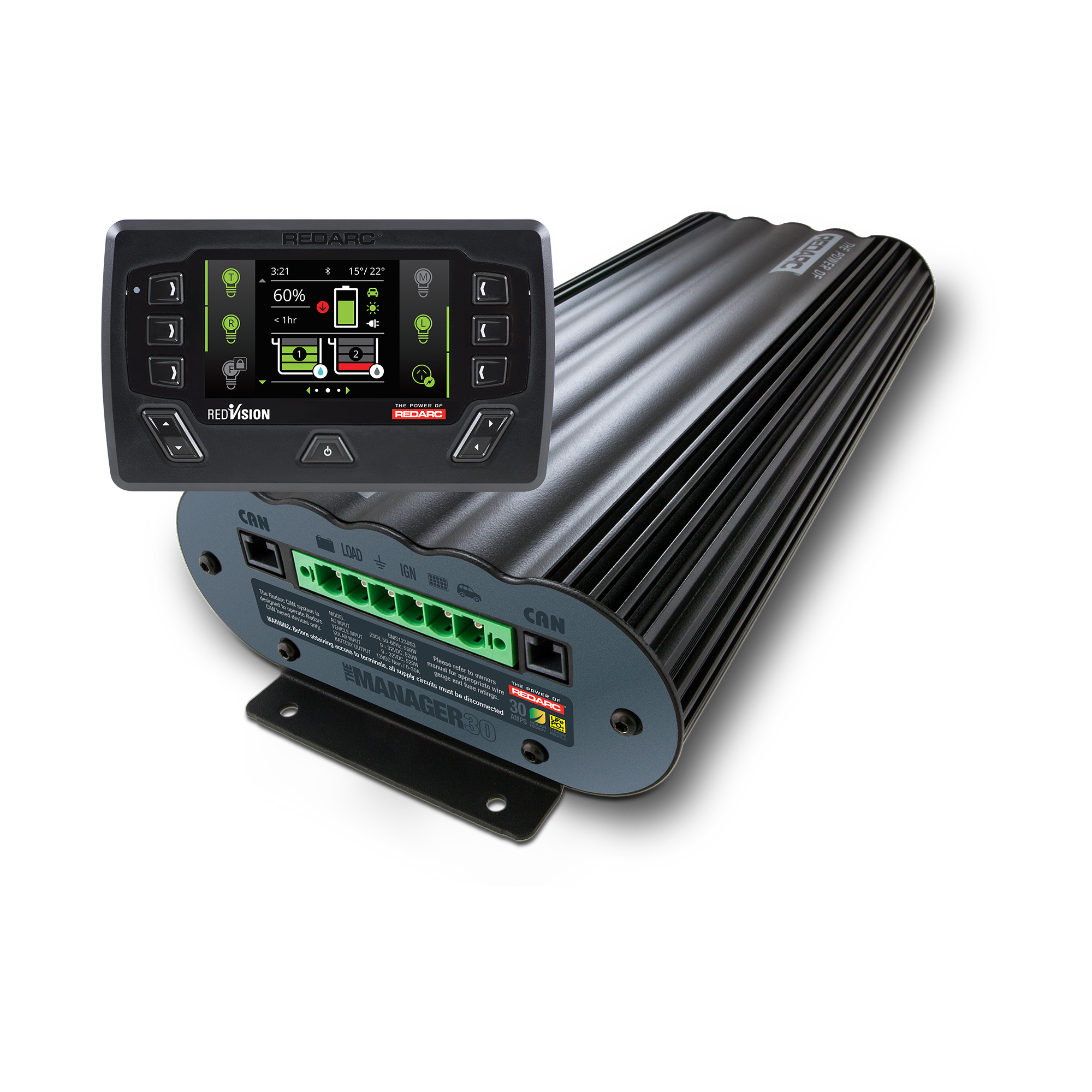 The Manager30R is the deluxe version of the Manager30 featuring a color LCD screen and mobile app for iOS and Android devices. The Manager30R takes all the guess work out of monitoring your power system and provides live data on the battery's state-of-charge. Given current loads, it also shows how many hours of power remain and length of time needed to fully recharge. The display can be surface mounted on a wall or recessed into the dashboard of a van, RV, or Truck. Easy to use, easy to install, and tough as nails. A mandatory for 2 weeks in Baja this summer, those weekends at the lake, or any adventure.
NOTE: The full suite of RedVision capabilities (ie. turning fridge, lights etc. on/off) are made possible with the complete RedVision Vehicle Management System and Distribution Box.
REDARC products are Australian made and tested in the harshest conditions of the Outback. Each product is designed to reliably take you wherever adventure leads you. Stay in control of your power on & off-grid, powered by REDARC.