Travelling through snow is a challenging task and without the right gear, you could easily find yourself in a sticky situation. This comprehensive guide from REDARC will help ensure the safety and control of your vehicle.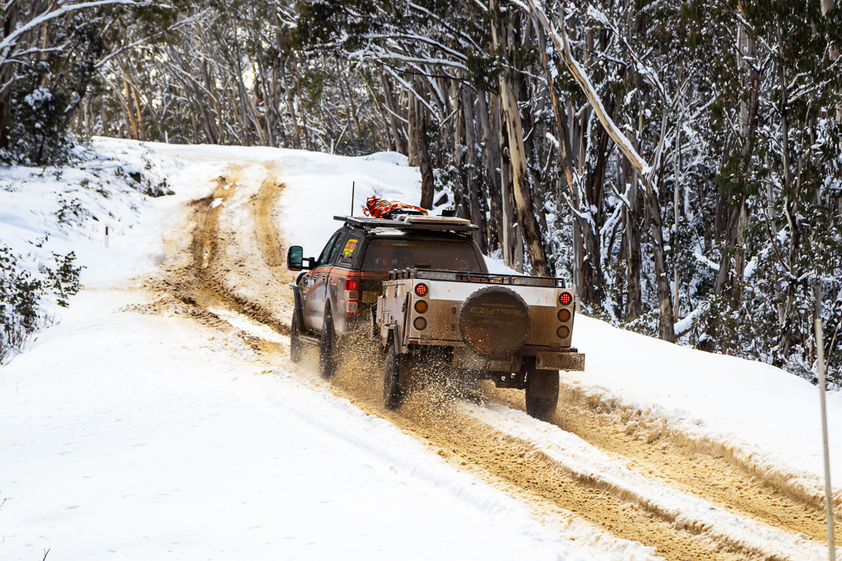 Driving Tips
By clearing most of the snow from your trailer you prevent chunks of snow dropping onto your tow vehicle when you brake, which can inhibit visibility and potentially damage your vehicle. Slowing down in these conditions can help reduce the risk of skidding.
Tip: Always drive in daylight hours when you can. During low visibility, bring your vehicle to a stop, keep the engine running and switch your hazard lights on. It's better to be patient and wait out bad conditions, rather than risking your own safety by continuing.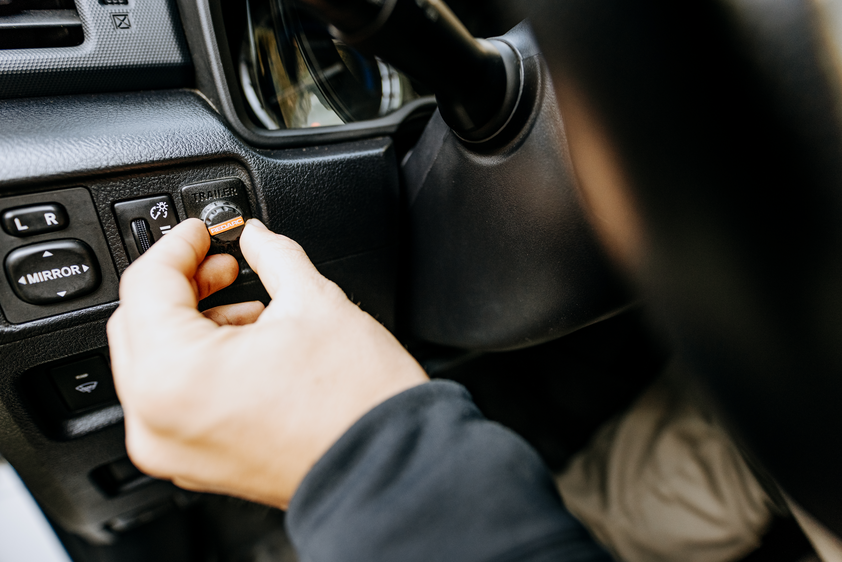 Towing tips
If your trailer is equipped with weight distribution bars, make sure they are properly installed and adjusted.
Tip: Consider using chains on your trailer tires to improve traction and control when towing.
Invest in a quality Electric Break Controller, REDARC's range prioritizes safety during towing by delivering a seamless response in trailer braking. Tucked away behind your dashboard, REDARC's Tow Pro Elite is well out of the way of your knees and airbag. The controller's dial is the only visible component inside your vehicle once it's installed.
The Tow-Pro Elite has both a Proportional (inertia sensing) mode for highway driving, as well as User Controlled mode for your off road snowy adventures. Having a trailer brake controller that has a 'user-controlled mode', allows the driver to adjust the braking strength to suit the specific conditions. It also means that you can hit the trailer brakes from the control knob, next to the steering wheel. Adjust the amount of braking force required whenever you need to. So, should you go into a slide, this manual override can pull you out of it.
Avoid the dangers of caravan sway with the Tow-Pro's manual override function. With the push of a button, you can apply the caravan brakes independently of the vehicle and bring a swaying trailer in line. A great fit for both 12V and 24V vehicle systems, it's the perfect trailer brake for use all year round.
REDARC's Break-Safe Break-Away systems ensure warning is provided should your trailer or caravan accidentally separate from your vehicle. With the addition of proportional braking modes, you can ensure accurate and optimal force is applied in response to how hard your vehicle is braking.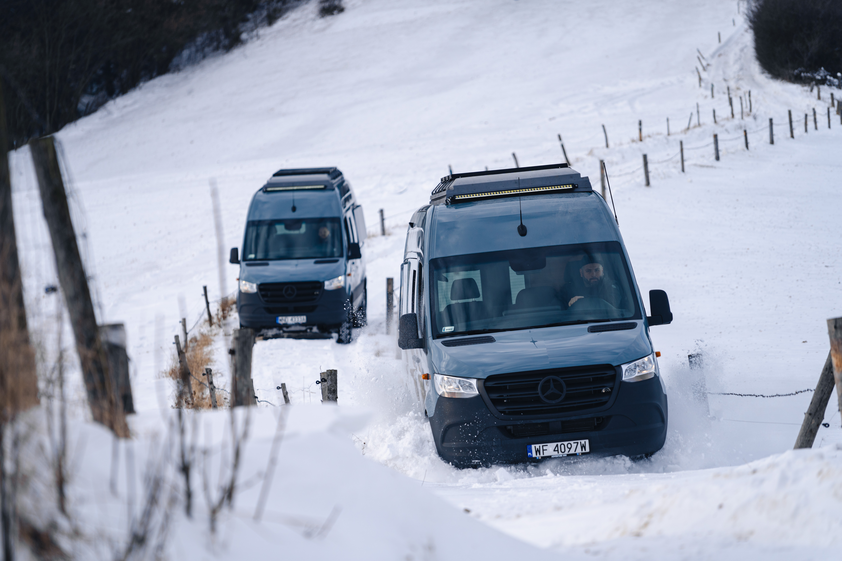 Vehicle Accessories
Snow tires feature a unique tread pattern, by investing in a dedicated set your rig will have better traction on icy trails. The rubber compound used in the tires, stays pliable in cold temperatures, this also provides the best opportunity to get unstuck. Apart from preventing skidding and sliding, they will improve stopping power. Lower the tires' air pressure for an improved grip and make sure to pack a dual-function air compressor and deflator. Some overlanders even upgrade to a set of spiked tires.
Tip: If you get stuck in the snow, back up and try again. Each time you drive over the snow it compacts it further and improves the traction. Sudden movements, such as sharp turns or sudden braking, can cause your trailer to sway or jack-knife. Slow and steady movements will help you maintain control of your vehicle and trailer.
A winch can help you get unstuck if you become bogged down in deep powder. Make sure to choose a winch that is rated for the weight of your vehicle and has enough pulling power to handle you're your overlanding requirements. Skid plates can also protect your vehicle's undercarriage from damage when driving through deep snow. Look for the skid plates made from durable materials such as steel or aluminium.
Upgrading your suspension can also help to improve your vehicle's handling and stability on snow-covered roads. Consider installing heavier-duty springs or adding airbags to improve your vehicle's load-carrying capacity. Investing in a snorkel can also help to protect the engine from water and snow while crossing deep puddles or streams. To improve your visibility in low-light and snowy conditions upgrade your vehicles lighting. Consider installing fog lights, LED light bars, or spotlights to help illuminate the road ahead.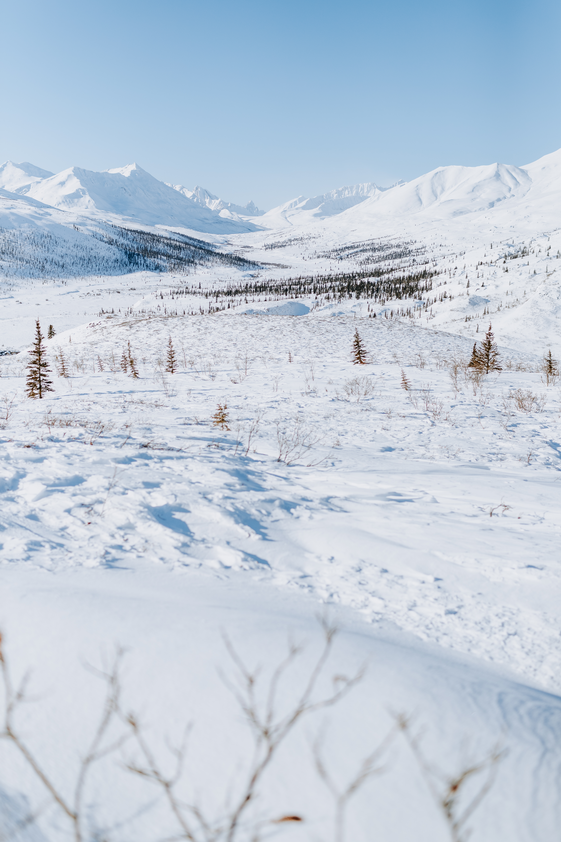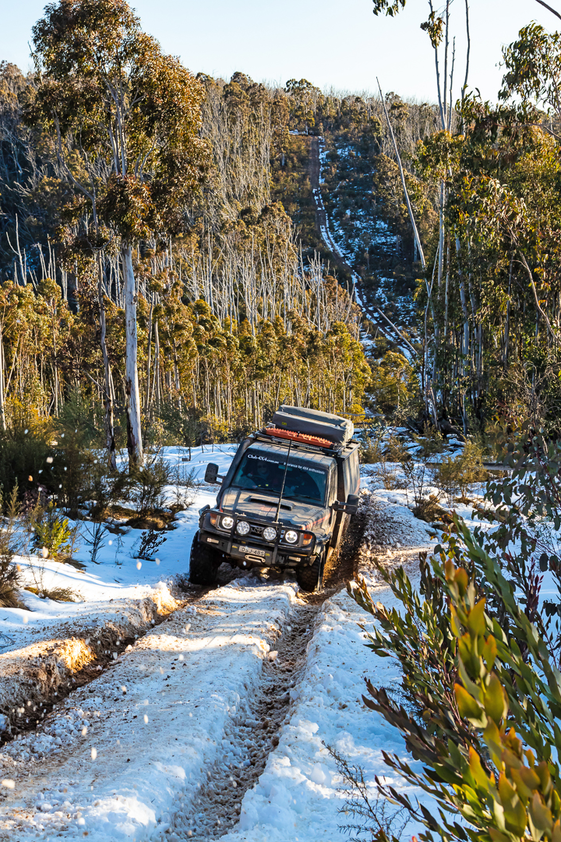 Embarking on an overlanding trip through snowy terrain can be an exhilarating experience, but it's essential to prioritize safety and maintain control of your vehicle throughout the journey. Remember to always be prepared and take necessary precautions, such as checking the weather forecast before setting out.
For more information check out the blog A Guide to Overlanding in The Snow. To find out more about the REDARC all-terrain Electric Brake Controller, check out the Tow-Pro Elite on our website. To learn more about towing safely, have a look at out REDARC's Blog Tips for Safe Towing Off-Road and On Unpredictable Conditions.