After living in a van full time for over four years, Scott from Comes With A View and The Wanderful knows a thing or two about vanlife. With his new van build in the works, we reached out to find out exactly how Scott goes about planning his new van builds and what modifications he trusts while living off-grid.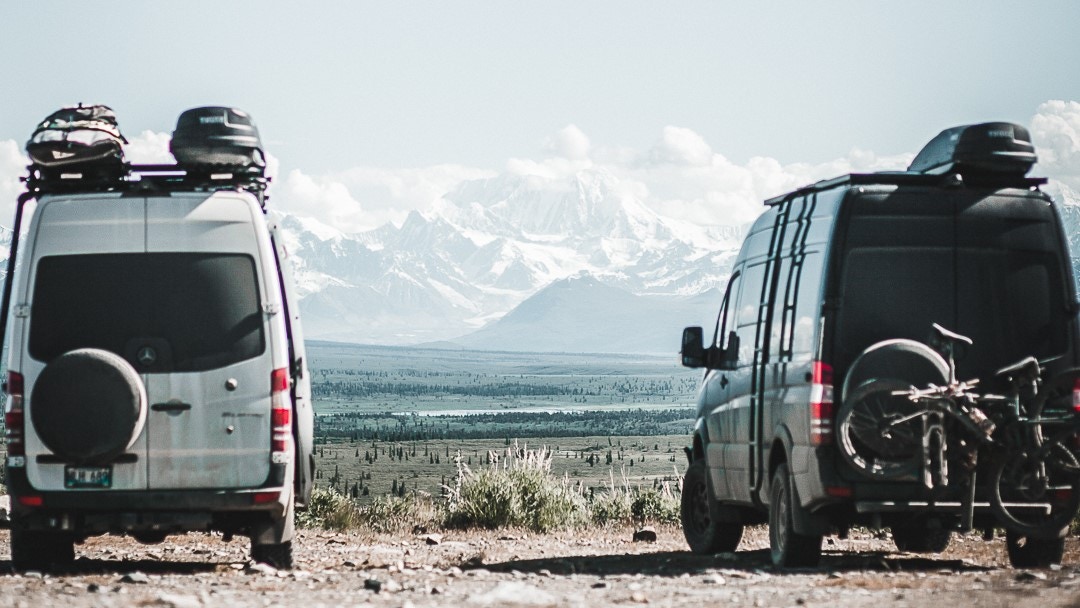 Why did you initially choose vanlife over other forms of travel?
With the first van, it was the lifestyle. I love to surf and snowboard and where I'm from in in-land Canada we don't have access to any of that. So anytime I wanted to go surfing and snowboarding it was always a big trip. I'd only be able to go for one- or two-week periods and I wanted to find a way that I could travel to these places and comfortably spend an extended amount of time.
While initially the van is expensive, once you disregard the cost of the van itself it makes these trips a little bit more affordable. When I go on trips, I'm cooking in the van, sleeping in the van, and storing all my gear in the van. I'm not paying for hotels or eating out at restaurants all the time. It also allows me the flexibility that travelling on a two-week trip just doesn't because you don't have any time limits. On a trip, everything is very calculated and coordinated whereas, with the van, if there's a big snowstorm happening somewhere, I can just drive and be there for the storm.
The way you treat this kind of travel once it becomes a lifestyle as opposed to just a vacation is drastically different because you have to figure out how to work while on the road. So, there are days where I'll work in the morning and snowboard in the afternoon, or I'll get up early and surf so I can be on a call by 8am. When you're on a trip everything is go go go and you're trying to cram in as much as you can. When you start to do it long-term and it becomes a lifestyle you can really start to feel like a local in the areas you're spending your time in. You start to lose the tourist vibe and for me that was one of the things I enjoyed the most. Now these places are the ones that I find myself constantly going back to.
That's the reason I designed these vehicles and got into the van lifestyle. It's a really cool way to travel, you get to know people and really immerse yourself in the area that you're visiting. It stops feeling like a rushed trip, like you're operating only within the finite amount of time you can spend somewhere.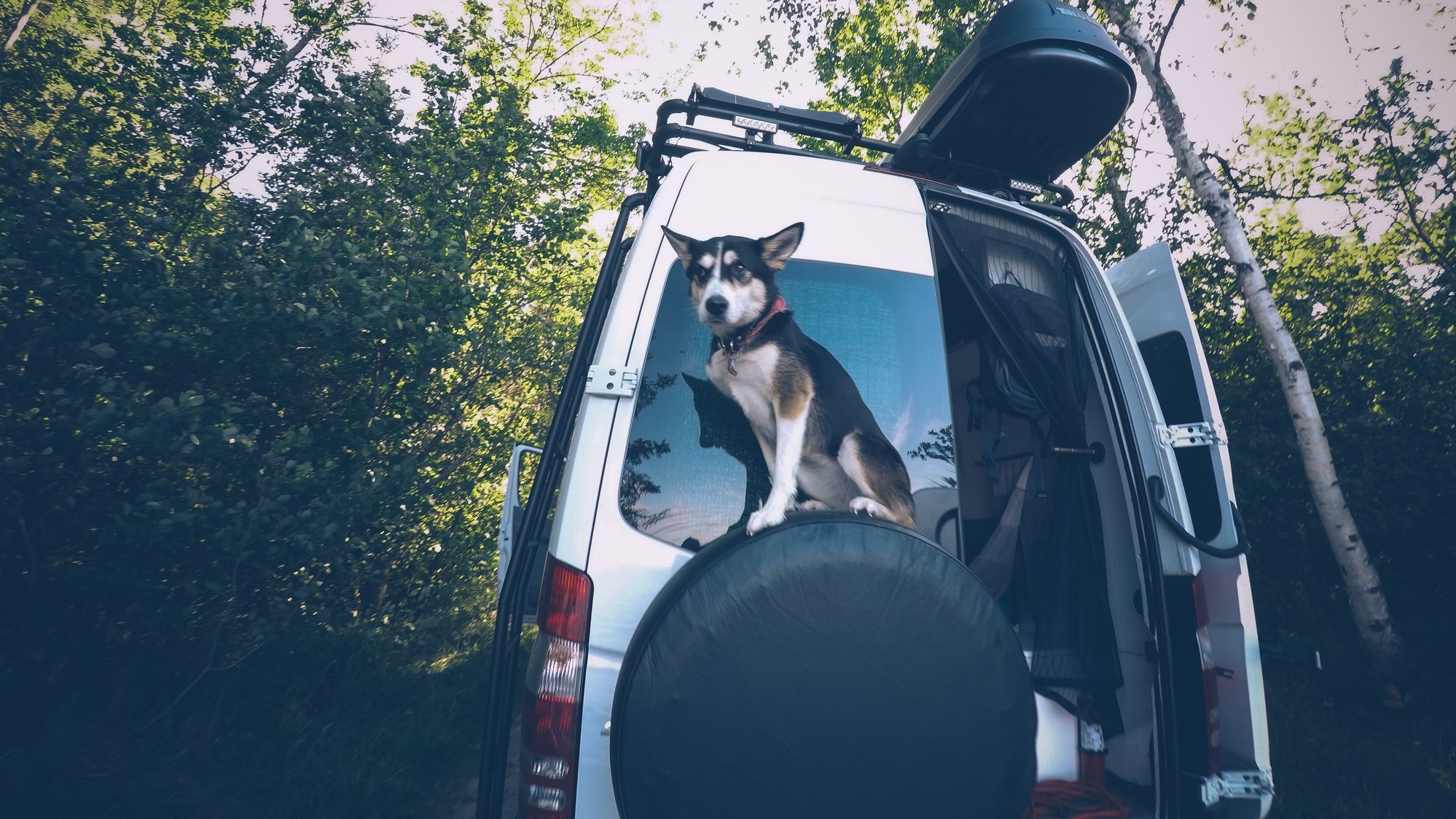 What modifications did you make to your first van?
With my first van, a 2016 Mercedes Sprinter van with the 170 wheelbase, I thought that it was going to be a way to escape the cold. Where I'm from we get really harsh winters with plenty of snow and no mountains to really enjoy it. In my first winter in the van, I actually found myself getting back into snowboarding and spending a tonne of time in cold climates. Because of this, one of the biggest things I upgraded on the first van was moving a lot of the plumbing inside the van.
Originally, I had some of it routed underneath the chassis of the vehicle and with the severe cold temperatures that's going to freeze, so I did have to make a few modifications to bring it inside the van. It wasn't a particularly expensive upgrade, but it did make it a more year-round capable vehicle.
But overall, this van was designed to make it feel homely, like a mobile apartment. I wanted not to feel like I was living in a van and you can see in some of that in the design elements. It has that tiny home feel.
What did you want to include in your new vehicle and why are you upgrading?
The biggest reason I'm changing between the two vans is that the new one is shorter. After spending so much time travelling in the van you learn exactly how to use the space and for me, I realised that I didn't really need all the space in the 170 wheelbase model. To me, the manoeuvrability and ability to get places is more important than the extra space. I tend to think of the van as my bedroom, it's just where I sleep and the outdoors and surrounding environment where I put the van is the living room or the remainder of the house.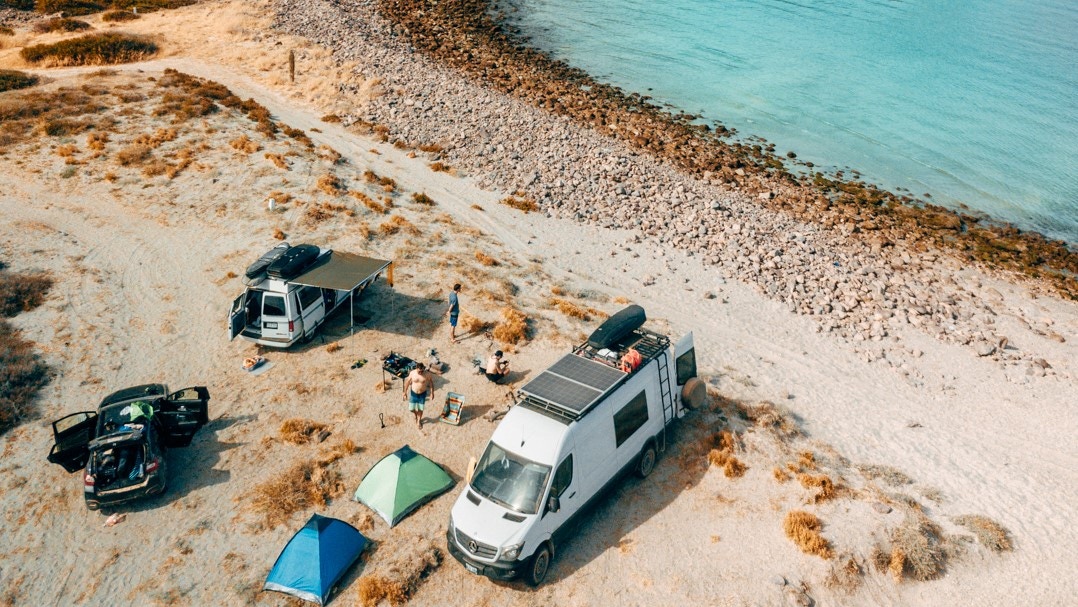 For the new van, I chose another Mercedes Sprinter van with a 144 wheelbase. This van is basically the same length as a full-size pickup truck, so it's a lot easier to park and get places. The other reason I chose the new van was because it's a 4x4. My old van was a rear wheel drive, and I couldn't get where I wanted to go but, when travelling alone, I wanted the peace of mind of having a 4x4 van.
In the last five years I've really learned the things I do in the van. So this new van build is a little more gear and activity focused. It's still well designed, built and thought out, but it's catered more to the activities I find myself doing like dirt biking, surfing, mountain biking, snowboarding, and surfing rather than having a full living setup.
Tell us about the new van, did including an on board battery charger and 12V system effect these plans?
The new van is a Mercedes Sprinter 4x4 van with a 144 wheelbase. The biggest change I'm making in this van is switching from an AGM battery system to lithium. I also wanted to change the layout in the new van. In the first van I really separated the front seats, I didn't really incorporate them in the layout. With the new, shorter van, I wanted to add swivel seats to utilize the front seats instead of having them closed off with a divider curtain.
I also decided to change the construction, so instead of all wood construction I'm doing extruded aluminium construction. In my experience, after working with both, this is the stronger build type so I'm happy with how it's turning out.
As far as heating goes, in the new setup I've gone with a radiant in-floor heat setup because I do a lot of winter camping and snowboarding. If you're not looking to do winter camping, I'd say this is overkill but, in my setup, it definitely makes sense. Having this system also allows me to use the hydronic water heating system and have on-demand hot water. I don't have to carry a hot water storage tank and the hydronic heater runs off the diesel of the vehicle.
Why did you want to upgrade your DC to DC charger and battery management system?
I wanted to double my battery capacity which I did with the lithium batteries. I wanted to focus more on the engine alternating charging rather than solar charging because I do so much driving. Because of this I've designed a REDARC system that relies heavily on a 12v battery charger. I do about 80A of charging while I'm driving which, after three hours on the road, is going to get me almost totally topped up. So, when I reach my destination, I've got full batteries ready to go. I am still going to have some solar though I haven't finalized how much yet. I think it will end up being around the 200W mark depending on the size of panel I can fit up there with the surfboards and cargo boxes.
I don't think I'm going to travel a whole lot differently between the two vehicles but it's just much more integrated and streamlined. After years of living the lifestyle, I understand exactly what I need and what's important to me.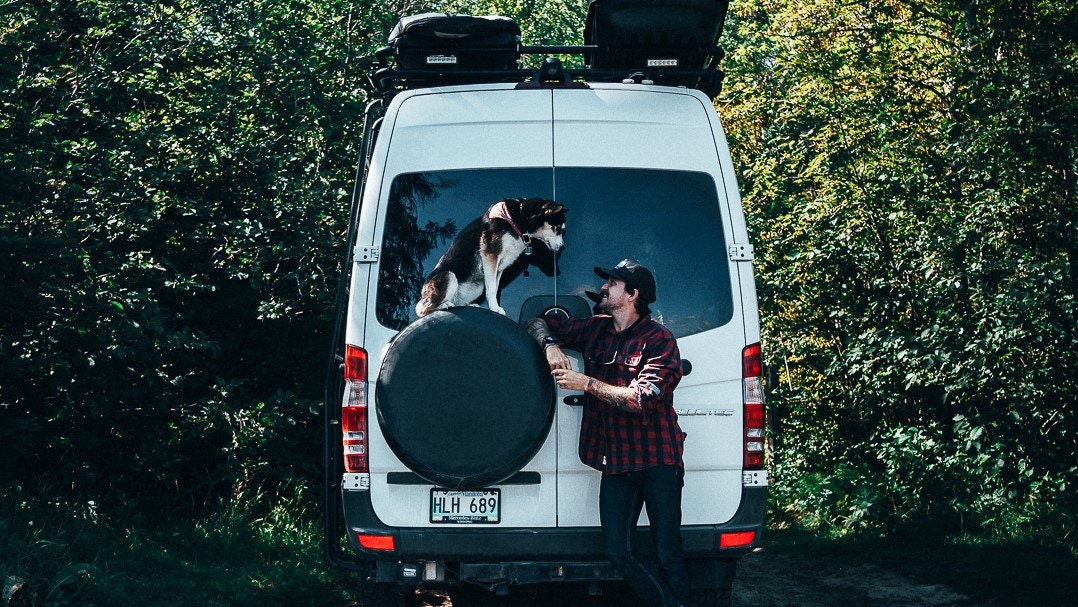 What sort of travel do you do in your van and how did this effect your new design?
When it comes to travelling in the van, I do a lot of a boondocking, where I'm off-grid for extended amounts of time. For me it's very important to have a large fridge because I like to be able to take a couple of weeks' worth of food at a time. I also like to have enough solar and battery power that I don't really need to move my van for weeks on end. Because of this, it's important for me to consider everything from how big my lithium battery bank is going to be to the size of my solar array to the DC to DC charging capabilities of my van.
In this new van I wanted a 12V system that all worked together. In my first van, I had to use a bunch of different components from different manufacturers to get all the functionality I wanted. With the RedVision vehicle management system I can have all my tank monitors, turn my inverter on and off, monitor my solar and control all my different devices from one unit. I was able to really slim-down the amount of switch panels in this van because I could control everything through the RedVision.
Another cool thing was, with the exterior rack lighting I had planned on this van, I don't have to run as much wiring to put switches on the dash for these lights because RedVision has the phone app to turn them on and off. This eliminated a whole bunch of wiring and the need to cut into the factory dash to install these switches.
The biggest reason I wanted to use REDARC products was because, like I mentioned previously, they all work together. With the RedVision, I'm using a 50A BCDC in-vehicle battery charger as well as The Manager30 battery management system. This whole system simplifies fusing and wiring in the DC side of things. The support from REDARC has also been amazing with helping me plan my system. Any questions I've had, they've jumped on a call and answered so I now have a real comprehensive understanding of how the systems work for me and how they communicate with each other.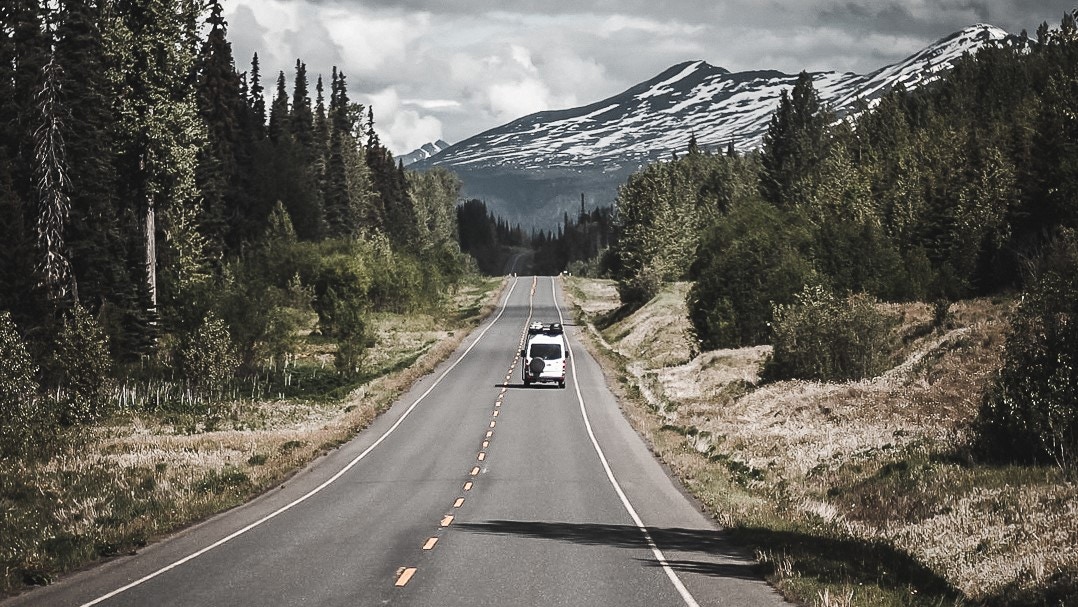 How does your new build allow you to go off grid?
For off-road and off-grid stuff I have really aggressive tires. I've got BF Goodrich KO2s on both my vehicles, and they've been an amazing tire for me, I highly recommend them. I've never had any issues and have aired down my big van, which is 8500 pounds, to 25psi and those tires handle everything from rough gravel roads to sand without an issue.
Having 40 gallons of freshwater storage is another aspect that lets me stay off grid. Traveling with a dog and keeping myself hydrated you do go through a lot of drinking water. And then my internet, my router. I also have a cradle point router which is a very rugged router with an antenna on the roof, and that's what enables me to solve the internet problem wherever I go. It gives me the ability to work in a lot of places you typically wouldn't be able to get service, so for me that's been a really important part of being able to sustain this lifestyle.
For more information on setting up a power system in your van check out our powering vanlife blog. You can follow Scott Adamson and his adventures on Instagram, his website or YouTube. Watch the video below to learn more about how Scott pans to set up his RedVision for the new van.