After more than 1,695 days on the road MAK, Owen and their cat Luna are experts at living on the road and off-grid. They've had their fair share of rigs and have gotten travelling full time down to an art. We had a chat to MAK and Owen about their current 2019 Toyota Tundra setup.
What is your vehicle make, model, year and why did you choose this over other options?
Our rig Roxanne is a 2019 Toyota Tundra with a Four Wheel Camper on a Norweld flatbed. We chose this rig after a long string of other vehicles that didn't work out for us long term. We started with a Honda Element and a tent. Then we hit the road again in a VW Vanagon Westfalia, which ultimately it didn't work out because we had a long string of expensive breakdowns that nearly forced us off the road. Then we picked up a 1985 4x4 Toyota Sunrader which we ended selling because, after many attempts to fix the suspension, it never felt as stable off road as we'd like. From that we moved into a 2008 Toyota Tacoma with a simple truck bed cap and build out. While we were living in that we started the process of having our current rig built for us!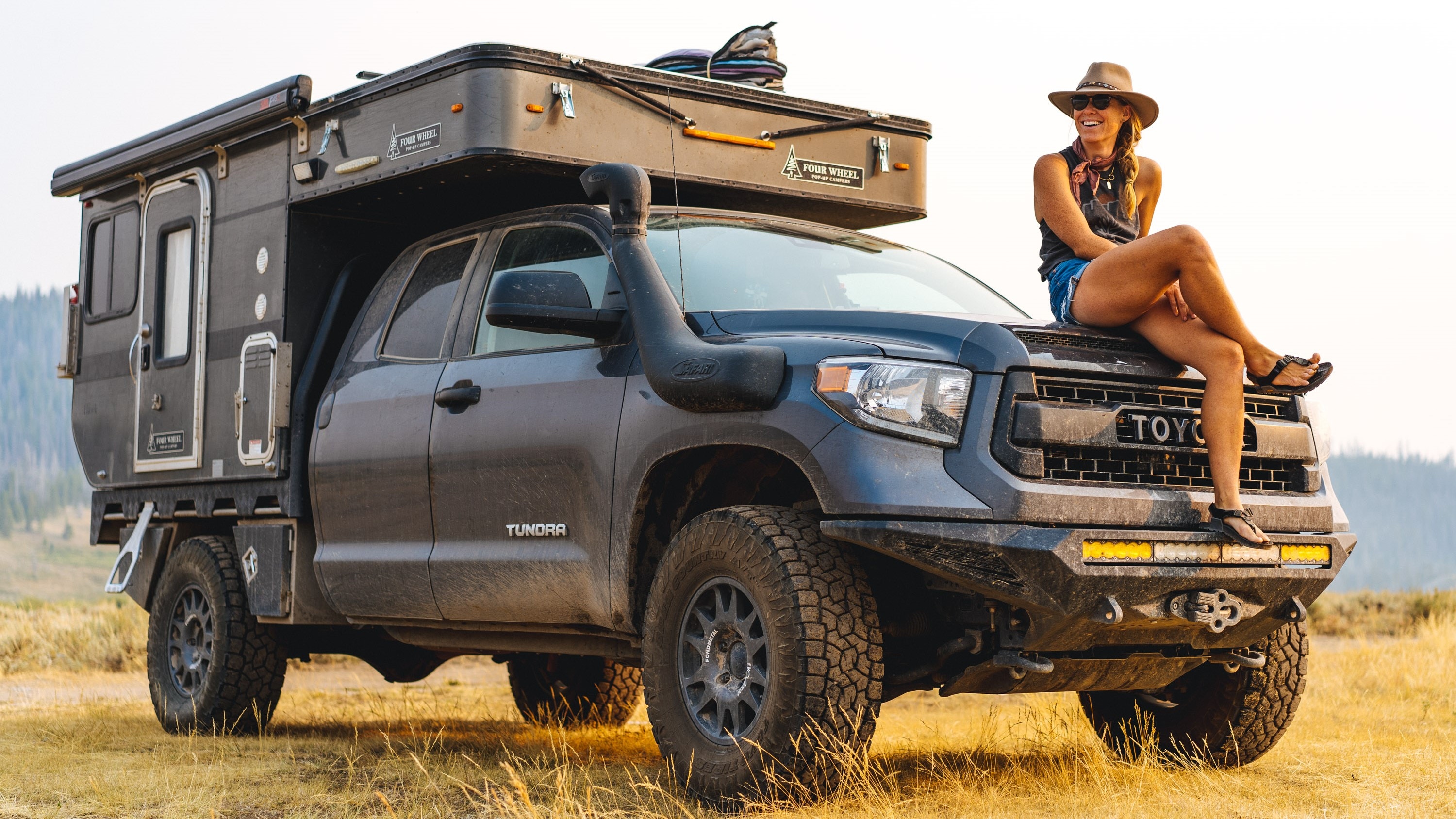 What has your vehicle been designed for?
Our vehicle was designed with the idea that we both have to live and work comfortably from the road full time. Our work is what funds all of our travel, so we wanted to be sure that we had a good place to get the work done. We also carry a lot of gear for all the backpacking, climbing, fishing, and surfing that we do along the way, and we needed to be sure there was space to store those things.
Tell us a bit about your setup and why you chose to go down this path?
Our camper is a flatbed which gives us a layout feels really homey. We like that each part of our "house" has a distinct section in the camper. When you enter via our side entry door, you're looking at our kitchen complete with two burner propane stove, sink, fridge/freezer (yay ice cream), hot water heater, plenty of cabinet space and heater. As well as our Manager30 monitor.
You turn towards the back of the rig and there's our dinette. This area is incredibly multifunctional and can be turned into an additional bed or be an indoor shower. There is also storage all the way to the bottom of the camper which is where we keep a lot of our gear.
Now looking up towards the front of the rig is our queen size bed which lifts and has storage under it. Turning backwards the door is our spice cabinet, battery compartment which is home to two 100Ah Battle Born batteries, and then below all of that is a cabinet where we keep all of our Pelican cases which hold our camera and video gear.
On the outside we have a portable solar panel plug, additional shower hose plug in, and all of the wheel wells on our Norweld tray are storage boxes where we keep tools and such! As to why we chose this setup, it's because we wanted something that would be comfortable for four seasons of full time living on the road as well as being super capable off road!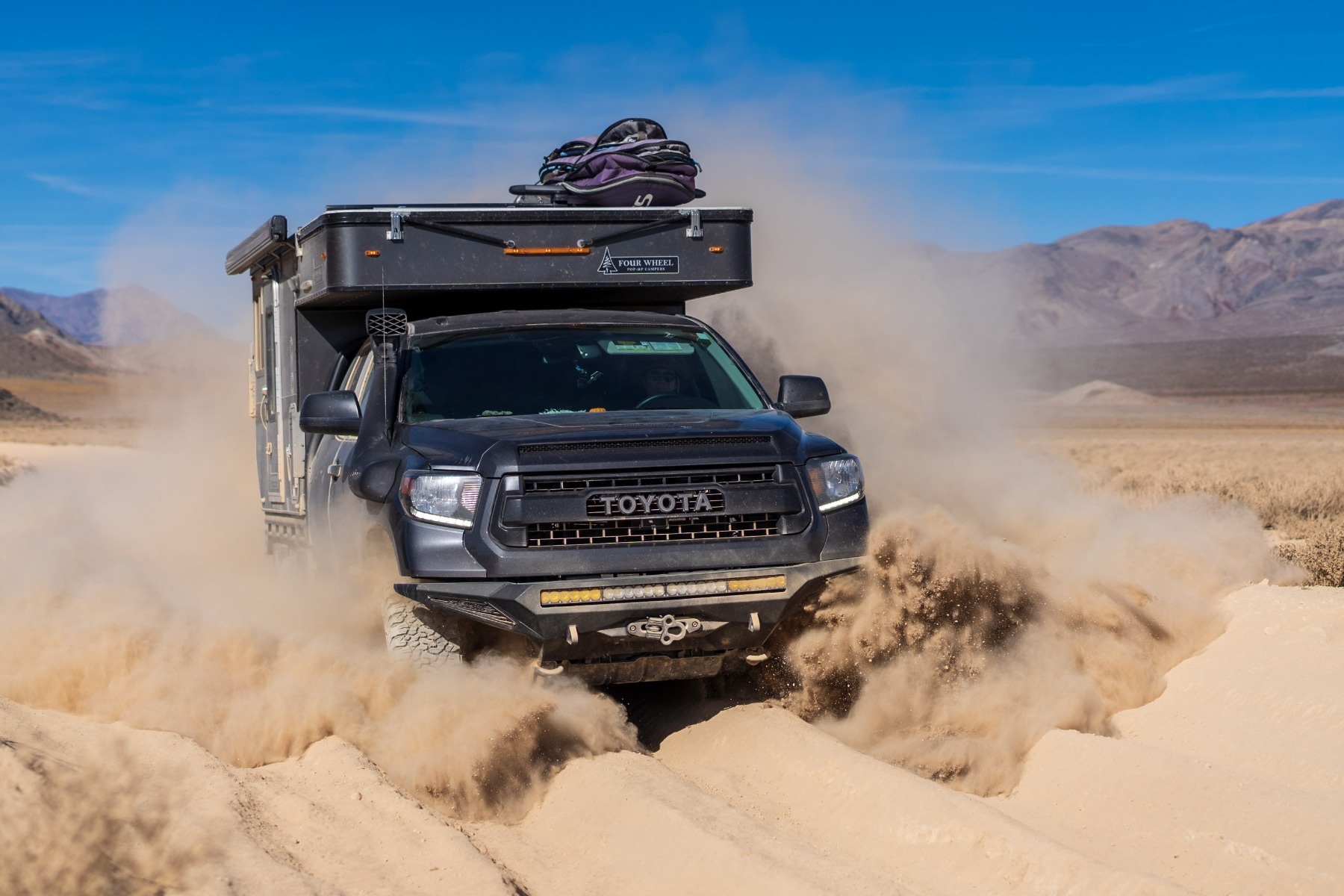 Do you have any upgrades planned or improvements on the horizon?
I can't believe that I'm going to say this, but we have no planned improvements. We finally feel like we've reached an equilibrium for our life, our travels and our work. It's taken nearly 5 years to get to this point, but we have the perfect setup for our current needs!
What have been the best improvements you've made?
What REDARC products do you have on-board and why did you choose them?
We have the REDARC Manager30 to manage and monitor our power system. This is SUPER important for us as we're always needing to keep close tabs on our draw while working to keep our batteries healthy as well as see what is coming from our REDARC 180W Monocrystalline solar panel. We switched to this panel after our previous one sustained a lot of hail damage and it has been one of the most efficient panels we've ever had the pleasure of owning. We never need to worry about power because of it!
What has been the most rewarding/surprising thing about your vehicle?
How capable it is! As we've worked our way through all of our rigs we've slowly gotten more and more capable rigs. Having Roxanne has opened up a whole part of the country that we've never had the confidence to access. Now, it feels like nothing is off limits to us and we love getting a more intimate view of the places we travel to.