WHO IS HOURLESS LIFE?
We are Eric + Brittany + Caspian Highland, and Hourless Life is the platform where we share our travels and the lessons we've learned. We have been traveling full-time since February 2014. Caspian was born in December 2016. In 2021, we started our drive around the world, which we anticipate will last 10 to 15 years.
HOW DID YOU START?
Originally, we began our full-time travel as RVers. Our first home on wheels was 40 feet long (12 meters) and later we downsized to a 25-foot rig (7.6 meters). In May 2018, we discovered the overlanding concept, which was still widely unknown in the United States at the time. We remember having to define overlanding every time we mentioned it! We knew right away that driving around the world would be the next chapter of our lives. But it took more than three years to transition out of our life in the United States: learning about our vehicle needs, taking discovery trips into Mexico, changing our income structure, and all the little details.
TELL US ABOUT YOUR RIG?
When we started overlanding, we used our 2014 Jeep Wrangler that was equipped for rock-crawling. We recommend every new overlander start with what they have because we all travel differently. With every experience, we learn about our individual preferences--and learn from our mistakes. Once we took our Wrangler 2,000 miles (3,218 km) through mainland Mexico and the entire length of Mexico's Baja Peninsula, we were confident about how we prefer to travel. We used our experience to select the vehicle that would take us around the world: a Jeep Gladiator Sport S with Max Tow Package, paired with the Alu-Cab Canopy Camper. There were several reasons we chose this setup, including budget, payload capacity, and compact size for shipping containers and navigating ancient streets. We are grateful to have 27 gear sponsors for our trip, REDARC being one of them. Our modifications are extensive for a journey of this magnitude. The full build details are available on our blog and we also released a detailed video series about our build while it was in progress.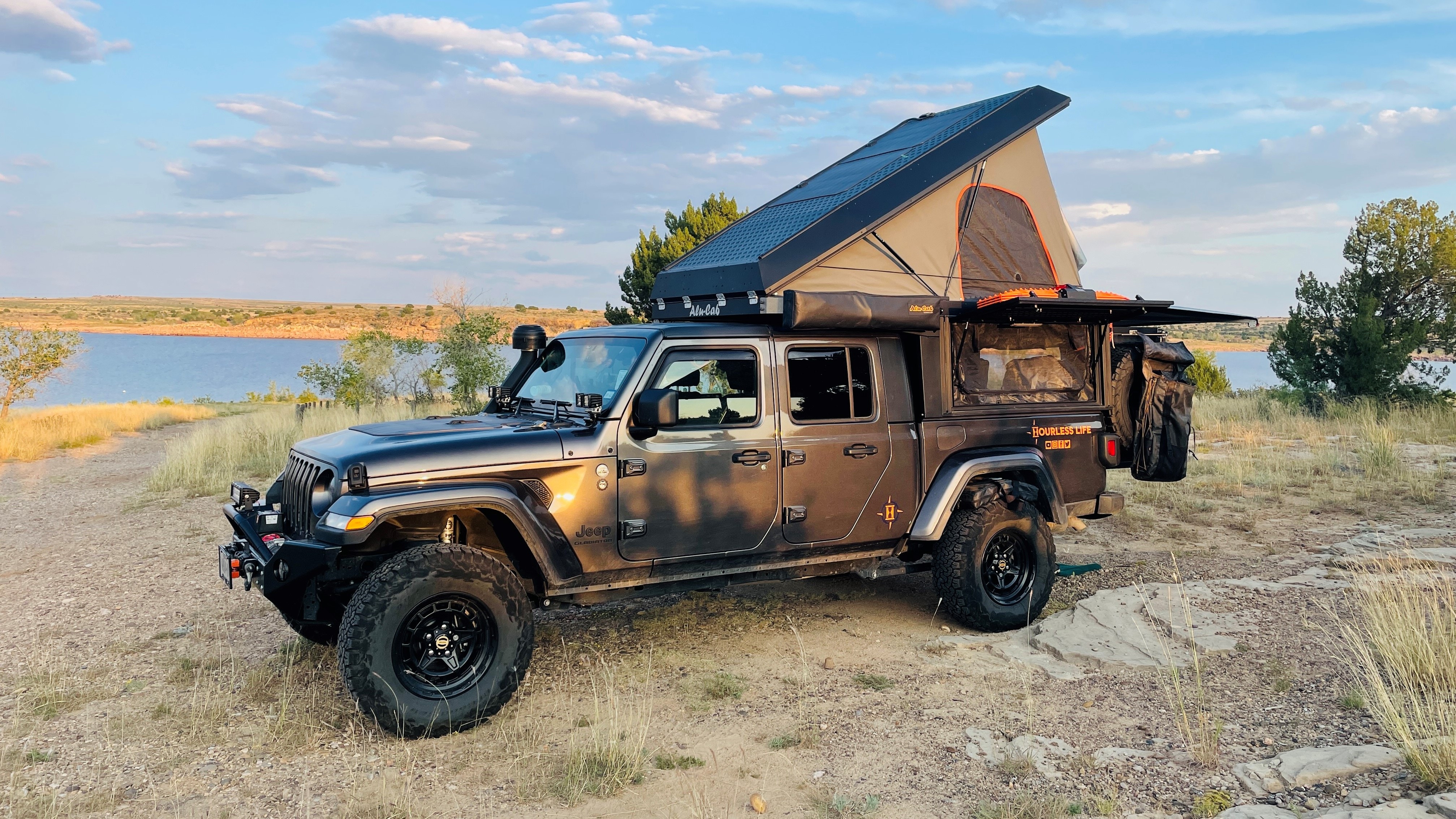 WHAT HAS BEEN YOUR FAVORITE TRIP SO FAR?
Mainland Mexico has a special place in our hearts. It's so close to those in the United States and easily accessible for overlanders, yet it feels like a world away. The Mexican people are extremely hospitable and generous; we're always blown away by how we're received as complete strangers. There are so many natural areas to enjoy, like the Sierra Gorda mountain range and the tropical La Huasteca Potosina region. Some day after we've completed our drive around the world, we've discussed settling somewhere in Mexico.
WHAT ARE THE TOP 3 THINGS YOU CAN'T GO ON THE ROAD WITHOUT?
Brittany has a running joke about how she travels with her Dyson vacuum. In such a small space, dust specks somehow seem bigger, so she doesn't know what she'd do without a quick and efficient way to clean up. Caspian would probably say his Kindle Fire tablet is his indispensable item. He read 1,000 books before he turned five, and the Kindle is what allows us to check out digital library books and feed his appetite for beautiful literature. Eric's item is his KÜHL Renegade Convertible Stealth Pants. We are always looking for clothing that is durable and dries easily, and these pants have the added benefit of being multi-purpose, converting into shorts when you zip off the pant legs.
WHAT REDARC PRODUCTS DO YOU HAVE ON-BOARD AND HOW HAVE THEY MADE TRAVEL EASIER FOR YOU?
Our home on wheels utilizes REDARC's Manager30 for managing our multiple power inputs, and the RedVision vehicle management system. We especially love the RedVision phone app, which allows us to control our inverter, exterior lights, water pump, and petrol heater with a tap. The app also displays our lithium battery charge with an interface that's easy to understand when we're on the go. With a relatively small vehicle platform in the Gladiator, Brittany originally thought REDARC's systems might be unnecessary for us. But even our "simple" setup became more complex as the build continued, and now we both really value having the capabilities that REDARC offers.
WHAT'S NEXT FOR HOURLESS LIFE?
We have embarked on a drive around the world that will last the next decade or more. We are currently driving to the tip of South America. Then we will loop up to Brazil and likely ship to South Africa from there. We'll navigate the African continent, Europe, and Asia, before visiting REDARC's home country of Australia! Since we've already been on the road for eight years, we've learned that slow travel is the way to make our lifestyle sustainable. So we aren't in any rush. We are enjoying the people and cultures around us, and grateful to have the opportunities international overlanding offers.
WHAT WOULD BE YOUR ADVICE FOR SOMEONE WANTING TO GET INTO THE ADVENTURE LIFESTYLE?
Start with what you have and build slowly based on your experience. No one is going to travel exactly like you, so don't feel like you have to replicate what someone else has. Life is enriched by our experiences and the memories we make, and "stuff" is a sad substitute for experience. Whatever you do, don't spend so much on gear that you don't have anything left to travel with. It's a beautiful world out here.