WHO IS REVERE OVERLAND?
I'm Rob. I'm originally from England but have lived in Kentucky for the last 12 years. The result is a weird accent that no one can place!
HOW DID YOU START?
It all started when a work colleague took me out wheeling in his beat-up Jeep. I loved it so much that a few weeks later I bought my own beat-up Jeep. From there I was hooked. As someone who has always enjoyed traveling and camping, it morphed from wheeling to overlanding, and I quickly realized the beat-up Jeep wasn't going to cut it. A camera has been with me on every trip - it's as much a hobby as the off road and overlanding is. I started out with some truly awful videos shot on a second-hand GoPro, but have been learning and upgrading ever since. Somehow that resulted in a YouTube following!
TELL US ABOUT YOUR RIG?
I recently switched to a 2022 Toyota Tundra. I've been wanting something with more space and more power for about a year now, and the Tundra just made sense. At the moment it's to the point where it's completely usable for long overland trips, but there's still plenty more I want to do. It's lifted, with 35-inch Toyo tires on Method wheels. I have upgraded storage with a Prinsu roof rack and ROAM boxes. The bed has CBI bed bars that hold the iKamper roof top tent. I have a 200Ah battery that's charged by the REDARC Manager30, and the RedVision system controls and distributes power to the fridge, lights, heated blankets, and, most importantly, the camera batteries.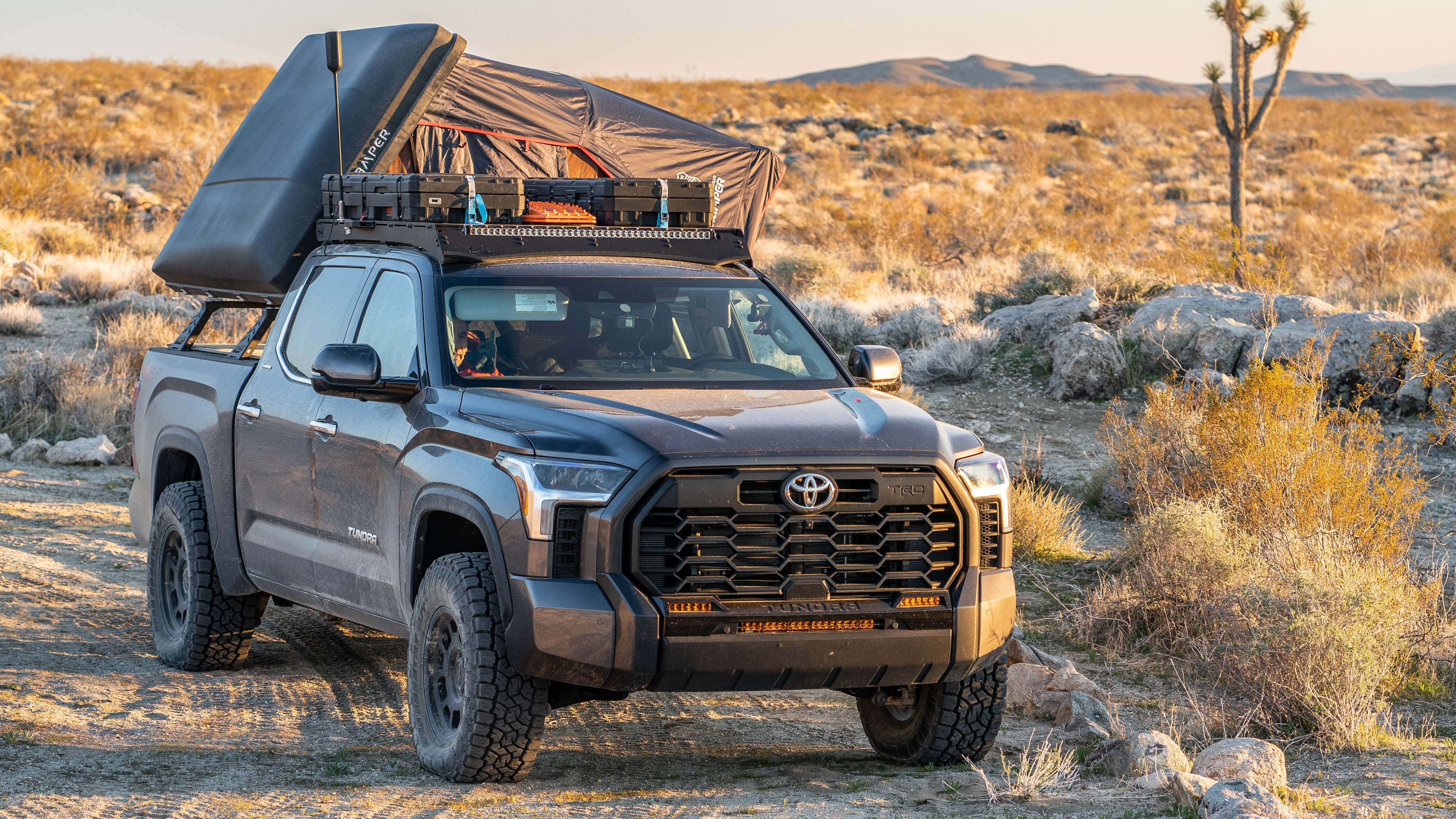 WHAT HAS BEEN YOUR FAVORITE TRIP SO FAR?
It's hard to pick a favorite trip, since there have been so many great ones, but it would probably be the first time I took my wife to Utah. I'd been to Utah several times previously, and I really enjoyed seeing her experience the same awe that I had felt when I first went.
WHAT ARE THE TOP 3 THINGS YOU CAN'T GO ON THE ROAD WITHOUT?
I take a LOT of stuff on my trips. Other than the obvious (like the vehicle, camping equipment, and recovery equipment), I can't go without my cameras, earplugs, and wet wipes (I HATE having dusty hands).
WHAT REDARC PRODUCTS DO YOU HAVE ON-BOARD AND HOW HAVE THEY MADE TRAVEL EASIER FOR YOU?
I have the Manager30 and the RedVision system. The Manager30 means worry-free battery charging - I know that when I get to camp, the battery will be charged and ready to go. It also gives me the option to use my 100W folding solar panel if I'm staying in one place for any length of time. When I'm not on my trips, I can plug it in at home and keep the battery charged and healthy. The RedVision system gives me one place to power and monitor everything - my fridge, batteries, and lights are all controlled through it. It'll tell me how much power is going in and out when I'm at camp and can also be used to monitor fridge temperatures and water tank (I'll have one soon) levels.
WHAT'S NEXT FOR REVERE OVERLAND?
It's coming up to expo season, so we have a bunch of trips planned between each of them! I'll be slowly building up the Tundra more as the year goes on and more products are developed for it.
WHAT WOULD BE YOUR ADVICE FOR SOMEONE WANTING TO GET INTO THE ADVENTURE LIFESTYLE?
Just get out there and do it. It's so easy to get caught up in what equipment you need, especially when you see YouTubers like me out there with a ton of it. People spend all their time and money modifying their vehicles rather than going out and enjoying themselves. I'd recommend starting close to home on a short trip and keeping it simple. It'll give you the opportunity to see what you actually need, and as you figure it out you can go further afield on longer trips.