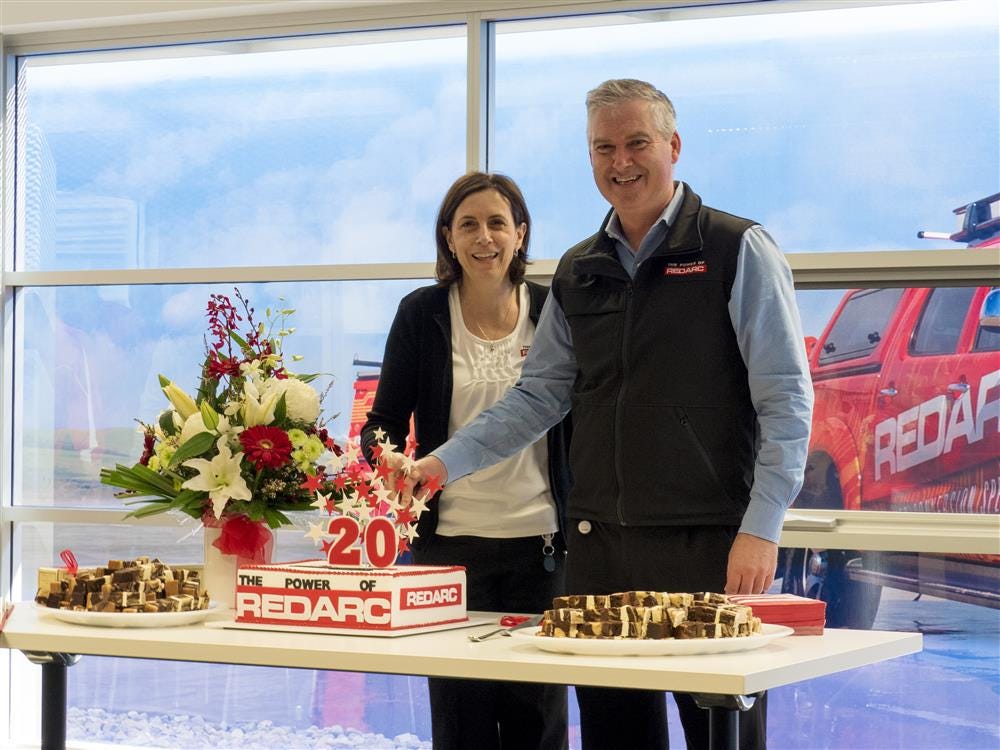 In September this year Managing Director Anthony Kittel, along with his wife Michele Kittel, will be marking their 20th year anniversary since purchasing South Australian-based advanced manufacturer REDARC Electronics in 1997.
REDARC Electronics was founded in 1979 by electronics engineer, Robin (Bob) William Mackie. In 1997, Anthony and Michele Kittel decided to purchase the business following the premature death of its founder. A big financial risk, considering the Kittel's had to mortgage their house, sell their vehicle and take a substantial pay cut all whilst raising a young family just so they could come up with their 50% share alongside Michelle's father, Denis Brion. When Denis retired in 2002, Anthony and Michele purchased 100% of the business.
From humble beginnings to now being recognised as an industry-leading, award-winning manufacturer in South Australia, REDARC Electronics has enjoyed many milestones with Mr Kittel at the helm in the last 20 years. Going through the Global Financial Crisis of 2008 and turbulent economic and political times of today, the REDARC 'story' is an exemplary case of how it has been able to continue to buck the trend against manufacturing slowdown in Australia.
REDARC'S motto 'The Customer is King' is underpinned by instilling three key values throughout the business; having an unrelenting focus on innovation, an unrelenting passion for learning and building a team-based culture, all of which created an iconic brand in REDARC.
These values are what we see in REDARC today. From operating in a tin shed in Lonsdale, South Australia with only 8 employees to now operating in a state of the art advanced manufacturing facility that employs 160 people, there appears to be no slowing down for REDARC.
In 2016, REDARC announced it will expand its Lonsdale facility which will see them almost double their workforce over the next four years. The upgrade will see REDARC able to capitalise on new market opportunities and house additional state-of-the-art equipment that will help enhance their manufacturing capabilities.
REDARC has been recognised for a number of awards, most notably being named the Telstra Business of the Year in 2014. Some of the more recent accolades include the 2015 and 2017 Excellence in Manufacturing – Gold Award, over $10 million turnover from the AAAA, and named one of Westpac's Top 20 "businesses of tomorrow", which will allow REDARC to participate in a mentor-matching program with one of Australia's top business leaders. In addition, REDARC received three awards at the 14th Manufacturers Monthly Endeavour Awards, including Manufacturer of the Year, Most Innovative Manufacturing Company and Global Supply Chain Integration.
Of the recent awards and industry recognition, Mr Kittel said: "Being a technology-focused manufacturer, REDARC's entire business model is based upon innovation. We choose to put technological development into everything we do and invest 15% of annual revenue into R&D."
"As an advanced manufacturer, we need a highly skilled and empowered workforce, and without this, our product wouldn't be at the technology level that it is today", he added.
Improvement and innovation are at the core of REDARC which has seen many of their products recognised as real game-changers in the aftermarket industry and even allowed them to forge into new markets both nationally and internationally. This includes the award-winning Tow-Pro Elite Electric Brake Controller, the BCDC In-vehicle Battery Charger range, Pure Sine Wave Inverters in various wattages, and a whole new range of solar blankets and panels that now come with genuine Anderson plug connectors that make installation and set-up easier.
With almost 40 years' experience in the research, design, development and manufacture of aftermarket accessories, REDARC and its director have shown there is still a place for manufacturing in Australia.