REDARC is proud to introduce the new, bigger, more powerful 12-volt dual input 50amp In-vehicle battery charger; the BCDC1250D.
Styled with a red line running down its back tells you there's something different about this dual battery charger. A 50-amp charging output makes it the most powerful in REDARC's BCDC range. It has been designed to charge all major lead-acid batteries, it also includes a lithium (LiFeP04) charging profile.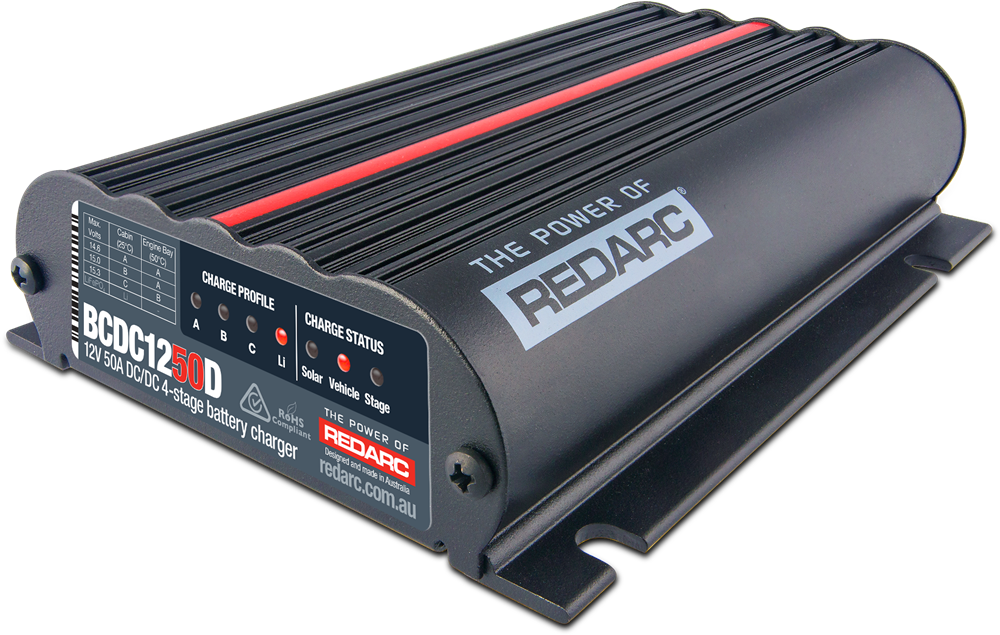 The BCDC1250D has been developed to provide a higher current output, it features an additional charging stage known as SoftStart which has been engineered so that it can handle more demanding applications.
A key feature of the BCDC1250D is separate vehicle DC and solar inputs which ultimately simplifies the installation process. The unit will charge from both solar and the alternator simultaneously and with inbuilt Green Power Priority the BCDC automatically selects the solar charge first, taking the load off the vehicle's alternator.
The 50-amp charger is compatible with both standard and variable voltage/smart alternators and can be used in both 12 and 24-volt vehicle systems.
The BCDC1250D is the third variant of the award-winning Smart-Start dual input range, joining the BCDC1225D and BCDC1240D.
REDARC's Managing Director, Anthony Kittel, said, "The dual input BCDC's have proven to be popular with the end users and the feedback we have received has been overwhelmingly positive. The addition of a 50amp model will allow the consumer to charge higher capacity batteries or multiple battery banks."
Mr Kittel added that it had been designed, manufactured and tested in Australia for our diverse and unique conditions.
"When developing the BCDC dual range we wanted a robust but versatile unit which could withstand anything the unpredictable nature of Australia's environment can throw at it. As a result, it has been engineered to handle our unique environments."
"The 1250D has been tested in the extreme heat of the outback and can operate up to 80°C allowing a flexible install, whether mounted in an engine bay to inside a caravan or camper trailer."
Like all REDARC products, the BCDC1250D comes with Nation-wide backup which includes a 2-year hassle free warranty, technical support and after-sales service to answer any questions which may arise.
The BCDC1250D is now available for purchase through your local automotive distributor or auto electrician.
REDARC also recommends the use of their online dual battery selector tool which has been designed to help you work out the ideal dual battery setup tailored to your needs.