REDARC are proud to announce that our BCDC Dual Input In-vehicle chargers have been selected as a finalist for an Innovation Award at Automechanika 2018 in Frankfurt, Germany.
The Innovation Awards recognise pioneering products and solutions with particular promise, with all entries evaluated based on their innovative content, economic efficiency, user benefit, aftermarket relevance, safety and quality. The finalists are selected by an independent jury.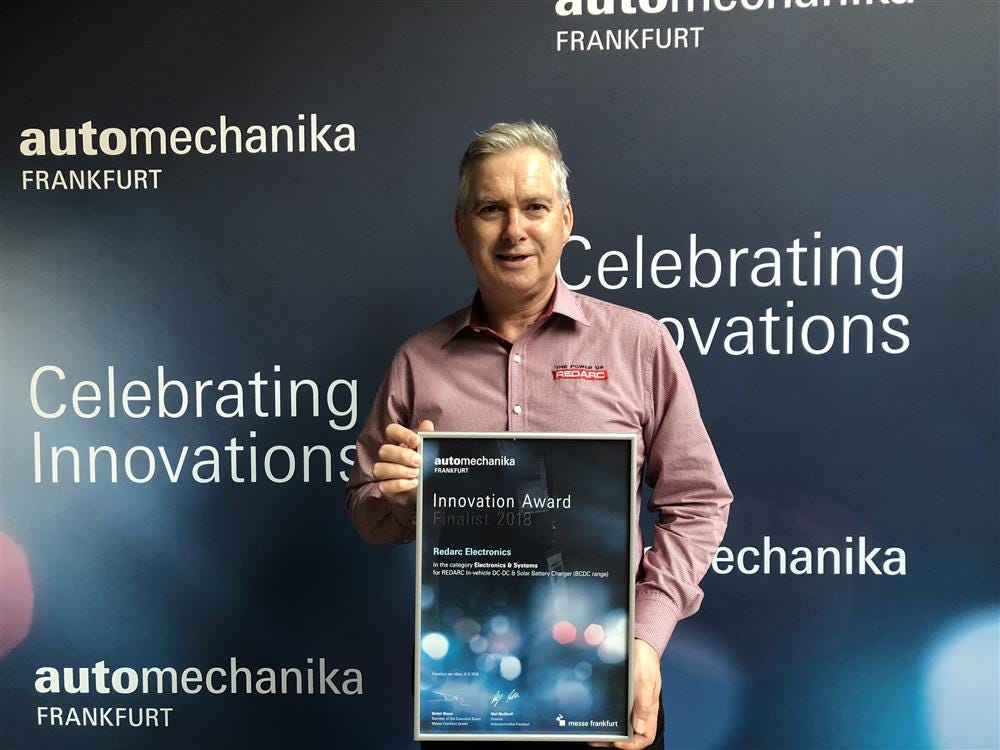 Automechanika is the world's biggest trade fair for the automotive aftermarket industry and is celebrating its 25th anniversary. The awards form a prestigious and well-recognised part of the event.
Our In-vehicle Battery Chargers (BCDC) were introduced to the European market at last year's Solutrans Trade Fair in Lyon, France.
The In-vehicle DC-DC battery chargers are available in 25 and 40-amp outputs and are designed to charge an auxiliary battery using solar and DC inputs simultaneously. They can be used for 12 or 24-volt vehicle systems with either standard or variable voltage/smart alternators and are compatible with all common types of battery including Lithium Iron Phosphate (LiFePO4).
Speaking of the achievement, Managing Director of REDARC Anthony Kittel said, "We are thrilled to be recognised for achievements relating to our innovative products. Innovation is such an integral part of what REDARC is about and to be recognised at such a prestigious event like Automechanika is testament to that."
"Our BCDC range is perfectly suited for the European market and we are seeing an increase in the use of secondary batteries in recreational and commercial applications. As a result, they are compatible with Euro 6 smart alternators."
This is not the first time REDARC's BCDC range has received recognition on the international stage with the range winning the 2018 Global Media Award at SEMA in 2017 as well as being named a finalist in the Innovation Award Category at Solutrans held in France in 2017.
Automechanika is expected to attract over 140,000 visitors and 4,500 exhibitors throughout the event. It focuses on innovations and solutions relating to vehicle parts, workshop equipment, bodywork and paintwork, IT and management and the latest automobile services. It is the central hub for product innovation in the automotive aftermarket.
For more information on the BCDC In-vehicle battery chargers, click here or to find out more about this year's Automechanika event visit their website.