For extended touring adventures, keep things organised with this blog from REDARC. Effective organisation ensures easy access to your everyday essentials and usually ends up providing more space for cooking, sleeping, storage and power.
Organisational requirements vary significantly, whether you're travelling in a van, caravan, RV or 4WD vehicle, due to the distinct spatial constraints of each. However, a common theme evident amongst them all is the need to optimise space. We hope you enjoy reading this basic guide that should assist you to fit out your vehicle effectively.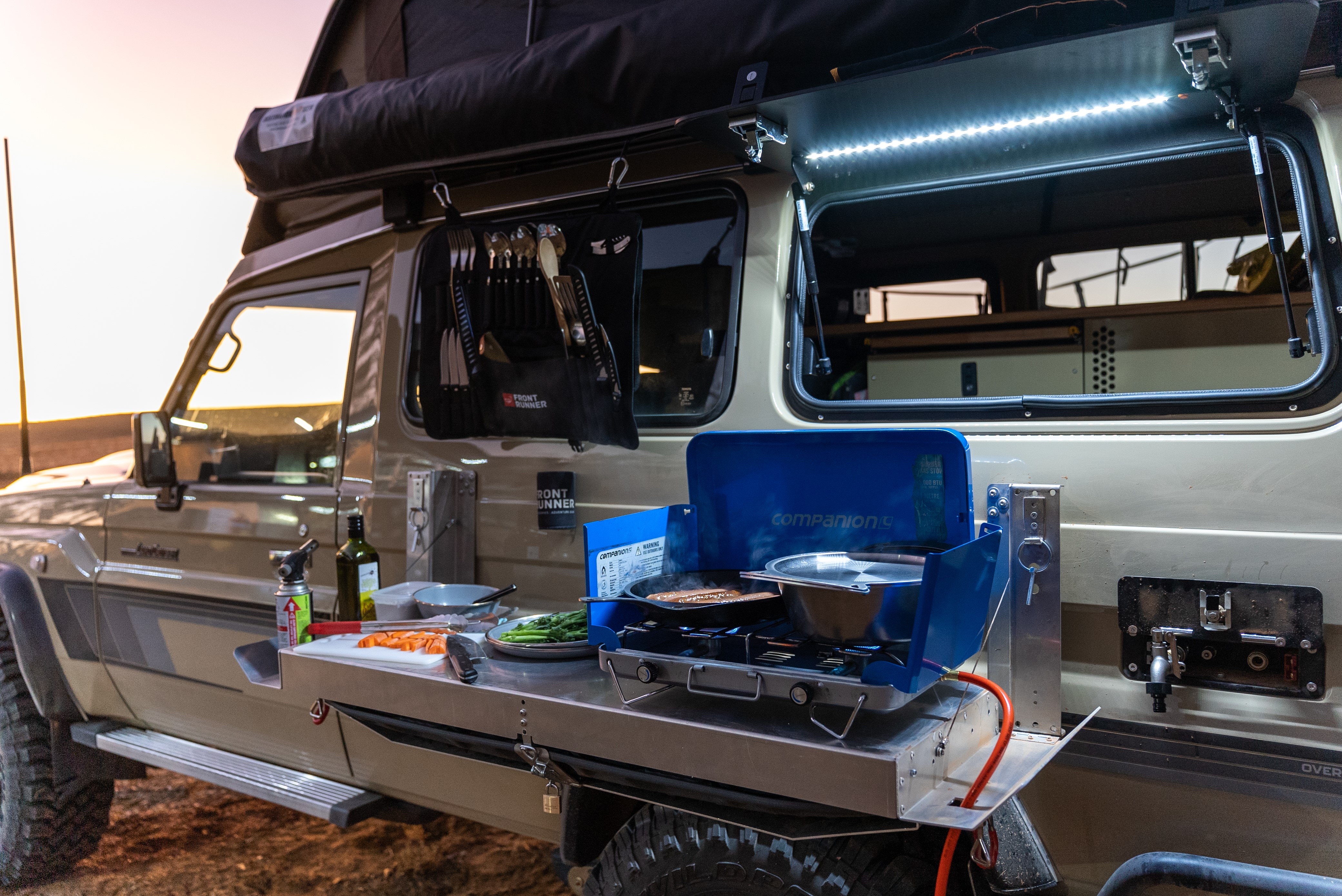 Food and snacks
A 12V fridge allows you to keep perishable food items fresh for longer durations. This is particularly crucial if you're on a road trip, where access to food shops and ice are limited.
Choosing the right 12V fridge for your setup is entirely up to your travel needs. It does pay to go for the lighter option rather than the more litres, for safety reasons. Upright fridges are generally lighter and easier to access. You'll also want to place even weight on both sides of the vehicle to maintain weight distribution - we touch on weight distribution a little more later.
Store snacks and long-lasting food in either built in draws with draw dividers, overhead cabinets/shelving units, under-bed storage or in a food basket. Place frequently used items at the top or in an area convenient for you. Divide them according to categories such as fruits, snacks, condiments, canned goods etc. for efficient storage. Labels may also help you to find them quickly.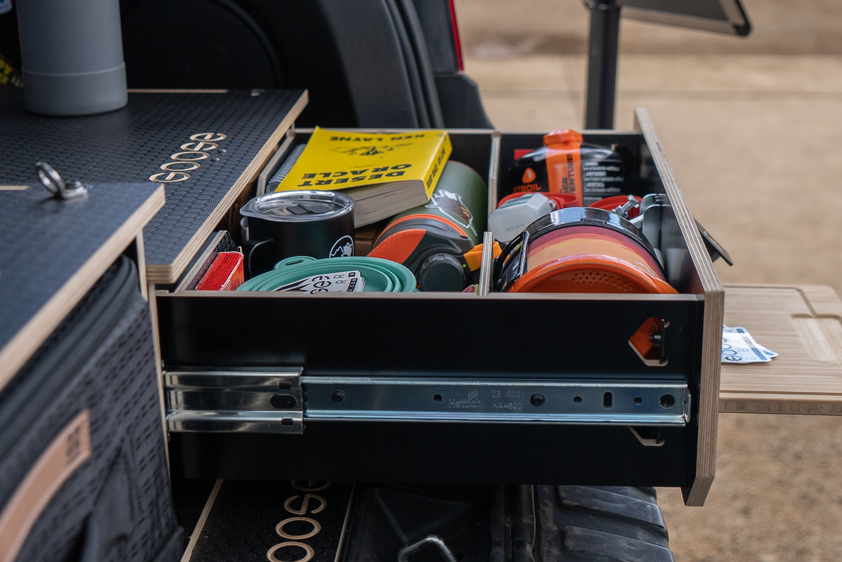 Cooking area
Designate a specific area in your vehicle for cooking, this space should include a countertop or surface for meal preparation and a secure area for your cooking appliances. You may want to install a portable kitchen setup that you can use inside or outside the vehicle.
To save space and maintain a neat appearance, consider installing a slide-out induction plate. Ensure it is securely mounted for safety during transit. For a lighter option go for a fold out table and gas cooker. Slide out tables will increase the weight of the vehicle significantly.
Lightweight camping kitchens can range from 23 to 68 kilograms and are designed for smaller vehicles, they typically feature a compact design with basic cooking amenities. Slide-out kitchens for camper vans often include, a stove, sink and or storage that weighs between 68 to 136 kilograms. Larger overlanding vehicles, slide-out kitchens can be quite substantial. Their weight also varies widely and often fall between 91 to 227 kilograms or even more, depending on their complexity and the materials used.
A fold-out table is a versatile and lighter option, it can serve as a dining table, extra countertop space for food preparation, or a workspace. Ensure the fold out table is the last to go in the vehicle and first to come out, that it's well-secured, and easily foldable when not in use. By remembering to pack the table in last, it will make your life so much easier. The guys from 4WD 24/7 have a rule of thumb, that if it takes longer than 2minutes to find and pull out anything in your vehicle it's not worth keeping it around.
A gas cooker is also a valuable addition to your kitchen setup. Install it on a countertop or have a dedicated space for it. Make sure to provide proper ventilation for safety and consider a secure storage option for the gas canisters or a gas cylinder (not on the roof and lower to the ground).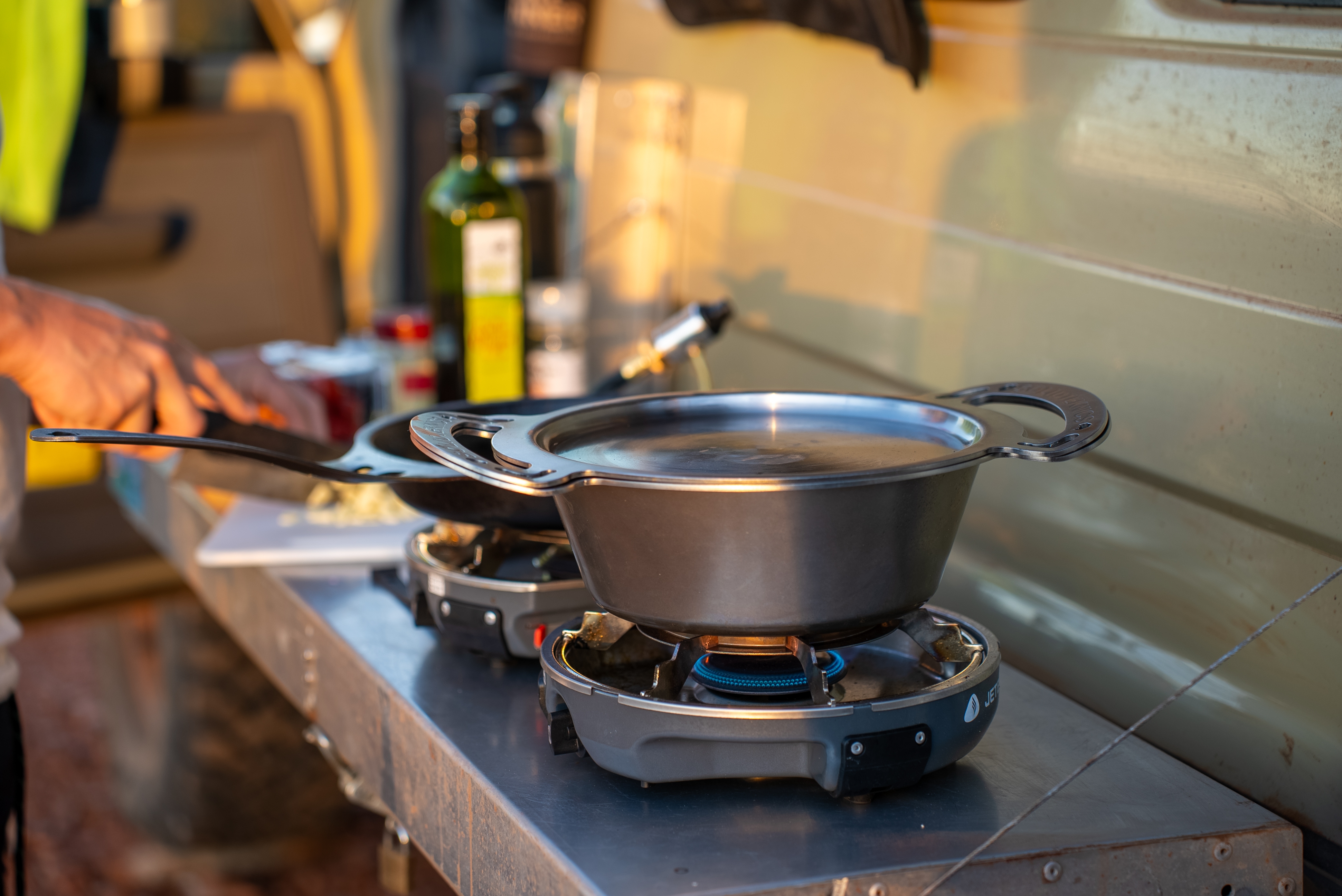 Lights
Consider lights that can move around and a switch with easy access. Ensure you have a reliable power source for your LED lights, induction plate, and other appliances. This may involve connecting to your vehicle's electrical system or using an auxiliary power source, hooked up to a REDARC Manager30 and REDARC fixed solar panels.
Fixed solar is a great option, as it's mounted on the roof and conveniently out of the way for touring. They don't require manual setup and can continuously recharge your auxiliary battery while you're on the road or parked. The Manager30, helps monitor and manage your auxiliary battery's charging and usage. It ensures efficient charging and prevents over-discharge, protecting your battery and prolonging its life.
Red LED lights rather than white or yellow will reduce the attraction of bugs and may be something to keep in mind if camping in particularly rural environments.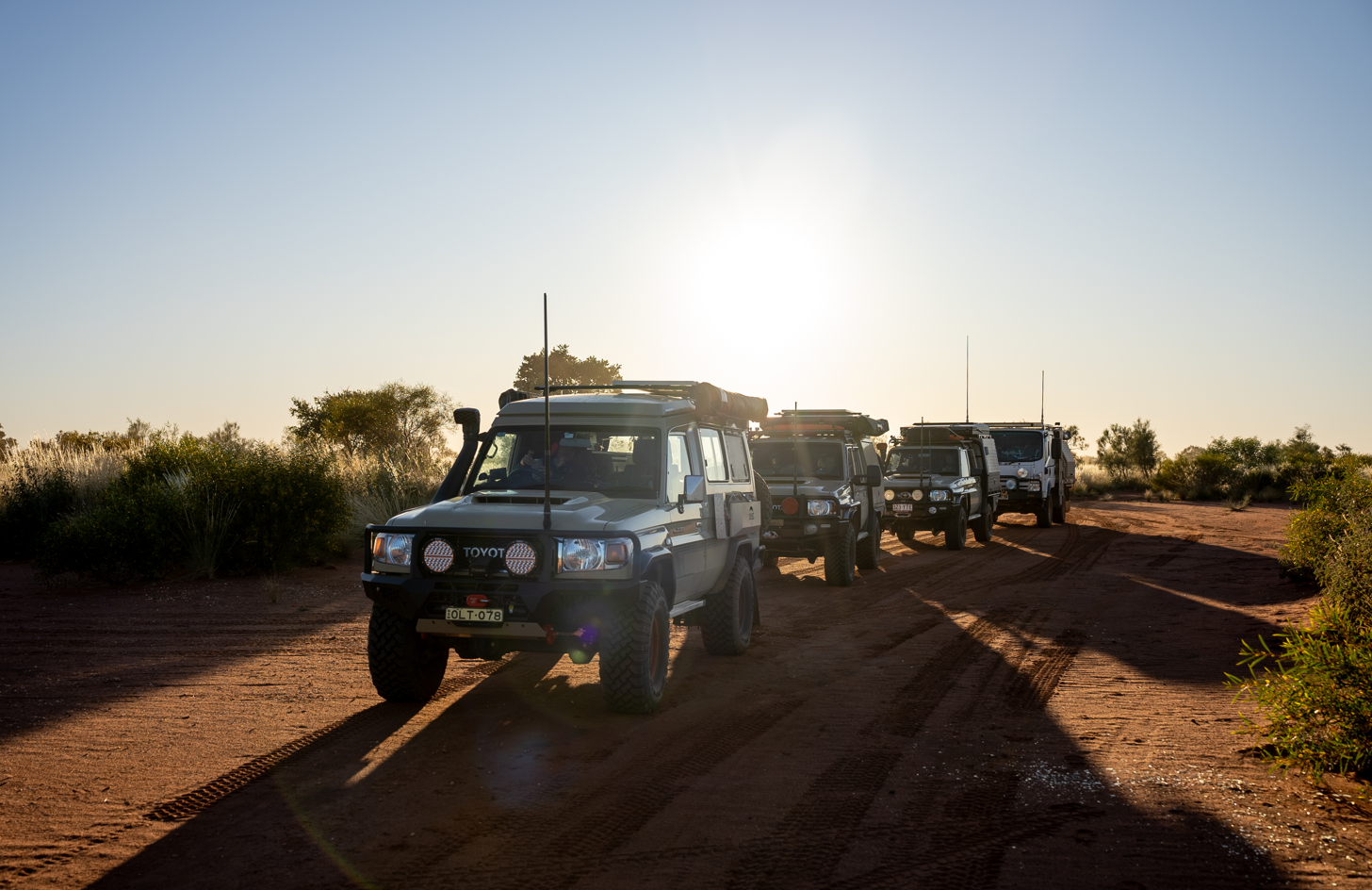 Water storage
Store water as low as you can, under the vehicle and preferably near the axel. Storing water under the vehicle, frees up valuable interior or roof space for other equipment. Install a tap in your vehicle either on the outside or inside of your car and connect the water pump to its electrical system or 12V power source, such as REDARC's RedVision System.
Carry at least 10L of water per person/per week in water tanks. A utilities area that includes water out, water in, air out, solar out, solar in, is also something to think about – Overland Travellers talk about this more in their video below.
Keep your water tanks 30 L each side of the vehicle, as a rule of thumb and always have a gravity water tap in case something goes wrong. Complex water systems with pumps, filters, or electrical components can sometimes fail.. Gravity taps require no power source or pumping, making them a safer option for an off-grid setup.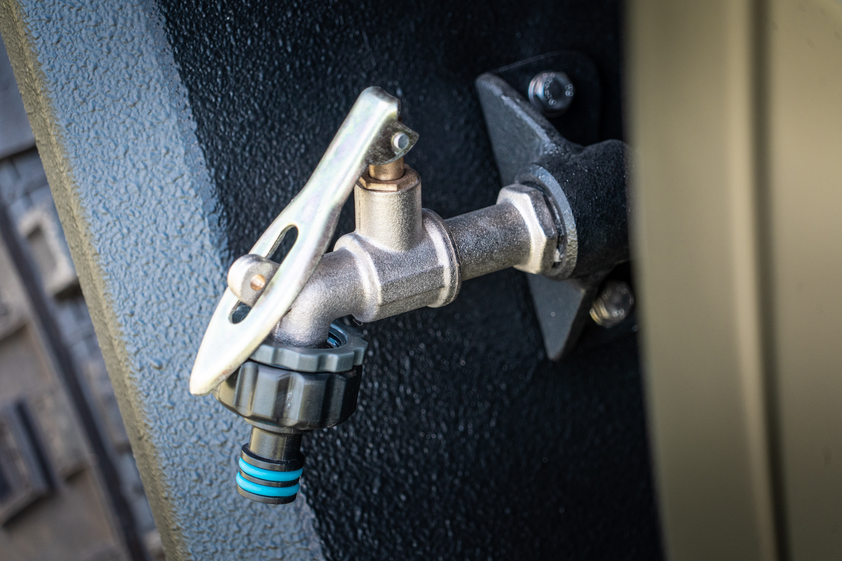 Weight distribution
Know your vehicles GVM (Gross Vehicle Mass) and weigh your vehicle... you may find it surprising how heavy it is!
Offsetting weight is the most important factor to look out for when organising your vehicle. Correct weight distribution helps maintain a balanced load, reducing the risk of your vehicle becoming unsteady or prone to swaying, which is crucial for safe handling.
Having a low centre of gravity is key, so it's best to avoid large weights on the roof. Evenly distributed weight ensures that your braking system works efficiently and can even extend the lifespan of your tires, reduce stress on your vehicle's suspension, axles & chassis, reduce the risk of mechanical failure and increase fuel efficiency.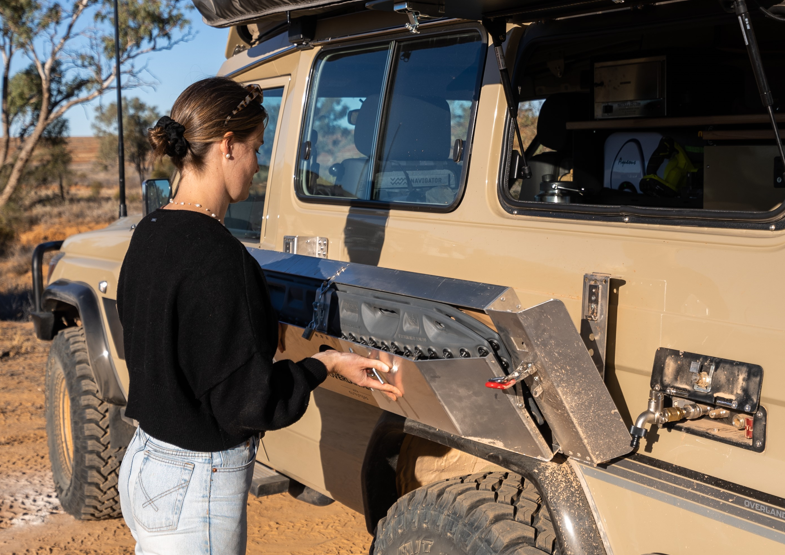 Sleeping arrangement
Your sleeping arrangement largely depends on the number of people traveling with you. Vans and 4WDs are typically suitable for one to two individuals, while caravans or RVs offer more space and can accommodate an entire family. Regardless of your setup, ensuring a comfortable night's sleep is essential. Factors like having adequate legroom, ventilation, air conditioners and fans will make all the difference between a happy camper and a slow riser.
Clothes
To enhance your clothing organisation, consider storing your garments in plastic containers beneath your bed and in designated cupboards that offer convenient access 24/7. Streamline your clothing organisation, by utilising packing cubes and by rolling your clothing tight. For instance, designate separate cubes for your t-shirts, pants, shorts, jumpers, and underwear. This will assist you to locate specific items, without the need to dig through all your bags. Additionally, labels can be a useful tool for maintaining order in your clothing storage.
Safety precautions
Your first aid kit, snake bite kit, fire extinguisher, satellite phone and medication should all be readily available at any one time. Make sure to regularly get them serviced - every 6 months ideally. Recovery equipment and tools should be stored lower on the vehicle to avoid tipping and externally for easy access.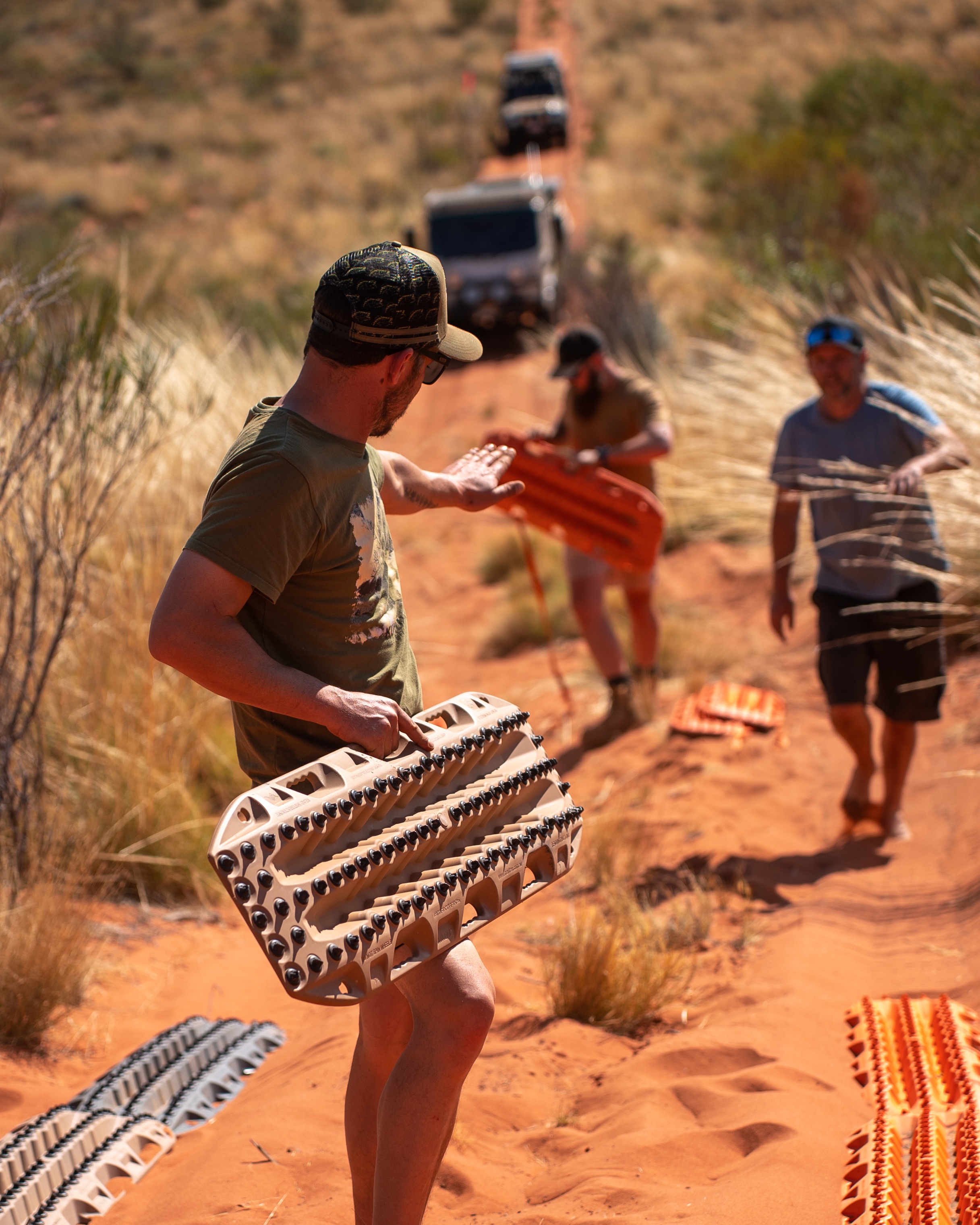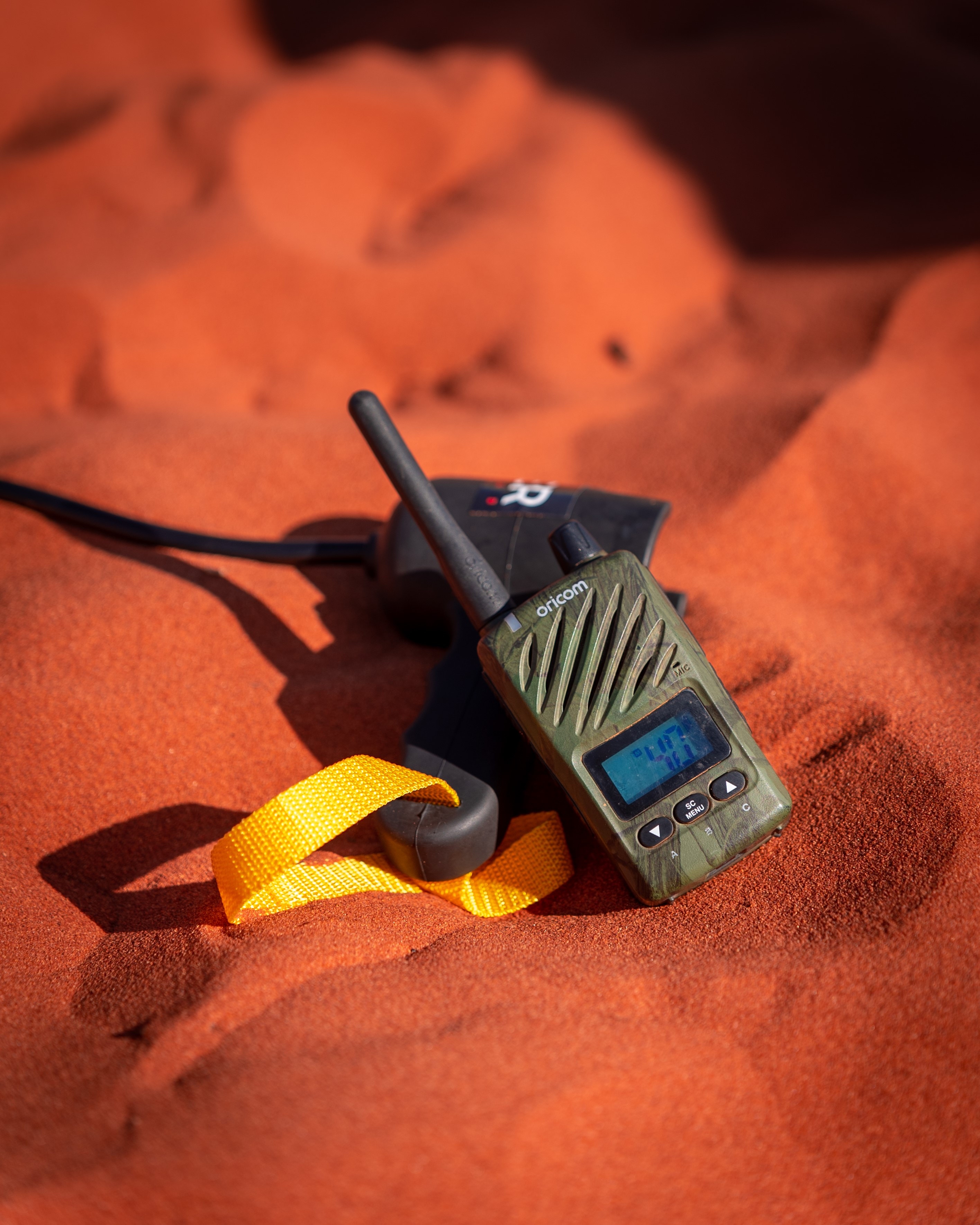 12V Setup
Lithium batteries, which tend to be heavier, should be positioned below the rest of the setup.
Investing in high-quality REDARC equipment means you won't have to worry about your electronics failing, or your products being too bulky when off-grid. Quality equipment ensures reliability and longevity. For instance, the new REDARC Alpha 150 Battery is a lighter and more efficient option compared to competitors. It's also up to 80% faster than competitors with a lightning-fast maximum charge rate of 135A, reducing charging time to just 1.1 hours.
Simple things like having your setup wired by an expert will also reduce the risk of electronics failure when off-grid.
For a list of recommended installers head to READRC's website page Find an Installer or Retailer.
REDARC's Tow-Pro Electric Brake Controller
When towing a caravan, camper, or trailer across varied terrain, the REDARC Tow-Pro is a necessary device, as it provides safe and adaptable braking for your towed vehicle. Adjust the braking force as needed with the turn of a control knob. It's a neat and simple product that keeps your vehicle in check, without taking up too much space or weight.
Monitor Your Vehicle with REDARC's 52mm Gauges.
REDARC's 52mm gauges allow you to track your vehicle's vital signs in real-time, helping you avoid engine overheating or battery depletion issues that could leave you stranded. Being organised with safety and electronics gives you that added piece of mind, whilst on the road.
REDARC RedVision Total Vehicle Management System
REDARC's RedVision Total Vehicle Management System, another innovation from REDARC, offers control and information at your fingertips. This system allows you to manage essential functions, such as your vehicle's lights, fridges and more via REDARC's user-friendly RedVision Display or convenient RedVision smartphone app.
When paired with a REDARC Manager30 Battery Management System, your auxiliary battery and your electrical system provide real-time insights into water levels and temperatures.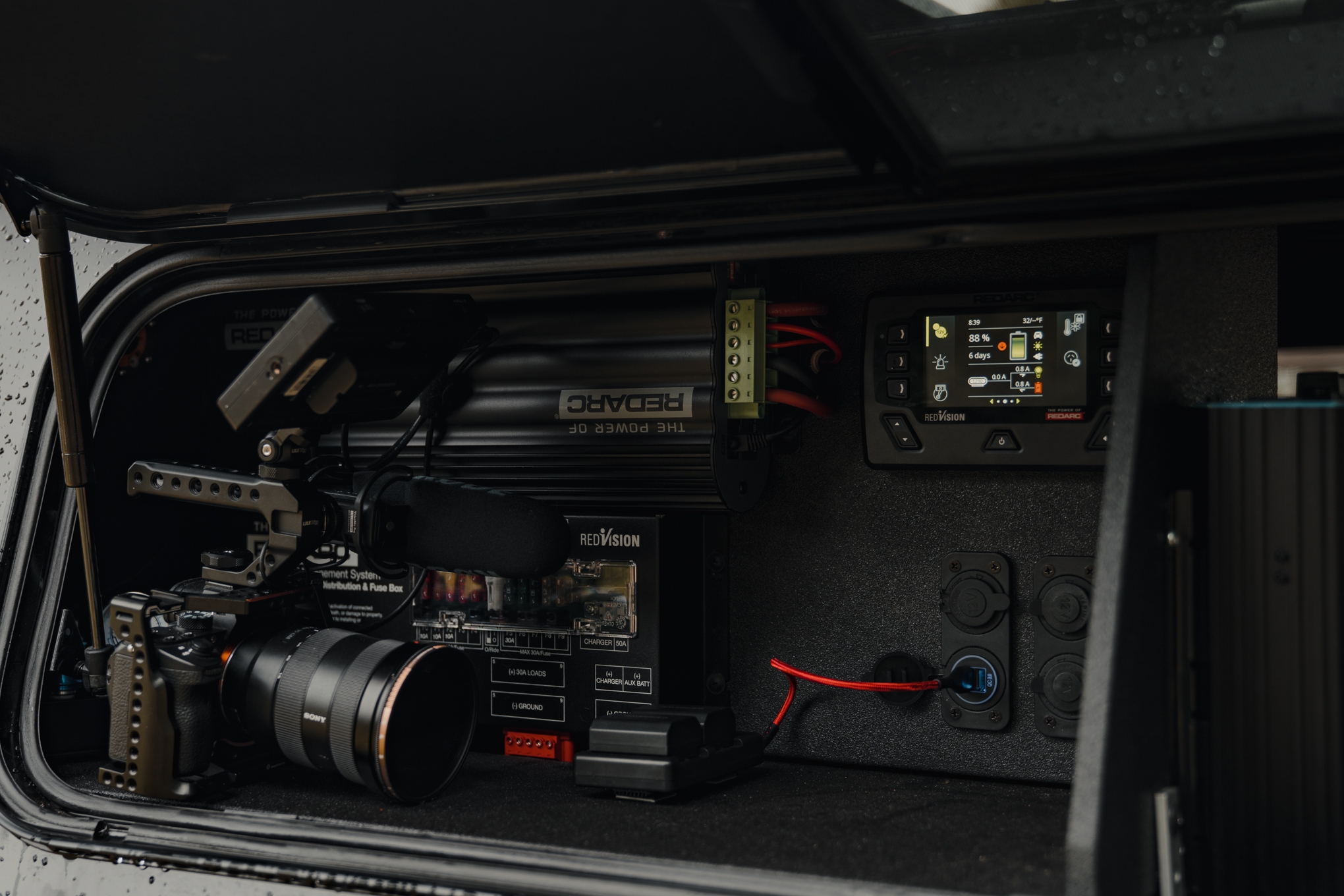 To find the best camping setup for your needs, try living with your current gear and gathering real-world experience. Engage in conversations with fellow campers during your off-grid adventures. This will help identify essential items and the gear that you frequently use. It will also shed light on your daily habits and the unnecessary items you may be carrying. To learn more about organisation on the road head to the blog page on our website called, Travelling Tips and Advice.