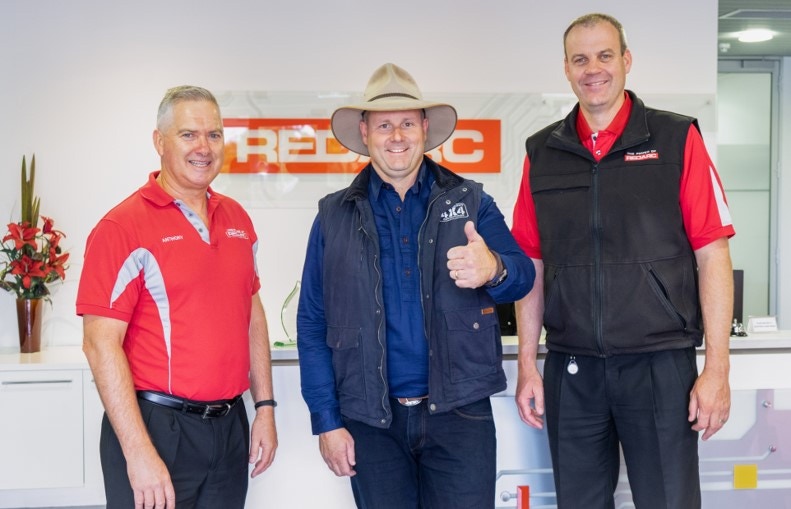 Anthony Kittel, Pat Callinan and Ben Marsh
REDARC Electronics have drawn on their long-standing relationship with popular recreational 4WD personality and television host of Pat Callinan's 4X4 Adventures, Mr Pat Callinan, to feature as the host of their new factory tour video.
In November 2018, the company celebrated the finalisation of a $22 million capital expansion project. It included the addition of 3,000sqm of advanced manufacturing space, the introduction of new state-of-the-art manufacturing equipment and systems and the installation of sustainable power infrastructure. REDARC also began expanding the REDARC team and continuing investment in their highly skilled workforce.
The impressive factory tour video reveals the breadth of REDARC's new state-of-the-art manufacturing facility with segments on REDARC's innovation and technology, customer support and quality (featuring our testing and validation technology), or as Pat calls it "quality and ruggedness".
Mr Callinan shares his love for 4WD experiences and the beautiful, yet often extreme, nature of Australia's landscapes and reveals that he has been using REDARC products for more than a decade saying, "To explore these places confidently, you need equipment you can rely on."
In championing a spirit of adventure, Pat Callinan talks about how REDARC products keep customers in control so they can confidently follow their sense of adventure and create incredible travel experiences. And with that, the assurance that REDARC products can go the distance to enable people to experience the magnificence that is the Australian outback.
REDARC Managing Director, Anthony Kittel said that, "For more almost 10 years Pat Callinan has put our products to the test; enduring long distances and being put through their paces in the harshest and most trying conditions," he said.
"We couldn't be prouder of our capital investment in REDARC and are delighted to share the factory tour video, with thanks to Pat for his presentation," he added.
You can find out about more Pat Callinan's long standing relationship with REDARC here or learn about all of REDARC's facility upgrades and capabilities.