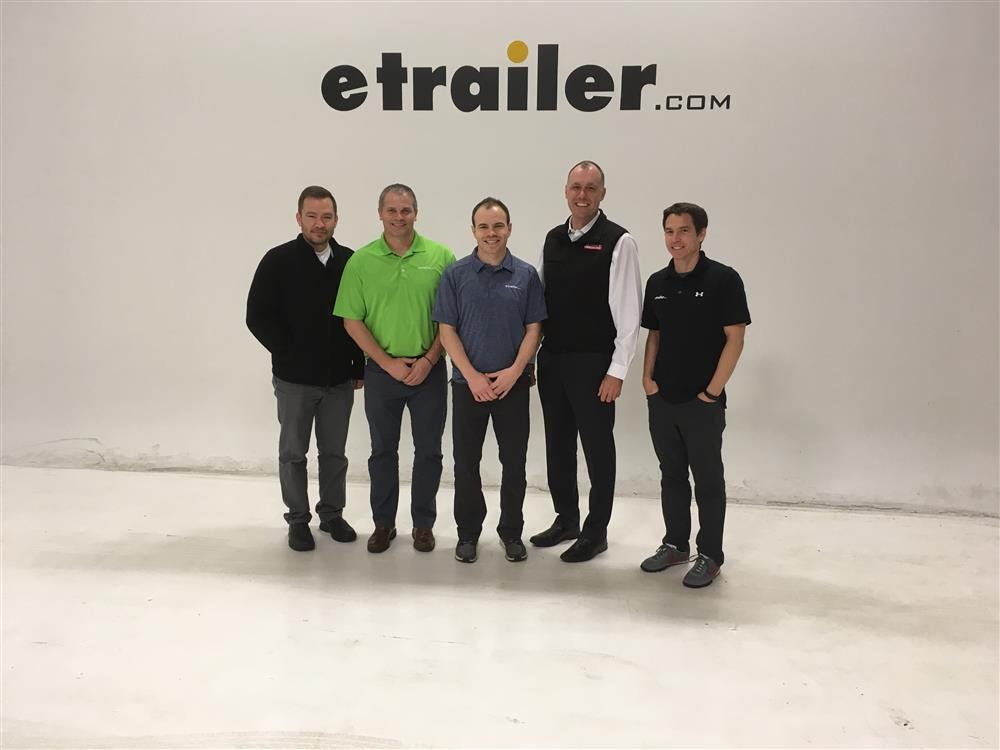 Pictured (L-R): TJ Bross, Scott Herbst, Dam Dalton, REDARC Export Manager Craig Herriot, Kevin Bross
REDARC is pleased to announce eTrailer Corporation (d/b/a etrailer.com) as their first distribution partner for North America. This is a red-letter day for REDARC as we look to strengthen and grow the brand globally.
Signing etrailer.com is a key part of REDARC's strategy into North America and its various market segments as it seeks to align with the best and most reputable bodies and organisations possible.
The family run business dates back to 1946, first as an R.V. park and then a service station. Now operating as a wholesale distributor, eTrailer boasts an impressive 71 years of quality customer service, growing to be the world's leading online retailer of custom-fit towing parts and vehicle accessories for over 3,500 vehicles.
Speaking of the recent partnership, REDARC Managing Director Anthony Kittel stated he was delighted to be aligned with a business that also share similar family company values, strive for world-class customer service, and in-depth product knowledge.
"eTrailer.com have a strong technical understanding of our products and are well-staffed to handle phone and email enquiries as well as creating outstanding digital content to assist customer research.
"Additionally, their speed to market is exceptional, with a warehouse located centrally in Wentzville, Missouri, it aligns well with REDARC as it allows us to service our key target market segments in RV, Overlanding and Trailering."
etrailer.com stock a range of REDARC products on their website including Tow-Pro Electric Trailer Brake Controllers, BCDC In-vehicle Dual Battery Chargers, Smart Start® Dual Battery Isolators and accessories.
eTrailer Director of Purchasing, Dan Dalton said, "We're excited to partner with REDARC, a manufacturer of premium products that give simple and yet unique solutions for our customers that are enjoying the outdoors.
"In a category where there hasn't been much innovation in the last decade, REDARC created a trailer brake controller that customers really want. It combines smooth braking with a small footprint. It's at your fingertips when you need it, out of the way when you don't, and looks and feels great.
"In addition, REDARC's battery solutions are a smart way to make sure you always have power, no matter how long or short you're off the grid or if you're charging your RV's battery bank, the battery on your dump trailer, or adding an accessory battery to your pickup", he further added.
The etrailer.com website provides a wealth of information such as images, product and installation videos, testimonials from customers and a vehicle reference guide to easily select products for the make and model. Free shipping is available on orders over $99 within the contiguous US states and their highly trained Customer Service Team can provide product and technical support on the REDARC product range.
REDARC's range of Electric Trailer Brake Controllers and high-powered DC-DC battery chargers are highly innovative in the US Market. Recently, REDARC was named a 2018 Global Media Award Winner at the SEMA show, in Las Vegas, for its dual input In-vehicle Battery Chargers which charge a secondary battery bank via Solar and DC inputs simultaneously. Last year, REDARC won the same award at the 2016 SEMA show for the Tow-Pro Elite Electric Brake Controller. The Tow-Pro Elite is the only brake controller to offer two operating modes and offers neat, simple installation thanks to its compact and flexible design.
This exciting news is the latest step in growing the REDARC brand in North America. As a company that is almost 40 years old, REDARC have found success by investing 15 per cent of its revenue back into R&D. About 25 per cent of its staff focus purely on innovation and can provide a full design and prototyping capability to meet the needs of its customers.
"Innovation is about transforming ideas into outstanding commercialized products that create new global business opportunities", says Anthony. "We're excited to strengthen our position and involvement in the North American trailer market and we see our product range as unique in this industry".
For further information:

REDARC Electronics
23 Brodie Road North, Lonsdale,
SA, 5160, Australia
Craig Herriot
Export Manager
REDARC Electronics
Email: cherriot@redarc.com.au
Ph: (+61) 8 8322 4848
etrailer.com
1507 East Hwy A Wentzville,
MO, 63385, USA
Dan Dalton
Director of Purchasing
Phone: +1 800 298 8924
(All Times Central)
Monday - Friday: 7 am - 8 pm
Saturday: 9 am - 5 pm
Sunday: 12 pm - 6 pm