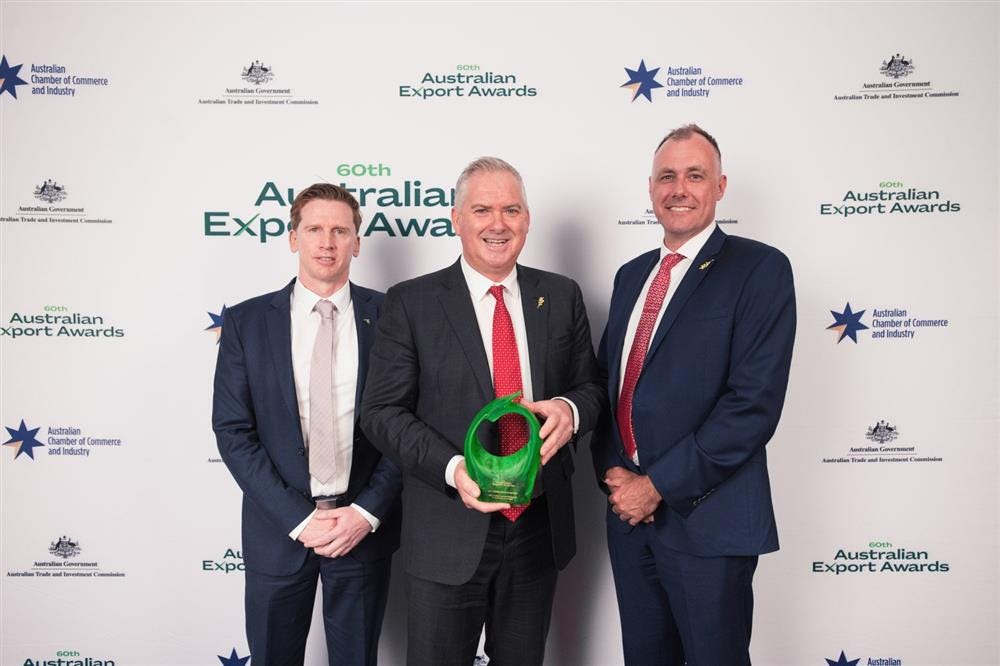 REDARC was honoured to receive the Award for the Manufacturing and Advanced Materials Category at the 2022 Australian Export Awards. The Awards were co-presented by the Australian Trade and Investment Commission (Austrade) and the Australian Chamber of Commerce (ACCI).
The Manufacturing and Advanced Materials Award represents outstanding international success in manufacturing, engineering, and advanced materials development, with REDARC up against category winners from each state.
This award win comes after REDARC previously received the Manufacturing and Advanced Materials, E-Commerce, and Exporter of the Year awards at the 2022 South Australian Premier's Export Awards.
Managing Director, Anthony Kittel said, "This award is a great opportunity for all of REDARC's staff to reflect on what we have achieved in regard to exporting our ruggedised portable power solutions globally.
"Being able to replicate our domestic success in export markets is so rewarding for us. Our export journey has taken great strides in the last few years and receiving recognition for that on a global stage is a wonderful achievement."
Held at Parliament House in Canberra on the 24th of November, the Australian Export Awards were attended by REDARC's Managing Director, Anthony Kittel, and General Manager Sales – International, Craig Herriot.

"Being named the winner of the Manufacturing and Advanced Materials category is such wonderful recognition of the strategy, team effort and determination for success demonstrated by the entire team," said Craig Herriot.
Congratulations to all the finalists and winners, particularly to Australian Exporter of The Year, Bubs Australia, one of Australia's most successful and in-demand exporters of infant nutrition products.
We would also like to congratulate fellow South Australian winners, in the Advanced Technologies Category, Fivecast, and the Emerging Exporter, MyVenue.
2022 marks the 60th year of the Australian Export Awards, Australia's most prestigious and longest-running export awards program. The award program celebrates the achievement of Australian businesses exporting home-grown innovation to the world.
For more information about the awards, other nominees and winners visit www.exportawards.gov.au.