REDARC is delighted to have won the Resilient & Adaptive Award at last night's Defence Teaming Centre Industry Dinner and Awards Ceremony.
The award recognises and celebrates an SME that has stood the test of time, showing a strong commitment to transformation, sustainability and innovation.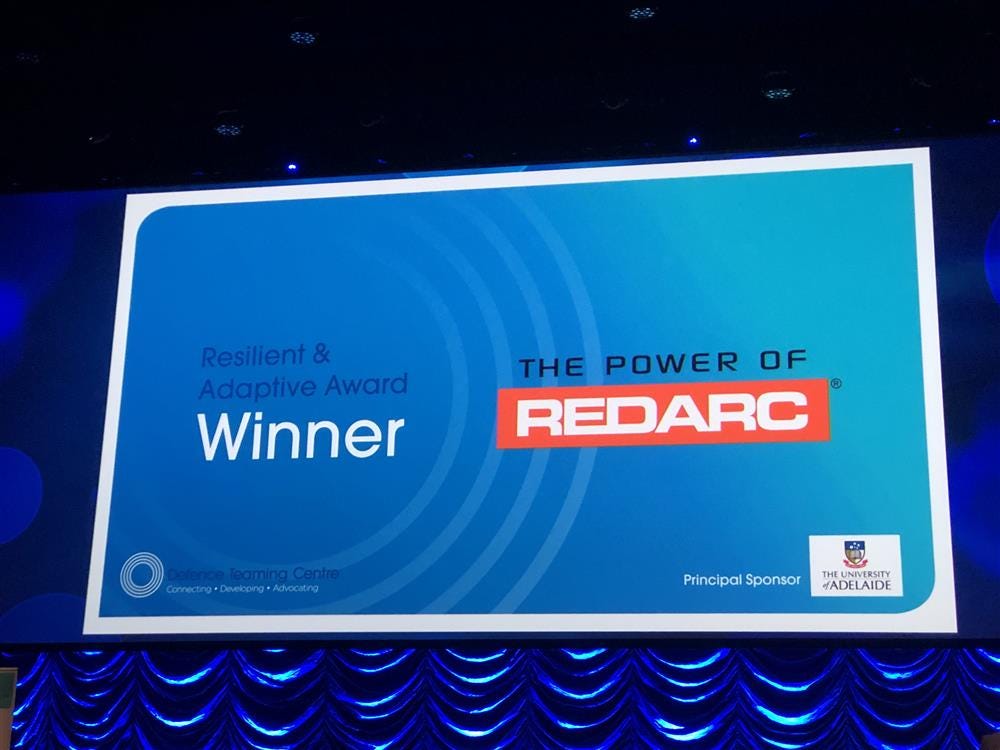 Defence Account Manager, Mike Hartas who accepted the award on REDARC's behalf stated that it was pleasing to see the industry recognising REDARC as a reputable and rising supplier of choice for many of the upcoming defence projects coming up in the State.
"We've been working with heavy vehicle original equipment manufacturer's for over 25 years, but our strength is in design, manufacture and our assembly which highlights our ability to adapt our product and service offerings specifically for the defence industry," said Mike.
REDARC recently signed an MOU with Britain's MARL International to manufacture and support the LED lighting solutions that will go onto the frigates.
REDARC has been selected as an SME partner to BAE Systems Australia who successfully won the bid on the Hunter Class Frigate Program. As part of BAE's commitment to the Australian Government, 9 new frigates will be built by ASC Shipbuilding at the company's facility in Osborne, South Australia with work due to commence in 2020.
"REDARC is in a prime position to be a trusted and reliable provider of design and build to print electronic sub assemblies for Defence Primes in the land and maritime environment," said Mike.
REDARC have established themselves as a key SME in the Australian Defence sector over the past 5 years and are well positioned to ramp up activities in the industry as facility upgrades and expansions near completion, which were fuelled by a $2.5million grant as part of the Federal Government's Next Generation Manufacturing Investment Program.
Visit our Defence page for more information about our capabilites.