OVERVIEW
When it comes to solar blanket 12v setups, a 300W monocrystalline cell solar blanket from REDARC is capable of capturing maximum charge in full sunlight and is highly effective in low-light conditions.
These new solar blankets are constructed from heavy duty canvas and covered in an anti-reflective and scratch resistant ethylene tetrafluoroethylene (ETFE) coating, improving efficiency and making them extremely durable, perfect for off-road conditions.
You no longer need to worry about shadows wiping out your panel's efficiency. Bypass diodes connect each solar window, minimising the impact of shadows making them the best portable solar panel system in Australia.
Our flexible and convenient solar blankets are packed with more value than ever, REDARC's monocrystalline solar blankets can be folded up into a neat package and offer flexibility that's not available with fixed or folding panels. Drape it over the bonnet or windscreen, lay it on the ground or hang it from the side of your awning. When it's time to hit the road, just fold it up and pack it away.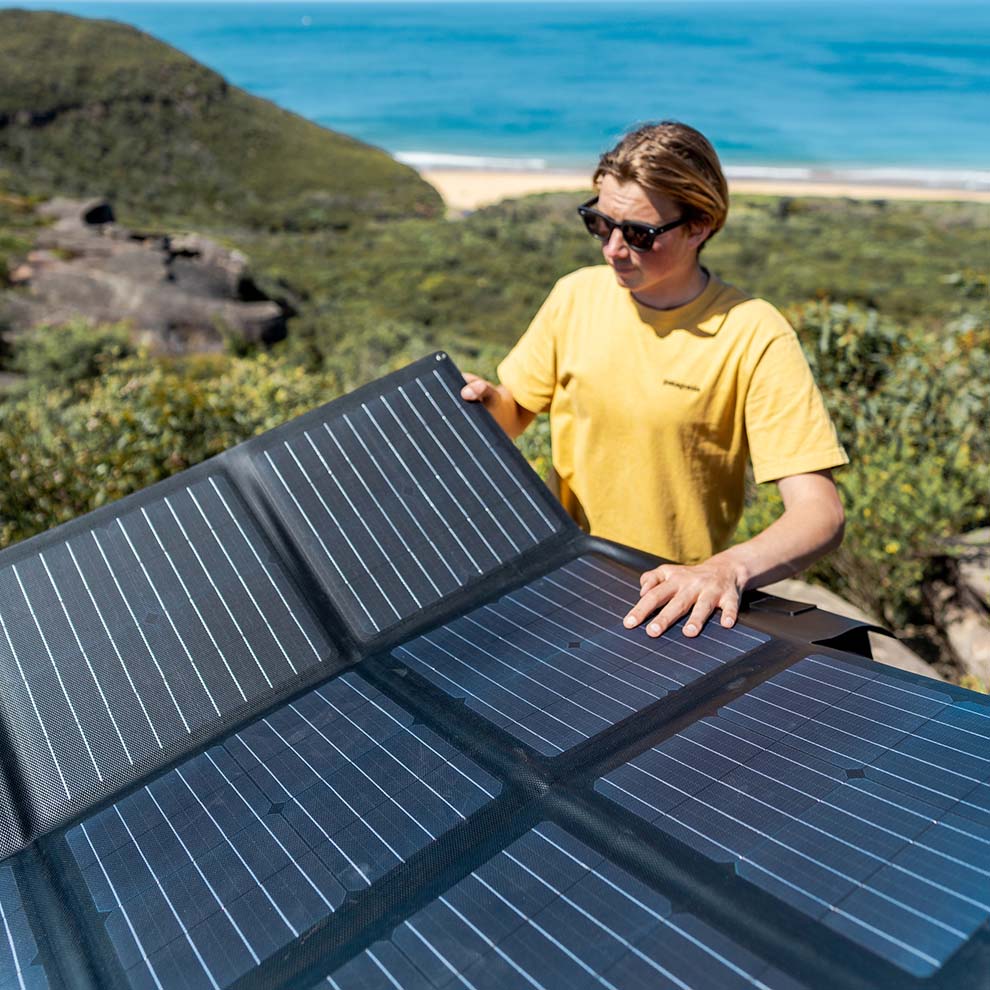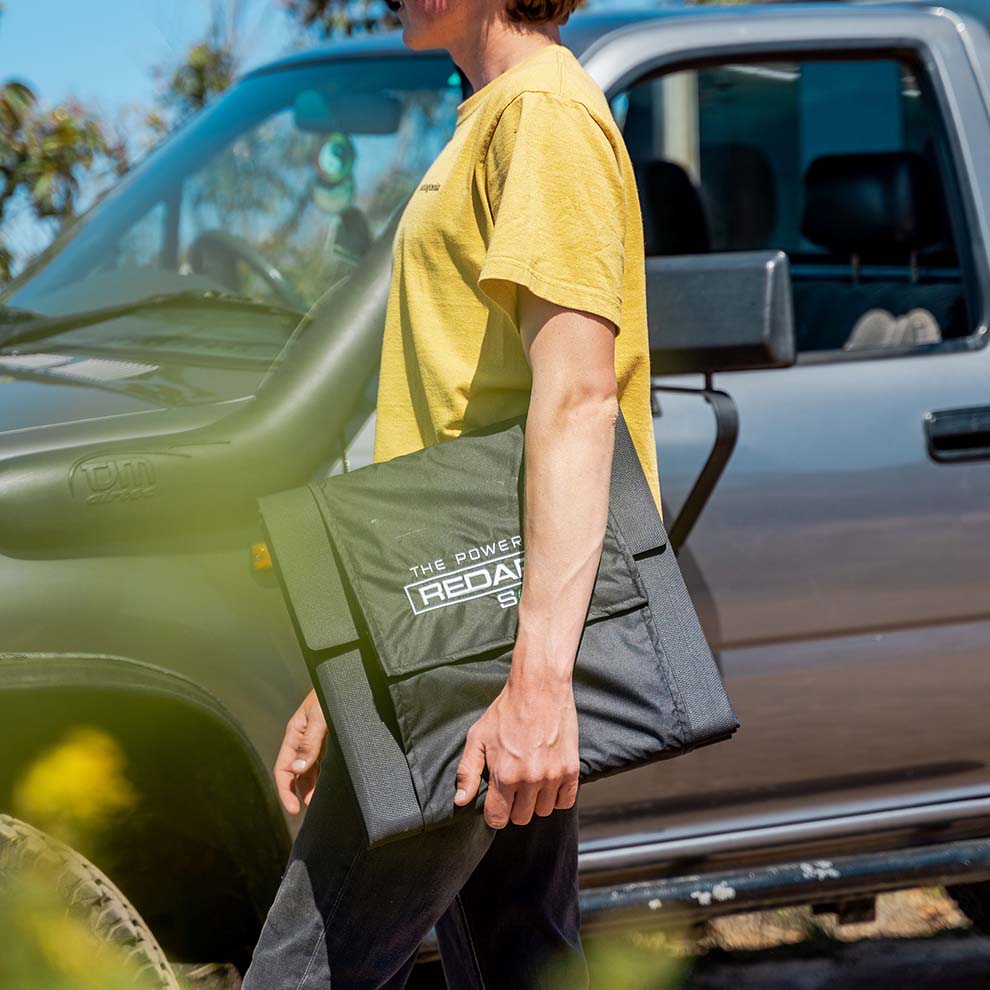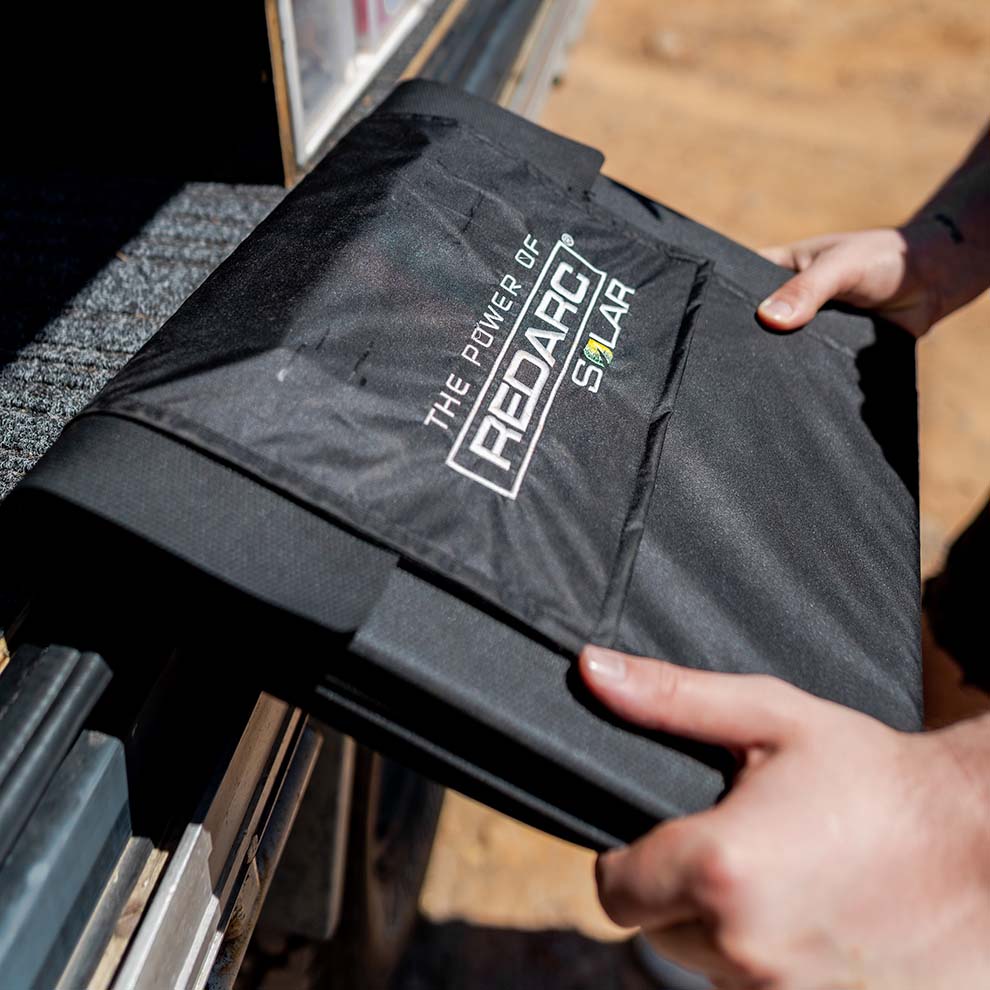 Solar blankets that go the distance
With genuine industry standard Anderson™ SB™50 connectors, setting up camp is easier than ever. These high-quality Anderson™ plugs are simple and fast to connect with no screw terminals and no risk of poor connections from frayed wires or loose terminals – just plug and play!
Designed to charge 12V Automotive, Marine and Recreational Vehicle battery systems, the 300W monocrystalline solar blanket will provide extra battery charge to power 12V equipment.
REDARC recommends the purchase of a REDARC Solar Regulator, which is essential to ensure the correct charge is supplied safely and efficiently and will protect batteries from over charging.
Minimum 30A Solar Regulator is required for the 300W Monocrystalline solar blanket.
Check out the kit version which includes a 30A solar regulator and 5m Anderson cable.
REDARC 300W Monocrystalline Solar Blanket Features
Designed for portability and strength with efficient monocrystalline cells
Lightweight and highly portable
The lightest REDARC solar option
Anti-reflective scratch resistant with ETFE coating
Genuine Industry Standard Anderson™ SB™50 plug connection
Designed for 12V Automotive, Marine and Recreational Vehicle battery systems
High power output
When you combine this camping solar blanket with a REDARC battery management system or 12v DC-DC battery charger you'll be able to effectively and reliably top-up auxiliary battery systems for weeks at a time.
Specifications
More Information

| | |
| --- | --- |
| gtin_barcode | 9338628006922 |
| brand | REDARC |
| Solar Cell Type | Monocrystalline |
| Open Circuit Voltage | 20.0V |
| Watts | 300W |
| Frame or Material | Canvas |
| Max. Power Voltage | 17V |
| Recommended Regulator | SRPA Anderson™ Regulator |
| Standby Current | <10mA (12V) / <4.5mA (24V) |
| Short Circuit Current | 19A |
| Operating Temperature | +32°F to +185°F |
| Cable Length | 4.7" (120 mm) |
| Weight | 18.7 lb (8.5 kg) |
| height | 0.1" (1.2 mm) |
| width | 43.7" (1110 mm) |
| depth | length | 78.5" (1995 mm) |
| Warranty | 2 Years |
| Dimensions Open | 78.5" x 43.7" x 0.1" (1995 x 1100 x 2.5 mm) |
| Dimensions Closed | 14.4" x 14.4" x 2.9" (365 x 365 x 85 mm) |
| Power Tolerance | ± 5% |
| Max Power Current | 18A |
| Connector Type | Anderson™ SB™ 50 |
| Peak Power | 300W |
SHIPPING & RETURNS
Shipping
REDARC offers customers free freight within Australia on products purchased via the REDARC website, unless a dangerous goods charge is deemed necessary in order to ship products of a lithium chemistry.All products have a 5 day lead time before shipment after which it will be shipped via your preferred shipping method. For alternative freight options please contact REDARC at power@redarc.com.au
For international orders, freight will be calculated at time of checkout. Orders will be shipped from our factory in Lonsdale with delivery timeframes dependant on location.
Where orders are shipped to a delivery address outside Australia, you are responsible for the compliance terms as written in our Website Terms of Use
Returns
The terms and conditions relating to 'Return of goods' set out in our Trading Terms will apply to all good purchased by You via the Site. All goods purchased by You via the Site also come with a manufacturer's warranty found here.
RELATED PRODUCTS
5m Anderson™ to Anderson™ Cable

SRC0018

The 5m Anderson™ to Anderson™ Cable provides the option to increase distance, up to 5m, from the solar set up to the vehicle to get the most out of the sun.

240W Monocrystalline Folding Solar Blanket

SMFB1240

240W Monocrystalline Folding Solar Blanket by REDARC that is lightweight and rugged, while portable and compact to move between car and campsite. A perfect addition to your BCDC Battery Charger or Manager30, both of which have internal solar MPPT regulators as standard.
HAVE A QUESTION?
Need a little help with choosing the right product? We're here to help! You can use our handy vehicle look-up tool, find a local installer or stockist in your area or check out our FAQs.
Still not sure? Don't stress, you can contact our helpful Tech Support Team by phone or email too.