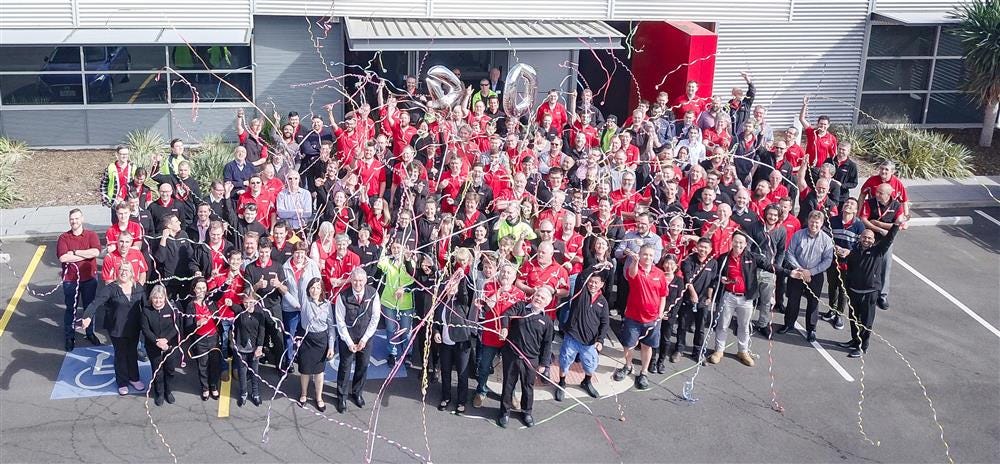 REDARC staff celebrate 40th anniversary at Lonsdale.
Tuesday the 27th of August 2019 signifies the 40th anniversary of advanced electronics manufacturer, REDARC. A family business owned by Anthony and Michele Kittel, based in South Australia.
Celebrating 40 years is a significant milestone for any business especially in this global economy. The story of REDARC celebrates success and how through resilience and persistence the company has been able to buck the decline in manufacturing in Australia.
Talking about the REDARC journey, Managing Director, Anthony Kittel said, "It's been an honour to be a part of shaping REDARC's history over the last 22 years of ownership".
Throughout 2019, REDARC have commemorated their anniversary through a range of internal and external activities which have included the unveiling of a special 40th anniversary logo, and in thinking of their customers they also launched a retail giveaway and trade prize.
Notably REDARC released only 40 limited-edition 'RED' 40 amp in-vehicle DC battery chargers (BCDC1240D), ensuring that they remain truly unique. As an organisation that prides itself on giving back to their local community, REDARC is also raising $40,000 for South Australian based charity organisations.
On the day of their anniversary, staff and guests enjoyed a celebration in which Anthony addressed the REDARC team, reflecting on the occasion and of the incredible journey of REDARC's growth.
Anthony said, "I have witnessed the transformation REDARC has undergone in the last 22 years, I am thankful of the support we have received from our outstanding staff, customers, suppliers, distributors, partners, community and government who have backed our innovation, rugged and high-quality Australian Made products."
The celebration included the cutting of the cake, staff photo and speeches. Collated into a 'thank you' video were kind words from some of REDARC's customers, distributors, suppliers, ambassadors and friends.
Pat Callinan from 4x4 Adventures shared his thanks for the longstanding partnership, "Thanks for supporting my business, we've been on the air now for 12 years and REDARC have been a big part of that journey," he said.
Jase Andrews from All 4 Adventure said, "Big pat on the back for 40 years in Australian manufacturing, you have innovated [made] the way when it comes to products for 4WD, touring and caravanning."
Macca from What's Up Down Under said, "Thanks for building products I can rely on, REDARC has never let me down."
From the Victorian High Country, Shaun Whale sent his well wishes, "Happy 40th anniversary REDARC, I absolutely love your products."
Justin Montesalvo from Patriot Campers pulled his team together on camera to say, "It's great to see another proud Australian company supporting the economy and our Patriot Campers family," he said, "Happy 40th anniversary REDARC," the team cheered.
Some of these messages are available to view on the REDARC facebook page.
REDARC Staff will also be presented with a commemorative book. A gift with over 100 pages of images, stories and acknowledgements from those past and present.
Speaking of the challenges the company overcame in the early years, Denis Brion, former co-owner of REDARC (1997-2002), and Anthony's father in-law wrote, "We proved the worth of our products, and the customer service excellence we had set-up in those difficult first months of taking over the business helped us expand our market share."
Tom Phillips, retired CEO of Mitsubishi Motors and former REDARC advisory board member and chair wrote, "I congratulate REDARC for all of its successes, for continuing to emphasise the important values of quality, customer service, workplace safety and innovation, and the spirit of finding better ways."
In acknowledging those who have helped to make REDARC what it is today, Anthony's heartfelt words recognised those who have and will contribute to REDARC's future in the next 40 years.
"This wouldn't be possible without the late Bob Mackie, REDARC's founder, who must be acknowledged as a pioneer in electronics," he said, "I'd also like to thank the fantastic team we have at REDARC, without you, we certainly wouldn't be where we are today. Lastly, I'd like to thank my wife Michele, our children and our family, Denis and Joan Brion, and our Advisory Board for their support and business knowledge."
Anthony credited much of REDARC's success, and future success, to the focus on innovation, passion for learning and continuous improvement, unrelenting focus on building a team-based culture and their willingness to embrace risk.
"An example of this has been our decision to invest in building world class facilities, starting with the greenfield site in 2005, and the two subsequent major expansions, including the most recently completed in 2018. Not only does this provide REDARC with a competitive advantage, I also believe this will help to stimulate a stronger economy in South Australia, creating more jobs in highly skilled areas," he said.
Anthony sees a bright future ahead for the company saying, "I'm excited for the opportunities for expansion and growth that exist in global markets, the defence sector in Australia, the introduction of electric vehicles and early autonomous vehicle trials. The next 40 years will be just as challenging and exhilarating."
REDARC invite you to take a look at the moments and milestones that have made REDARC what it is today. View our timeline at redarc.com.au/40th-anniversary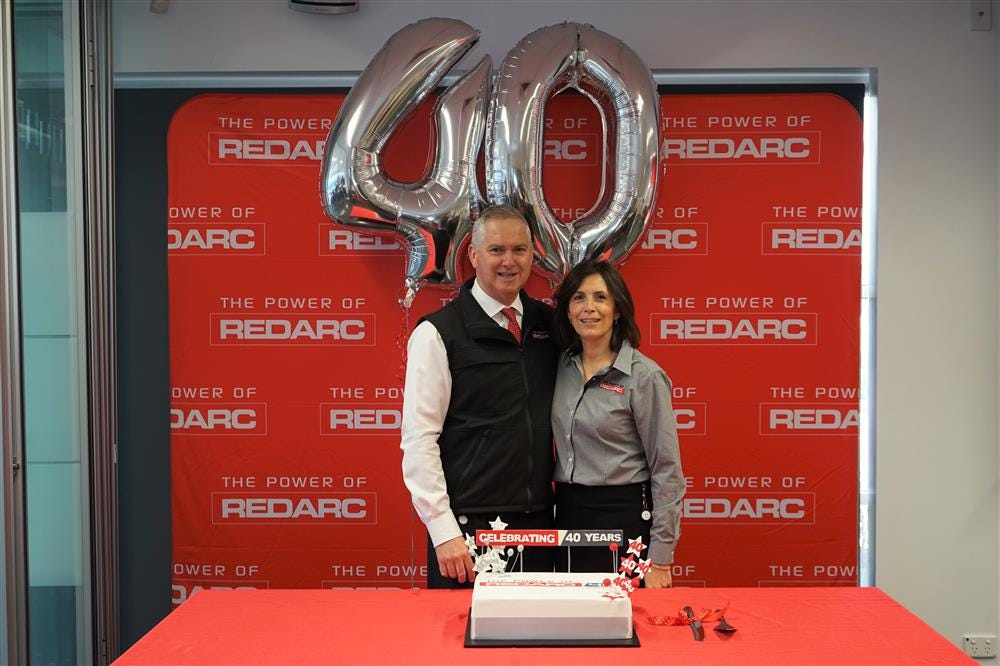 Owners, Anthony and Michele Kittel at REDARC's 40th Anniversary celebration.