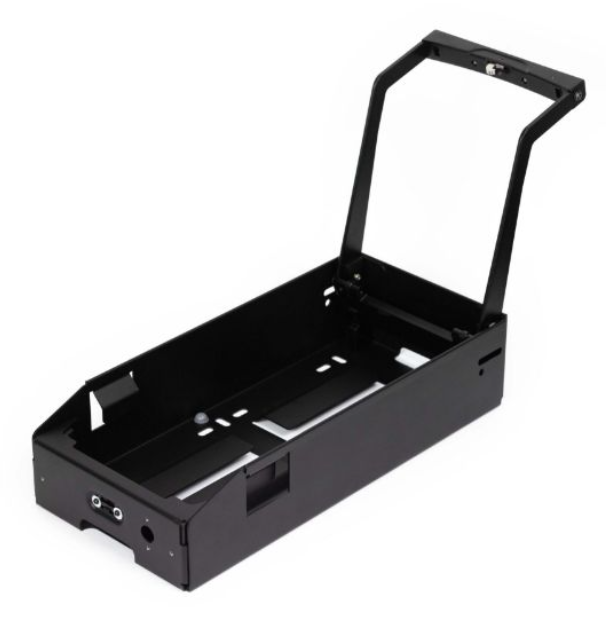 REDARC is excited to launch the GoBlock's newest accessory, the PowerDock.
To get the most out of your GoBlock portable power system, add the PowerDock, a permanent installation that allows you to securely mount your system and rapid charge from both the vehicle and connected solar.
The PowerDock allows Green Power Priority, simultaneous vehicle and solar charging that will utilise all available solar power before supplementing with power from the vehicle when necessary. This ensures your GoBlock gets more charge, more often whilst also reducing load on your vehicle electrical system and ultimately increasing fuel economy.
The patented PowerDock design provides both restraint and connection with a single-action mechanism. When you reach your destination, pop the quick release handle – the GoBlock is recharged, ready to go. The PowerDock is even lockable with a neat anti-theft feature, designed to protect your GoBlock investment.
Soon to be released, PowerDock wiring kits, designed to simplify installation for both installers and DIYers alike.
The PowerDock to Terminal Block Wiring Kit is designed to allow fitment of user-supplied wiring and connections for vehicle power and solar by providing only the core components required.
The PowerDock Complete Wiring Kit is designed to provide everything you need to install the PowerDock in your vehicle. The kit allows connection from the rear of the vehicle to the start battery in the engine bay along with provision for an Anderson connector to either permanently mounted or portable solar panels.
For more information about the PowerDock and its dedicated wiring kits, visit redarc.com.au/powerdock.