Whether you've just bought your first trailer or are looking to take your caravan or camper trailer off-grid for the first time, towing can be daunting. We've put together a comprehensive run through about everything you should know before you hit the road to ensure you're staying safe.
Choosing the right vehicle for towing
When choosing a tow vehicle or trailer, you need to make sure you're matching them up so that your setup remains legal. You shouldn't have your maximum trailer weight coming anywhere near the maximum towing capacity of your vehicle, and definitely not exceeding it. To ensure that you're staying legal and safe on the road, there are a few measurements you need to know.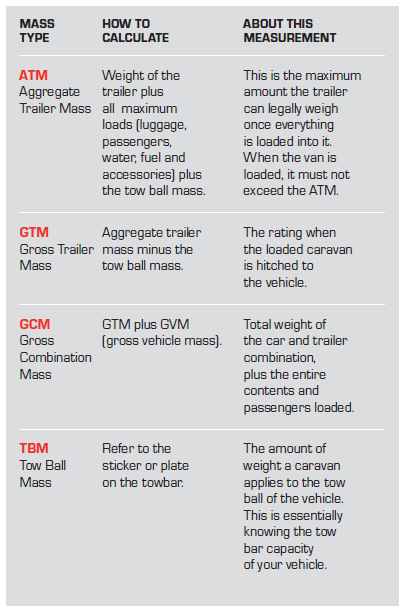 Load distribution in your trailer
Load distribution is another important factor to consider when packing your caravan or camper trailer. Knowing how to pack your caravan in the best way means that you can mitigate some of the risks of trailer or caravan sway. Always ensure your heavy items are stored low, secured and over or in front of the axle. Place your lighter items in higher places, stored in storage containers and on non-slip matting. If you've got any water tanks, travel with them full to keep the center of gravity on your trailer low which can help to stabilize your load. If your trailer has a heavy mass at the front, it might seem logical to try and counterbalance with a heavy mass at the rear of the trailer. Do not do this, doing so will create a pendulum effect that can significantly increase the chances of sway.
What is an electric trailer brake controller and when do you need one
As the name suggests, an electric brake controller controls the brakes on your trailer. When you're towing a few tonnes behind you on the road, braking can quickly become dangerous when the only thing controlling your trailer is your vehicle's brakes. Electric trailer brakes become important when you're attempting to slow down. The added weight and momentum of your trailer can make slowing down the towing combination more dangerous by causing it to keep going and possibly crashing into the back of the vehicle.
An electric brake controller wires into your tow vehicle and allows you to control and manage the brakes on your trailer from the drivers' seat. Depending on where the remote control knob is located, the passenger can also apply the brakes in case of an emergency. In Australia, electric brakes are recommended for use when towing caravans and trailers over 750kg and are legally required on all caravans and trailers with a GTM over 2000kg.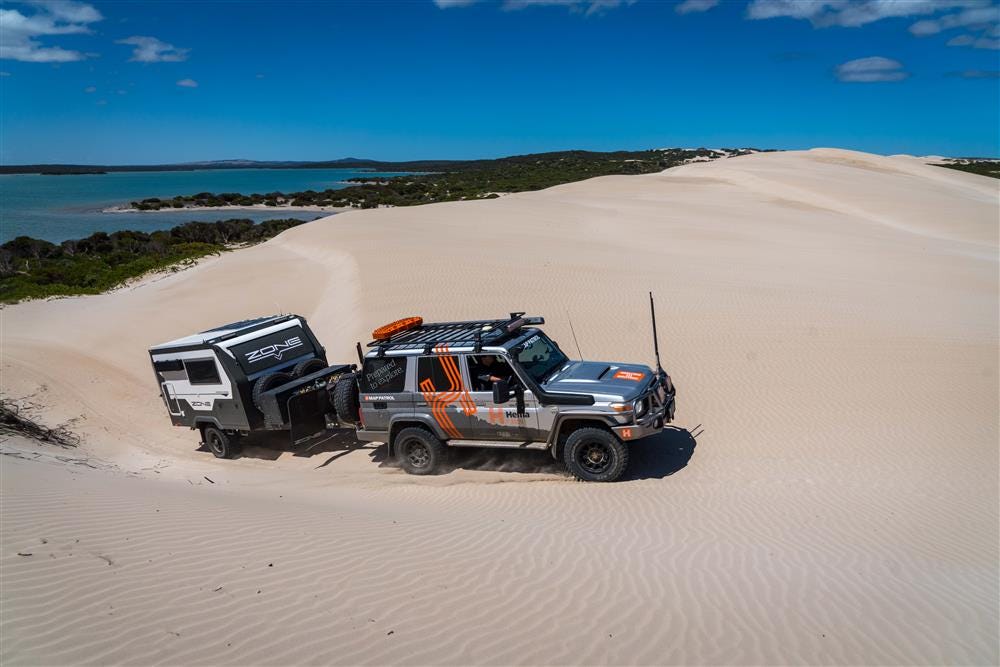 Types of brake controllers
There are two main types of braking when it comes to electric brake controllers, time delay and proportional or inertia sensing. Time delayed controllers work by having the driver set a braking strength and then when the brakes are applied the trailer brakes are activated based on a set time delay.
Alternatively, proportional or inertia sensing controllers sense when the vehicle stops moving and apply the appropriate strength brakes. When configured correctly, the brake controller will have the trailer slowing down at the same rate as the tow vehicle.
Choosing the right brake controller
REDARC's range of electric brake controllers provide the ultimate in safety when towing and offer a smoother braking experience for both 12 and 24-volt vehicle systems.
Our award winning Tow-Pro Elite is the first brake controller to offer two types of braking in one unit. It utilises both proportional and user-controlled modes to keep you safe both on and off road.
If you're after a simpler towing experience, the Tow-Pro Classic offers a single, user-controlled mode of trailer braking. Just adjust the required braking for with the turn of the control knob. This is perfect for hitting the tracks off-road with your camper in tow.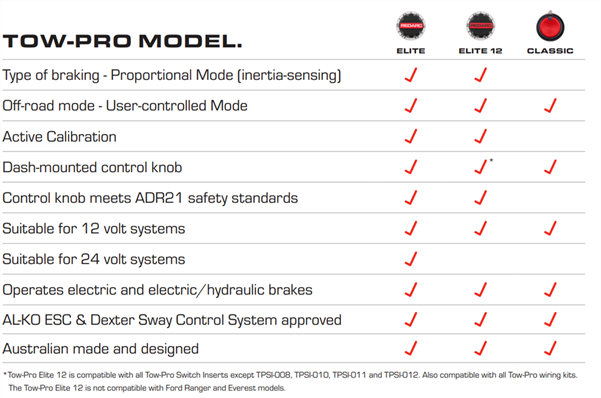 Before you tow
Before you set off on your adventure, there are a few things you should check to ensure your trip will go as smoothly as possible.
Tyre Pressure: The placard on your trailer or RV will tell you what the recommended tyre pressures are. Check these on both your trailer and towing vehicle to make sure your tyres are pumped and ready to go.
Boot and windows are closed and locked: This includes your awning as well as any other fixtures on your vehicle and trailer. You don't want anything flying open on the road.
License plate and brake lights: Ensure that they're working.
Fridge: It's illegal to operate the fridge on gas while travelling, so make sure it's all turned off for your trip.
Water pump: Make sure your water pump is off. If the tap leaks while travelling it could lead to water damage and empty tanks at your destination.
Inside the trailer: Double check everything is secured and distributed in the best configuration for travel.
Trailer connections: Double check all your trailer connections before embarking and then regularly during the trip. Hitches are often left not locked in, handbrakes can be left on, jockey wheels may be left half stowed and plugs to control brakes and lights can become loose. Also make sure that the safety chain is connected in a 'criss cross' pattern so, if the trailer detaches from the two vehicle, it will land in the chains and not on the road.
Passing while towing
If you have to pass another vehicle with your trailer attached there are a few things you should consider to make sure both you and others remain safe on the road. Ensure there is road visibility for a mile or two head, so you can plan for any upcoming road conditions. If you have a UHF radio and can contact the vehicle you're passing, most people will be polite and slow down for you. Passing someone on the flat or an uphill slope is always best practice, this gradient drag will help you in keeping the trailer steady.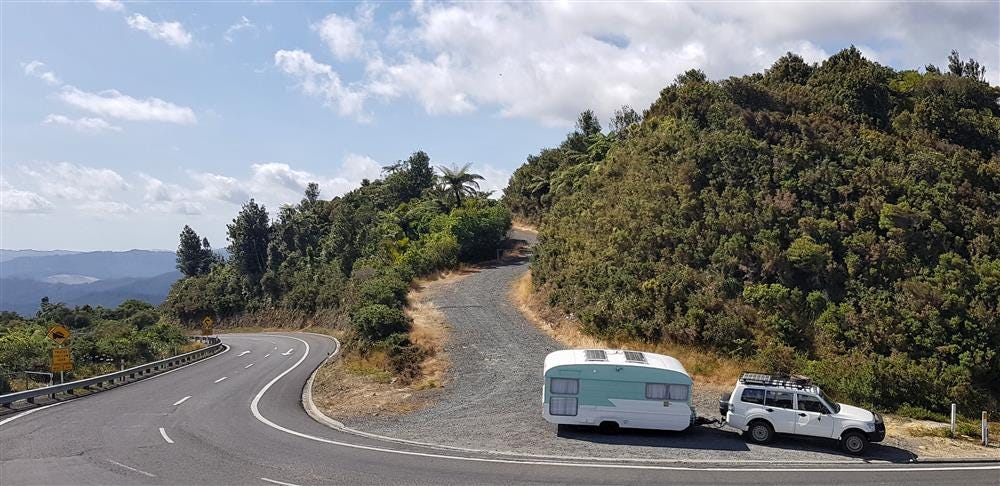 Towing maintenance
Just like your car, your trailer needs servicing too. It's good to have your brakes, bearings and other mechanical systems regularly checked for correct lubrication and operation along with the lights and electrical wiring.
Choosing the right tyres for towing
Knowing where you're planning to travel ahead of time will help you determine the type of tyres you'll need for both the towing vehicle and the trailer. Light truck tyres are recommended as they are designed to carry greater loads more evenly and more stable. It's also important to keep an eye on the age of the tyres. The life expectancy of a tyre is about five years and by this time it's important to invest in new tyres.
Checking your tyre pressure regularly is another way to make sure you're getting the most of your tyres. Always adjust your tyre pressure to the weight of the load and if you're driving off-road, reduce the pressure by at least 4psi, depending on road surfaces. To prevent overheating and tyre blowouts, brush the back of your hand over each tyre when you pull up to your destination. If the tyres are excessively hot, it indicates that you may be running tyre pressures that are too long, or there's a brake or bearing issue.
If you're looking for a reliable installer for your next brake controller, check out our Find an Installer tool to find a REDARC recommended shop near you. For more information on staying safe while towing, check out our blog on the top tips for safe towing. Find out why Jase Andrews from All 4 Adventure chooses the Tow-Pro below.